The below item has been discontinued.
Cotytech CT-MP11 Adjustable Ergonomic Mobile Projector Cart
Description
Cotytech CT-MP11 new Adjustable Ergonomic Mobile Projector Cart integrates flat screen and projector to make it a perfect solution to all your presentation and digital display needs. The rolling LCD projector cart is ideal for safely and securely moving flat panel displays up to 65" and projector up to 22 lbs. The moveable projection cart has 78" (198cm) overall height and it's fully mobile with 4 heavy duty lockable casters.
Handle design makes mobility much easier and smoother. This projector stand is made of steel and aluminum, featuring weight capacity of 176 lbs (80 kgs) for flat panel, 22 lbs (10 kgs) for projector, portrait-to-landscape rotation, 5° to -10° screen tilt, 20° to -20° projector tilt. Height adjustments range 23" – 66" (583 – 168.3 cm) from ground to screen center. Projector mount features tilt and pitch flexibility (+20°/-20°), 360° rotation and adjustable extensions range 3.94" – 35.4" (10 – 90cm).
Integrated cable management along the pole and projector mount rod with plastic cover completes a neat installation. Its ergonomic, portable, space saving attributes and contemporary look make the media cart an attractive choice in all types of conferences, schools, exhibitions, businesses, office, mall kiosks, retail stores, factories, band, hospital, internet cage and even for home entertainment.
Technical Drawing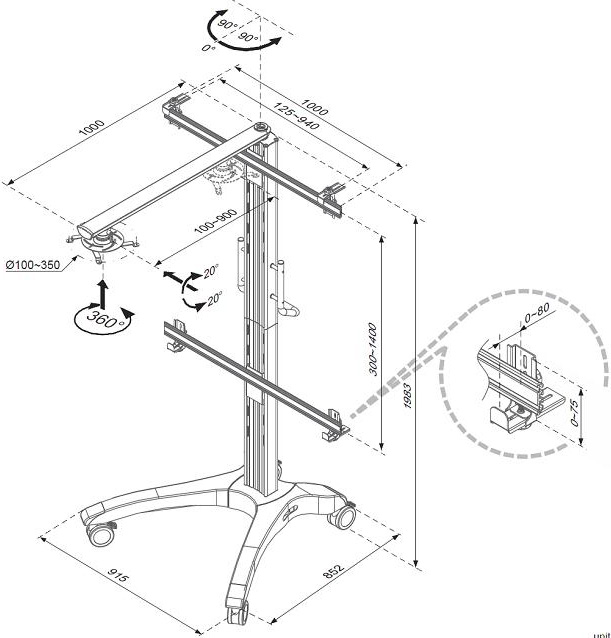 Technical Specifications
| | |
| --- | --- |
| Material | Aluminum & Steel |
| Fits most | 42" to 65" flat panels / Short throw, ultra short throw, long throw projectors |
| Weight Capacity | TV mount supports up to 176 lbs (80 kgs). Projector mount supports up to 22 lbs (10 kgs) |
| Tilt | 5° / - 10° (flat screen) 20° / -20° (projector) |
| Mounting Pattern | Universal & VESA compliant: 400x200 to 800x400 (flat screen) / 100 to 350 (projector) |
| Rotation | 90° for portrait & landscape orientations without cable cluter. 360° for projector |
Mounting Pattern
You may usually find mounting patterns dimensions on the technical drawing page of your owner's manual. Otherwise you can simply measure from the center of one hole to the center of the next (both vertical and horizontal). Please remember to measure in millimeters. Feel free to contact us if the mounting pattern of your TV is different and we are very glad to help you out.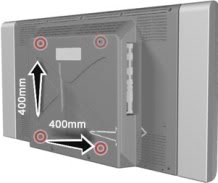 Features
Cart
Sleek design provides extra space and free mobility
Max. height: 78" (198.3cm) from ground to pole top
Easily adjust screen position for optimum viewing - up, down, tilt, rotate between portrait and landscape orientation
Cable management system keeps cords organized and concealed
Sturdy mobile base with four lockable casters
Flat screen display can achieve 5° up / 10° down tilt
Supports LCD display weight up to 176 lbs
Universal & VESA standard: 800x400 to 400x200 (flat screen)
Ergonomic solution with easy installation features
Durable and stable construction made from steel and aluminum
A great addition to any room setting
Projector Mount
Work with most short throw, ultra short throw as well as long throw projectors up to 22 lbs
Rod length: 39.4" (100cm)
Adjustable extensions range 3.94" – 35.4" (10 – 90cm)
Swivels 90° left and right
Full motion 360 degrees and tilt 40 degrees
Universal & VESA standard: 100 – 350 (projector)
Features cable management within the rod
Die-cast aluminum construction for greatest support in a lightweight mount
Fast and easy installation
| | |
| --- | --- |
| Model | CT-MP11 |
| Manufacturer | Cotytech |
| Part Number | CT-MP11 |
| | |
| --- | --- |
| Material | Aluminum & Steel |
| Weight Capacity | Cart: Up to 176 lbs. Projector: Up to 22 lbs. |
| Mounting Pattern | 400x200 to 800x400 (flat screen) / 100 to 350 (projector) |
| Tilt | (flat screen) 5/-10 degree, (projector) 20/-20 degree |
| Rotation | 90 degree for portrait & landscape orientation without cable cluter, for projector 360 degree |
| Swivel | 90° left and right (projector) |
| Monitor Size | 42" to 65" (flat screen) / Short throw, ultra short throw, long throw projectors |
| Extension | Adjustable extension for projector 3.94"-35.4" (10-90 cm) |
| Length | Rod length for projector: (100 cm) 39.4 |
| Height | Max. height from ground to pole top (198.3 cm) 78 |
| Height Adjustment | 23"-66" (583-168.3 cm) from ground to screen center |
Be the first to review this product