Workrite 3172-28TG Pinnacle 2 Extended Keyboard Arm - 28" Track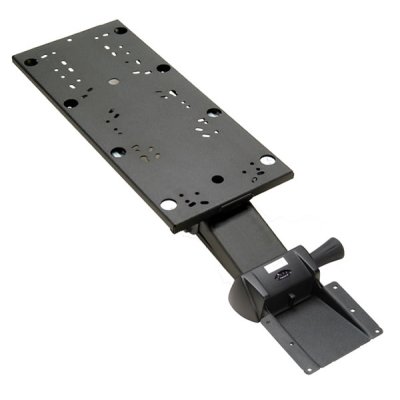 Description
Workrite Pinnacle 2 is the latest generation of the highly acclaimed PinnacleArm. With an easy-read TiltRite gauge and full-range tilt support, the Pinnacle 2 keyboard arm offers unprecedented smoothness and adjustability for maximum comfort.
Specifications
| | |
| --- | --- |
| Track Length | 27-13/16" |
| Track Width | 9-1/8" |
| Work Surface Depth | 28" or more |
| Tilt Range | -15° to +10° |
| Height Range | 8.5" |
| Track Style | ThinGlide progressive ball-bearing slide |
Pinnacle Arm 2 Extended

Pinnacle 2 Arm

 
 

Pinnacle Arm Without Tray & Track

Pinnacle Arm With Keyboard Tray

 
 

Pinnacle 2 and Pinnacle 2 Value

 

Pinnacle 2 Extended

For the most versatile solution, select a platform with an integrated ambidextrous mousing surface. Two popular choices include the Banana-Board, with its sliding mouse surface or Revo, with its quick change mouse tray.

 

Tilt range: -15° to +10°
No-knob, no-lever, lift-n-lock for one-touch height adjustment
Independent height and angle controls
Height range from flush to 8" below worksurface
360° swivel for easy positioning and storage
Non-intrusive low profile track provides maximum knee clearance and smooth, consistent operation
Optional no-positive-tilt kit

 
 

Tilt Gauge indicates negative tilt
Features
Superior Tilt Range - Pinnacle 2 offers full range positive and negative tilt with a single arm to accommodate the optimal position for different needs. Pinnacle 2 Extended offers height adjustment range up to 8 inches below the work surface to meet the BIFMA standard G1-2001.

Easy-Read Visual - The Pinnacle 2 tilt gauge is conveniently located on the top of the arm for easy viewing.

Adjustable Dual Spring Assist - The dual counterbalance lift assist spring is preset at the factory for optimal performance. However, with the unique combination of adjustability and dual springs, the Pinnacle 2 enables users to adjust the spring to accommodate most keyboard platforms.

Easy Adjustability - Workrite was the first to develop incremental tilt capability that does not effect height adjustment or require a tightening or clamping knob. With particular focus on employee comfort and convenience, Pinnacle 2 features an incremental tilt that is adjustable by simply rotating the knob to increase or decrease to the recommended tilt angle. This helps to maintain a straight wrist position for employees with a repetitive strain injury such as carpal tunnel syndrome (CTS).

Durability - All Workrite Pinnacle 2 adjustable keyboard arms meet or exceed the ANSI/BIFMA X5.5-1998 standards for performance, durability, and cycle testing. All Pinnacle 2 products carry a Limited Lifetime Warranty.
Option 1: Color

Black
Option 2: Track Length
27-13/16" track length for desks deeper than 28".
Option 3: Swivel Plate
Swivel Plate 2179-SP: The swivel plate allows you to swivel your keyboard tray horizontally independent from the arm.

Allows keyboard and mouse platform to pivot an extra 45 degree for special mounting requirements.

Easy to Install
Mounts between the arm and keyboard platform.
Weight 3 lbs
Option 4: Mounting Spacer
Mounting Spacer (1/4" Thickness)

Mounting Spacer (1/2" Thickness)

Mounting Spacer (3/4" Thickness)

Mounting Spacer (1" Thickness)

Mounting Spacer (1 1/4" Thickness)

Mounting Spacer (1 1/2" Thickness)

Mounting Spacer (1 3/4" Thickness)

Mounting Spacer (2" Thickness)

Mounting Spacer is required only when the edge of your desk is thicker than the rest of the worksurface.
Used to attach adjustable arm tracks when edge is thicker than worksurface.
You can add spacer to make a flat surface under the desktop from front to back in order to install the Adjustable Arm.
Available in 16" and 21" lengths (please specify).

a = 16" or 21"

b = 11-3/4"
Option 5: Corner Solution
179ACD

Dimensions: 12" W x 1 3/4" H.
Adjusts to fit 1" to 2" thick work surfaces.
Clamping design eliminates spacers.
Converts 90 degree to useable work area.
Weight: 3 Lbs.
Color: Black

 
 

179CCD

a = 17.5" ... b = 9.25" ... c = 1.5"
Move operator closer to work surface
Designed specifically to fit model # 321 with Pinnacle 2 Arm. Also work with the following platform models: 187,188,487,488
Converts 90 degree corners and diagonal corners less than 17" to useable work area
Weight: 4 Lbs
Color: Black/Gary
 

 
 

179CR

a = 26" ... b =15" ... c = 1 1/2"
Fits all platforms up to 28" wide
Works with all Workrite keyboard arms
Converts 90" corners and corners with keyboard cutouts to useable diagonal area
Weight: 4 Lbs
Color: Black/Gray
Option 6: Positive Tilt Lock
It is a pin that is inserted in the arm to prevent the tilt from going to positive. It restricts the adjustable arms going to negative tilt range from -6 to -15 degrees.
Product Options/Accessories
| | |
| --- | --- |
| Model | Workrite 3172-28TG |
| Manufacturer | Workrite Ergonomics |
| Part Number | Workrite 3172-28TG |
| UPC | 029274403133 |
Customer reviews
1 stars

0

2 stars

0

3 stars

0

4 stars

0

5 stars

0
Warranty
Workrite warrants to the original purchaser that the products it manufactures are free from defects in design, material and workmanship. Subject to the limitations below, Workrite warrants each product in this catalog to be free from defects in materials and workmanship for the life of the product in its original installation. With prompt written notice, Workrite will repair or replace, free of charge, any product, part or component which fails under normal use as a result of such defect.
Sierra HX Height Adjustable Workcenter components - Limited Lifetime
Electric components, motors, frames, brackets and feet.
All of the following exceptions to the limited lifetime warranty apply:
Fundamentals Electric Height Adjustable Workcenter components - 10 years
Electric components, motors, frames, brackets and feet

Essentia Height Adjustable Workcenter components - 5 years
Electric components, motors, frames, brackets and feet

Laminated worksurfaces and modesty panels - 5 years

Sierra HXL Crank Height Adjustable Workcenter components - 5 years
Including crank mechanisms

Cascade Height Adjustable Workcenter components - 5 years
Including counter-balance mechanisms

Line of Sight electrical components and manual lifts - 5 years

Line of Sight frames and metal desk parts - 5 years

Monitor supports and mounts - 10 years

Solace Clamp-on sit-stand products - 5 years

Solace Desktop sit-stand products - 2 years

LED and florescent lighting fixtures - 5 years

Lighting transformers and fluorescent ballasts - 1 year

Tranquility Wool & PET Felt panels and mounts - 5 years

Tranquility Poly Panels - 2 years

Fabrics, modesty panels, custom products and special order items - 2 years

Mousing surfaces and Slide Guide - 1 year