Innovative 7000-HY Radial Arm with Hydrostrut for Lightweight
For Lightweight LCD, iPad, Tablet or Notebook/Laptop
Now includes Next Generation Tilter 8500 (not shown in the image). Please see Description for more details.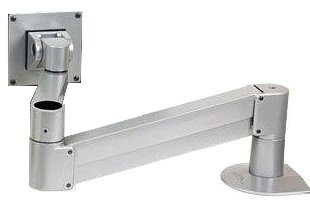 Related Products
| | |
| --- | --- |
| Part Number | Description |
| 7000-500HY-NM | Horizontal Range 24", Weight Capacity 2-15 lbs, No Mount |
| 7000-800HY-NM | Horizontal Range 24", Weight Capacity 7-26.5 lbs, No Mount |
| 7000-1000HY-NM | Horizontal Range 24", Weight Capacity 10.5-31.5 lbs, No Mount |
Description
The best selling 7000 LCD radial arm suspends flat panel above the desk, allowing for quick repositioning the monitor with just one hand. Reclaim your desk space, allow you to work in greater ergonomic comfort.
Please note this monitor arm was updated in January 2022. The manufacturer, Innovative Design Works, has upgraded two separate parts.
Tilter - A tilter is the part of the adjustable monitor arm that attaches to the back of your monitor and allows the monitor to rotate, pivot and tilt to desired position.  This monitor arm is now available with Next Gen Tilter 8500. This new tilter apart from being slim and sleek has a quick release bracket, which makes installation and release easy and fast. It has a 30 lb weight capacity. However please bear in mind that the Next Gen Tilter 8500 comes with 100mm VESA adapter unlike the earlier standard tilter which comes with 75mm and 100mm adapter plate. If your monitor has only 75x75mm VESA pattern, please contact us through monitor arm finder. We will find the best monitor arm that matches your needs.
| | |
| --- | --- |
| 8500 Quick Release Monitor Tilter | 8336 Standard Monitor Tilter |
Mount – Mount is the part that attaches the monitor arm to the desk or wall. The new mount, is called Top Down mount, Innovative 8524. It functions as a clamp or grommet mount for desk installation and allows you to install the arm from above the desk without having to crawl underneath the desk. The FLEXmount, shown below, offers 6 mounting options including desk edge, wall mount, thru-desk, side bolt, grommet and reverse wall mount. Please see Mounting Options.   
8524 Top Down Mount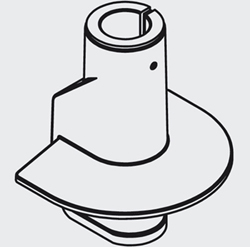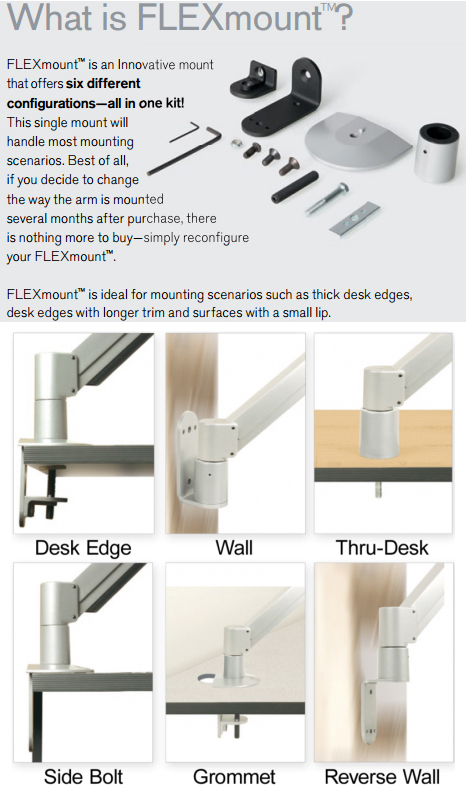 Technical Drawing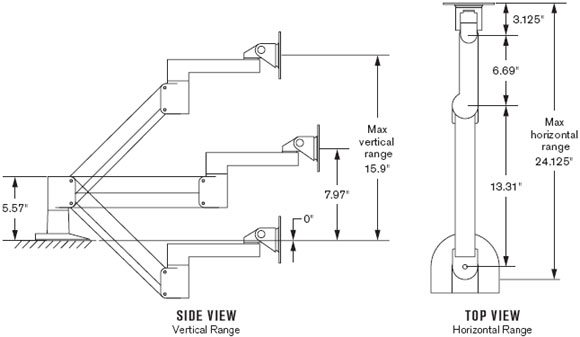 Technical Specifications
| | |
| --- | --- |
| Vertical Range | 16" (+/- 8" from horizontal) |
| Horizontal Range | 24" |
| Rotation | 360 degrees at three joints |
| Monitor Tilt | 200 degrees |
| Monitor Pivot | Landscape to portrait |
| Monitor Compatibility | VESA 100mm |
| Cable Management | Cables are concealed in arm |
| Mounting Options | FLEXmount, Wall, Thru-Desk |
Features
24" of horizontal range

16" of vertical range (8" up and down from horizontal)

Folds up to occupy just 3'' of space

Rotates 360 degrees at three joints

Monitor tilter mechanism can tilt over 200 degrees

Monitor pivots 90 degrees for portrait to landscape viewing

VESA-monitor compatible - 100mm VESA adapter included. Please call for non-VESA options

Optional upgrade to quick install/release monitor bracket. Consult your sales rep for details

Approved to AFRDI standard 126:2001, Level 3
Product Options/Accessories
| | |
| --- | --- |
| Model | 7000-500HY-NM, 7000-800HY-NM, 7000-1000HY-NM |
| Manufacturer | Innovative LCD Arms |
| Part Number | 7000-500HY-NM, 7000-800HY-NM, 7000-1000HY-NM |
| | |
| --- | --- |
| Mounting Options | Desk |
| Mounting Options | Wall |
| Monitor Arm Types | 1 Monitor |
| Number of Monitors | 1 Monitor |
Customer reviews
1 stars

0

2 stars

0

3 stars

0

4 stars

0

5 stars

0
Warranty
Seller warrants that its products will be free from defects in material and workmanship when the title passes to the buyer. Seller will repair or replace, at its discretion, any defective product without charge (shipping charges excluded) for a period of 10 years (exception: 1 year for Busby, 5 years for Winston Workstation, Winston-E, Winston Desk and Freedom Desk, 3 years for Tablik and 1 year for Bild motorized column) after the original date of sale, unless the product damage resulted from normal wear and tear, buyer abuse, misuse or negligence or failure to follow instructions related to the products's installation or intended use. Seller may require proof of purchase before performing any repairs or replacing any products during the warranty period. Except as specifically set forth above, seller makes no warranties, express or implied and specifically disclaims any warranty of merchantability or fitness for a particular purpose. Repair or replacement of the product ordered from seller shall be buyer's exclusive remedy.