Ergotron 45-296-026 Height Adjustable Wall Mount Arm for TV, HD
Highlights
Wall mount arm for TV
20" height adjustability: TV can be lifted up and pulled down for a total of 20"
17.5" horizontal adjustment: Side-to-side motion of 17.5" is possible
24" extension: Extends 24" from the wall and retracts to 5.5" when not in use
18-40 lbs weight capacity: Mounts a TV in the 18-40 lbs range
30"-55" screen size: Supports TVs from 30" to 55" size
Smooth movement: Provides for smooth motion of TV in all directions
Please see if you want to mount a lighter TV or heavier TV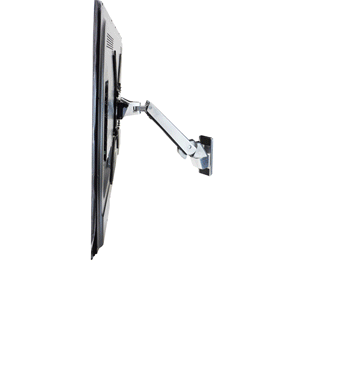 Description
Ergotron 45-296-026 is designed to adjust your TV in such a way that no matter where you are in the room, you always have the ideal viewing angle. With just a light touch, you can move the TV 20" vertically, 17.5" side-to-side and extend it 24" from the wall.

Accommodate the active TV positioning needs of today and tomorrow. Lift, swing or turn your display in any direction. Now anyone can effortlessly move their TV into multiple positions with only a light touch. Your screen will seemingly float on air, being easily adjusted between standing and seated heights. No more awkward viewing angles and sore necks.
Technical Drawing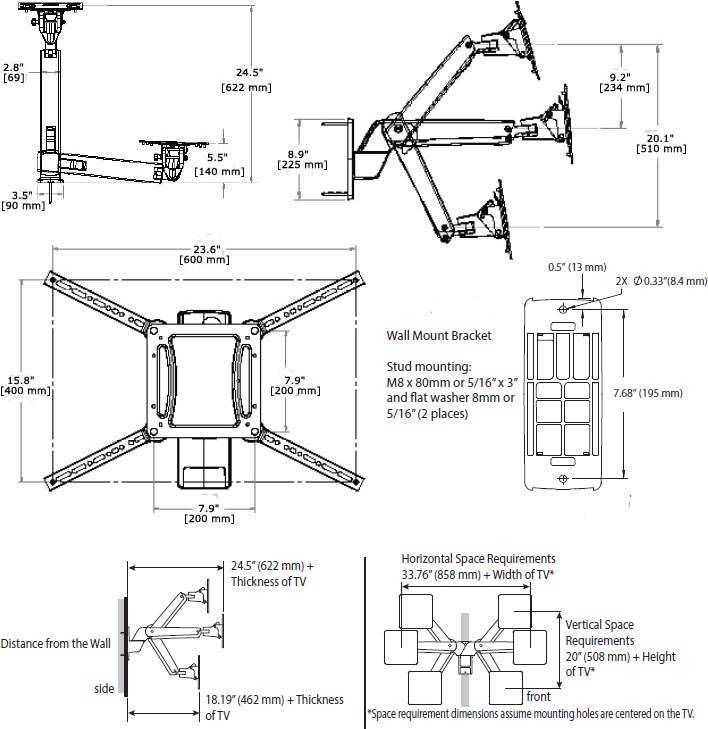 Technical Specifications
Screen
Capacity
Lift
Tilt
Pan
Rotation
VESA
30" - 55"

18 - 40 lbs

8.2 - 18.1 kg

20"

50.8 cm

25°
180°
10°
MIS-E/F
Product Information
Part Number
45-296-026
Description
Interactive Arm, HD, Heavy Duty (polished aluminum)
Includes

Arm

Wall mount bracket

VESA adapter brackets

Complete hardware kit

Tilts
Tilts forward 15°, tilts back 10°
Rotation
Rotation of +/-5° provides leveling adjustment of screen in any position
Mounting Standards
VESA FDMI MIS-E (hole pattern: 200 x 100 mm); VESA FDMI MIS-F (200–600 mm by 200–400 mm)
Note
Due to the variety of wall constructions, consider using professional installers to attach this product. Professional installation is strongly recommended when attaching this product above fireplaces
Lock-Down Knob
To fix the tilt position of the display in place, use the lock-down knob on the gravity pivot
Shipping Dimensions
26" x 12" x 7.5" (660 x 305 x 191 mm)
Shipping Weight
23 lbs (10.5 kg)
Warranty
Five (5) years
Benefits
Patented Constant Force technology enables light-touch adjustments

Extends 24" (61 cm) from wall when in use and can be fully retracted to 5.5" (14 cm) when not in use

The revolutionary design allows interaction with your TV by moving the screen to where you want it when watching movies, gaming, exercising and more

Provides smooth, continuous vertical and horizontal movement of the TV/display in all directions

Gravity pivot enables tilting capabilities without the need of knobs or levers

Improves ergonomic viewing for TVs/displays mounted high on the wall

Constructed from polished aluminum and black trim for maximum strength and bold aesthetics

Tilt and pan for maximum viewing flexibility

Level the screen at any position with +/- 5º of post-installation rotation

Cable management clips on the underside of the arm route and hide wires

Passes Ergotron's 7,500-cycle motion test, which ensures a minimum of five years trouble-free height adjustment
Frequently Asked Questions
Question: Does this arm come in any other color than silver?
Answer: This arm comes only in color silver. The bottom part under the arm which is meant to cover the cables is Black and the plate that mounts to the back of the TV is also in color Black.
Question: We need a wall mount system capable of holding HP 23 pavillion all-in-one safely with maximum articulating capability. The model # of my monitor is 23-f250z.
Answer: This Interactive Arm, HD will work for your requirements. It has a 20" vertical, 17.5" horizontal adjustability and a 24" reach.
Question: I'm hoping to purchase this product to mount a flat screen tv. I want to be certain that this model wall mount will be the correct fit for my Samsung 40" TV Model #UN40J6300AF. Could you let me know for certain if this is the one I should get??
Answer: The Ergotron 45-296-026 Wall Mount Arm for TV will not work for you as a minimum of 18 lbs are needed on the arm while your monitor is 17.2 lbs. The one that will work for you is Ergotron Wall Mount Arm of TV, LD
| | |
| --- | --- |
| Model | 45-296-026 |
| Manufacturer | Ergotron |
| Part Number | 45-296-026 |
| UPC | 698833021004 |
| | |
| --- | --- |
| Weight Capacity | 18-40 lbs (8.2-18.2 kg) |
| Lift | (51 cm) 20 in |
| Tilt | Forward 15 degree, back 10 degree |
| Pan | 180 degree |
| Rotation | 10 degree |
| Shipping Dimensions | 26" x 12" x 7.5" (660 x 305 x 191 mm) |
| Shipping Weight | 23 lbs (10.5 kg) |
| Warranty | Five (5) years |
| Color | Polished aluminum |
| Mounting Pattern | VESA FDMI MIS-E (hole pattern: 200 x 100 mm); VESA FDMI MIS-F (200–600 mm by 200–400 mm) |
| Extend/Retract Range | Extends 24" (61 cm) from wall when in use and can be fully retracted to 5.5" (14 cm) when not in use |
| Motion Adjustment | 17.5" (45 cm) motion adjustment to either side |
| Mounting Options | Wall |
| Monitor Size | 30" and above |
Outstanding product
, Dec 21, 2015
by
Gail LaPointe
, Michigan
Like no other wall mount on the market. I had to really look to find this product. I had bought a similar style in the 1990's for a CRT in an old office, so I knew the product was out there. So my only criticism is your lack of advertising and availability at Sam's, Costco or other nationally syndicated store. The ability to have the TV high on the wall and tucked away for viewing in bed or down low and angle when seated in my room is so convenient. It was easy to install and is very well made. The articulating arm is finely machined heavy duty stainless steel. An email to the company prior to my purchase assured me that I had the correct size for my TV.
Was this review helpful to you?
The best wall mount Arm for big monitor
, Jul 24, 2015
by
Calla F
, California
Extremely versatile and easy to install, I really like the look of it also. I chose this for the length of the arm and for ability to move it in all directions.
1 of 1 voted this review as helpful
Was this review helpful to you?