Ergotech 100-D16-B03 Triple LCD Horizontal Desk Stand with Standard Wings
Pole Diameter: 1.5" and Pole Length: 16"
Product ID 17334
HIGHLIGHTS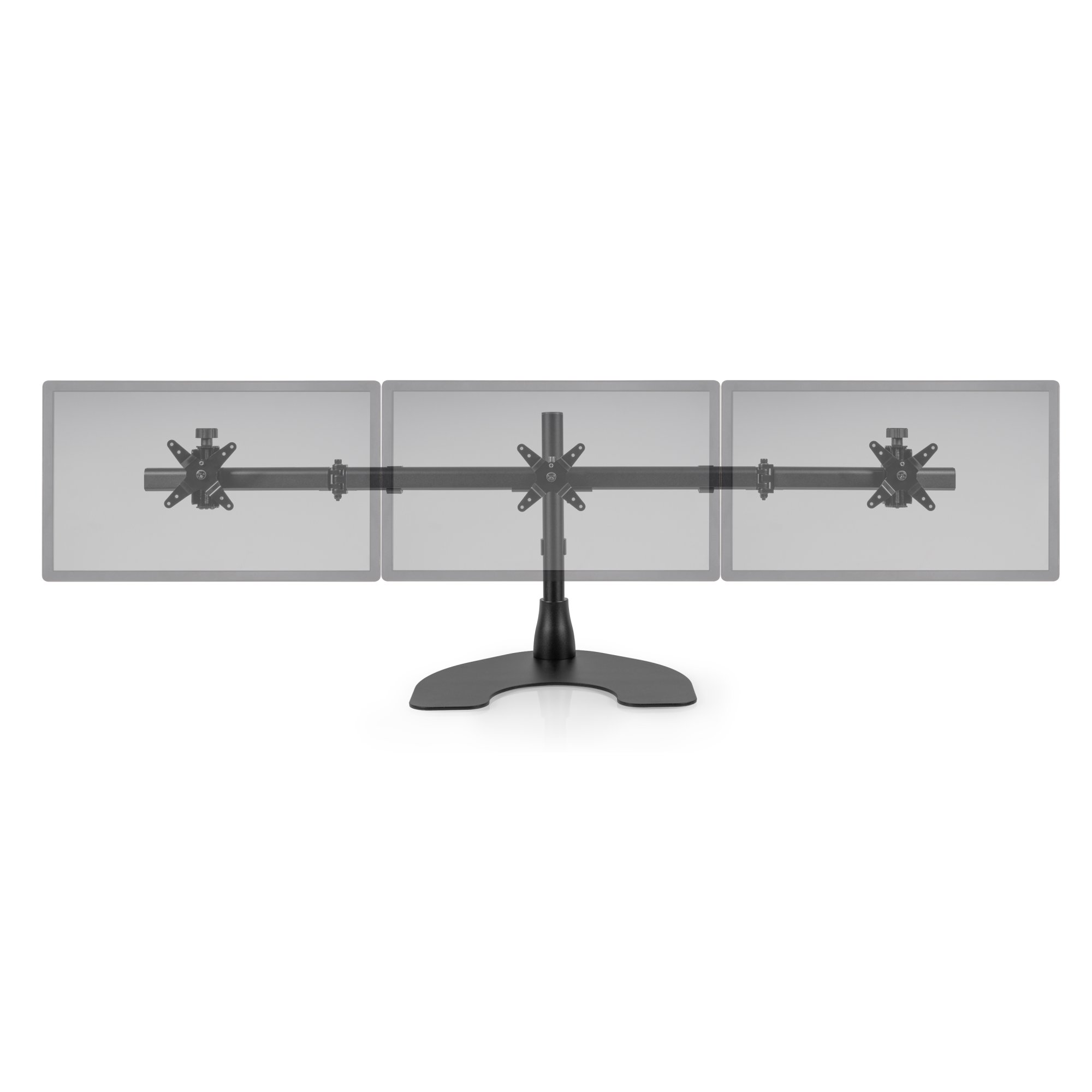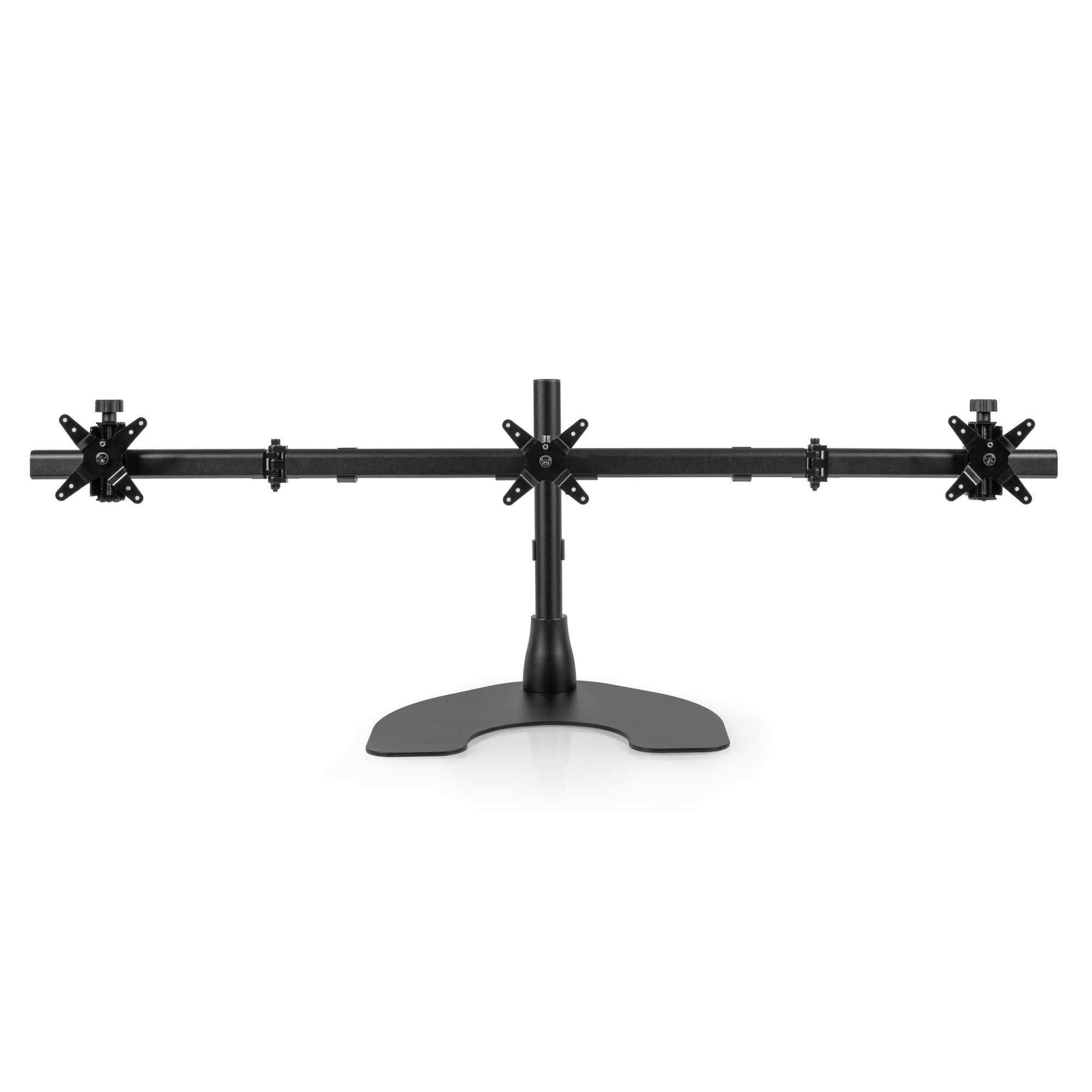 Description
Ergotech 100-D16-B03 mounts 3 LCD monitors horizontally on this heavy duty, portable desk stand. The Heavy Duty Triple LCD Desk Stand is the ideal solution when you need to mount 3 LCD monitors in a horizontal configuration. This powerful system offers the exceptional display capability of 3 LCD monitors and the flexibility of an easily transportable system. This desk stand provides durable and stable support for 3 monitors up to 27" in size. Place the Heavy Duty Triple LCD Desk Stand anywhere on the work surface and move it from one location to another with ease. Maximize desk space and eliminate paper clutter with this dynamic desk stand.
Tool-less design ensures fast, easy installation of 3 LCD monitors. The Heavy Duty Triple LCD Desk Stand is equipped with Ergotech's tool-less engineering which makes monitor installation a breeze. The quick release pivots provide effortless, one-step mounting and dismounting of all 3 LCD monitors.
Effortless monitor adjustment ensures instant, personalized ergonomic comfort. The multi adjustment pivots let you position all 3 LCD monitors to suit your preferences so that you can work in complete comfort. Adjust the monitors left and right, up and down, and enjoy portrait or landscape views. Put the Heavy Duty Triple LCD Desk Stand to work and benefit from the enormous display power of 3 LCD monitors. Depending on the position, you can view lengthy legal documents, electronic financial data, spreadsheets, and multiple pages in a single document with ease. And that's just for starters. This LCD desk stand is sure to streamline multiple tasks and processes.
Mount additional LCD monitors rapidly. If and when you need more monitors, the expandable, scalable Heavy Duty Triple LCD Desk Stand adapts and grows with your changing requirements. The mounting pivots and vertical poles are interchangeable with other Ergotech products. Simply add the necessary components and attach the extra monitors.
Features
Mount 3 monitors with ease
Add additional monitors quickly and cost effectively
Quick Release pivots provide one-step mounting and dismounting
Tool-less design
Quick set up and installation
Cable management system
Lifetime Warranty
Technical Specifications
| | |
| --- | --- |
| Mounting Pattern | 75mm and 100mm VESA compatible |
| Pivot | 20° up/10° down for each monitor |
| Monitor Size | Holds monitors up to 27"  |
| Weight Capacity | Up to 25 lbs |
| Pole Length | 16" vertical |
| Color | Black |
Product Options/Accessories
Frequently Asked Questions
q
What is the full extended arm length? I would like to mount a 27" monitor (25.5" wide) with 2 vertical 17" monitors (12.2" wide in portrait), without the ends of the arms showing.
a
52.5". Your set-up can work with this product.
q
Is it possible to replace the bottom with a desk clamp? And which would you recommend?
a
Yes, the product is 100-C16-B03. Or you can buy the clamp separate and that part number is A00041.
q
Is one arm detachable? And would the stand be stable with only one arm attached, with a center monitor and a monitor on only one side? >
a
I wouldn't recommend unscrewing the arm, that is beyond the design parameter, but it is possible.
q
New design of 100-D16-B03 has replace the tripe stand with telescoping wing. What are the differences?
a
The wings are no longer adjustable in length. In the past, with telescoping wings, you had to use the hand knobs to adjust the length longer to accommodate the 27" displays. We removed this mechanism and made the extrusion longer to keep the cost in line. The hinge still operates the same allowing you to create a curve. The T-nut clamp hardware is improved.
| | |
| --- | --- |
| Model | 100-D16-B03 |
| Manufacturer | Ergotech |
| Part Number | 100-D16-B03 |
| UPC | 094922141941 |
| | |
| --- | --- |
| Color | Black |
| Monitor Size | 17" to 24" |
| Mounting Pattern | 75mm and 100mm VESA |
| Pivot | 20° up or 10° down |
| Weight Capacity | Up to 25 lbs |
| Pole Length | 16" Vertical |
| Warranty | Lifetime |
| Mounting Options | Desk Stand |
Customer reviews
1 stars

0

2 stars

0

3 stars

0

4 stars

0

5 stars

0