Laptop Holder with Height Adjustable Arm ED-7F-5501
Product ID 17659
HIGHLIGHTS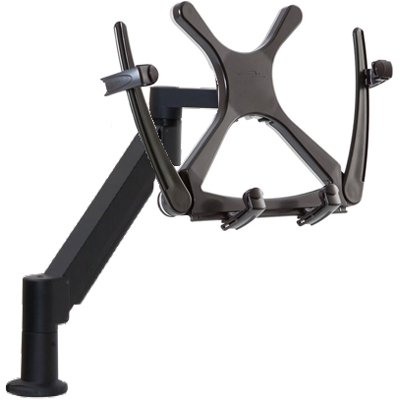 Description
Innovative 7Flex LCD Arm will change the way you work. The arm suspends your flat panel above your desk, allowing you to quickly reposition the monitor with just one hand. Simply move the monitor to where you need it. The arm eliminates the monitor footprint on your desk- reclaim your desk, even as you work in greater ergonomic comfort. Includes our FLEXmount, with 6 mounting options including desktop and grommet clamp, thru-desk bolt, and wall mounting. 7Flex is Innovative's best-value product - incredible flexibility and versatility at an attractive price.
Attaches to arm via quick-install mechanism. Configures to support laptops or tablet PCs. Discover a new way of interfacing with your tablet PC or laptop, the EVO Tablet Arm suspends your portable above the desk where it can be instantly repositioned for comfortable viewing. Combine with a wireless keyboard and mouse to create an ergonomic docking station for your computer. It's an ideal solution for workers on the move. Improve productivity while working at your primary desk, then simply grab the computer and go when it's time to leave.
Technical Drawing
7Flex LCD Arm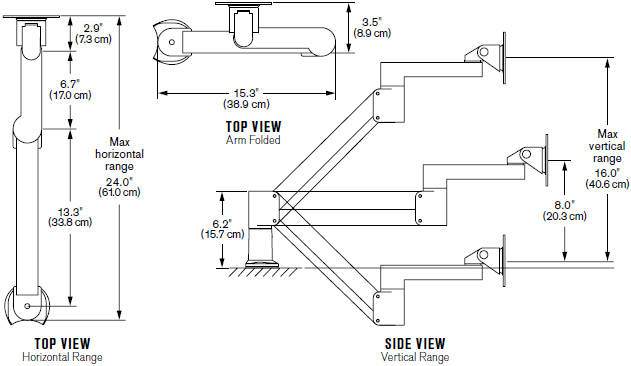 EVO 5501 Laptop Holder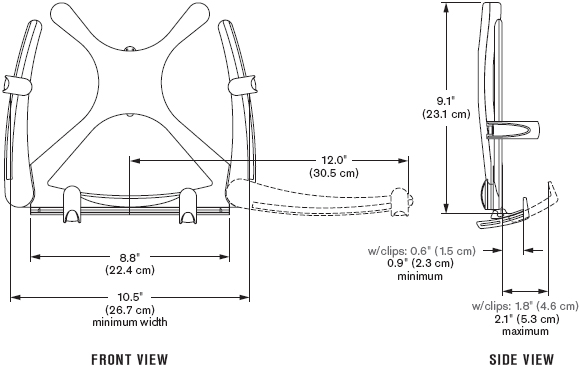 Technical Specifications
7Flex Arm

Vertical Range

+/- 8" (20.3 cm) from horizontal

Horizontal Range

24" (61.0 cm)

Rotation

360 degrees at three joints

Monitor Tilt

200 degrees

Monitor Pivot

Landscape to portrait

Monitor Compatibility

VESA 75mm and 100 mm

Cable Management

Cables are clipped beneath arm

Mounting Options

FLEXmount, Wall, Thru-Desk

Monitor Weight/Model Number

5-17 lbs (2.3-7.7 kg)/7Flex-104i

EVO5501

Minimum Width

10.5" (26.7 cm)

Height

9.1" (23.1 cm)

Length with Clips

0.6" (1.5 cm)
0.9" (2.3 cm) Minimum
1.8" (4.6 cm)
2.1" (5.3 cm) Maximum

Supports

Tablet PCs and Laptops
Features
7Flex Arm
Includes FLEXmount with 6 mounting options, including desk clamp and thru-desk and wall mounting
VESA-monitor compatible - 75mm & 100mm VESA adapters included. Please call for non-VESA options
24" of horizontal range
16" of vertical range (8" up and down from horizontal)
Monitor tilter mechanism can tilt over 200 degrees
Rotates 360 degrees at three joints
Folds up to occupy just 3'' of space
Optional 6" extender tube available to raise monitor
EVO 5501
Adapts to support both tablet PCs and laptops
Securely grips tablet or laptop, with quick attach and release
Adjustable clasps allow free access to jacks and ports
When used with tablet PCs, enables one-handed use of the tablet
Allows tablet to be used in portrait or landscape position
Mounting arm floats computer above desk - simply grab and move to desired position
Arm extends up to 18", with vertical adjustment of +/- 5" from horizontal
Integrated cable management keeps cords off the desk
Mount clamps to desk or through grommet with integrated handle (may also combine with slatwall, slatrail or wall mount)
Product Options/Accessories
Frequently Asked Questions
q
My laptop weighs about 5 lbs. Is the ED-7F-5501 the compatible product. Are there other mounting options? I'm planning to order both vertical and 8" horizontal extenders.
a
This arm can hold your 5lb laptop. This mounts 6 different ways (clamp, grommet, wall, side bolt, reverse wall and thru-desk).
| | |
| --- | --- |
| Model | 7Flex-104i, EVO 5501 |
| Manufacturer | Ergodirect |
| Part Number | 7Flex-104i, EVO 5501 |
| | |
| --- | --- |
| Color | 104 - Vista Black |
| Horizontal Range | 24" |
| Vertical Range | 16" |
| Tilt | 200 degree |
| Rotation | 360 degree |
| Mounting Options | Wall |
| Mounting Options | Desk |
Customer reviews
1 stars

0

2 stars

0

3 stars

0

4 stars

0

5 stars

0
Warranty
Seller warrants that its products will be free from defects in material and workmanship when the title passes to the buyer. Seller will repair or replace, at its discretion, any defective product without charge (shipping charges excluded) for a period of 10 years (exception: 1 year for Busby, 5 years for Winston Workstation, Winston-E, Winston Desk and Freedom Desk, 3 years for Tablik and 1 year for Bild motorized column) after the original date of sale, unless the product damage resulted from normal wear and tear, buyer abuse, misuse or negligence or failure to follow instructions related to the products's installation or intended use. Seller may require proof of purchase before performing any repairs or replacing any products during the warranty period. Except as specifically set forth above, seller makes no warranties, express or implied and specifically disclaims any warranty of merchantability or fitness for a particular purpose. Repair or replacement of the product ordered from seller shall be buyer's exclusive remedy.