Ergotron 33-406-062 WorkFit-TL Desktop Sit-Stand Workstation in White
Highlights
Ergotron WorkFit-TL is the updated model of WorkFit-T
Shares all the characteristics or WorkFit-T, plus a larger keyboard tray, worksurface and higher weight capacity
Weight capacity: 10 - 40 lbs;  Adding a single monitor kit

 will reduce the weight capacity of the WorkFit-TL by 7 lbs and

 adding a dual monitor kit

 will further reduce the weight capacity by 10 lbs
Worksurface dimension: 37.5" x 25", keyboard tray: 27.5" x 11"
For smaller worksurface and Keyboard tray, please see WorkFit-T
Description
Ergotron WorkFit-TL 33-406-062 in color White is the latest design for desktop sit-stand workstation by Ergotron. Customers have been asking for larger keyboard tray and worksurface on the WorkFit-T, and Ergotron updated the WorkFit-T to come up with the new and improved WorkFit-TL. The new keyboard tray on the new model is 2.75" wider and 1.75" deeper. At the same time, the worksurface on the WorkFit-Tl is also 2.5" wider and 2" deeper than WorkFit-T.

Presenting an ultra easy standing desk solution, which quickly converts a tabletop into a healthy sit-stand workstation. Simply place the WorkFit-TL on an open surface and you're ready to work!
WorkFit-TL features a larger keyboard tray and wider worksurface. Like the smaller WorkFit-T, it saves space because it moves straight up and down, always staying within the footprint of your desktop. Extremely stable throughout its range of motion, one can freely lean on it while working without worry of tip or height-drop.
Technical Drawing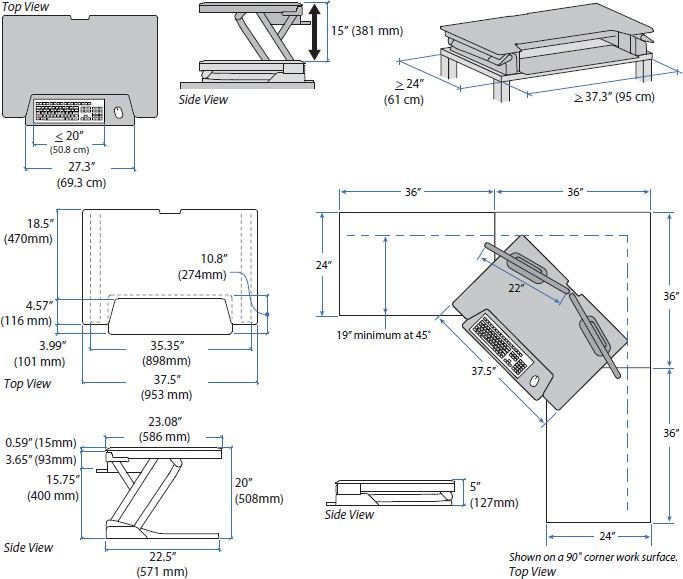 Technical Specifications
Screen

Capacity

Lift

Tilt

Pan

Rotation

VESA

Up to 30"
10 - 40 lbs

4.5 - 18 kg

15"

38 cm

-
-
-
-
Product Information
| | |
| --- | --- |
| Part Number | 33-406-062 |
| Description | WorkFit-TL Sit-Stand Desktop Workstation (white) |
| Ships | Fully assembled; no tool-adjustments needed for installation |
| Footprint | 37.5" x 23" (95 x 59 cm) |
| Fits | On desk surfaces 24" (61 cm) deep or larger |
| Keyboard Tray Dimensions | 27.5" x 11" (69 x 28 cm) |
| Keyboard | Moves in tandem with the worksurface. Tray is positioned 4.5" (11.4 cm) below worksurface to maintain ergonomic spacing between screen height and keyboard |
| Displays | Can be placed directly on the worksurface. Alternatively, use our monitor mount kits to integrate displays into system (see accessories) |
| This Product | Is certified in compliance with indoor air quality standards defined by ANSI/BIFMA pertaining to emissions of VOC (volatile organic compounds) |
| Product Weight | 56 lbs (25.5 kg) |
| Shipping Dimensions | 42" x 33.5" x 8.25" (107 x 85 x 21 cm) |
| Shipping Weight | 62 lbs (28.2 kg) |
| Warranty | Five (5) years |
Benefits
WorkFit-TL features a larger keyboard tray, wider worksurface and higher weight capacity

Add an accessory monitor mount kit: Attach your display(s) with a riser to provide independent screen adjustment while clearing worksurface space

Modify an existing office space or cubicle by simply adding a WorkFit-TL to an open tabletop, without the cost of expensive professional installers

Ships fully assembled. Sits directly on top of desk - no special mounting or tool-adjustments required for installation

Provides 15 inches (38 cm) of vertical adjustment

Instantly move to sit or stand as you work: Simply release hand-brake levers on either side of unit to position the surface higher or lower

No cranks or motors to engage: Counterbalancing mechanism uses CF technology to facilitate quick height adjustment

Extremely stable and solid platform

Space-saving design does not protrude beyond tabletop

Works well in corner desk configurations; fits on surfaces as shallow as 19" (48 cm)

Tested and guaranteed: Full 5-year warranty
| | |
| --- | --- |
| Model | 33-406-062 |
| Manufacturer | Ergotron |
| Part Number | 33-406-062 |
| UPC | 698833050806 |
| | |
| --- | --- |
| Color | White |
| Monitor Size | Up to 30" |
| Weight Capacity | 10 - 40 lbs (4.5 - 18 kg) |
| Lift | (38 cm) 15 in |
| Footprint | 37.5" x 23" (95 x 59 cm) |
| Keyboard Tray Dimensions | 27.5" x 11" (69 x 28 cm) |
| Weight | 56 lbs (25.5 kg) |
| Shipping Dimensions | 42" x 33.5" x 8.25" (107 x 85 x 21 cm) |
| Shipping Weight | 62 lbs (28.2 kg) |
| Warranty | Five (5) years |
Ergotron works for me
, Jun 20, 2016
by
Ty H
, Washington
If you're looking for a fairly inexpensive sit/stand desk option look no further. The Ergotron is ergonomically designed to offer a flexible sit/stand option for your tabletop desk. It is easily adjustable, provides multiple work surfaces and offers a roomy keyboard tray for your keyboard and mouse. In addition, it provides a very stable work surface so one can lean on it or sit heavier items on the desk without compromising function. I am extremely happy with its overall performance.
Was this review helpful to you?
Great sturdy desks - with 3 27" 4K monitors!
, Jun 5, 2016
by
alexandre k
, California
got this great desk. it is sturdy and works well even with 3 new LG 4K monitors (they have to be in portrait mode but they fit and it is just a bit above the max weight but it is still working fine). Great product so far.
I also like the fact that it is the one that rises the highest of the few that exists and that was needed for my height (6'2").
Was this review helpful to you?
Changed my life!
, Mar 29, 2016
by
karen
, Massachusetts
Recovering from disc compressions, this desk has made all the difference. It's super easy to set up and use, the surfaces are plenty large, and the price is reasonable.
Was this review helpful to you?
Easy to use, elegant to view.
, Mar 4, 2016
by
Chris B
, Wisconsin
My user is delighted to have received her sit-stand workstation. She was worried about adjusting the height with the weight of dual monitors, but she barely has to use any effort at all. Her only 'wish-to-have' is if the keyboard shelf would slide back when she wants to use just the upper shelf for reviewing paperwork, etc.
I will be buying more of these units in the future.
Was this review helpful to you?
Excellent product except for keyboard tray
, Feb 23, 2016
by
Steve
, Seattle
I've had this device for several weeks, and have enjoyed using it. It seems quite study and is able to support two monitors (both a 30 inch Dell and a 21 inch Dell) side by side. In that respect it is probably at the limits of the recommended weight capacity. The only limitation is the fact that the keyboard tray is fixed in both height and depth. It would be helpful when I stand to have more flexibility in how far I stand from the monitors and to have the ability to tweak the monitor height (via the adjustability of the sit-stand device itself) and keyboard height separately...i.e. some of the same flexibility that I have when sitting and using a standard keyboard tray.
Was this review helpful to you?
Sturdy and yet easy to maneuver
, Dec 29, 2015
by
MANOHAR R
, Pennsylvania
It is a great product helping me and my wife in many ways. It supports our monitor and laptop, enough space to use mouse and key board placement area is convenient enough. Mechanism to adjust the height is fluid and once it get locked into a height, it gives all the support we need. It is helping me and wife improve our posture as we stand and work and also helping us to be agile. I highly recommend this product to everyone.
Was this review helpful to you?
Simple setup and use, reasonable price
, Nov 20, 2015
by
Lucas
, Germany
Excellent product. At previous offices, I've used other, more expensive sit/stand solution desks. I did a lot of research to find an affordable but flexible solution when joining my current office. I got the Ergotron Workfit-T because of the affordable price and the simplicity of setup and use. After 3 months using it - I have to say it's my favorite of the 3 sit/stand desks I've had. Very easy to move up and down - plenty of work space. Highly recommended. You can simply put your entire system on it and it works. I recommend a wireless keyboard and mouse to simplify the cables. A higher-end option would be nice to include lighting for under the desk (if I want to sit to read something, etc.) but that's just being picky.
Was this review helpful to you?