Similar Products:
---
The below item has been discontinued. See above for similar products that we offer instead. We apologize for this inconvenience.
Workrite Ergonomics Conform Dual Static Monitor Arm
5
out of 5 (based on
1
review
)
Description
The Conform Dual Static Monitor Arm is designed to provide side-by-side support for two monitors, in a compact footprint. As part of the Conform family it uses the Workrite pin assembly system, allowing it to be quickly mounted to a variety of bases and reconfigured with additional Conform monitor arms to adapt to your changing needs. Easily create a quadruple monitor system by using a 28" pole mount and two Conform Dual Static Monitor Arms. The Conform Dual Static Monitor Arm has been engineered to support over 15,000 cycles and exceeds ANSI/BIFMA x5.5 requirements. TAA Compliant.

For more than 25 years, Workrite Ergonomics has been helping organizations create happier, healthier and more productive workplaces. We take issues like neck and back pain, blurred vision, and headaches caused by extended computer use seriously, and are committed to helping organizations fight these increasingly common problems.
Since creating our first elevated monitor solution two decades ago, the market and Workrite have changed, a lot. What hasn't changed is our passion for developing the best ergonomic solutions possible and our keen focus on listening to the industry. Every Workrite product is designed with the direct input of the ergonomics community to ensure they not only perform complex functions but are also intuitively simple to use.

We took a ground up approach to developing the Conform Series, which resulted in the most ergonomic, flexible, and easy to install system that we've ever created. The Conform Series features a variety of articulating and static arms, mounts, and accessories, making it an extremely versatile product that can accommodate virtually any design application or monitor configuration.
Articulating Arm options feature a pneumatic strut coupled with a vertical linkage system, allowing users to easily position monitors weighing up to 40 lbs with one hand. Static Arms provide a range of up to 2 feet of reach over the work surface and can be easily configured in arrays from 1 to 6 monitors.

The core of the Conform Series is the pin connection system, which enables arms to be inter changed and attached to a variety of base options and accessories. This allows a single desk mounted monitor system to easily become a dual arm system, or a desk mounted system to become a toolbar mounted system, or a wall mounted system to become a pole mounted system. As your needs change, Conform can easily change with you.
Conform Articulating Arms are available with pneumatic struts that easily lift monitors weighing up to forty pounds with one hand, providing users with smooth one-touch adjustability. Precision bushings coupled with a vertical linkage system allow arms to effortlessly float back and forth as users reposition their monitors to their desired focal distance and angle.

These arms are designed for fast and easy installation, and are pre-assembled, ready to slip on to your selected base option with ease. Utilizing the interchangeable pin connection system, Articulating Arms can be used with Conform Static arms, accessories, and a variety of base options. Reconfigure the Conform as hardware and office personnel needs change.
Designed for mounting multiple monitors in shallow work environments, Conform Static Arms may be used to display up to 24" wide monitors in side-by-side configurations and stacked arrangements from two to six monitors. The static height design maintains monitor alignment for a consistent appearance.

Like the rest of the Conform series, the pin connection system allows a multiple monitor arrangement to be converted into an extended single arm solution for use with a touch screen monitor, laptop or keyboard application, should business needs change in the future.
Technical Drawing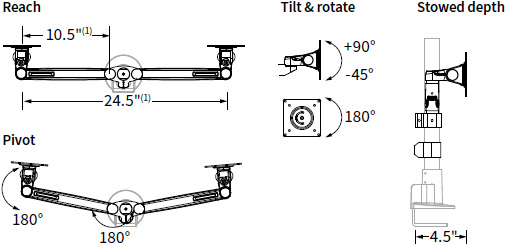 Technical Specifications
| | |
| --- | --- |
| Color | Silver and Black |
| Supports | Two monitors 0-16 lbs each |
| Maximum Monitor Height | Pole dependent |
| Articulation Range | 0" (static arm) |
| Forward Reach | 4.5" with 24" wide monitor |
| Stowed Depth | 4.5" |
| Monitor Tilt | +90°/-45° |
| Pivot | +/-90° |
| Rotation | +/-90° |
| Mounting Pattern | Standard VESA (75 mm & 100 mm) |
| Warranty | 10 years |
Benefits
Rigid support, for two monitors up to 16 lbs

Compact mount with only 4.5" deep footprint (When used with 24" wide monitors), for shallow workspaces

Easily route and conceal cables through the integrated wire managers

Discrete silver color blends into office environments

Designed for fast and easy installation
| | |
| --- | --- |
| Model | CONF-2SDS-PB-14CCG |
| Manufacturer | Workrite Ergonomics |
| Part Number | CONF-2SDS-PB-14CCG |
| | |
| --- | --- |
| Color | Silver and Black |
| Weight Capacity | 0-16 lbs each |
| Monitor Height | Pole dependent |
| Articulation Range | 0" (static arm) |
| Forward Reach | 4.5" with 24" wide monitor |
| Stowed Depth | 4.5" |
| Tilt | +90/-45 degree |
| Pivot | +/-90° |
| Rotation | +/-90 degree |
| Mounting Pattern | Standard VESA 75 mm & 100 mm |
| Warranty | 10 year |
| Number of Monitors | 2 Monitors |
| Maximum Monitor Size | 24" |
| Monitor Placement | Side-by-Side |
Dual Monitor Arm, The Best I've Seen
, Sep 06, 2017
by
Charles H
, Avalon, New Jersey
I work doing IT for the County Gov't and routinely have dual monitors to set up at desks and workstations. Various brands have been used. My side gig is doing Marine electronics which I have done for years. I needed to set up a dual monitor arrangement in the wheelhouse of a 125' ft boat. After much research I settled for the Ergo Dual Monitor Arm since I needed an arm that could be set and locked in place. Since boats move any of the previous units I had worked with would be unworkable. The fit and finish was excellent and I was able to tighten the bolts to lock it down. Captain Howard was very pleased with the final installation.
0 of 0 voted this review as helpful
Was this review helpful to you?
Warranty
Workrite warrants to the original purchaser that the products it manufactures are free from defects in design, material and workmanship. Subject to the limitations below, Workrite warrants each product in this catalog to be free from defects in materials and workmanship for the life of the product in its original installation. With prompt written notice, Workrite will repair or replace, free of charge, any product, part or component which fails under normal use as a result of such defect.
Sierra HX Height Adjustable Workcenter components - Limited Lifetime
Electric components, motors, frames, brackets and feet.
All of the following exceptions to the limited lifetime warranty apply:
Fundamentals Electric Height Adjustable Workcenter components - 10 years
Electric components, motors, frames, brackets and feet

Essentia Height Adjustable Workcenter components - 5 years
Electric components, motors, frames, brackets and feet

Laminated worksurfaces and modesty panels - 5 years

Sierra HXL Crank Height Adjustable Workcenter components - 5 years
Including crank mechanisms

Cascade Height Adjustable Workcenter components - 5 years
Including counter-balance mechanisms

Line of Sight electrical components and manual lifts - 5 years

Line of Sight frames and metal desk parts - 5 years

Monitor supports and mounts - 10 years

Solace Clamp-on sit-stand products - 5 years

Solace Desktop sit-stand products - 2 years

LED and florescent lighting fixtures - 5 years

Lighting transformers and fluorescent ballasts - 1 year

Tranquility Wool & PET Felt panels and mounts - 5 years

Tranquility Poly Panels - 2 years

Fabrics, modesty panels, custom products and special order items - 2 years

Mousing surfaces and Slide Guide - 1 year