Back App 360 Balance Board
Product ID 18778
HIGHLIGHTS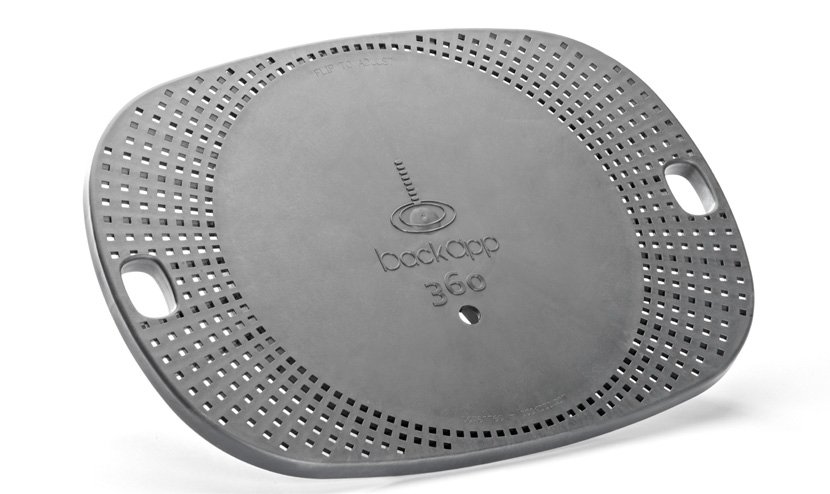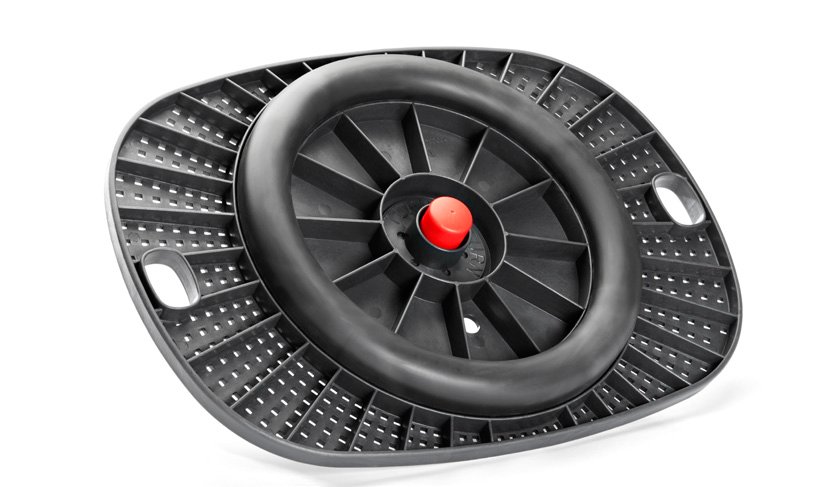 Description
On the Back App 360 you stand and balance comfortably in all directions. This provides subtle training to the muscles and joints especially in the ankle, leg, knee and hip producing mild training all the way up the back. Back App 360 stimulates circulation in the legs, especially in the calves. Back App 360 prevents injuries in the ankles, knees and hips.

Back App 360 is a natural part of the modern office environment and the variation of sitting on Back App chair and standing on Back App 360 provides the best conditions for promoting good health even in a hectic working environment.
Back App 360 is different from all other balance boards. The movement is cushioned and adjustable which makes the 360 both safe and comfortable. It lets you balance in every direction and keeps you moving throughout the day.
Features
Activate your balance motor - Back App 360 uses the same technology as the Back App chair. You turn the magic ball to increase the balance training. Your balance motor is working when you're standing on Back App 360. You get better posture and train your hip- and leg muscles. On the chair you mainly exercise your back. This is why the chair and the balance board complement each other perfectly.

A better office space - Our users love the Back App 360. Not only because they get a more active work environment but also because the balance board actually makes them healthier. Balancing on the 360 exercises your leg muscles, hips, ankles and spine. You also increase the blood circulation in your legs.

Patented technology - The Back App technology is Unique and defended by technical patents. The clue of the patent is the damping device making it possible to stand safely on the adjustable ball (knob).
Technical Drawing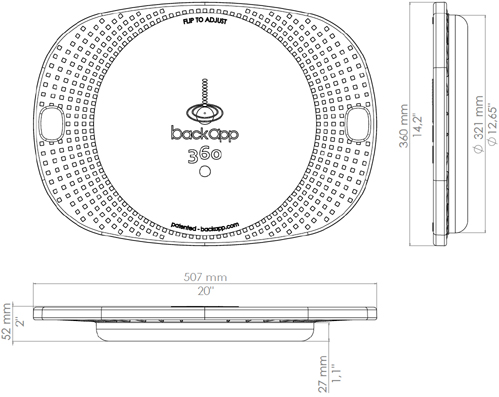 Technical Specifications
Back App and the Back App 360 balance board use the patented Back App technology. A comfortable 360 ​​degree tilt movement is achieved by the body balancing on the centrally located "Magic Ball" surrounded by a soft circular damping cushion.
When balancing on Back App 360 you tilt in all directions.

By turning the red knob up or down, you can easily adjust the amount of tilt you receive.

The soft circular damping device makes the tilting movement comfortable for all users.
How to use Back App 360
Balancing on Back App 360 you are tilting in all directions. By turning the red knob in either direction you easily adjust the tilting movement. The soft ring shaped damping device makes the tilting experience comfortable for all users.
Standing on Back App 360
Standing on Back App 360 balance board with the adjustable "Magic Ball" will:
Exercise joints and muscles of the ankles, legs, knees and hips

Improve your posture

Improve blood circulation
Product Options/Accessories
| | |
| --- | --- |
| Model | Back App 360 |
| Manufacturer | Back App |
| Part Number | Back App 360 |
Customer reviews
1 stars

0

2 stars

0

3 stars

0

4 stars

0

5 stars

0