The below item has been discontinued. See above for similar products that we offer instead. We apologize for this inconvenience.
WorkRite Sierra Electric Equal Corner 2legs or 3legs Height Adjustable Workcenter
Adjusts 22" - 48", lifting capacity 250 lbs at 2" per second. It is custom made and ships in 10 business days.
Accessories for Sierra Electric Equal Corner Height Adjustable Table
| | | | | | |
| --- | --- | --- | --- | --- | --- |
| | Workrite 820 Storage Tower | | | | |
| | | | | | |
| | WorkRite 95205 CD Holder | | | | |
| | | | | | |
| | | | | | |
WorkRite Sierra ELectric SE424224 Equal Corner 3 Legs Height Adjustable Desk
General Information
WorkRite Sierra Electric Equal Corner 2legs SE606024 Height Adjustable Workstation and Table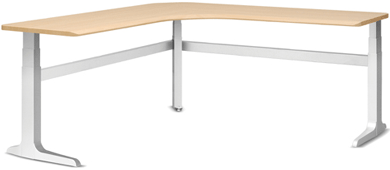 Workrite Sierra Workcenter Description
Features:
Adjusts from 22" - 48" at 2" per second

Two piece thermofoil top, two piece laminate top if width greater than 60"

Specify position of up/down control switch with 3 memory presets - under front edge of worksurface (U) or on right front corner of table top (A)

Load capacity 250 lbs.
The single solution for a varied workforce:
The increased diversity of today's workforce heightens the need to provide workcenters that meet the requirements for the entire range of body shapes and sizes. Only Sierra provides 5th - 95th percentile height adjustability for the complete worksurface. Sierra is the only workcenter whose entire working surface - not just a keyboard platform can be raised or lowered to meet the ANSI/BIFMA height range requirements.

Strength in numbers:
A smooth and powerful, yet quiet, computer controlled motor moves the workcenter at 2 inches per second, quickly making the transition from seated to standing position heights.

A sleek profile that works everywhere:
With its transitional styling, wide range of available shapes and silver or charcoal metal finish, the Sierra will adapt to virtually any office environment.
Advanced Controls:
Sierra features an exclusive backlit LCD control panel with tactile soft-touch control buttons and 3 programmable memory height presets. Panel mounts on or under worksurface.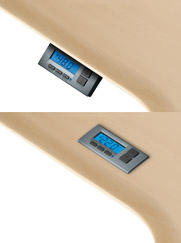 Tool Bar and Privacy Panel:
Make your workcenter work for you with our complete line of accessories, mounted to our stylish tool bar or privacy panel.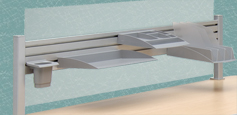 Extended Range:
Sierra's electric worksurface adjusts from 22.0" - 48.0", smoothly and quietly at a rate of 2" per second, with a lifting capacity of 250 lbs.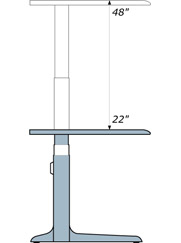 Option 1:

Choose your

Surface Dimensions:
| | |
| --- | --- |
| Equal Corner - 2 Legs | Equal Corner - 3 Legs |
| Model SE424224 : 42" x 42" x 24" Surface Dimensions | Model SE606024 : 60" x 60" x 24" Surface Dimensions |
| Model SE454524 : 45" x 45" x 24" Surface Dimensions | Model SE666624 : 66" x 66" x 24" Surface Dimensions |
| Model SE484824 : 48" x 48" x 24" Surface Dimensions | Model SE727224 : 72" x 72" x 24" Surface Dimensions |
| Model SE424230 : 42" x 42" x 30" Surface Dimensions | Model SE606030 : 60" x 60" x 30" Surface Dimensions |
| Model SE454530 : 45" x 45" x 30" Surface Dimensions | Model SE666630 : 66" x 66" x 30" Surface Dimensions |
| Model SE484830 : 48" x 48" x 30" Surface Dimensions | Model SE727230 : 72" x 72" x 30" Surface Dimensions |
Option 2:

Switch Position:
| | |
| --- | --- |
| On Worksurface (A) | Under Worksurface (U) |
Option 3:

Choose your

Base Frame Color:
| | |
| --- | --- |
| | |
| Charcoal (C) | |
Option 4:

Choose your

Laminate Top Color:
Classic Collection Laminates
White Spectrum

AW785

Amber Raffia

AO351

Black

SE101

Black Ashwood

SZ101

Caramel Crepe

AT111

Coriander Fiber

AT981

Folkstone Gray

SG241

Gateway to the Future AV100

Hardrock Maple

WM791

IL Palio Papel

AV981

Jewel Mahagony WY351

Manila Linen

AT231

Opti Gray

SG213

Pearwood

WX031

Sharker Cherry

WC521

Taupe

ST606

Vanilla Fiber

AW871

Wheat Fiber

AT991

Opti Gray Crepe

AG341

Oiled Cherry

WC421
Designer Collection Laminates
Almond

ST655

Spa White

S740T

Sage

SV720

Thyme Fiber

AV721

Anigre

WX041

Beige Crepe

AT251

Beige Crepe

AT301

Blue Sandstone

AB191

Cubicle Papel

AG561

Yorkshire Cherry

WC411

Graveyard

AG611

Gray Santos

AG291

Gridlock

PFA51

Honey Maple

WM951

Millwork Cherry

WC431

Moonlighting Papel AV971

Moroccan Fresco AT121

Negotiating in Geneva PFA60

Oatmeal Fiber

AT101

Pearl of the Orient AG601

Pepper Fiber

AG581

Putty Gray

SG209

Rhinestone Cowboy AT151

Sipping Seattle Java PFA48

Star of the West

AT361

Streets of San Francisco PFA54

Witchcraft

WX421
Thermofoil Laminates (Minimum 10 Desks)
American Natural

98150

Aururn Pear

88898

Cashmere Fiber

98930

Clove

90340

Ebony Starlight

89865

Hayward Cherry

498120

Northern Gray

448395

Studio White

Dust 88885
Option 5:

Edge Treatments
Edge Treatments for Laminated Surfaces:
Standard

Colors 01 - 05

Wedge

Black only - 06

Ripple

Black only - 07
Standard Edge Colors:
| | | | | | |
| --- | --- | --- | --- | --- | --- |
| Folkstone 01 | Black 02 | Opti-Grey 03 | Almond 04 | HW Brown 05 | Soft White 53 |
Edge Treatments for Thermofoil Surfaces:
Option 6:

Casters
Sierra Locking Casters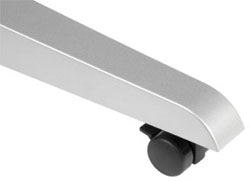 Features:
Low profile locking casters, 2" W x 1.5" H

Casters raise workcenters by 1" versus installed adjustable glides

Can be used with all Workrite adjustable workcenters, recommended for Sierra workcenters

Four (4) casters required for 2 leg workcenters, five (5) casters required for 3 leg workcenters
The following casters are available:
95234: 4 casters for 2 leg Workcenters

95235: 5 casters for 3 leg Workcenters
Option 7:

Pinch Points
Actual Desktop Size:
Dimensions provided above are nominal. Actual widths of all tables are reduced by approximately 2" and depths by 1". For example, a nominal 72" x 72" x 24" large corner table has an actual dimension of 70" x 70" x 23", and a 72" x 30" rectangular table has an actual dimension of 70" x 29".
Workcenter Ordering Information
For Thermofoil laminates: Minimum quantity 25 tables per base model number (i.e. SE6030); consult factory for quote on larger projects.
Dual Surface specifications:
Front surface laminate and trim matches main worksurface.
Keyboard Cutout:
Front surface adjusted using fixed mount Pinnacle 2 Arm with 0" to -6" height range and -15 degree to +10 degree tilt range.
Switch Position:
If switch position not specified, under mount version (U) will be provided.
All tables have adjustable glides at front and back of each foot, providing 0.5" adjustment.
Table Surface Installation:
Table surfaces are pre-drilled with mounting location for bases and dual surface platform (if any). A joining kit is provided for all three leg tables with a two piece top.
Assembly:
All tables and bases ship unassembled. Weight information is shipped weight for laminate option only.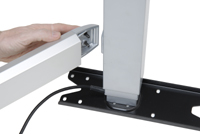 Power:
Control box powered by 120V / 60Hz. May draw 6 amps maximum under full load, idle current is typically 20mA. 10ft grounded power cord with IEC type connection at control box provided.
Cable management spool provided to manage excess control cables; optional cable mount accessories are available - see Accessories.
Application Tips:
Mobile pedestals 21.5" H x 17" D and 21.5" H x 18.75" D will fit under 24"D and 30" D tables, respectively. To accommodate deeper pedestals, contact factory for custom leg placement.
Moving worksurfaces can collide with other components. Installation of overhead storage or wall mounted accessories in the path of the worksuface is not recommended. WorkRite has tool bars which move with the worksurface and can accept a variety of desk accessories.
Note for Base Units Only:
For safe operation of the moving worksurface in close proximity to walls or other worksurfaces, we recommend the following:
Reduce the width of the worksurface by two inches.

Reduce the depth of the worksurface by one inch.

Customer assumes full responsibility for proper clearances.
Lead Times:
Classic Collection Laminates: Ships in 10 working days

Designer Collection Laminates: Ships in 15 working days

Thermofoil Laminates: Ships in 6 weeks, minimum quantities apply

Note: All lead times quoted are for the models shown in current catalog. Please call for lead times on custom tables.
Literature (Please open the following documents for more technical information)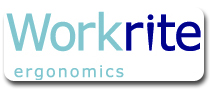 Privacy Notice:
ErgoDirect.com fully respects and protects your privacy. With the exception of arranging for delivery of the products ordered, we do not sell, share or rent any personal information (including your name, address, telephone number or e-mail address) to other parties for any reason; nor do we contact you by telephone or e-mail to solicit additional products or services.
| | |
| --- | --- |
| Model | se424224 or se454524 or se484824 or se424230 or se454530 or se484830 or se606024 or se666624 or se727224 or se606030 or se666630 or se727230 |
| Manufacturer | Workrite Ergonomics |
| Part Number | se424224 or se454524 or se484824 or se424230 or se454530 or se484830 or se606024 or se666624 or se727224 or se606030 or se666630 or se727230 |
Be the first to review this product