Innovative 8326 Vertical Wall Mounting Track, Cable Management
Highlights
13" track will hold ONE monitor arm
19" track will hold ONE data entry arm and ONE CPU holder
31" track, the most popular track, will easily hold ONE monitor arm, ONE keyboard arm and ONE CPU holder
Monitor Arm and Keyboard arm are not included in this product. Please order from options 
Related Products
| | |
| --- | --- |
| Part Numbers | Description |
| 8326-19 | Vertical Wall Mounting Track System with 19" length and 4.36" width |
| 8326-13 | Vertical Wall Mounting Track System with 13" length and 4.36" width |
| 8326-31 | Vertical Wall Mounting Track System with 31" length and 4.36" width |
| 7Flex-104i | Horizontal 24" and Vertical 16" Range LCD Monitor Arm |
| 7000-1000-NM | Horizontal 24" and Vertical 16" Range LCD Monitor Arms, No Mount |
| 7500-1000-NM | Horizontal 27" and Vertical 18" Range LCD Monitor Arms, No Mount |
| 7500-800-NM | Horizontal 27" and Vertical 18" Range LCD Monitor Arms, No Mount |
| 7509-1000HY-NM | Horizontal 27" and Vertical 18" LCD Monitor Arms, No Mount |
| 8328 | Track Mount |
| 7019-NM | 7000 Series Articulating Keyboard Arm |
| 8318-RS90-180-104 | Rotation Stop can be setup at 90 or 180 degree angles |
| 8335-SM | Small 2-3" wide CPU Holder |
| 8335-MD | Medium 3-5" wide CPU Holder |
| 8335-LG | Large 5-7.5" wide CPU Holder |
| 8339 | Large Keyboard Tray |
Description
Innovative 8326 vertical monitor mounting track system saves space by elevating the entire computer system and can be configured to fit individual application needs.

Innovative 8326 Vertical Mounting Track provides an extremely space-efficient method of elevating your entire computer system. This configurable solution can be customized to meet your needs - incorporate flexible LCD arms, keyboard arms, even a CPU holder. Cables are routed through track, and hidden behind a cable channel.

Options
Comes in standard track length of 19". Please call for alternate track sizes

Add any of Innovative's monitor arms (specify the arm in addition to 8326 vertical track mount)

To add a keyboard arm, specify the model 7019-NM (7000 series articulating monitor arm with 8339 large keyboard tray), as well as the 8328 vertical track mount

To support a CPU, specify the 8335 CPU holder
The Wall Track Solution
Create a complete workstation that saves space. Innovative's vast offering of LCD arms means you can create a wall track system that is custom tailored to your needs.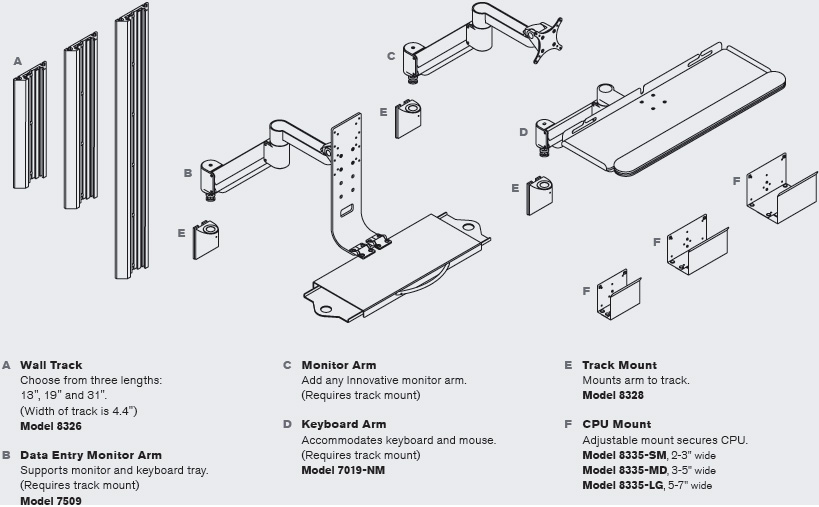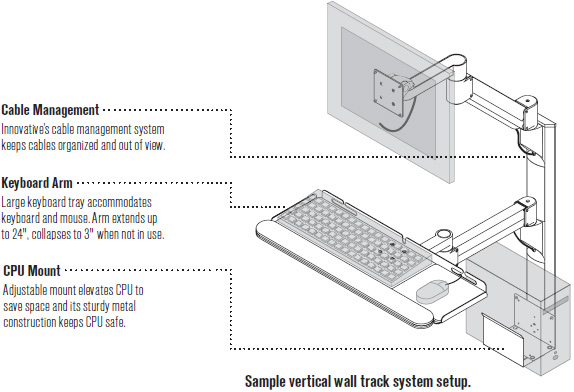 Specifications
| | |
| --- | --- |
| Color | 104 - Vista Black, 124 - Silver, 232 - Linen White |
| Standard Track Length | 19" (13" and 31" lengths also available) |
Features
Mounting system is available in standard lengths of 19" (13" and 31" lengths also available)

Configure with your choice of LCD arm, keyboard arm or CPU holder

Contributes to a clean and neat work area

Prevents accidents and trip hazards which may damage equipment or harm staff

Integrated cable management keeps cables organized and out of view
| | |
| --- | --- |
| Model | 8326 |
| Manufacturer | Innovative LCD Arms |
| Part Number | 8326 |
| | |
| --- | --- |
| Color | 104: Vista Black, 124: Silver and 232: Linen White |
| Track Length | 19" (13" and 31" lengths also available) |
Be the first to review this product
Warranty
Seller warrants that its products will be free from defects in material and workmanship when the title passes to the buyer. Seller will repair or replace, at its discretion, any defective product without charge (shipping charges excluded) for a period of 10 years (exception: 1 year for Busby, 5 years for Winston Workstation, Winston-E, Winston Desk and Freedom Desk, 3 years for Tablik and 1 year for Bild motorized column) after the original date of sale, unless the product damage resulted from normal wear and tear, buyer abuse, misuse or negligence or failure to follow instructions related to the products's installation or intended use. Seller may require proof of purchase before performing any repairs or replacing any products during the warranty period. Except as specifically set forth above, seller makes no warranties, express or implied and specifically disclaims any warranty of merchantability or fitness for a particular purpose. Repair or replacement of the product ordered from seller shall be buyer's exclusive remedy.