Ergotech 7Flex-CN-104 Monitor Arm
Product ID 15989
HIGHLIGHTS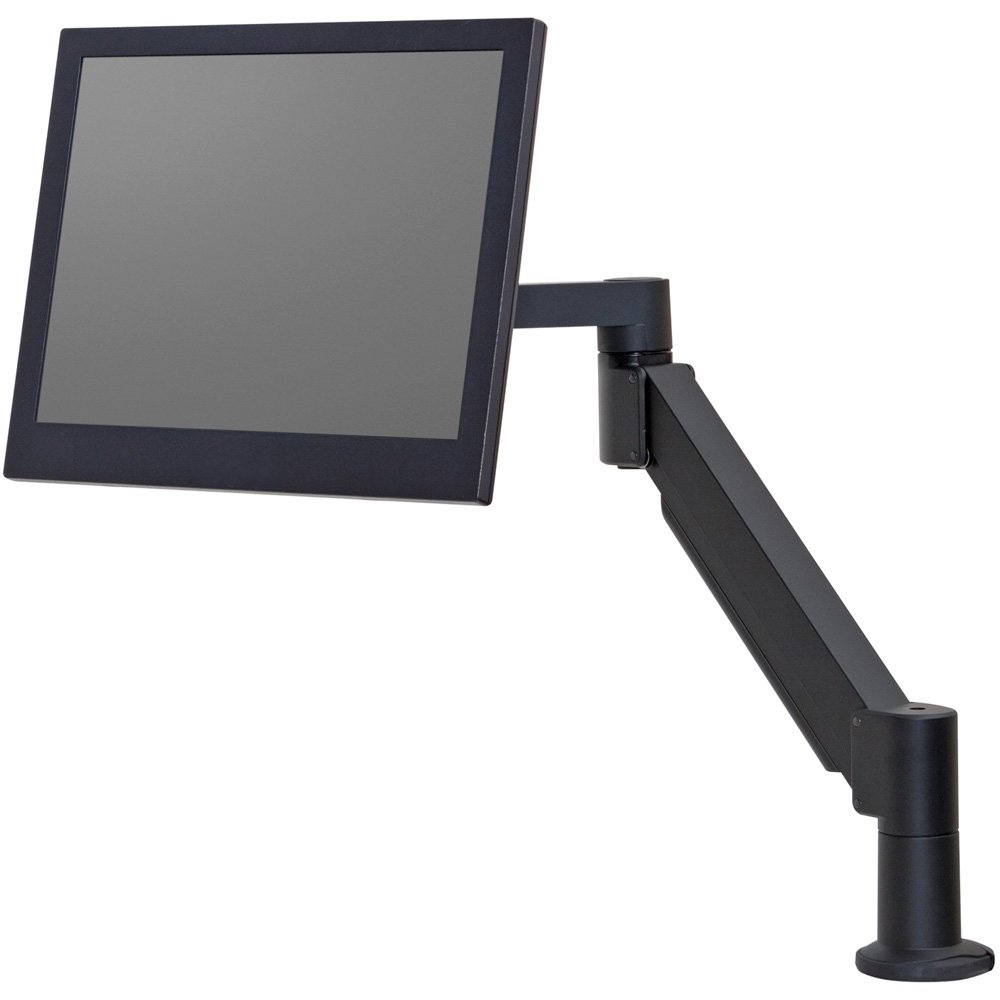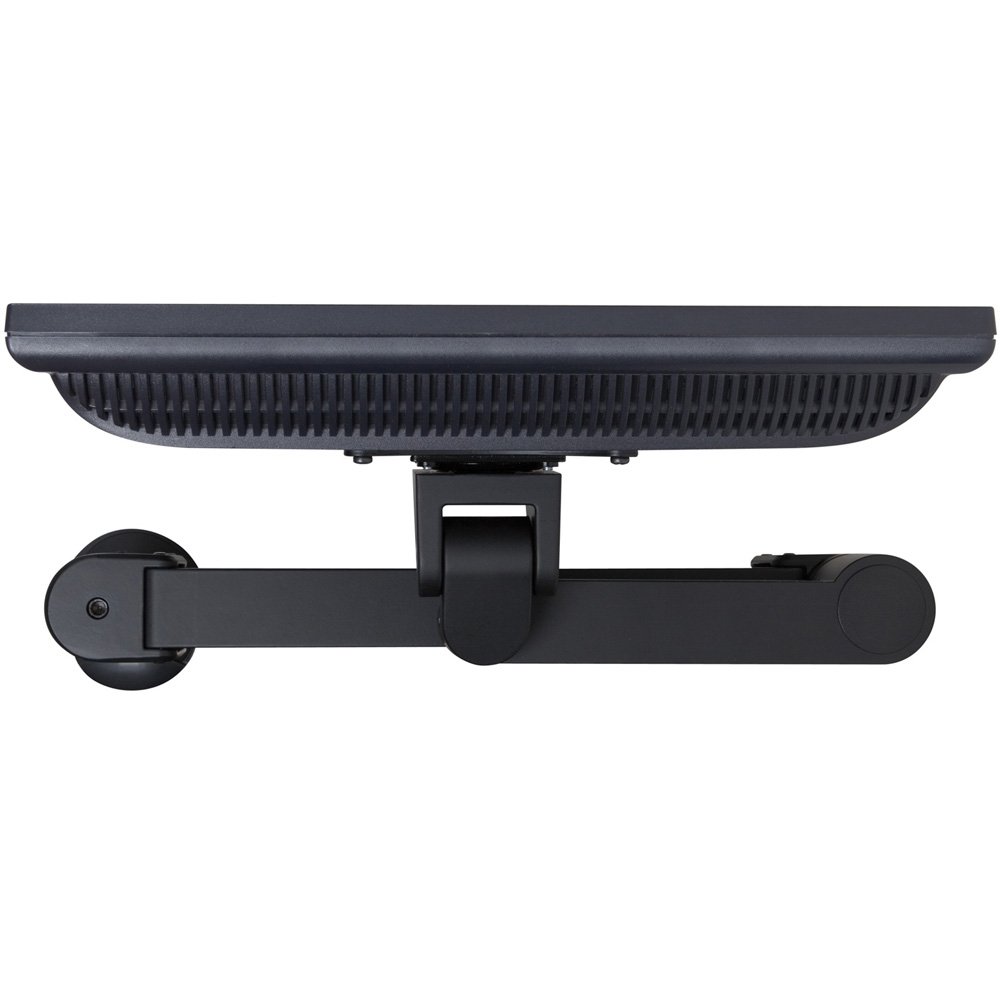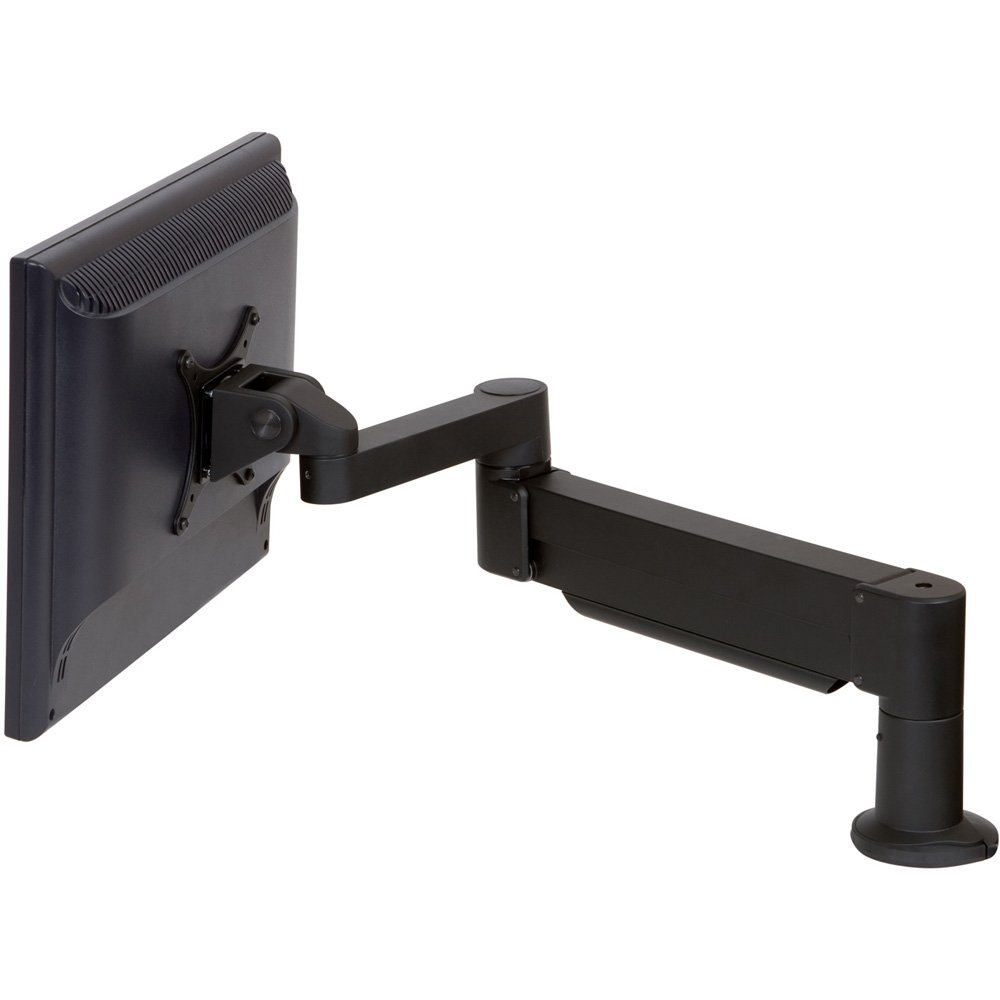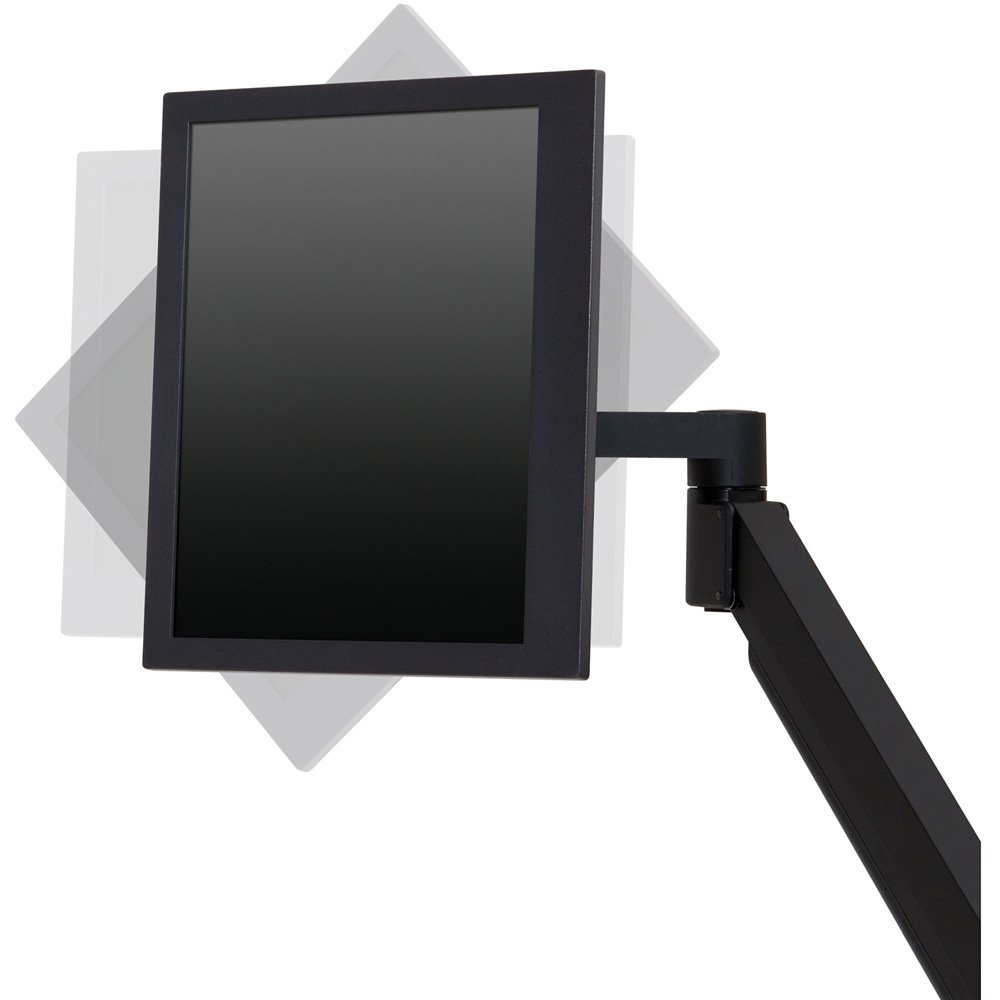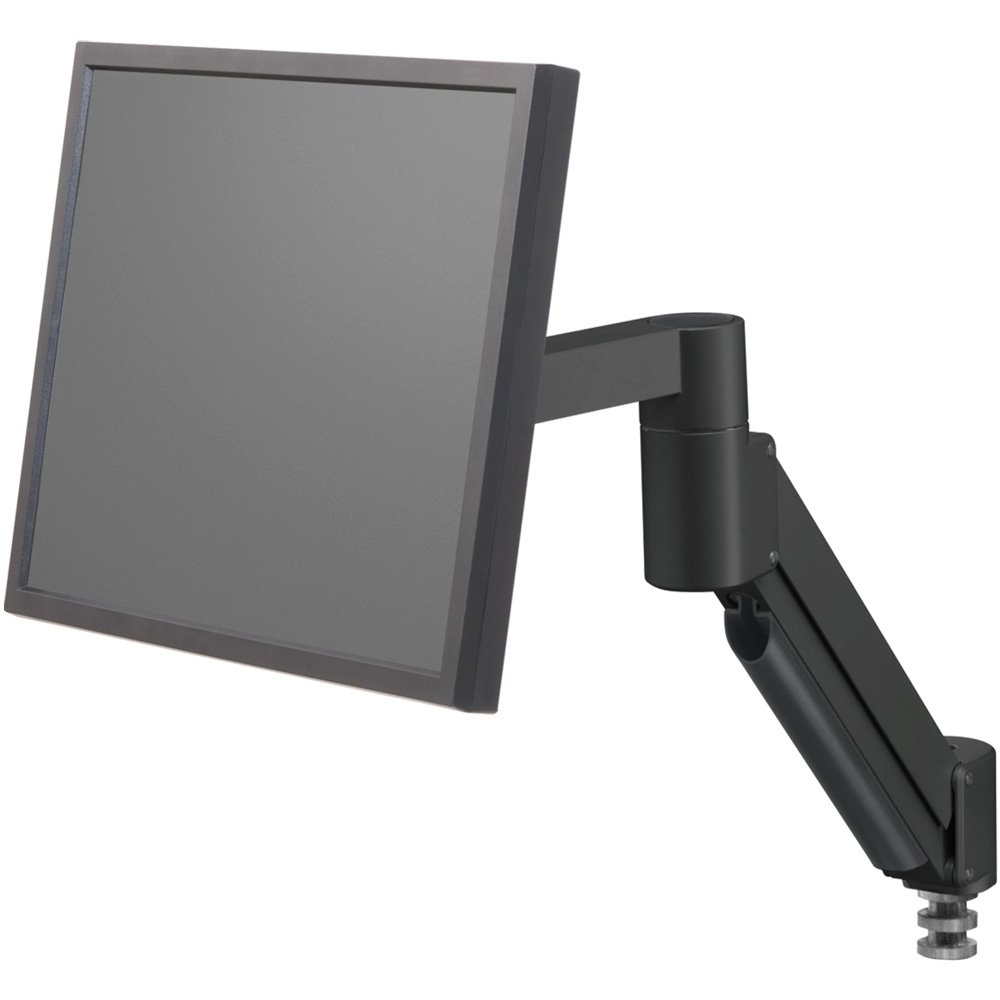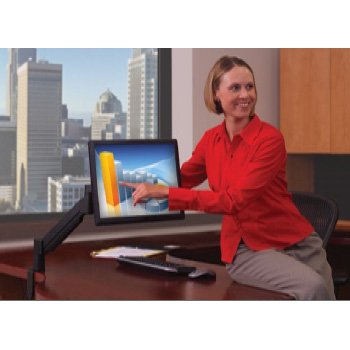 Description
Ergotech 7Flex LCD Arm will change the way you work. The arm suspends your flat panel above your desk, allowing you to quickly re-position the monitor with just one hand. Simply move the monitor to where you need it. The arm eliminates the monitor footprint on your desk - reclaim your desk, even as you work in greater ergonomic comfort.
7Flex is a value product - with incredible flexibility and versatility at an attractive price.
Please note this monitor arm was updated in January 2022. The manufacturer, Innovative Design Works, has upgraded this part.
Tilter - A tilter is the part of the adjustable monitor arm that attaches to the back of your monitor and allows the monitor to rotate, pivot and tilt to desired position.  This monitor arm is now available with Next Gen Tilter 8500. This new tilter apart from being slim and sleek has a quick release bracket, which makes installation and release easy and fast. It has a 30 lb weight capacity. However please bear in mind that the Next Gen Tilter 8500 comes with 100mm VESA adapter unlike the earlier standard tilter which comes with 75mm and 100mm adapter plate. If your monitor has only 75x75mm VESA pattern, please contact us through monitor arm finder. We will find the best monitor arm that matches your needs.
| | |
| --- | --- |
| 8500 Quick Release Monitor Tilter | 8336 Standard Monitor Tilter |
Technical Drawing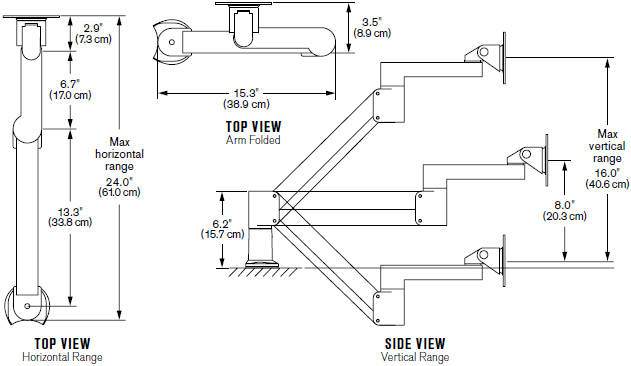 Technical Specifications
| | |
| --- | --- |
| Monitor Screen Size | Up to 32" |
| Horizontal Range, per arm | 24.0" (61.0 cm) |
| Rotation | 360 degrees at three joints |
| Monitor Tilt | 200 degrees |
| Monitor Pivot | Landscape to portrait |
| Monitor Compatibility | Compatible with all VESA monitors - Includes VESA 100mm |
| Cable Management | Cables are clipped beneath arm |
| Mounting Options | FLEXmount, Wall, Thru-Desk |
| Monitor Weight, model number | 5 - 17 lbs (2.3 - 7.7 kg) / 7Flex-104i |
Features
Gas cylinder "floats" monitor above desk - instantly raise and lower monitor
Extends up to 24" (61.0 cm), with 16" (40.6 cm) vertical range and folds up to occupy just 3.5" (8.9 cm) of space
VESA-monitor compatible - 100mm VESA adapter included. Please call for non-VESA options
Monitor tilter mechanism can tilt over 200 degrees
Rotates 360 degrees at three joints
Integrated cable management system keeps your work surface free of annoying cable clutter
Made of sturdy cast aluminum
Optional 6" extender tube available to raise monitor (see Extender Tubes under Available Accessories)
Product Options/Accessories
| | |
| --- | --- |
| Model | 7Flex-CN-104 |
| Manufacturer | Ergotech |
| Part Number | 7Flex-CN-104 |
| UPC | 814595020462 |
| Weight | lb(s) |
| | |
| --- | --- |
| Mounting Options | Desk, Wall, Thru-Desk, Grommet, Reverse Wall, Side Bolt |
| Monitor Arm Types | 1 Monitor |
| Color | Vista Black |
| Vertical Range | +/- 8" (20.3 cm) from horizontal |
| Horizontal Range | 24" (61.0 cm) |
| Rotation | At three joints 360 degree |
| Tilt | 200 degree |
| Weight Capacity | 5 - 17 lbs (2.3 - 7.7 kg) |
| Number of Monitors | 1 Monitor |
| Screen Size | Up to 32" in |
Customer reviews
1 stars

0

2 stars

0

3 stars

0

4 stars

1

5 stars

5
Very Good Product
by Marc L, Folsom, California, Feb 19, 2019
Very good product. Provides great flexibility on monitor positioning. Very easy to set up. Customizable adjustments for ease of movement provides an advantage over most other monitor arms. This arm replaced another cheaper one that was only one month old and hard to position.
Easy assembly, nice range
by Seth C, Indiana, May 01, 2018
installation
by Lana Y, California, Jul 08, 2016
easy to install and fit our need
Works Great!
by Rob, Massachusetts, Apr 21, 2016
2nd time purchasing addition mounts !
Great fit
by Rob, Massachusetts, Dec 21, 2015
Very Strong Mount, not for products around 3lb weight, 5lb or more. Only reason for 4 rather than 5 starts, is that the two small set screws made to hold at the upper and lower pivot can be stripped fairly easily if to much force is used. But great product other than that,
A great articulating arm to make more space on your desk.
by Michael T, Virginia, Aug 12, 2015
Although this arm did everything that it claimed, it did not work for my application. It was made to hold a somewhat heavy monitor. I was trying to use it to hold a camera. My camera did not weigh enough to make it hold in place. I need an arm that can work with a 1-5 pound rating. We made a special camera mount adapter, but we could not make the weight workout. Even when we turned the setting to the lightest weight setting it would not work, it would not stay down. Not a problem with your arm, I could not fault your arm, I can only fault my usage of your arm. Do you by any chance have this same arm, but with a lower weight setting piston spring actuator?
Product Warranty
Seller warrants that its products will be free from defects in material and workmanship when the title passes to the Buyer. Seller will repair or replace, at its discretion, any defective product without charge (shipping charges excluded) for a period of: Freedom Arm 3 years, 200 Series Arm Lifetime, 320 Series Arm 5 years, 7Flex Arm 10 years, 100 Series Monitor Mounts Lifetime, OmniLink 10 years, Tablik 3 years, VersaStand 1 year, VersaFlex 1 year, One Touch 10 years unit/parts, 2 years motor - after the original date of purchase, unless the product damage resulted from Buyer abuse, misuse or negligence. Seller may require proof of purchase before performing any repairs or replacing any products during the warranty period. Except as specifically set forth above, Seller makes no warranties, express or implied and specifically disclaims any warranty of merchantability or fitness for a particular purpose. Repair or replacement of the product ordered from Seller shall be Buyer's exclusive remedy.
Warranty Claim Procedure
Please call 877-523-2767 or email [email protected] with the return reason in order to initiate the warranty claim procedure.
Wait for return request approval from Ergotech. You must obtain an RMA # from Ergotech prior to shipping your item back for a refund or replacement.
Once you receive return approval and your RMA#, please repackage the item(s), using the original packaging boxes/inserts/padding (when possible) to minimize damage and to ensure the product(s) are returned to us in the same condition as you received it.

Send the product to the following address:
Ergotech c/o Innovative Office Products, Inc.
100 Kuebler Road
Easton, PA 18040
Attn: RMA #XXXX
Your refund will be processed within 10 business days of receiving your return and inspecting your item.