The below item has been discontinued. See above for similar products that we offer instead. We apologize for this inconvenience.
ISE Rise Electric 90 Degree Wing 2 Leg Height Adjustable Table
Electric 2-leg base. Height range 22" - 48"
Description
The standing revolution has firmly taken hold, with ergonomists, media, and governments all jumping on the bandwagon. From "sitting is the new smoking" to "Is your chair killing you?", sitting disease is on the lips of employees across North America.

Studies show that sitting all day at a fixed height work surface can result in repetitive strain injuries, slowing metabolism and obesity. Simply standing burns 60 more calories per hour than sitting.

It is not only healthier to regularly change from a seated to a standing position, but studies prove that employees at height adjustable workstations are significantly more productive. Employers save on churn costs, decrease each employee's real estate footprint and show a commitment to worker well-being.

RISE is the solution. Its 22"-48" height range is ideal for large companies who can standardize on one table to fit the vast majority of employees. RISE is available in a wide range of configurations, including 2 and 3-leg tables. The adjustable width frame expands and contracts to fit worksurfaces from 48"-84", and is available in smaller and larger sizes. The base can be customized to fit almost any size or shape of worksurface.
Dimensions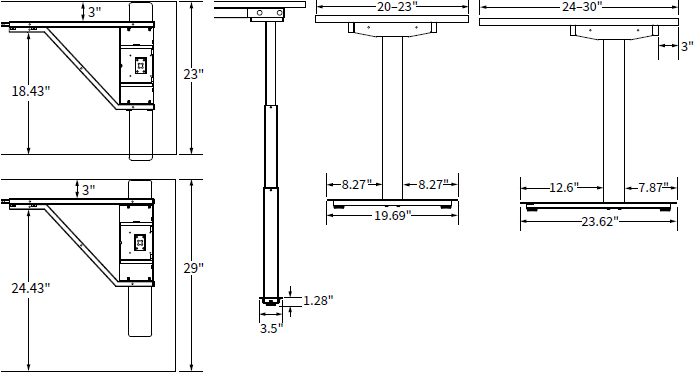 Features
Electric Bosch German motors in each leg provide effortless adjustment

Anti-collision function automatically stops motors when table makes contact with an immovable object

RISE tables are the greenest tables on the market today, using less than 50 cents of electricity per year in standby

The unique frame design accommodates an adjustable keyboard system without spacers

Available with standard up/down switch or digital display switch with four memory positions
Specifications
Height range: 22"-48" from the floor to the top of a 1" worksurface

Width adjustable base allows one SKU to fit a large number of worksurface sizes (36"-48", 48"-84" or 84"-90")

Available in silver, white and black

Speed: up to 1.6" per second

Weight capacity: 225 lbs as standard, 300lbs upgrade available

Power usage: 0.05W in standby / 84W in use

Certifications: UL, ANSI/BIFMA

Environmental: LEED MR 4.2, ID 1.1-1.4 eligible, worksurfaces Greenguard certified

Warranty: 10 years (electrical 3 years)
Option 1: Surface Dimensions
Worksurface 24" x 36" ST-WIN-2436 and Frame Set SB-RISE-2-EQ
Worksurface 24" x 42" ST-WIN-2442 and Frame Set SB-RISE-2-EQ
Worksurface 24" x 48" ST-WIN-2448 and Frame Set SB-RISE-2-EQ
Option 2: Switch Type

Standard Control Switch

RISE-SWITCH-DRMS or RISE-SWITCH-DRMS-A
Push button up-down switch included or optional push button up-down switch with LED read-out display.
Option 3: Base Frame Colors
Option 4: Laminate Top Colors
Colors and patterns are representative only. Actual colors and patterns may vary slightly
Option 5: Edge Style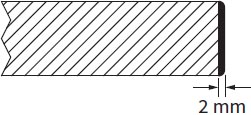 Edge Band Edge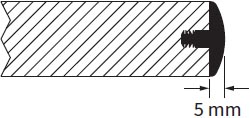 T-Mold Edge
Option 6: Edge Treatment
Colors and patterns are representative only. Actual colors and patterns may vary slightly
Option 7: Casters - Wheels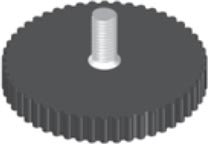 RISE-GLIDESET-CARPET
Carpet Gripper Glide

Special glides for soft carpeted surfaces to provide extra grip

Compatible with RISE and Ascent bases

4 glides required for a 2-Leg base

Sold as a set of 4 glides

Black finish
Option 8: Power Strip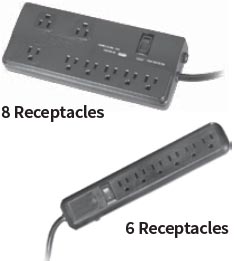 SA-PB-6-4 includes lighted surge indicator - 330 VAC Clamping / 270 joules - 6 receptacles - 4' cord length

SA-PB-8-6 includes lighted and audible surge indicator - 330 VAC Clamping / 1020 joules - 8 receptacles - 6' cord length

EMI-RFI Filters: SA-PB-6-4 /40 dB, SA-PB-8-6 /58 dB

Built-in surge protection

Intended for single station applications

UL/CSA Certified

Lighted rocker switch for on/off control

Includes 15 amp grounded power cord

Includes 15 amp Circuit Breaker

Fits all widths of Line-of-Sight Workstations

Includes mounting hardware
| | |
| --- | --- |
| Model | Rise Electric 90 Degree Wing 2 Leg |
| Manufacturer | ISE Ergonomics |
| Part Number | Rise Electric 90 Degree Wing 2 Leg |
| | |
| --- | --- |
| Desk Type | Electric |
| Desktop Shape | 90 Degree Wing 2 Leg |
| Weight Capacity | 225 lbs as standard, 300 lbs upgrade available |
| Height Range | 22" - 48" |
| Warranty | 10 years (electrical 3 years) |
Be the first to review this product