Workrite Essentia Electric Small Equal Corner 2 Leg Workcenter
Lead time for standard laminate work surface is 10 business days for quantities of 10 or less. Please call 888-456-3746 for delivery time on non-standard and special size laminate tops.
Description
Greater flexibility for workspace design. Introducing Essentia, the newest and most exciting member of Workrite's height-adjustable workcenter portfolio. Featuring our exclusive European manufactured industrial design, an inductive touch control switch with 6 memory presets, and adjustable stretchers that provide greater flexibility for work space design, Essentia is truly in a league of its own.

Essentia is available in 2-leg or 3-leg configurations, meets BIFMA G1-2013 Ergonomic standards for adjustability, exceeds BIFMA X5.5 requirements for performance and durability, is UL Listed, and Greenguard certified. Essentia is, quite simply, one of the highest quality value priced workcenters in the market today.
Dimensions

Features
Frame options: 2-leg and 3-leg frames

Expandable stretchers enable greater flexibility

Widths from 34" to 84" depending on shape

24" or 30" depths

Finish options: Silver, charcoal, and white

Height range: 22.5" to 48.7"

Payload Capacity 225 pounds for 2-leg models

Payload Capacity 300 pounds for 3-leg models

Travel Speed: 1.8 inches per second

Max Power Draw: 120 V, 60 Hz, 3 A (2-leg) 5 A (3-leg)

Standby Power: 0.3W

Workrite Essentia Electric has achieved GREENGUARD GOLD Certification
Option 1: Surface Dimensions
Worksurface 40" x 40" x 23" T404023-B3 and Frame Set ES3E30-48
Worksurface 46" x 46" x 23" T464623-B3 and Frame Set ES3E30-48
Worksurface 46" x 46" x 29" T464629-B3 and Frame Set ES3E30-48
Option 2: Switch Type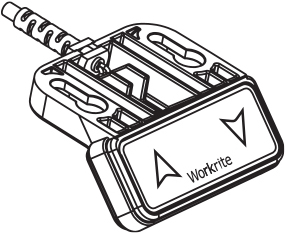 Standard Switch ES-B-SWITCH
Simple up/down button control switch
Includes cable management & mounting hardware
Not interchangeable with the STDSWITCH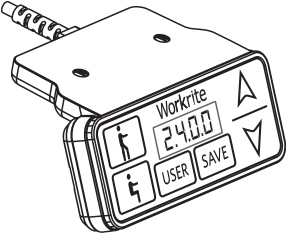 Programmable Switch ES-P-SWITCH
Inductive touch control prevents accidental movement
Three user sit & stand memory pre-sets (six total)
Swipe to lock/unlock feature
Programmable upper and lower height limits
Digital height readout
Manual up/down control buttons
Includes cable management & mounting hardware
Not interchangeable with PROSWITCH
Option 3: Base Frame Colors
Option 4: Laminate Top Colors
Colors and patterns are representative only. Actual colors and patterns may vary slightly
Tier 1
Option 5: Edge Treatments
Colors and patterns are representative only. Actual colors and patterns may vary slightly
Option 6: Foot Set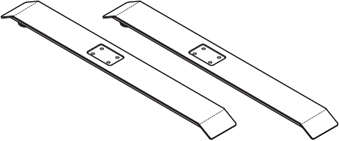 Flat Foot Set
Flat foot Kit is used with any Workrite electric height adjustable workcenter. Foot options are available in finishes that coordinate with our frame sets and in 24" or 30" depths.
Option 7: Casters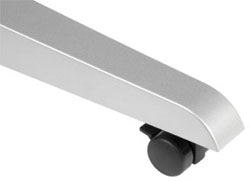 Sierra Locking Casters
Features
Low profile locking casters 2" W x 1.5" H
Casters raise workcenters by 1" versus installed adjustable glides
Use with all Styled Foot and Flat Foot Kits (not available on Cascade Workcenters)
Four (4) casters required for 2 leg workcenters, five (5) casters required for 3 leg workcenters
The following Casters are available
95234 - 4 casters for 2 leg tables
95235 - 5 casters for 3 leg tables
Workcenter Ordering Information
Workrite's laminated worksurfaces feature a wide variety of popular Wilsonart high pressure decorative laminates and coordinated 3 mm edgeband. The core is constructed from 1.125" thick, 45 pound density industrial grade particleboard and is backed with high quality phenolic to ensure balanced panel construction and prevent warping over the life of the product.
Our worksurfaces are available in a wide variety of shapes and sizes and are the perfect finishing touch for any of Workrite's height adjustable frame sets or bases.
Determining the correct size and shape of your worksurface is extremely important. Combining a Workrite worksurface with any height adjustable base requires 1" of clearance at each side and in the back of the worksurface to avoid pinching or scraping. All Workrite worksurfaces are manufactured to the dimensions required to provide these clearances.
Worksurfaces are pre-drilled with mounting location for frame sets or bases.
Joining kits are provided with all two piece worksurfaces.
Standard lead time for our laminated worksurfaces is 20 business days for quantities of 10 or less. Lead times for larger product orders will be provided upon receipt of the order.
Important Notes:
Workcenters ship unassembled and require simple hand tools to install.
If using customer's own worksurfaces, pre-drill pilot holes for all screws to ensure the most secure attachment.
If installing a keyboard arm or track, the electric motor control box may need to be repositioned from its pre-drilled location.
All workcenters have adjustable glides providing 0.5" of adjustment.
Mobile pedestals may limit lower height range.
| | |
| --- | --- |
| Model | Small Equal Corner |
| Manufacturer | Workrite Ergonomics |
| Part Number | Small Equal Corner |
| | |
| --- | --- |
| Height Range | 22.5" to 48.7" at 1.8" per second |
| Lifting Capacity | 225 lbs |
| Desk Type | Electric |
| Desktop Shape | Small Equal Corner |
Be the first to review this product