Back App 2.0 Office Chair
Description
On Back App 2.0 you sit with your feet on a footrest padded with a soft damping material. The sitting position and the gentle motion ensure a wonderful sitting experience. This is a chair that gives you something extra.

The gentle movement of the Back App exercises the muscles that support the spine. The movement when sitting on the Back App comes about because you constantly have to balance yourself.
The function of Back App and the effects on the body are well documented in scientific studies. Back App 2.0 provides the same excellent benefits as the original Back App chair.
Technical Drawing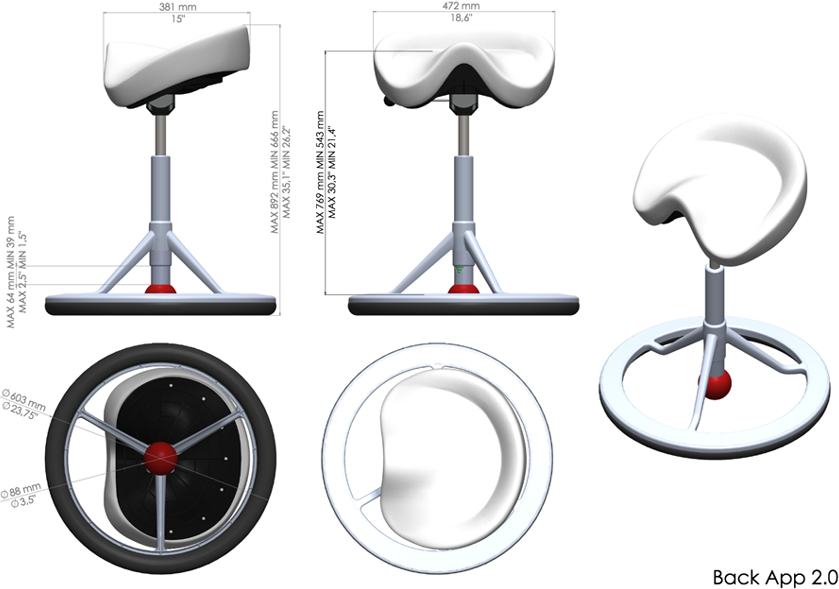 Technical Specifications
The new frame is made from 99.9% recycled die-cast aluminum and is available in a Silver Grey, Black Grey and Polished finish.

The ball is moulded onto a tube that can be screwed into and out of the aluminum frame to control the tilt of the chair.

A tilt indicator with green and red color is integrated with this tube.

A stop function prevents the ball from being removed.

Damping material is attached with double sided tape that improves adhesion with use.

To simplify chair choice Back App 2.0 only comes with one lift height. See the dimensions on the drawing.

The seat is slightly smaller and neater than before and has a rounder shape with a central slot to reduce pressure in the prostate area.
Explanation of Model Number
Model Number

1008A9400-9006-0

First 4 Digits

The first 4 digits are the type of fabric on the seat

1010 - Nordic Wool

1008 - Alcantara

1005 - Synthetic Leather

7702 - Leather

Next letter A

This means Back App Model 2.0 (Aluminium)

Color Code of Fabric

The next digit is the color code on the fabric, eg.

Next Digits/Letters

Next digits/letters are type of base

9006 - Silver Grey - Comes standard with red ball

7021 - Black Grey - Comes standard with black ball

POL - Polished Aluminium - Comes standard with black ball

Next Digit

The next digit is the color of the ball

0 - Red Ball

1 - Black Ball
Testing
Back App is tested at the accredited furniture testing facilities

All Back App products have gone through a Life Cycle Assessment (LCA) and are certified with Environmental Product Declarations (EPDs)
Environment
Back App AS considers environmental protection as an essential part of the business and focuses on the entire production process of the product. Back App AS wants to use recycled and recyclable materials in all its products, and focuses on selection of materials and their content.

The chairs are designed for long life, as the mechanical parts can be easily replaced. At the end of the chair's lifetime, each element can be easily dismantled and the materials recycled. All major plastic parts are marked according to ISO 11469. All textiles are Oeko-Tex certified.

Comment - More than 90% of the parts used in the the Back App-chairs are manufactured locally in Scandinavia with especially short shipping routes.
Sitting on Back App Chair
On the Back App Chair with the adjustable Magic Ball and your feet on the footplate you will:
Sit more upright with less effort

Burn more energy +19%

Exercise your core muscles in lower back and neck

Option 1 and 3: Base Color and Ball Color
Option 2: Fabric Color
Colors and patterns are representative only. Actual colors and patterns may vary slightly
| | |
| --- | --- |
| Model | Back App 2.0 |
| Manufacturer | Back App |
| Part Number | Back App 2.0 |
| | |
| --- | --- |
| Base Color | S - Silver Grey, B - Black Grey and P - Polished Aluminium |
| Ball Color | 0 - Red Ball and 1 - Black Ball |
Be the first to review this product