Peerless PSM-UNV Universal Projector Security Mount upto 50lbs PSM-UNV-W PSM-UNV-S
Important Note: All projectors with M8 mounting screws require ACC-M8RI inserts for compatibility with any Peerless projector mount
Peerless PSMUNV Dual layers Projector Security Mount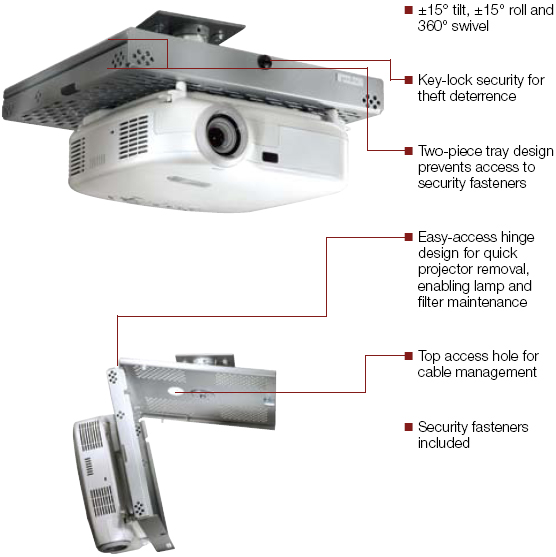 Dimensional Diagram for Peerless PSM-UNV Projector Security Mount

PSM-UNV Projector Security Mount Description:
Designed with security in mind, the PSM-UNV offers dual layers of protection for multimedia projectors. Security fasteners secure the projector to the mount, while the low-profile key-locking
tray protects these fasteners for an extra level of security. The PSM-UNV features a standard adjustment screw that makes it easy to position the projector without having to compromise or
access secure components. This sleek yet solid security tray comes complete with the mount, extension column connector and cable management system that keeps cords out of sight.
The PSM-UNV combines security with easy to install and use design that is uniquely Peerless.
Note: Projector-specific models with lamp and filter access available. Contact your area sales representative.
Features:
Dual-levels of key-lock security for added theft-deterrence

Universal tray pattern accommodates most projectors

Built-in mount aligns image with single adjustment point

Multiple access holes for versatile cable management

Easy projector access without compromising mount security

Low-profile design for clean aesthetics

Available in black, silver or white finish to match projector

Single adjustment point for quick projector alignment

Tilt 30° (±15°), Roll 30° (±15°), Swivel 360°

Easy cable management access

Ceiling plate included with mount

Security fasteners included at every connection point

Threads directly into any ceiling plate that accepts standard 1.5" NPT schedule 40 pipe

Hinged two-piece tray with slide-out feature enables quick disconnect for projector maintenance

Security fasteners included

Top access hole for cable management

Two-piece tray design prevents access to security fasteners
Product Information:
Model Number

PSM-UNV, PSM-UNV-S, PSM-UNV-W -- Security Fasteners (Includes theft resistant hardware for attaching projector to mount)

Projector Adapter

Universal tray pattern accommodates most projectors

Product Specifications

Tilt

30° (±15°)

Swivel

360º

Roll

30° (±15°)

Dimensions (Lx W x H)

12.3" x 14.25" x 3.5" (31.24 x 36.2 x 8.9 cm)

Load Capacity

30 lb (13.6 kg)

Product Weight

8.8 lb (4 kg)

Finish

Scratch-resistant fused epoxy

Available Colors

PSM-UNV: Black

PSM-UNV-S: Silver

PSM-UNV-W: White

Accessories

ACC, CMJ Models: Ceiling Plates

ADJ, EXT Models: Extension Columns

PWA-14(S)(W): Projector Wall Arm

Package Specifications

Package Contents

Mount with two-piece tray, key and lock, mounting hardware, security fastener pack, ceiling plate and cord-management adapter

Units in Package

1

Package Size (L x W x H)

15.13" x 15.13" x 7.13" (38.4 x 38.4 x 18.1 cm)

Package Ship Weight

10.4 lb (5.2 kg)

UPC Code

PSM-UNV:     735029244301

PSM-UNV-S:  735029244318

PSM-UNV-W: 735029244325

Warranty

Limited 5-year
Additional Images:
| | |
| --- | --- |
| Model | PSM-UNV |
| Manufacturer | Peerless Mounts |
| Part Number | PSM-UNV |
| UPC | 735029244301 |
Be the first to review this product