ED-WGH adds weight to monitor arm, iPad mount
Highlights
Add weight to monitor arm or iPad mount with this adapter plate
Option to add 2.12 lbs or 4.38 lbs
Helps monitor or iPad mount 

reach 

minimum weight requirements
Description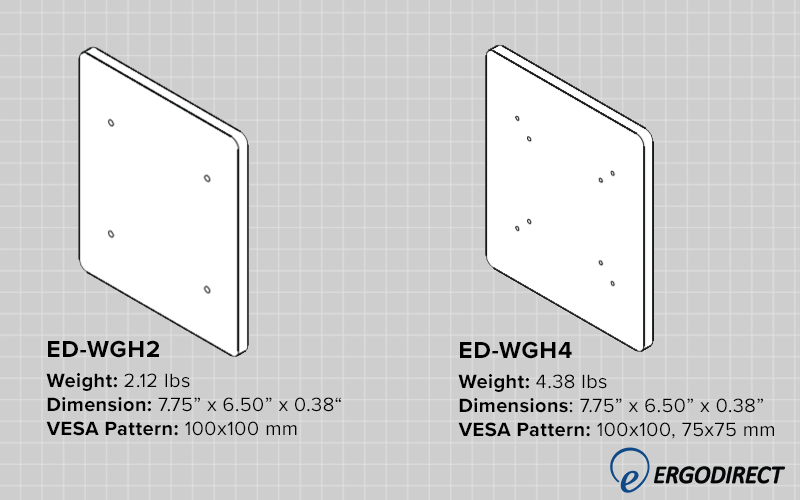 The ED-WGH adds 2.12 (VESA plate with 100x100) or 4.38lbs (VESA plate with 100x100, 75x75 pattern) weight to your monitor arm or mount. If your monitor or iPad does not meet the minimum weight requirement for the arm, it will be too light for the arm, making it spring upward. Then the whole purpose of an adjustable mount is lost. Adding the ED-WGH to your monitor will make it heavy enough so that the arm stays at your desired height.
Technical Drawing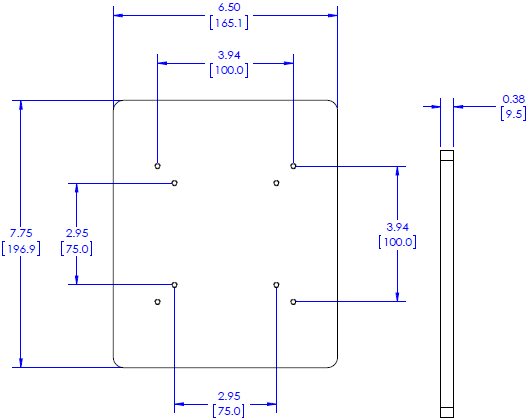 Specifications
Color

Black

VESA

ED-WGH4 - 100x100, 75x75 (4.38 lbs)

ED-WGH2 - 100x100 (2.12 lbs)

Shipping Weight

ED-WGH4 - 5.9 lbs

ED-WGH2 - 2.59 lbs
Features
Add 4.38 lbs/2.12 lbs weight to your workstation Arm
TAA Compliant
| | |
| --- | --- |
| Model | ED-WGH |
| Manufacturer | Ergodirect |
| Part Number | ED-WGH |
| | |
| --- | --- |
| Color | Black |
| Shipping Weight | 6.5 lbs |
| Adapter Type | VESA |
VESA Adapter Plate adds 6.5 lbs which might not be needed if you have an older monitor
, May 16, 2016
by
Cathy S
, Oregon
Screws used to connect the 6.5 lb adapter plate to the back of the monitor did not take into account the depth of the mounting fixture attached to the monitor plus the total depth to the screw mount on the back of the monitor. (the screws needed to be about 4mm longer) Plus, it seemed as if the 7mm screws used for the conversion plate were barely going to hold all of combined weight. I ended up in the final build not using the 6.5 lb as the 24in monitor provided enough weight. I'll keep the weight in case I swap out old monitor for a new lightweight style as I notice the backs on the newer monitors are flush as the pedestal is attached towards the base.
Was this review helpful to you?
Saved us a lot of money
, Jan 13, 2016
by
Marty S
, Texas
Thank you for having this and getting it to us so quickly, we ordered heavy duty monitor arms for our customer, and they decided to switch monitors before the order arrived and went to much lighter ones. If it hadn't been for this solution I would have had to reorder a lot of monitor arms which would have cost us a lot more money!
Was this review helpful to you?