Ergotron MVJB48SS Elevate Adjusta 48, Electric Sit-Stand Desk
This product is TAA compliant.
Description
Ergotron MVJB48SS 48" wide (122 cm) dual-surface Elevate Adjusta is the ultimate standing desk with complete adjustability. Push a button to move the front and back surfaces simultaneously. Then squeeze a lever to position the front keyboard surface exactly where you want it.

Made in the USA and Built with Anthro‑DNA, this product is fully TAA compliant.
Technical Drawing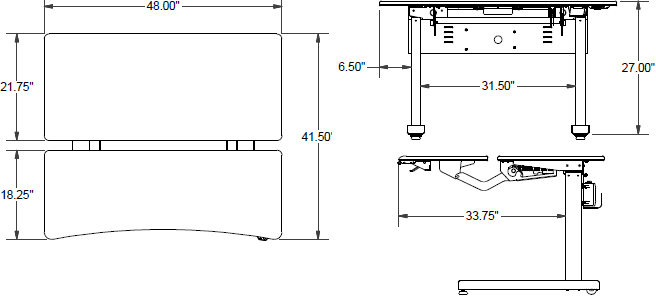 Technical Specifications
Screen

Capacity

Lift

Tilt

Pan

Rotation

VESA

-

Up to 150 lbs

68.2 kg

32"

81 cm

24°

-

-

-
Product Information
Part Number

Black surface = MVJB48SS-BK; Maple surface = MVJB48SS-MP; Wenge surface = MVJB48SS-WE

Description

Elevate Adjusta 48, Electric Sit-Stand Desk, 48"-wide dual worksurfaces (silver satin with black, maple or wenge surface finish)

TAA (Trade Agreements Act)

Compliant

Includes

1" thick back monitor surface

1"thick front keyboard surface

Mechanism and paddle for manual keyboard height adjustment

Cable tray

Control box and keypad for electric height adjustment

Two electric lift legs

Two feet with tilt-and-go back wheels

Weight Capacity

Total = 150 lbs (68.2 kg); front surface = 40 lbs (18 kg)

Height Adjustment

The front surface minimum height = 22.25" (57 cm); maximum height = 54" (137 cm). The back surface adjusts 19" (48 cm), with minimum height = 28" (71 cm); maximum height = 47" (119 cm)

Front Keyboard Surface

Tilts 9° forward and 15° back

Legs' Height

Changes at a rate of 1.5" (3.8 cm) per second to move quickly and quietly into position when you push the button

Worksurface

Contoured, laminate worksurfaces with smooth edges are comfortable against your arms when typing

Laminates

Available in Maple (MP), Wenge (WE) and Black (BK). Metal surfaces receive a baked-on powder coat finish in Silver Satin

Listed

To UL standard 692 for safety

Shipping Dimensions

51" x 33" x 7" (130 x 84 x 18 cm)

Shipping Weight

167 lbs (75.9 kg)

Warranty

Limited lifetime against manufacturing defects on desk surfaces. Five (5) years on electrical components. Cords, cables and plugs not warranted
Benefits
Built with Anthro-DNA - The 30-year legacy of Anthro Corporation lives on in its world-class factory, award-winning designs and market-leading personal customer service. This product is Built with Anthro‑DNA, signifying quality American-made manufacturing and technology leadership

Strong construction, high capacity - This powerful desk lifts up to 150 lbs (68.2 kg) on robust legs that move the desktop and all your equipment with the push of a button, with the front keyboard surface alone able to handle up to 40 lbs (18.2 kg)

Dual-surface adjustability - Push the button to electrically move both worksurfaces up and down (28"–47"/71–119 cm high). Then squeeze the lever on the front surface to manually position the keyboard where you need it (from 6"/15 cm below to 7"/18 cm above the back surface)

Keyboard comfort with expansive mouse area - A spacious front surface runs the full width of the desk, making enough room for a large keyboard and laptop, with plenty of space to spare as a mouse area. Position the front surface below or above the back surface; adjust the surface's tilt (9° forward to 15° back)

Tilt-and-go rear wheels - Use tilt-and-go rear wheels to move the desk and access the back of your equipment or rearrange your space. Simply lower the back surface all the way down and raise the front keyboard surface to maximum height. Then tilt the desk by lifting the front keyboard shelf and roll it on the rear wheels

Cable management - Worried about equipment staying plugged in when you raise and lower the desk? Not a problem! Simply route cords into the cable management tray then plug into a power strip (sold separately). Your equipment stays connected through the table's entire range of motion

Customize with accessories - Make your workspace your own: customize this desk with a wide array of accessory options. Choose from monitor arms, CPU holders, cables and more
| | |
| --- | --- |
| Model | MVJB48SS-BK, MVJB48SS-MP, MVJB48SS-WE |
| Manufacturer | Ergotron |
| Part Number | MVJB48SS-BK, MVJB48SS-MP, MVJB48SS-WE |
| UPC | 766212223674 |
| | |
| --- | --- |
| Color | MVJB48SS-BK = Black, MVJB48SS-MP = Maple, MVJB48SS-WE = Wenge |
| Width | (122 cm) 48 in |
| Weight Capacity | Total = 150 lbs (68.2 kg); front surface = 40 lbs (18 kg) |
| Lift | (81 cm) 32 in |
| Tilt | 24 degree |
| Height Adjustment | Front surface mini height = 22.25" (57 cm); maxi height = 54" (137 cm). Back surface adjusts 19" (48 cm), with mini height = 28" (71 cm); maxi height = 47" (119 cm) |
| Shipping Dimensions | 51" x 33" x 7" (130 x 84 x 18 cm) |
| Shipping Weight | 167 lbs (75.9 kg) |
| Warranty | Limited lifetime against manufacturing defects on desk surfaces. Five (5) years on electrical components. Cords, cables and plugs not warranted |
Be the first to review this product