Ergotron 24-271-927 WorkFit-D, Sit-Stand Desk
Highlights
Height adjustable desk
20" height adjustment: Provides sit-stand capability
Height range: Minimum height: 30.6", Maximum height - 50.6"
65 lbs weight capacity: Includes total weight on the desk surface
47.6"x23.5": Large worksurface
Integrated brakes: Secure the desk in place 
Please see, if you want a different worksurface color, light gray and birch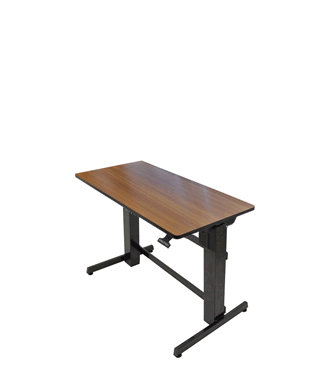 Description
Ergotron 24-271-927 is a height adjustable desk that moves from a minimum height of 30.6" to a maximum height of 50.6" with slight push of a lever. With a large worksurface that can hold weight of up to 65 lbs, this desk provides ample flexibility to add other ergonomic equipment like monitor arms, keyboard trays and tablet holders. The integrated brake system holds the desk securely in place and releases easily for height adjustment.

Ergotron WorkFit-D is a height-adjustable standing desk that's both rugged and easy to use. Stand up or sit down as you work. Patented CF technology allows instantaneous, non-motorized re-positioning. The integrated brake secures table height to provide an ultra-stable desktop.
Features a spacious 47.6" x 23.5" (121 cm x 60 cm) worksurface. Customize with accessories to fit individual user's needs and workflow.
Technical Drawing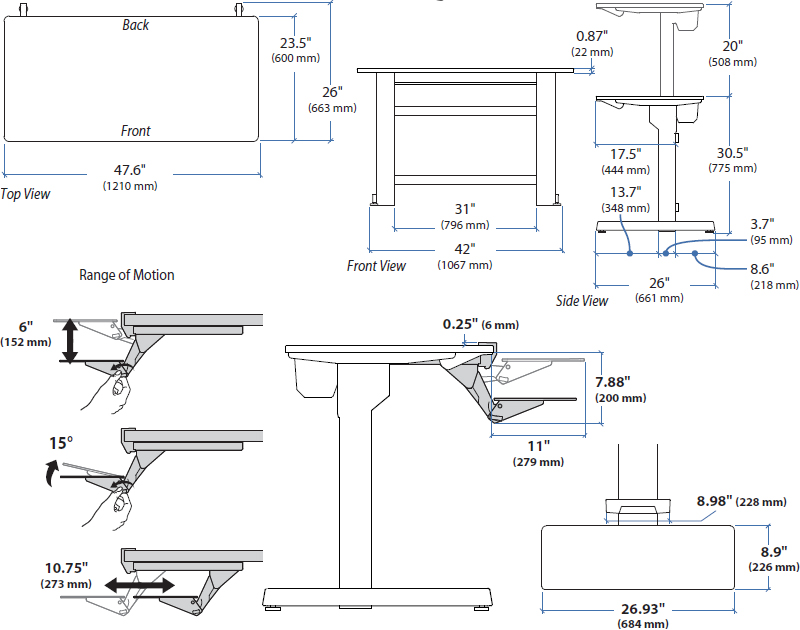 Technical Specifications
Screen
Capacity
Lift
Tilt
Pan
Rotation
VESA
-

Up to 65 lbs

29.5 kg

20"

50.8 cm

-
-
-
-
Product Information
Part Number
24-271-927 (walnut)
Description
WorkFit-D, Sit-Stand Desk
Includes

Height-adjustable platform

MDF worksurface with Melamine surface

Steel base

Hand-brake system

Four (4) glides

Weight Capacity
Up to 65 lbs (29.5). Listed weight capacity represents total load applied to worksurface. When calculating load, include weights of accessory mounts for keyboard and display(s)
Height
Minimum height = 30.6" (78 cm); maximum height = 50.6" (129 cm)
Worksurface Dimensions
47.6" x 23.5" x .87" (121 x 60 x 2.2 cm)
CF Technology
Patented CF motion technology
Glides
Four leveling glides establish a firm footing and adjust to install the unit on uneven floors
Keyboard Arm
For proper ergonomic keyboard placement, Ergotron's Neo-Flex Underdesk Keyboard Arm, 97-582-009, is recommended
LCD and Laptop Display
Add Ergotron LCD and laptop display mounts as needed to accommodate individual workflows
Complies
With all international environmental regulations related to its design, manufacture and packaging
Designed and Tested
To ANSI/BIFMA X5.5-2008 standards
Washington State Analysis
A Washington State analysis of case studies related to office ergonomics showed a median productivity increase of 12% following an ergonomic intervention. New studies from the Office Ergonomics Research Committee (OERC) suggest that employees who are provided with well-designed ergonomic furniture and are trained to use it see an average productivity increase of 18%
Shipping Dimensions
51" x 30" x 17" (129 x 75 x 43 cm)
Shipping Weight
108 lbs (48.9 kg); actual product weight: 85 lbs (38.6 kg)
Warranty
Five (5) years
Benefits
For Computer Users
Enjoy standing and sitting as you work, switching positions whenever you choose. Patented CF technology allows instantaneous, tool-free, non-motorized re-positioning while you work. This work style encourages healthy movement throughout the day

Safe and easy-to-use

Designed to meet North American and European ergonomic standards

Robust weight capacity holds multiple displays, keyboards, books, phones ... whatever you need in your workflow
For IT and Facilities Staff
Flexible, open-architecture design is scalable for future computer equipment

Durable, robust structure, designed to ANSI/BIFMA X5.5-2008 standards
For HR/Risk Management and Company Cost Savings
Manage the cost of healthcare premiums by promoting wellness in the daily work routine

Provide standing work platforms for employees without having to buy expensive height-adjustable chairs

Comfortable computing offers provable ROI on investment - healthcare costs associated with unhealthy computing and missed time are reduced while productivity increases

Standing supports healthy neck and back conditions. According to the 2007 OE Medicine Journal, back and neck pain are cited as the most costly conditions affecting employees

Studies in office ergonomics show productivity increases of 12%–18% following an ergonomic intervention where employees are provided with well-designed ergonomic furniture
Frequently Asked Questions
Question: If I order the Ergotron 24-271-927 WorkFit-D, Sit-Stand Desk, with the Ergotron 45-245-026 LX Dual Side-by-Side Arm option, do you pre-drill the hole needed to mount the monitor arm prior to me receiving it?
Answer: You do not have to pre-drill a hole. The Ergotron 45-245-026 comes with a C-clamp, which attaches to the table edge up to 2.6" thick.
| | |
| --- | --- |
| Model | 24-271-927 |
| Manufacturer | Ergotron |
| Part Number | 24-271-927 |
| UPC | 698833031843 |
| | |
| --- | --- |
| Color | Black with faux-walnut-grain surface |
| Weight Capacity | Up to 65 lbs (29.5 kg). Listed weight capacity represents total load applied to worksurface. When calculating load, include weights of accessory mounts for keyboard and display(s) |
| Lift | (51 cm) 20 in |
| Worksurface Dimensions | 47.6" x 23.5" x .87" (121 x 60 x 2.2 cm) |
| Height Adjustment | Minimum 30.6" (78 cm) and maximum 50.6" (129 cm) |
| Shipping Dimensions | 51" x 30" x 17" (129 x 75 x 43 cm) |
| Shipping Weight | 108 lbs (48.9 kg); actual product weight: 85 lbs (38.6 kg) |
| Warranty | Five (5) years |
| Desk Type | Spring |
| Desktop Shape | Rectangular Top |
Be the first to review this product