Peerless EXT006 Fixed 6" Length Extension Columns for Jumbo Mounts EXT-006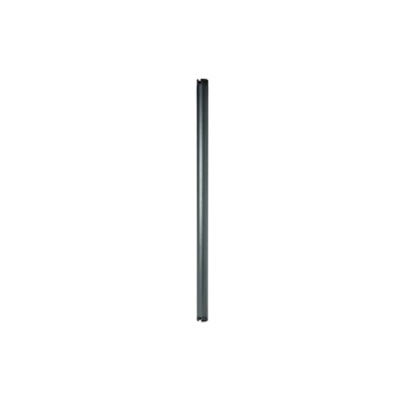 Peerless EXT Fixed 6" Length Extension Columns for Jumbo Mounts 
General Information
Peerless Fixed Length Extension Columns EXT

Descripttion:
Fixed length extension EXT model columns are constructed of 11/2" 11.5 NPT schedule 40 pipe threaded and notched on both ends for safety locking. FLP model columns are 3/4" - 14 NPT schedule 40 pipe threaded on both ends.
Features:
EXT models are 1-1/2" - 11.5 NPT Schedule 40 pipe threaded on both ends. Notched for use with screw to provide safety and security

EXT model extension column lengths measure 3.5" longer then stated drop to provide finished drop length for various mounts (i.e. EXT101 measures 15.5")

Drop length applies to Jumbo 2000 mount installations

EXT002(S) is for projector installation only

Max Load: 1200 lb (544.3 kg)

Color: Black or Silver
Details Information for ADJ Models:
Model

Color

Drop Length

Max Load

Ship Weight

EXT002(S)

Black/Silver

1.25 inch

1 lb (0.4 kg) 

 

EXT006(S)

 

Black/Silver

 6 inch (15 cm)

 

 

Black/Silver

 18 inch (46 cm)

 

4 lb (1.8 kg)

 

Black/Silver

1 feet (0.3 m)

 

 

Black/Silver

 

 

Black/Silver

 

 

Black/Silver

 

 

Black/Silver

 

 

Black/Silver

 

 

Black/Silver

 

7 feet (2.1 m)

 

Black/Silver

 

8 feet (2.4 m)

 

 

 

Black/Silver

9 feet (2.7 m)

Black/Silver

 

 
Product Options/Accessories
| | |
| --- | --- |
| Model | EXT006 |
| Manufacturer | Peerless Mounts |
| Part Number | EXT006 |
| UPC | 735029200215 |
| | |
| --- | --- |
| Mounting Options | Accessories |
Customer reviews
1 stars

0

2 stars

0

3 stars

0

4 stars

0

5 stars

0
Warranties and Returns
Limited Warranty
Peerless Industries, Inc. (Peerless-AV) warrants to original end-users of Peerless-AV products that Peerless-AV products will be free from defects in material and workmanship, under normal use, for the periods listed below, from the date of purchase by the original end-user. At its option, Peerless-AV will repair or replace with new or refurbished products or parts, or refund the purchase price of, any Peerless-AV product which fails to conform with this warranty.

In no event shall the duration of any implied warranty of merchantability or fitness for a particular purpose be longer than the period of the applicable express warranty set forth above. Some states do not allow limitations on how long an implied warranty lasts, so the above limitation may not apply to you.

This warranty does not cover damage caused by (a) service or repairs by the customer or a person who is not authorized for such service or repairs by Peerless-AV, (b) the failure to utilize proper packing when returning the product, (c) incorrect installation or the failure to follow Peerless-AV's instructions or warnings when installing, using or storing the product, or (d) misuse or accident, in transit or otherwise, including in cases of third-party actions and force majeure. This warranty also does not cover corrosion or rust resulting from damaged, scratched or chipped paint or other surfaces.

In no event shall Peerless-AV be liable for incidental or consequential damages or damages arising from the theft of any product, whether or not secured by a security device which may be included with the Peerless-AV product. Some states do not allow the exclusion or limitation of incidental or consequential damages, so the above limitation or exclusion may not apply to you.

This warranty is in lieu of all other warranties, express or implied, and is the sole remedy with respect to product defects. No dealer, distributor, installer or other person is authorized to modify or extend this Limited Warranty or impose any obligation on Peerless-AV in connection with the sale of any Peerless-AV product.
This warranty gives specific legal rights, and you may also have other rights which vary from state to state.
| | |
| --- | --- |
| Product | Warranty Period |
| Mounts | 5 years |
| Kiosk Enclosures | 5 years |
| Furniture | 1 year |
| Cables | 25 years |
| Cleaning Products | 1 year |
| Power Products | 1 year |
| Electronic Products and Components | 1 year |
| Xtreme Displays, Ultra View TVs | 2 years |
| Interactive | 1 year |