Ergotron 45-228-026 MX Wall Mount Monitor Arm
Highlights
Wall Mount Monitor Arm
42" Screen size: Holds monitors, displays up to 42" screen size
14-30 lbs weight capacity: Carries monitors, displays in the weight range 14-30 lbs
5" Vertical Adjustability: Provides 5" vertical adjustment
17" Horizontal Reach: 17" Extension, retraction possible
Please see, if you want a desk mounting monitor arm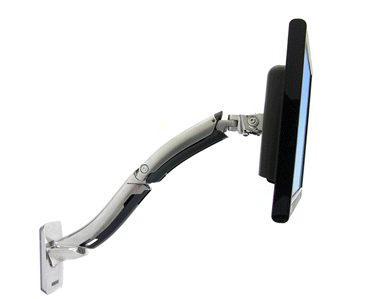 Description
Ergotron 45-228-026 is a wall mounting arm that can carry medium-sized displays and computer monitors weighing up to 30 lbs (13.6 kgs) for digital display purposes. Ideal in a retail or public environment too like a library or a hospital, the 45-228-026 provides 5" height adjustment, 17" horizontal reach and retraction and also portrait/landscape rotation.
Note: It is recommended that this arm be installed no higher than 60" (152 cm) above the floor
Technical Drawing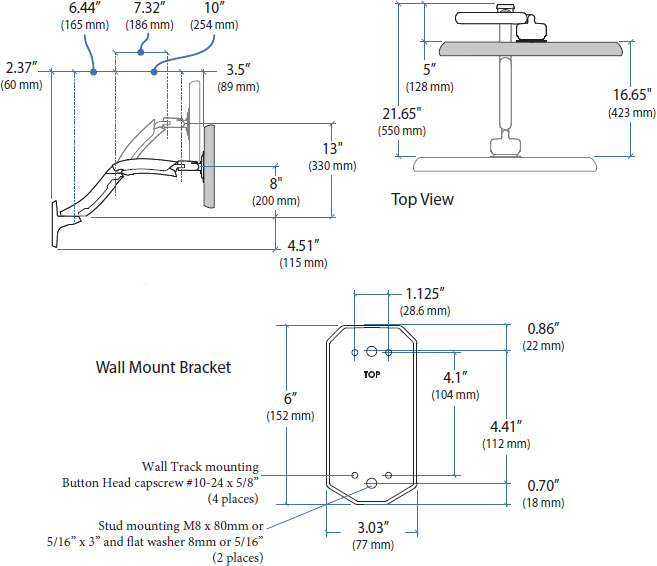 Technical Specifications
LCD Size

Capacity

Lift

Tilt

Pan

Rotation

VESA

Up to 42"
14-30 lbs

6.3-13.6 kg

5"

13 cm

80°
360°
90°
MIS-D/E/F
Product Information
Part Number

45-228-026

Description

MX Wall Mount LCD Monitor Arm (polished aluminum)

Includes

MX arm
Vertical mount base
VESA adaptor brackets

Weight Capacity

14 to 30 lbs (6.3 to 13.6 kg). Monitor depth greater than 4" (102 mm) may diminish capacity. Contact Ergotron for more information

Tilt

Monitor tilts 75° up and 5° down

Pan

Pan at base = 180°; pan at extension = 360°; pan at monitor = 180°

Portrait/Landscape Rotation

Includes position lock

Mounting Standards

VESA FDMI, MIS-D, 75/100, C (hole pattern = 100 x 100 mm & 75 x 75 mm); VESA FDMI, MIS-E, C (hole pattern = 200 x 100 mm); VESA FDMI, MIS-F, C (hole pattern = 200 x 200 mm). For displays that use a 400 x 200 mm, 400 x 300 mm or 400 x 400 mm hole pattern, the VESA Bracket Adaptor Kit (97-759) can be ordered separately

Recommended Installation Height

Upper mounting hole of base should be placed no higher than 60" (152 cm) above floor

Cable Management

Internal cable management.

Product Weight

8.1 lbs (3.7 kg)

Shipping Dimensions

29.25" x 10.5" x 6.5" (745 x 265 x 160 mm)

Shipping Weight

10.25 lbs (4.65 kg)

Warranty

Five (5) years
Benefits
Stylish design and super sturdy construction; steel and polished aluminum exterior

Position your display for maximum ergonomic comfort to relieve eye, neck and back strain

Pre-assembled arm offers monitor/TV theft deterrence

Easy to use, simple installation and effortless operation

Cable management system conceals and routes cables under the arm, out of the way

Upgrade LCD monitors and TVs with improved ergonomic adjustment

Rotate screen for portrait viewing of photos and pages - eliminate scrolling

Extends/retracts up to 16.7" (42 cm); push your display out of the way when not in use

Patented CF motion technology provides premium ease-of-use display adjustment
Frequently Asked Questions
Question: Can you tell me which wall track/s are suitable for this arm please?
Answer: The suitability of a wall track will depend upon the height adjustment that you need and the amount of space you have on the wall. Please choose from different lengths 10", 26", 34" and 42" of the Wall Track from Option 2. Please keep in mind that you need a "Wall Track Mounting Bracket Kit," Option 3, if you want to mount this arm on a wall track.
| | |
| --- | --- |
| Model | 45-228-026 |
| Manufacturer | Ergotron |
| Part Number | 45-228-026 |
| UPC | 698833010466 |
| | |
| --- | --- |
| Color | Polished Aluminum |
| Weight Capacity | 14-30 lbs (6.3-13.6 kg). Monitor depth greater than 4" (102 mm) may diminish capacity. Contact Ergotron for more information. |
| Lift | (13 cm) 5 in |
| Tilt | Up 75 degree and down 5 degree |
| Mounting Pattern | VESA FDMI, MIS-D, 75/100, C (100 x 100 mm & 75 x 75 mm); VESA FDMI, MIS-E, C (200 x 100 mm); VESA FDMI, MIS-F, C (200 x 200 mm). For displays that use a 400 x 200 mm, 400 x 300 mm or 400 x 400 mm, VESA Adaptor Kit (97-759) can be ordered separately |
| Shipping Dimensions | 29.25" x 10.5" x 6.5" (745 x 265 x 160 mm) |
| Shipping Weight | 10.25 lbs (4.65 kg) |
| Warranty | Ten (10) years |
| Monitor Size | Up to 42" |
| Pan | 360 degree |
| Rotation | 90 degree |
| Extend/Retract Range | Up to 16.7" (42 cm), push your display out of the way when not in use |
| Mounting Options | Wall |
| Monitor Arm Types | 1 Monitor |
| Weight | 8.1 lbs (3.7 kg) |
Be the first to review this product