Ergotron 45-234-200 - 200 Series Wall Mount Arm, 2 Extensions
Description
Extend or retract, swing, tilt or turn your flat panel monitor for maximum efficiency and ergonomic comfort. The 200 Series' slim profile saves space, yet moves your screen to where you need it most.
Technical Drawing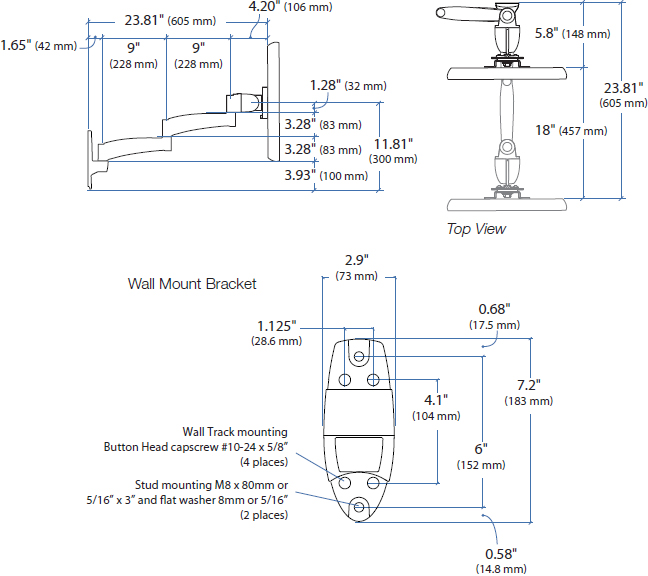 Technical Specifications
Screen
Capacity
Lift
Tilt
Pan
Rotation
VESA
Up to 27"

Up to 25 lbs

11.3 kg

-

180°
360°
90°
MIS-D
Product Information
Part Number
45-234-200
Description
200 Series Wall Mount Monitor Arm, 2 Extensions (black)
Includes

200 wall mount pivot

Wall mount bracket

2 extensions

VESA mounting screws

Notebook Tray
If mounting a laptop, also order the Notebook Tray (50-193-200)
Screen Size
Screen Size is approximate only. Use Display Weight and VESA hole pattern to determine compatibility, i.e., stated screen size may be exceeded as long as display weight does not exceed weight capacity
Mounting Standards
VESA FDMI, MIS-D, 75/100, C (hole patterns = 100 x 100 mm and 75 x 75 mm)
Extends
Extends up to 23.8" (60.5 cm) from the wall and retracts to within 5.8" (14.8 cm), excluding depth of monitor
Display Size
Display size may restrict motion
Exterior
Durable, easy-to-clean powder-coated painted steel exterior
Mounting Options
Mounts to sturdy vertical surfaces. Where applicable, attach to wood stud
Shipping Dimensions
5.5"H x 16"W x 16.5"D (140 x 406 x 419 mm)
Shipping Weight
8.6 lbs (3.9 kg)
Warranty
Five (5) years
Benefits
Features 3-point telescoping motion. Easily extend and retract your LCD to the point of need through a 23" (60 cm) extension range

Rotate your screen for portrait/landscape viewing

Integrated cable management

Sturdy steel construction is extremely durable

Touch-screen stability
Frequently Asked Questions
Question: I currently have an LX Wall mounted monitor arm that I use daily and love. However I'd love to be able to tilt the monitor downward and currently I mostly can't. Can I purchase this (200 series) or any other model you sell that would enable me to simply add the Vesa mount and arm to my existing wall mounted LX model that would allow more freedom of movement? I wasn't sure if all models you sell fit the same support posts that the LX does. Its drilled into the studs and I would rather not have to remove it and replace the whole arm.
Answer: Unfortunately Ergotron products are not interchangeable. You would need to purchase a new arm.
Question: This model has two extensions. Could you tell me whether that is able to subtract extensions? I am not sure if I will need the model with no extension, the model with 1 extension or the model with 2 extensions. But I would rather get the model with 2 extensions if I can just remove one or two of the extensions when I figure out what I need.
Answer: Yes, the extensions are removable.
| | |
| --- | --- |
| Model | 45-234-200 |
| Manufacturer | Ergotron |
| Part Number | 45-234-200 |
| UPC | 698833010619 |
| | |
| --- | --- |
| Color | Black |
| Weight Capacity | Up to 25 lbs (11.3 kg). Monitor depth greater than 3" (7.5 cm) may diminish capacity. |
| Tilt | 180 degree |
| Mounting Pattern | VESA FDMI, MIS-D, 75/100, C (hole patterns = 100 x 100 mm and 75 x 75 mm) |
| Shipping Weight | 8.6 lbs (3.9 kg) |
| Shipping Dimensions | 5.5"H x 16"W x 16.5"D (140 x 406 x 419 mm) |
| Warranty | Five (5) years |
| Monitor Size | Up to 27" |
| Pan | 360 degree |
| Rotation | 90 degree |
| Mounting Options | Wall |
| Extend/Retract Range | Extends up to 23.8" (60.5 cm) from the wall and retracts to within 5.8" (14.8 cm), excluding depth of monitor |
| Monitor Arm Types | 1 Monitor |
Be the first to review this product