Kinesis KB800HMB-us-20 Freestyle2 Split Keyboard for Mac
20 inch separation. 2-port USB Hub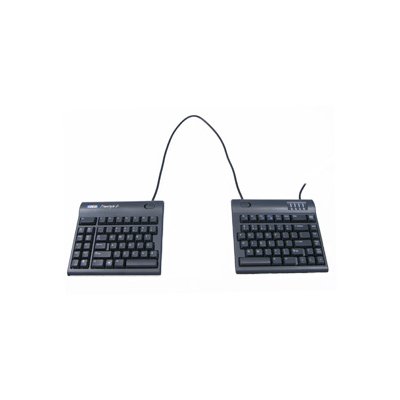 Description
Kinesis KB800HMB-us-20 is perfect for individuals requiring greater separation than the 9 inches that is provided by the standard Freestyle2. This version of the Freestyle 2 provides up to 20 inches of separation between each keying module.
Features
Sleek low profile: minimal height, effectively creates negative slope and reduces extension
Ideal for both office and travel use. Narrow foot print for comfortable mousing and keying
Separate and adjustable left/right keying modules
Low-force key switches
Embedded 10-key
Familiar key layout provides for minimal adaptation time
Driverless hot keys for commonly used mouse actions (Beginning & End of Line Cut, Copy, Paste, Undo, Page Fwd, Page Bk, and Select All).
Up to nine inches of complete separation between the left and right keying modules. Ideal for positioning a 10-keypad, trackball, or touchpad in the space between each module.
Adjusts for both shoulder width, arm and wrist angle.
Both modules can be attached with the included Pivot Tether while still allowing an infinite amount of splay
Specifications
| | |
| --- | --- |
| Length | 15-3/8" |
| Depth | 7-1/8" |
| Max Height | 7/8" |
| Weight | 2 lbs |
| USB Cable Length | 6 feet |
Compatibility
Requires available USB port
Will operate on virtually any USB system
Driverless hot keys on left side only compatible with Mac operating systems
Special actions on function keys F3, F4 & F11 require OS X 10.4 or newer
Hot keys on F5-F7 require the Apple keyboard update 1.1. or newer
Applications
The Ultra-slim design of the Freestyle2 makes it ideal for both office and travel use
Perfect for individuals requiring greater separation than what is provided by other ergonomic keyboards
The best choice for companies that want to standardize on one keyboard for all but the most extreme ergonomic requirements. The Freestyle2 serves as an enhanced traditional compact keyboard but offers users the additional ability to splay and separate the two keying modules. Coupled with the user convertible configurations possible with the optional accessory kits, the Freestyle family offers the most configurations of any ergonomic keyboard, and at a very affordable price
A great option for users that want to place a trackball, touchpad or a separate 10-key between the two modules
Integrates well with Contour Design's RollerMouse
Literature (Please open the following documents for more technical information)
Product Options/Accessories
| | |
| --- | --- |
| Model | KB800HMB-us-20 |
| Manufacturer | Kinesis |
| Part Number | KB800HMB-us-20 |
| UPC | 607998800034 |
| | |
| --- | --- |
| Warranty | Two year limited warranty |
| Color | Black |
| Length | 15-3/8 |
| Depth | 7-1/8 |
| Maximum height | 3/4 in |
| Weight | 2 lbs |
| Compatible | With Mac OS 8.6 and higher. Driverless hot keys on left side only compatible with Mac operating systems |
| Connection Type | USB |
| Wireless | No |
Customer reviews
1 stars

0

2 stars

0

3 stars

0

4 stars

0

5 stars

0
Warranty and Return Policy
Please review the following (3) stipulations to the warranty and returns policy that are unique to the TKO keyboard.
Warranty: 1 year limited from date of purchase.

Returns: A $35 restocking fee will be charged for TKO keyboards that are returned without the hard-shell travel case included.

Warranty Exemption on Hot Swappable Switch Sockets: This Warranty does not apply to damage to switch sockets caused by the customer. If a customer receives a product with a broken switch they must contact Kinesis within 7 days of purchase and submit a Support Ticket documenting the switch failure. Damage to switch sockets reported after 7 days will be assumed to have been the fault of the customer and will not be covered under warranty. If Kinesis receives a returned keyboard after 7 days and determines that the failure was caused by a damaged socket, warranty coverage will be denied.
Please refer to the Kinesis Gaming Warranty Page for further information.