Innovative 9110-8.5 Wall Mount, EVO5501 Laptop Holder
Wall mount 9110 is available in different extension arms like 9110-8.5 (8.5" extension) or 9110-8.5-4 (8.5" & 4" extensions) or 9110-4-4 (2x4" extension arms) or 9110-8.5-8.5 (2x8.5" extensions)
Now includes Next Generation Tilter 8500 (not shown in the image). Please see Description for more details.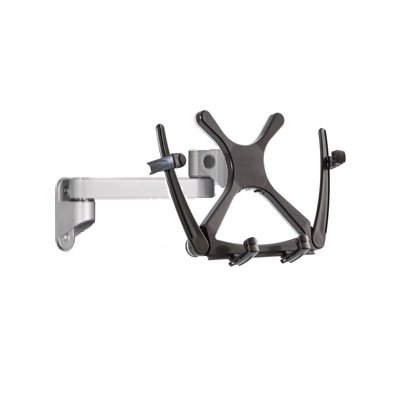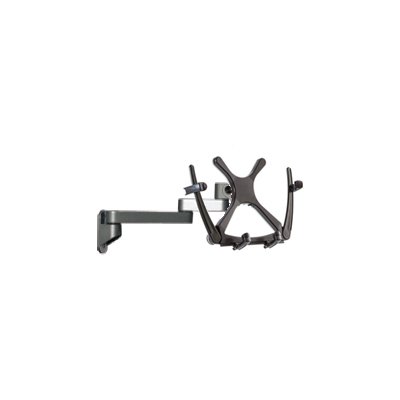 Description
Hang your Laptop on the wall to save maximum space. Allows pivot and tilt. For 9110-8.5, includes 8.5-inch extender arm for greater flexibility and range. For 9110-8.5-4, includes 2 extension arms (8.5 and 4-inches) for 12.5 inches of reach. For 9110-4-4, includes 2 extender arms (4") for total 8" of reach and for 9110-8.5-8.5, includes 2 extension arms (8.5") for total 17" of reach.
Attaches to arm via quick-install mechanism. Configures to support laptops or tablet PCs. Discover a new way of interfacing with your tablet PC or laptop, the EVO Tablet Arm suspends your portable above the desk where it can be instantly repositioned for comfortable viewing. Combine with a wireless keyboard and mouse to create an ergonomic docking station for your computer. It's an ideal solution for workers on the move. Improve productivity while working at your primary desk, then simply grab the computer and go when it's time to leave.
Please note this monitor arm was updated in January 2022. The manufacturer, Innovative Design Works, has upgraded this part.
Tilter - A tilter is the part of the adjustable monitor arm that attaches to the back of your monitor and allows the monitor to rotate, pivot and tilt to desired position.  This monitor arm is now available with Next Gen Tilter 8500. This new tilter apart from being slim and sleek has a quick release bracket, which makes installation and release easy and fast. It has a 30 lb weight capacity. However please bear in mind that the Next Gen Tilter 8500 comes with 100mm VESA adapter unlike the earlier standard tilter which comes with 75mm and 100mm adapter plate. If your monitor has only 75x75mm VESA pattern, please contact us through monitor arm finder. We will find the best monitor arm that matches your needs.
| | |
| --- | --- |
| 8500 Quick Release Monitor Tilter | 8336 Standard Monitor Tilter |
Technical Drawing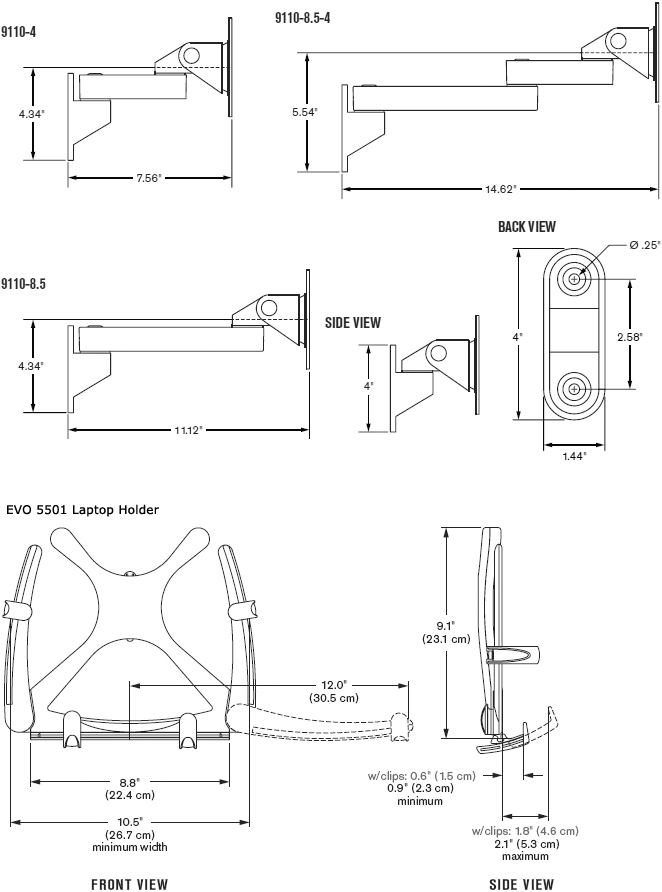 Technical Specifications
9110
 

Tilt

30 degree up and down or left to right

Pivot

Landscape to portrait

Mounting Options

Wall

EVO5501
 

Minimum Width

10.5" (26.7 cm)

Height

9.1" (23.1 cm)

Length with Clips

0.6" (1.5 cm)
0.9" (2.3 cm) Minimum
1.8" (4.6 cm)
2.1" (5.3 cm) Maximum

Supports

Tablet PCs and Laptops
Features
EVO 5501
Adapts to support both tablet PCs and laptops
Securely grips tablet or laptop, with quick attach and release
Adjustable clasps allow free access to jacks and ports
When used with tablet PCs, enables one-handed use of the tablet
Allows tablet to be used in portrait or landscape position
Mounting arm floats computer above desk - simply grab and move to desired position
Arm extends up to 18", with vertical adjustment of +/- 5" from horizontal
Integrated cable management keeps cords off the desk
Mount clamps to desk or through grommet with integrated handle (may also combine with slatwall, slatrail or wall mount)
9110
Adjustable tension at joints - ideal for touch-screen applications
Display can tilt up and down 30 degree and turn left and right 30 degree
Pivot monitors from portrait to landscape
Includes 8.5" extension arm; combine extension arms to increase reach
Frequently Asked Questions
q
Can this unit be used in a medical office without keyboard and mouse? More specifically, can it withstand some light data entry, or will we be putting the laptop at risk of falling out of the unit. Also, how secure is the laptop in this arm? In the video it looked as if the clips could easily "unclip" causing the laptop to fall. This would be detrimental to our workflow,and end up costing us a tremendous amount of money to have the laptop non-working, as it controls some pretty important instruments.
a
The clips cannot be taken off so they cannot unclip unless somebody breaks them off. We use one of these in our office and never had an issue with movement of the laptop. So unless somebody runs into the arm or is being rough with the unit there should be no issue. It works great for data entry.
| | |
| --- | --- |
| Model | 9110-8.5, EVO5501 |
| Manufacturer | Innovative LCD Arms |
| Part Number | 9110-8.5, EVO5501 |
| | |
| --- | --- |
| Color | 104 - Vista Black |
| Tilt | Up and down 30 degree |
| Mounting Options | Wall |
| Pivot | Landscape to portrait |
Customer reviews
1 stars

0

2 stars

0

3 stars

0

4 stars

1

5 stars

0
QUICK DELIVERY
by Derek S, Dayton, Ohio, Aug 27, 2019
Thank you for the great service and the quick delivery. My customer was extremely happy with the product and most likely will order this again for another project.

Thank you,
Derek
Warranty
Seller warrants that its products will be free from defects in material and workmanship when the title passes to the buyer. Seller will repair or replace, at its discretion, any defective product without charge (shipping charges excluded) for a period of 10 years (exception: 1 year for Busby, 5 years for Winston Workstation, Winston-E, Winston Desk and Freedom Desk, 3 years for Tablik and 1 year for Bild motorized column) after the original date of sale, unless the product damage resulted from normal wear and tear, buyer abuse, misuse or negligence or failure to follow instructions related to the products's installation or intended use. Seller may require proof of purchase before performing any repairs or replacing any products during the warranty period. Except as specifically set forth above, seller makes no warranties, express or implied and specifically disclaims any warranty of merchantability or fitness for a particular purpose. Repair or replacement of the product ordered from seller shall be buyer's exclusive remedy.