Innovative 5501 Tablet PC/Laptop Holder
Product ID 15756
HIGHLIGHTS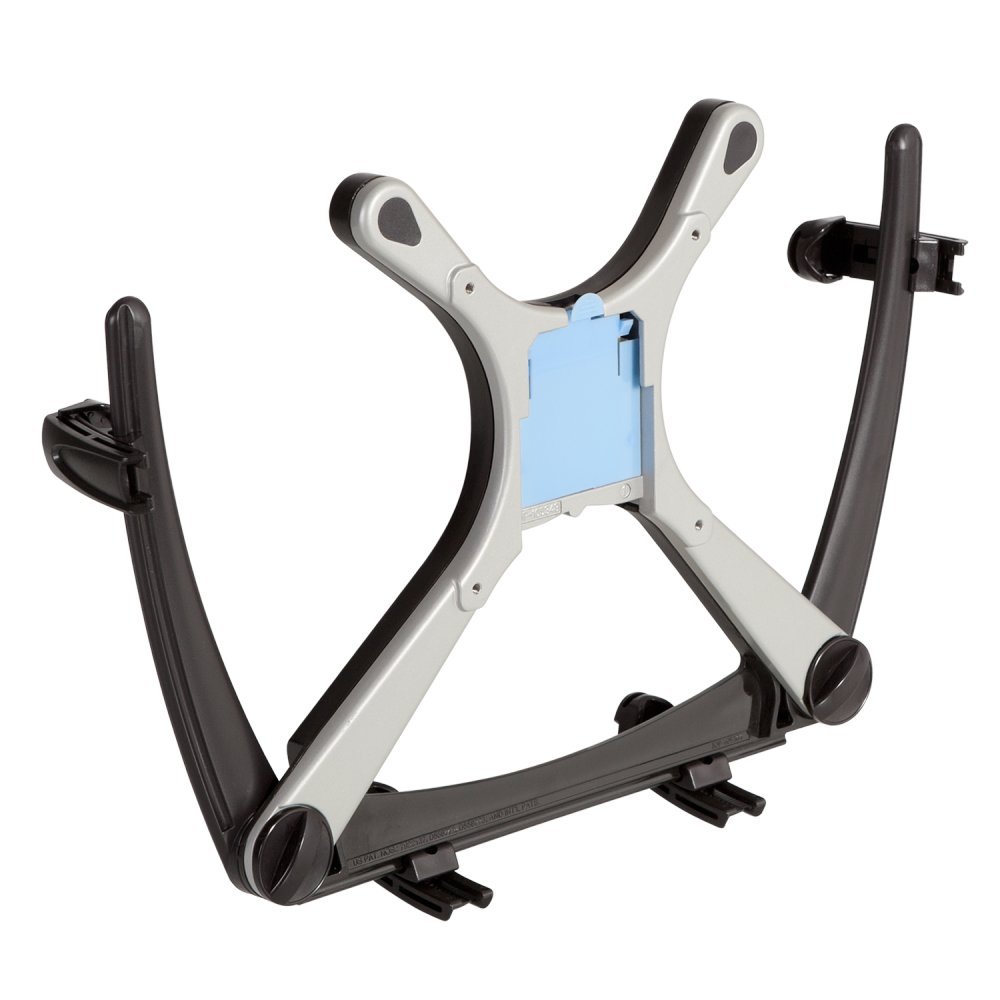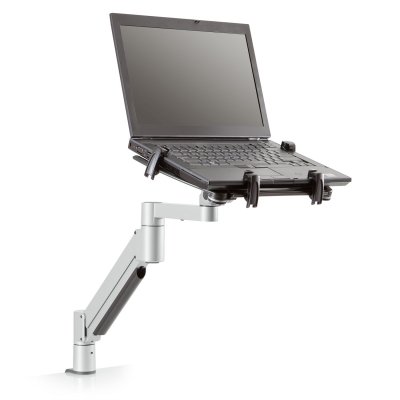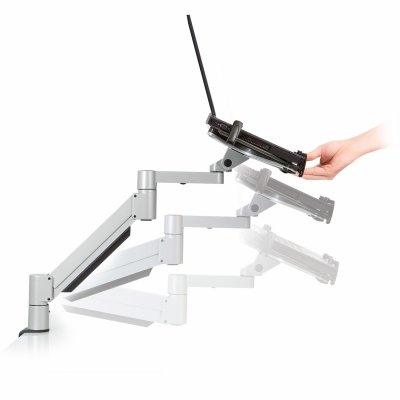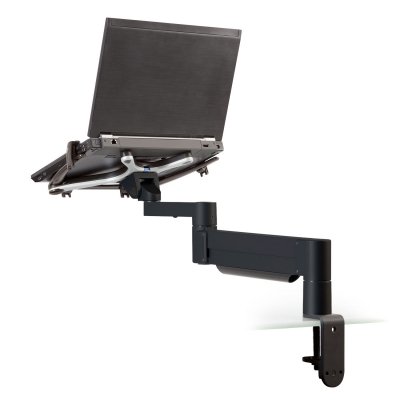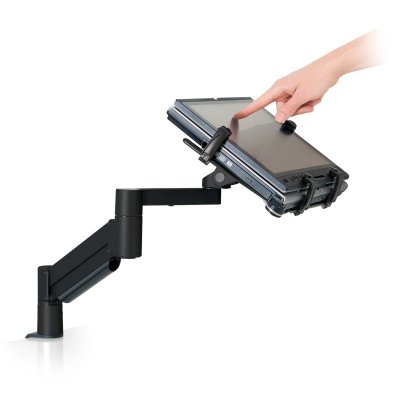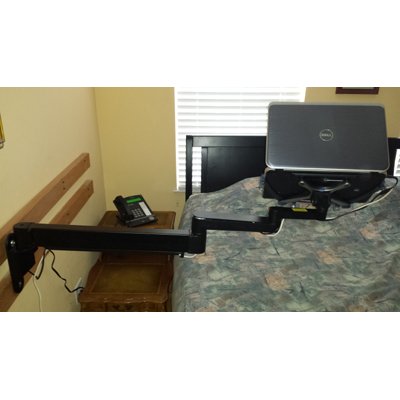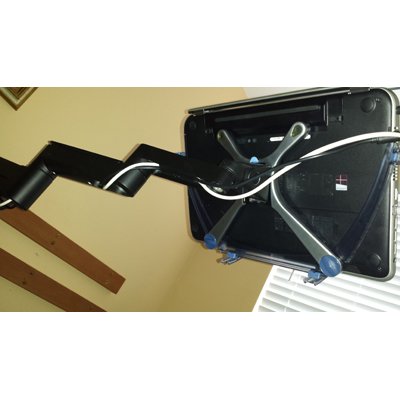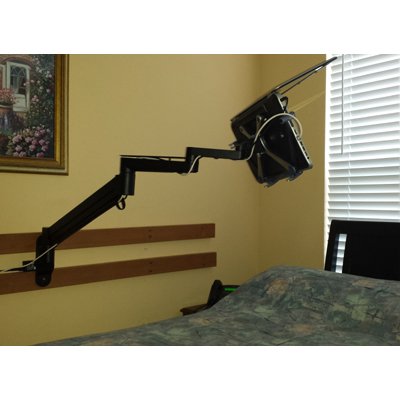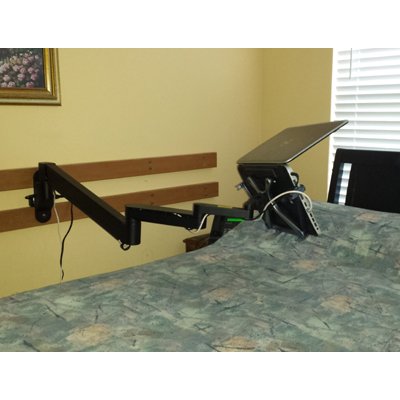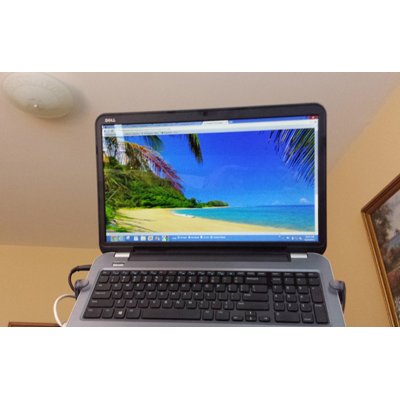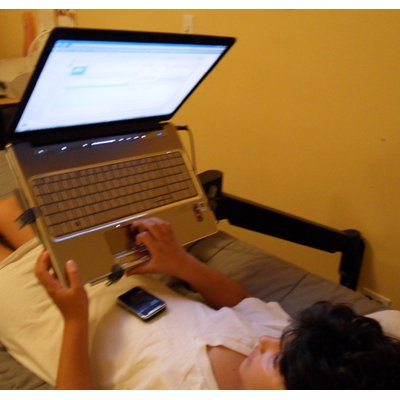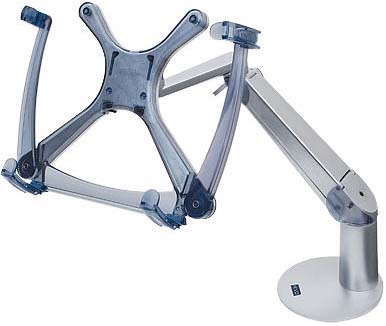 5501 in transparent light blue color ( this color no longer available)

Arms expand to accommodate a wide variety of portables

Adjustable clasps allow free access to jacks and ports

For ultra thin Laptops/Tablet PCs: The supplied clips can be attached to the clasps to ensure a secure grasp
Features of innovative 5501:
Adapts to support both tablet PCs and laptops.
Securely grips tablet or laptop, with quick attach and release.
Adjustable clasps allow free access to jacks and ports.
When used with tablet PCs, enables one-handed use of the tablet.
Allows tablet to be used in portrait or landscape position.
Mounting arm floats computer above desk - simply grab and move to desired position.
Arm extends up to 18", with vertical adjustment of +/- 5" from horizontal.
Integrated cable management keeps cords off the desk.
Mount clamps to desk or through grommet with integrated handle (may also combine with slatwall, slatrail or wall mount)
Technical Drawing for Innovative 5501 Tablet PC or Notebook Holder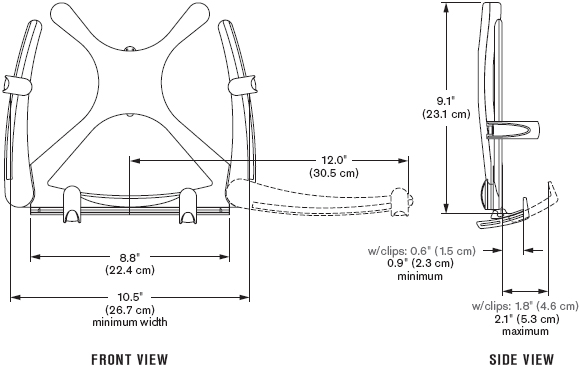 Description of Innovative 5501 Tablet PC Holder:
Attaches to arm via quick-install mechanism. Configures to support laptops or tablet PCs.
Discover a new way of interfacing with your tablet PC or laptop, the EVO Tablet Arm suspends your portable above the desk where it can be instantly repositioned for comfortable viewing. Combine with a wireless keyboard and mouse to create an ergonomic docking station for your computer. It`s an ideal solution for workers on the move. Improve productivity while working at your primary desk, then simply grab the computer and go when it`s time to leave.
Specifications:
Minimum Width
10.5" (26.7 cm)
Height
9.1" (23.1 cm)
Length with Clips

0.6" (1.5 cm)

0.9" (2.3 cm) Minimum

1.8" (4.6 cm)

2.1" (5.3 cm) Maximum

Supports
Tablet PCs and Laptops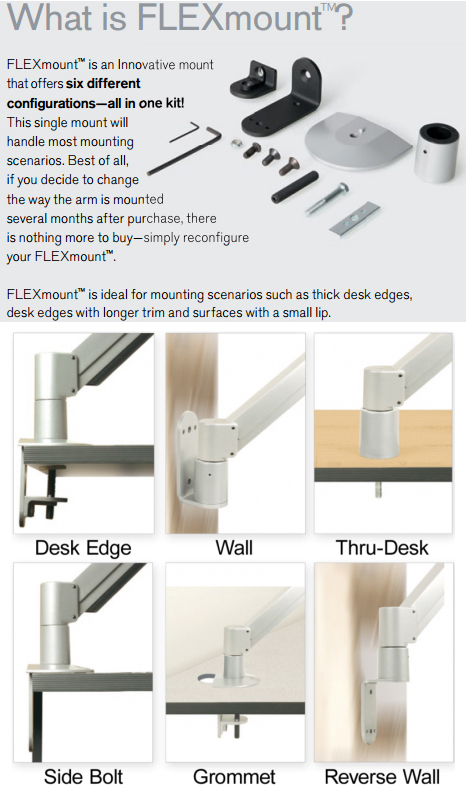 Product Options/Accessories
Frequently Asked Questions
q
I am interested in a setup similar to picture 8 of 11 with the EVO5501 laptop holder and the 9199 monitor arm. Could you tell me what wall mount is used in that picture? Are all the listed wall mounts compatible with this combination? In the picture there appear to be two long horizontal boards to which the wall mount is affixed. Are these included as part of the wall mount, or are these required for the mount to be securely attached to the wall?
a
The mount in the image is the Innovative 8325 Heavy-Duty Large Wall Mount. All the wall mount options will allow you to mount an LCD arm to the wall. The two long horizontal boards are not included in the system, they were added to the wall to increase the structural support. In order to secure the arm to the wall you need to attached the wall mount directly into studs or other firm mounting surface. The unit does not come with wall mounting hardware (screws, bolts, etc..) you should be able to find this hardware at your local hardware store based on the type of wall material.
q
Can this product support a two-in-one 15" laptop? The dimensions of my laptop are 13.5" wide, 9.75" deep and 0.75" thick. Does the back of this product have VESA mounting holes?
a
The EVO5501 supports laptops up to 17" wide. So it is compatible with your laptop. Also the 0.75" thickness of your laptop will allow it to be clipped to the holder. This holder has a VESA pattern in the back which enables it to attach to any arm with a 75 x 75mm and 100 x 100 mm VESA hole pattern.
| | |
| --- | --- |
| Model | 5501 |
| Manufacturer | Innovative LCD Arms |
| Part Number | 5501 |
| Weight | lb(s) |
Customer reviews
1 stars

0

2 stars

0

3 stars

0

4 stars

0

5 stars

1
I'm quadriplegic in bed ..
by alain p, Quebec, Dec 19, 2016
It is awsome, easy use and totaly practical
Warranty
Seller warrants that its products will be free from defects in material and workmanship when the title passes to the buyer. Seller will repair or replace, at its discretion, any defective product without charge (shipping charges excluded) for a period of 10 years (exception: 1 year for Busby, 5 years for Winston Workstation, Winston-E, Winston Desk and Freedom Desk, 3 years for Tablik and 1 year for Bild motorized column) after the original date of sale, unless the product damage resulted from normal wear and tear, buyer abuse, misuse or negligence or failure to follow instructions related to the products's installation or intended use. Seller may require proof of purchase before performing any repairs or replacing any products during the warranty period. Except as specifically set forth above, seller makes no warranties, express or implied and specifically disclaims any warranty of merchantability or fitness for a particular purpose. Repair or replacement of the product ordered from seller shall be buyer's exclusive remedy.