Kinesis KB800PB-BT Freestyle2 Blue Ergonomic Wireless Keyboard for PC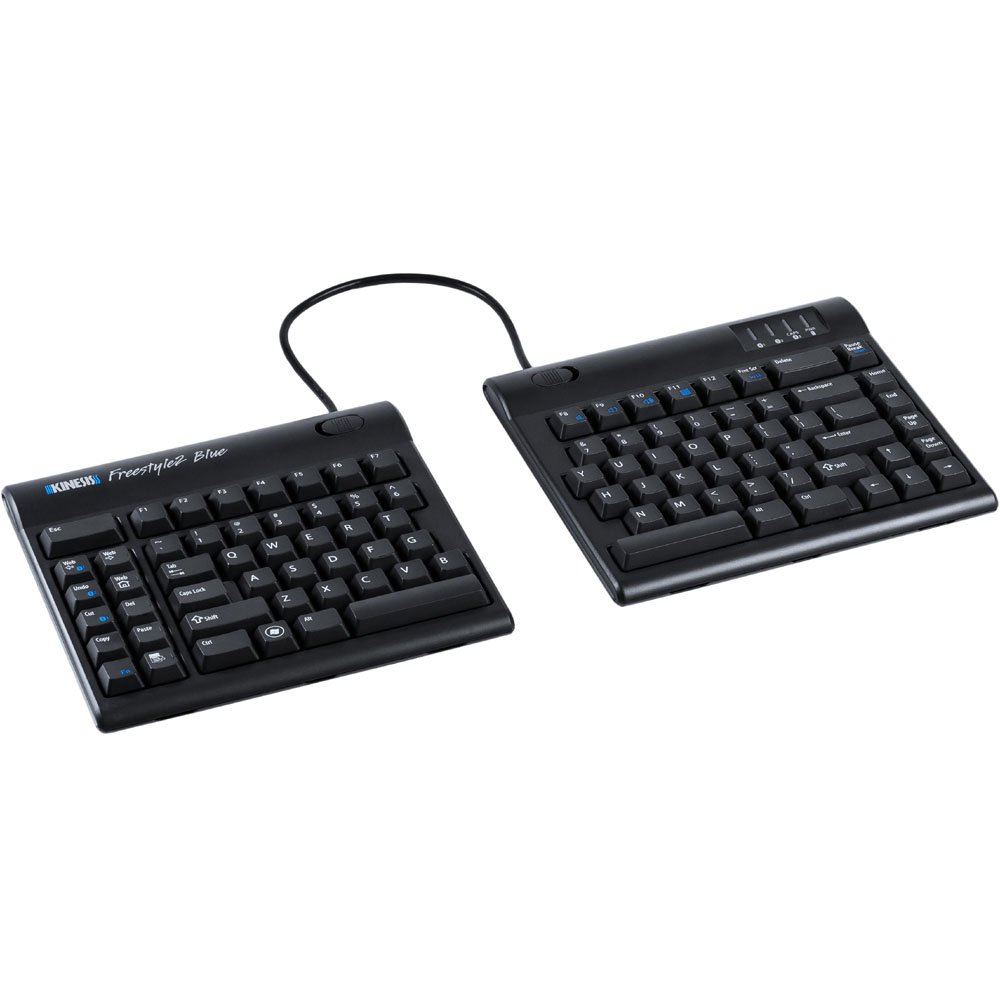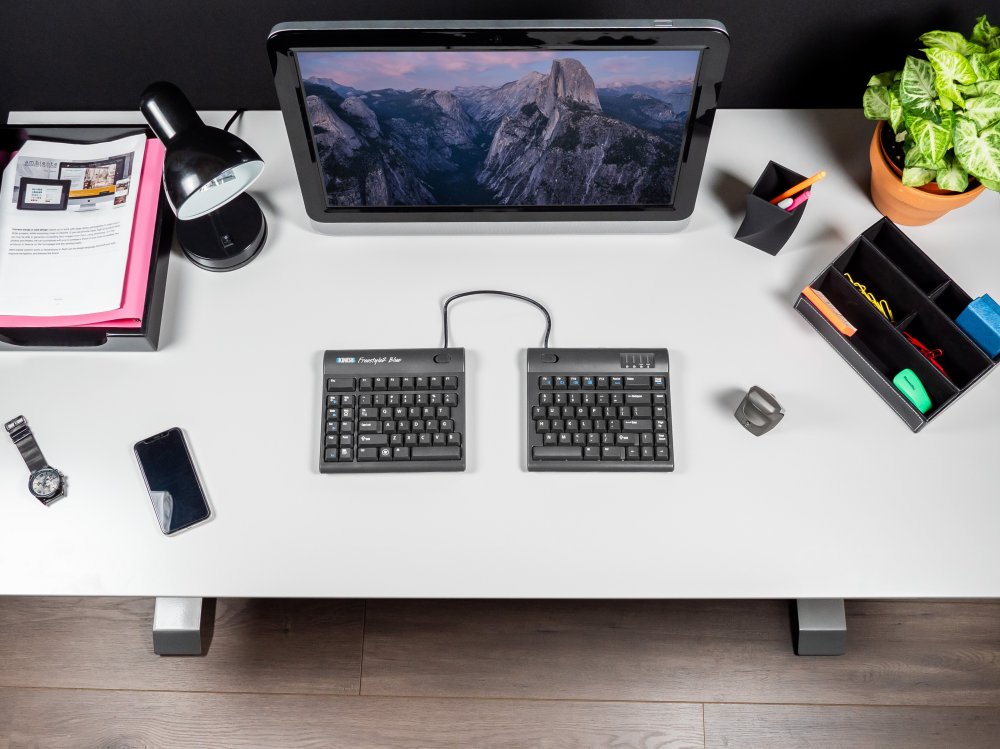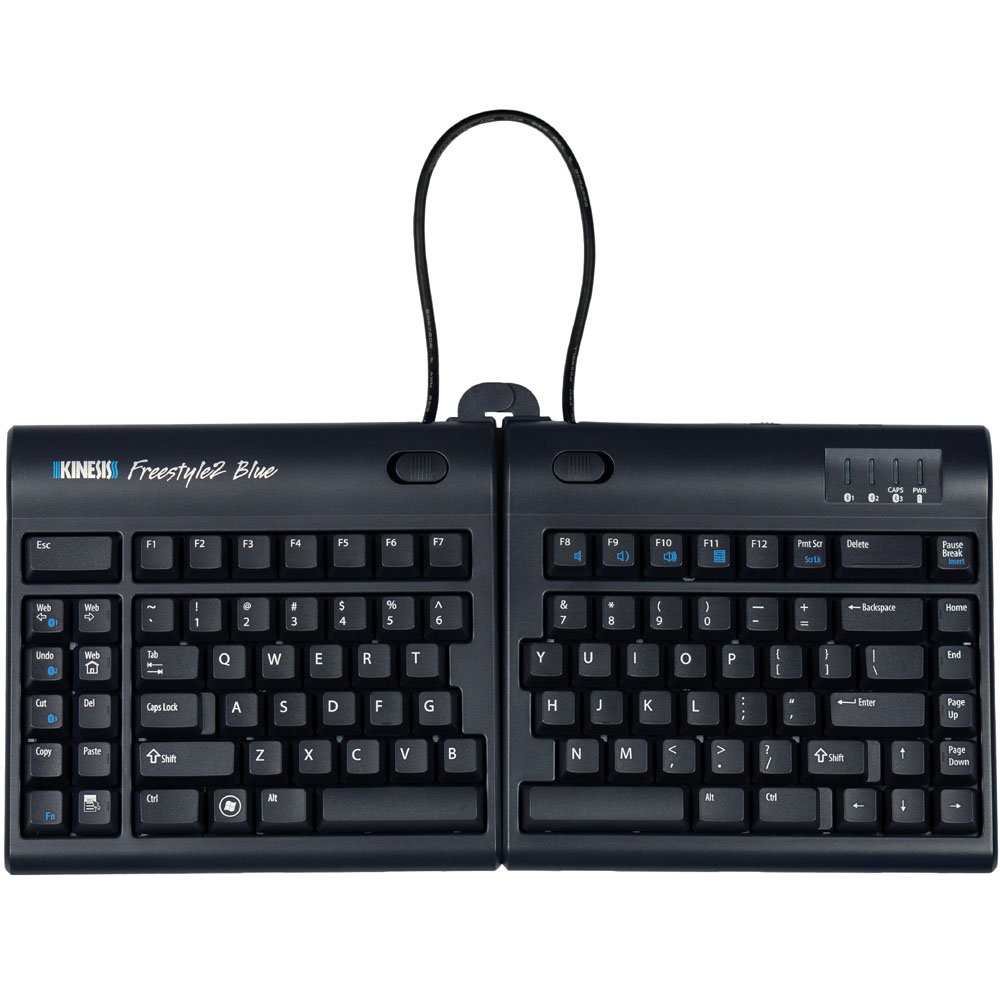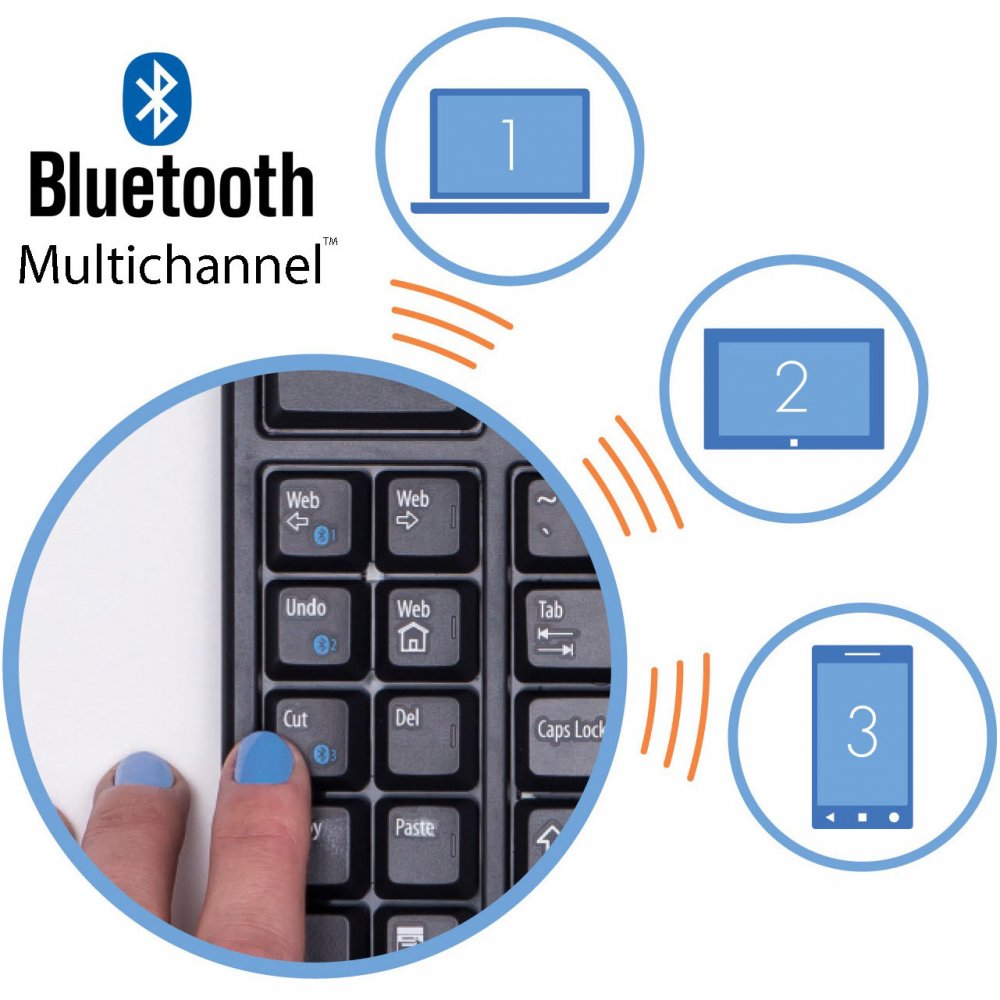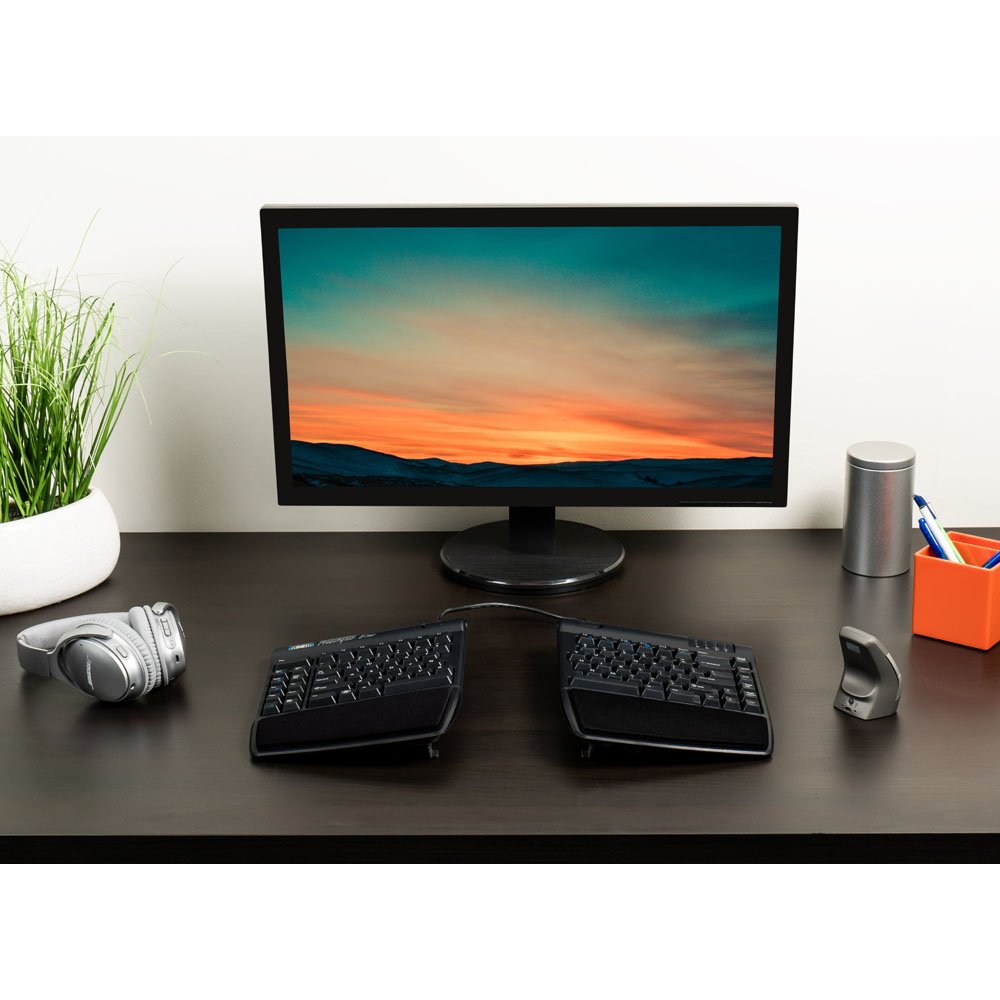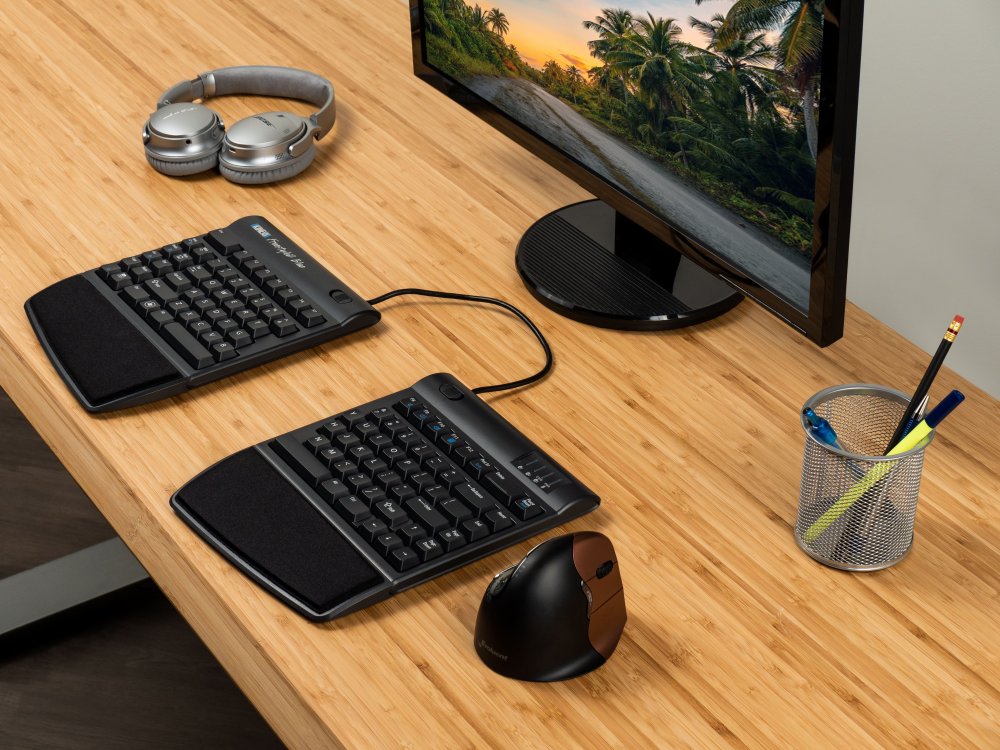 Description
Kinesis KB800PB-BT Freestyle2 Blue for PC is an award-winning split keyboard designed to adjust to your body and typing style. It features a familiar Windows layout plus convenient Multichannel Bluetooth technology for wireless pairing with up to three Bluetooth-enabled devices (e.g., PC, Tablet, or Smartphone).
Proven design reduces major ergonomic risks
Reduces ulnar deviation
Reduces pronation when used with an accessory kit
Reduces wrist extension
Reduces over-reach for any pointing device
Reduces excessive force with low-force keys
Reduces excessive repetition with driverless hot keys
Three Bluetooth channel keys allow instant switching between your favorite devices

Linking cable allows up to 9 inches of separation

Slide button to release pivot tether

Volume control and calculator keys

8 driverless hot keys for commonly used mouse actions

Double wide escape and delete keys allow quick and easy target

Tactile ribs for improved accuracy

Low-force key action
Features
Multichannel Technology - The Kinesis Freestyle2 Blue wireless keyboard combines our award winning split-adjustable ergonomic design with the convenience of bluetooth connectivity. No more sacrificing comfort when typing on your PC, Tablet, Smartphone. Multichannel technology lets you pair up to 3 three Bluetooth-enabled devices with the Freestyle2 Blue and instantly switch between them directly from the keyboard.




Sleek, low profile design - Most keyboards including ergonomic models have a 10 degree positive slope from front to back. These designs tend to bend your wrists. The Freestyle2 has a zero degree slope which minimizes the height, effectively creating negative slope and reducing wrist extension. The slim design provides you a 2-in-1 office and travel keyboard.




Accommodates a wide range of individuals - From small to tall and body types in between, the Freestyle2 allows for maximum flexibility catering to each individual's unique needs. Out of the box both modules are connected together by a flexible pivot tether allowing an infinite range of splay. Disconnecting the pivot tether allows up to 9 inches of complete separation of both left and right keying modules. Perfect for individual needs ranging from a narrow footprint to complete separation. This design greatly reduces and or/eliminates ulnar deviation.




Optional palm supports - Optional padded palm supports reduce wrist extension by keeping wrists neutral.




Driverless hot keys and Bluetooth Multichannel keys - Driverless hot keys for commonly used mouse actions. (Internet Page Forward and Back, Undo, Web Home, Cut, Copy and Paste). A vertical rib is located on the inside row of hot keys to provide tactile notification to the user.

Familiar key layout - Familiar key layout provides for minimal adaptation time.

Low-force, tactile key switches - The Freestyle2 utilizes a quiet, low-force, tactile membrane key switch. The typical average maximum key force of a switch is 45 grams. This is at least 25% less than most traditional and many ergonomic keyboards such as the Microsoft 4000 with maximum key forces of over 60 grams.
Specifications
Compatible operating systems

Windows 7-10

Linux

Android

Chrome

Mac OS X: Basic functionality (no hot keys)

Bluetooth connection required, and therefore a dongle is not included

Bluetooth, Battery & Multichannel

Bluetooth 3.0

Range: ~30 feet

Battery: Rechargeable lithium polymer

Battery life: Single battery charge should exceed 300 hours of actual typing or at least six months of use at 2 hours of typing per day

Multichannel: Switch instantly between 3 Bluetooth-enabled devices

Key Switch

Peak force: 45 grams

Activation force: 35 grams

Travel distance: 3.9 mm

Switch type: Rubber dome, membrane

Width

Max separation measured between inside edge of each module: 9 inches

Measured between outside edge of each module: Min: 15.375 inches; Max: 23.50 inches

Distance between F & J Keys: Min: 3.50 inches; Max: 11.50 inches

Depth

7.125 inches; palm supports installed: 10 inches

Maximum Height

0.875 inches

Weight

2 lbs

Shipping Weight

3 lbs

USB charging cable length

6 feet

Hot Keys

Hot Keys for Android & Linux, remote access, and terminal emulation: Hot keys on the Freestyle2 Blue for PC are designed for Windows and may not be supported by Android & Linux systems or by some browsers. Some hot keys will not work if you are using terminal emulation or remote access.
Product Options/Accessories
| | |
| --- | --- |
| Model | KB800PB-BT |
| Manufacturer | Kinesis |
| Part Number | KB800PB-BT |
| | |
| --- | --- |
| Operating System | Windows 7-10, Linux, Android, Chrome and Mac OS X: Basic functionality (no hot keys) |
| Connection Type | Bluetooth |
| Battery Type | Rechargeable lithium polymer |
| Battery Life | Single battery charge should exceed 300 hours of actual typing or at least six months of use at 2 hours of typing per day |
| Maximum height | 0.875 in |
| Weight | 2 lbs |
| Shipping Weight | 3 lbs |
| USB Cable Length | 6 feet |
| Warranty | 2 year |
| Depth | 7.125 in; palm supports installed 10 |
| Connection Type | Wireless |
| Ergonomic Keyboard | Yes |
Customer reviews
1 stars

0

2 stars

0

3 stars

0

4 stars

0

5 stars

0
Warranty and Return Policy
Please review the following (3) stipulations to the warranty and returns policy that are unique to the TKO keyboard.
Warranty: 1 year limited from date of purchase.

Returns: A $35 restocking fee will be charged for TKO keyboards that are returned without the hard-shell travel case included.

Warranty Exemption on Hot Swappable Switch Sockets: This Warranty does not apply to damage to switch sockets caused by the customer. If a customer receives a product with a broken switch they must contact Kinesis within 7 days of purchase and submit a Support Ticket documenting the switch failure. Damage to switch sockets reported after 7 days will be assumed to have been the fault of the customer and will not be covered under warranty. If Kinesis receives a returned keyboard after 7 days and determines that the failure was caused by a damaged socket, warranty coverage will be denied.
Please refer to the Kinesis Gaming Warranty Page for further information.