Humanscale Monitor Arms
In today's fast-paced, fully connected digital world, there's no time for discomfort. Humanscale's ergonomic monitor arms and mounts enable instant personalization of the workspace for improved comfort, health, and productivity.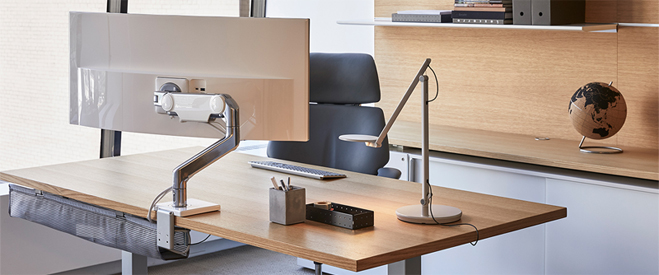 Flat panel monitors are transforming the landscape of the office. They take up less space and offer better resolution and less glare than CRT monitors. But their greatest advantage is that they can be easily mounted to an adjustable arm, which allows them to be ideally positioned for each individual user.
In addition, an adjustable arm keeps the monitor out of the way when it's not needed, and encourages the user to place the monitor in a comfortable viewing position when in use.
Featuring effortless adjustment, extreme stability and a sleek look, our full line of monitor arms allow users to easily customize the angle, depth and height of the monitor for maximum benefit. Whatever the application, we're ready - with a host of configuration and mounting options.
Our monitor arms not only promote a clutter-free workspace, they support a healthier, more ergonomic working posture. Users are encouraged to align the monitor at the correct height for them, which helps prevent eye and neck strain. When paired with M/Connect - the first-ever integrated adjustable monitor arm base and docking station of its kind - they are even more conducive to collaborative and hot-desking environments.

All of our monitor arms are ultra-sleek, exceptionally durable, and easy to adjust. From our best-selling, high-performance M2.1 monitor arm to M/Flex - the world's most scalable monitor system Humanscale offers a solution for every environment and hardware support need.

And meet our revolutionary new monitor arm line: M2.1, M8.1 and M10. These ergonomic monitor arms were designed for unprecedented adaptability in the agile workspace and instantly improve the comfort, health and productivity of any workspace. Featuring innovations like Humanscale's patented Weight-Compensating Spring Technology and Smart Stop functionality, these adjustable monitor arms enable the personalization and flexibility needed for today's evolving workplaces.