The below item has been discontinued. See above for similar products that we offer instead. We apologize for this inconvenience.
Workrite UC3100 Glide 2 Single/Dual Mouse Keyboard Tray UG3100
Workrite Manufacturer changed product name from Orbit to Glide in September 2010
Related Products
| | |
| --- | --- |
| Part Number | Description |
| UC-3100-22 | Charcoal Ultra-Thin Glide Adjustable Keyboard Tray with Jel and 22" Track |
| UC-3100-17 | Charcoal Ultra-Thin Glide Adjustable Keyboard Tray with Jel and 17" Track |
| UG-3100-22 | Grey Ultra-Thin Glide Adjustable Keyboard Tray with Jel and 22" Track |
| UG-3100-17 | Grey Ultra-Thin Glide Adjustable Keyboard Tray with Jel and 17" Track |

Description
Keyboard Comfort Above and Beyond. Whether you are outfitting one workstation or thousands, Workrite Glide moves to everyone's comfort level. Its limitless range of adjustability is out of this world. Engineered to exacting specifications, critical components are quality tested to be within one half the width of a human hair. This careful attention to detail continues with the selection of unique materials including a jet engine control component that ensures thousands of smooth adjustments for years to come. With 24 standard configurations, Workrite Glide will meet the needs of workers around the clock and around the globe.
We've combined our best keyboard platforms with our most popular adjustable arms to give you five superior solutions. These versatile systems are available on our QuickShip program.

Workrite Ergonomic Glide Brings Out-Of-This-World Keyboarding Flexibility
The average professional workweek has steadily increased over the last 10 years as hyper-productivity progressively dominates the mindset of most companies and employees, according to the Center for Work Life Policy. To help alleviate workers' tendencies of experiencing repetitive stress syndrome and carpal tunnel caused from working long hours, Workrite Ergonomics - a leading provider of ergonomic solutions for the workplace - introduces Workrite Glide at NeoCon World's Trade Fair, June 9-11, 2008, in Chicago.

A first-of-its-kind keyboard platform, Workrite Glide is manufactured with a patent-pending design that offers the most extensive range of mouse platform positioning in the industry. Whereas other keyboard platforms are static - or adjustment requires awkward twists and turns - Workrite Orbit allows users to quickly and independently change the position, elevation and tilt of their keyboard and mouse.

"The productivity demands placed on today's increasingly diverse workforce mandate that flexible, ergonomic solutions are provided for employees," says Dana Perkins, vice president of marketing for Workrite Ergonomics. "Solutions such as Workrite Orbit help meet this requirement, allowing workers to customize and adjust frequently used computer components to meet their ergonomic preferences, and can help stave off work-related discomforts and injuries."

Ideal for commercial offices and multi-shift/multi-user work environments where ergonomic needs are diverse - especially among workers in the 5th to 95th percentile - as well as high-intensity mouse use applications such as CAD and graphic design, the adjustability of Workrite Orbit helps prevent the strain workers might otherwise feel if using static keyboard and mouse positions that are not conducive to their physical size and range of motion.

Positioning Workers for Success
Providing unsurpassed, effortless adjustment of the keyboard platform and mouse surface, Workrite Glide is designed with a unique U-shaped track below the platform. Featuring a revolutionary shaft and square axle design, this track enables the mouse platform to be simply pulled out, rotated and snapped back into place, eliminating the complex rotations, flips and similar adjustments usually required. The sliding mouse surface can achieve four positions, each suitable to a particular body type: Mouse-Forward for individuals with average arm length, Mouse-Over for persons with shorter arms, and In-Line and Mouse-Back for individuals with longer reach.
Technical Drawing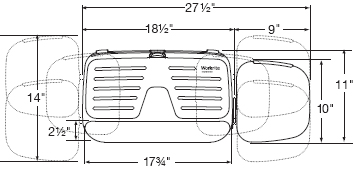 Desk Compatibility

Features
Glide Keyboard Platform
Model UC-3100 or UG-3100 platform

Unique mouse platform with Mouse-Over, Mouse-Forward, Mouse-Back and In-Line positions for maximum flexibility and comfort

Sliding document holder and cord management

Stylish, no-slip keyboard mat and mouse-trap keep your mouse and keyboard in place

Over 210 square inches of mousing area in Mouse-Over position

Mouse platform tilts independently from keyboard +/- 20 degree

Removable palm support; optional mouse palm support

User instructions are printed on mouse pad

Exceeds ANSI/BIFMA X5.5-2008 durability standard

Ultra-thin phenolic platform features our Optimizer document holder, built in cord management, no-slip keyboard mat

Unique mouse platform that glides from side to side for both left and right-handed users

Platform requires radius or diagonal of 17″ or more for proper installation and use

Available in charcoal or cool gray

Mouse platform palm support sold separately

Glide Keyboard Arm
Specify Pinnacle 2 Arm with 17" or 22" low profile ball bearing track or Pinnacle 2 - Value with 17" or 22" nylon track

Height range: flush to 6" below the worksurface

Tilt range: -15 degree to +10 degree

360 degree swivel - easy positioning and storage

No-knob, no-lever Lift-N-Lock

Maximum knee clearance

LEED Eligibility
All Workrite Glide Systems exceed LEED requirement MR4.1 (10% recycled content)

Most Workrite Glide Systems exceed LEED requirement MR4.2 (20% recycled content) and may be eligible for up to 2 points

Innovation and design, credits 1.1 - 1.4

Implementation of comprehensive ergonomic program (1 - 4 points)

Ultra-Thin platform surface made from GREENGUARD certified materials
Specifications
| | |
| --- | --- |
| Track Length | 22" or 17" |
| Weight | 18 |
| Tilt Range | -15 degree to +10 degree |
| Swivel | 360 degree swivel easy positioning and storage |
| Height Range | Flush to 6" below the worksurface |
Option 1: Color
| | |
| --- | --- |
| Charcoal | Gray |
Option 2: Arm Type
Pinnacle 2 Arm - Pinnacle 2 Extended Arm - Pinnacle AD Arm - Budget Arm - Locking Lever Arm
Pinnacle 2 Arm

22" Track (recommended track length)

Pinnacle 2 Arm (Short Track)

17" Track (short track)

Pinnacle Arm 2 Extended

Longer Arm for corner area

 
 
 

Pinnacle Budget Arm

22" or 17" Budget Arm

Pinnacle AD Arm

Above Desk Range

Locking Lever Arm

ADA Lever Allows Easy Adjustment
Option 3: Wrist Rest
Jel inside Synthetic Leather "Jel-LetherRite"

WorkRite 128 Wrist Rest: Palm support for use with existing keyboard trays and roll-out keyboard drawers.
For use with roll-out keyboard drawers and other applications.
Option 4: Mousing Platform
UC3115 2nd Glide Mouse Platform (charcoal)
UG3115 2nd Glide Mouse Platform (grey)
Option 5: Clip-On Mouse Support
Easily clips on and off for storage

Clip On Mouse Support Model 3120

Supports Wrist for Ergonomic Mousing
Adds mouse area palm support to the following products
Banana-Board REVO Platforms Mouse-Under Platforms 180S Platforms
Easy to Attach
Easily clips on and off for storage
Option 6: Swivel Plate
Swivel Plate 2179-SP: The swivel plate allows you to swivel your keyboard tray horizontally independent from the arm.

Allows keyboard and mouse platform to pivot an extra 45 degree for special mounting requirements.

Easy to Install
Mounts between the arm and keyboard platform.
Weight 3 lbs
Option 7: Mounting Spacer
Mounting Spacer (1/4" Thickness)

Mounting Spacer (1/2" Thickness)

Mounting Spacer (3/4" Thickness)

Mounting Spacer (1" Thickness)

Mounting Spacer (1 1/4" Thickness)

Mounting Spacer (1 1/2" Thickness)

Mounting Spacer (1 3/4" Thickness)

Mounting Spacer (2" Thickness)

Mounting Spacer is required only when the edge of your desk is thicker than the rest of the worksurface.
Used to attach adjustable arm tracks when edge is thicker than worksurface.
You can add spacer to make a flat surface under the desktop from front to back in order to install the Adjustable Arm.
Available in 16" and 21" lengths (please specify).

a = 16" or 21"

b = 11-3/4"
Option 8: Corner Solution
179ACD

Dimensions: 12" W x 1 3/4" H.
Adjusts to fit 1" to 2" thick work surfaces.
Clamping design eliminates spacers.
Converts 90 degree to useable work area.
Weight: 3 Lbs.
Color: Black

 
 

179CCD

a = 17.5" ... b = 9.25" ... c = 1.5"
Move operator closer to work surface
Designed specifically to fit model # 321 with Pinnacle 2 Arm. Also work with the following platform models: 187,188,487,488
Converts 90 degree corners and diagonal corners less than 17" to useable work area
Weight: 4 Lbs
Color: Black/Gary
 

 
 

179CR

a = 26" ... b =15" ... c = 1 1/2"
Fits all platforms up to 28" wide
Works with all WorkRite keyboard arms
Converts 90" corners and corners with keyboard cutouts to useable diagonal area
Weight: 4 Lbs
Color: Black/Gray
Option 9: Track Length
Desk has more than 22" clear space under desktop, front to back
Less than 22" and more than 17" clearance under desktop, front to back
Desk has less than 17" clear space under desktop, front to back
Option 10: Positive Tilt Lock
It is a pin that is inserted in the arm to prevent the tilt from going to positive. It restricts the adjustable arms going to negative tilt range from -6 to -15 degrees.
Frequently Asked Questions
Question: Does this come with two mousing platforms or is each platform extra?
Answer: This unit comes with one mousing platform. A second platform for the opposite side is available by selecting it in Option 4 of this product.
Question: The space under my desk is about 25" wide. Will this tray fit?
Answer: With a single mouse tray, you need at least 27" space. However we recommend another keyboard tray that is 25" wide.
| | |
| --- | --- |
| Model | UC3100, UG3100 |
| Manufacturer | Workrite Ergonomics |
| Part Number | UC-3100 or UG-3100 |
| UPC | 029274410377 |
| Weight | 18.00 lb(s) |
Be the first to review this product