Kinesis FP30A Savant Elite2 Triple Pedal
Description
A Savant Elite2 (SE2) foot pedal is an excellent ergonomic enhancer to reduce hand and arm strain and repetition from mouse clicks and awkward key combinations. The triple foot pedal is the most versatile member of the SE2 family. Factory programming provides mouse click actions, including a double click on the middle pedal. The new driverless programming makes it quick and easy to change the pedal to perform keyboard actions and productivity-enhancing macros.

SmartSet driverless programming technology - The SE2 features Kinesis' SmartSet technology which provides driverless programming of the SE2 device. Programming the SE2 can be accomplished in one of two ways: 1) utilizing the SE2 SmartSet App; or 2) using any text editor to type a new pedal action and saving to the virtual disk drive. No drivers are required, whether you are using Windows, Mac OS X, Android, Linux, or Chrome.

Programming using the SE2 SmartSet App for Windows & Mac - The simplest and easiest means of programming the SE2 is by using the SE2 SmartSet App. The SE2 SmartSet App is a graphical user interface that allows you to easily assign any key action, macro or special action such as a double left mouse click to a foot pedal or jack. Available in both Windows and Mac versions, the SE2 SmartSet App comes pre-loaded on all new SE2 devices or can be downloaded from the Savant Elite2 Resources Page section of our website.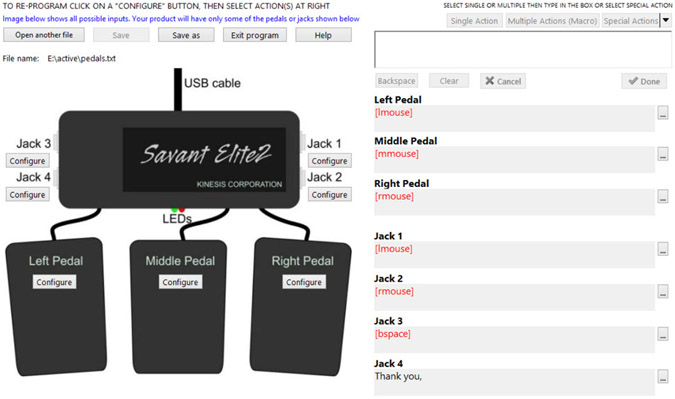 Programming with a Text Editor (Non Windows & Mac OS's) - For all other operating systems the SE2 is programmed by editing the pedals.txt file located on the virtual removable disk drive named KINESIS FP. The SE2's unique driverless all-platform programmability is based on a virtual removable disk. In the KINESIS FP drive resides a tiny simple-text file (pedals.txt) which defines the actions of up to 3 pedals and 4 input jacks covering all the various configurations of SE2 devices. Virtually any text editing program can be used to edit the pedal/jack assignments and then re-save the file as "plain text" or "simple text." Backup files can be stored with different names and in different locations. Only the file named "pedals.txt" located in the "active" folder in the KINESIS FP drive is used to assign the actions.
Features
Activate mouse clicks. Three pedals factory configured to perform mouse button actions. (Left pedal = left button, middle pedal= left button double click, right pedal = right button)

Program any key action and/or macro. Re-programmable on any computer or tablet with a USB port to perform keyboard actions, macros, or to re-assign mouse button action

Programmable Waterproof model also available

Jack equipped model (FP30AJ) offers a fourth input using long-cabled single pedal or hand trigger

Pedals are front-hinged and rounded for easy triggering, made from black, glass-reinforced nylon

Low profile design, combined with heavy steel base prevents unit from accidentally moving on the floor

Outer two pedals are adjustable by moving slightly closer together

Adjustable activation force

External green and red status LEDs
Specifications
Compatible operating systems

Savant Elite2 uses generic HID (human interface device) drivers provided by the operating system. It can be operated and programmed without any special drivers in most environments supporting USB devices, including the following operating systems with an available USB port

Windows

Mac OS X 10.4 & newer

Linux

Android

Chrome

SE2 SmartSet App

Windows 7, 8 & 10

Mac OS X 10.4 & newer (not compatible with Sierra. See Note)

Either version can be downloaded from the Savant Elite2 Resources Page

NOTE

The SE2 SmartSet App is not currently compatible with Mac's running Sierra. We will have an update in the future. In the meantime, users who want to program have three options: 1) use a different OS to program; 2) direct edit the text file; and/or 3) email Kinesis Technical Support with actions that you would like programmed and they will send you a text file.

In Play Mode the Savant Elite2 emulates a generic keyboard and mouse. In Programming Mode it emulates a generic keyboard and removable disk. Programming Mode requires generic OS support for a removable disk, plus a text editing program or app that can edit and save a file as "plain text" or "simple text." Most word processing and text editing programs have this capability.

Macintosh OS X notes

OS X doesn't support middle mouse button without using a third party driver such as that found at www.usboverdrive.com. Also, modifier actions from one USB device cannot modify the input of a second USB device due to limitations designed into the Apple operating system.

Example

Shift, Control, Command, or Option keystrokes programmed into the foot pedal cannot modify the input of a separate USB keyboard or mouse. However, a key sequence like 'Cmd-W' or 'Cmd-Shift-left arrow' will work on a Macintosh if the entire sequence of keystrokes has been programmed into the foot pedal.

Dimensions

Width: 10.75 inches

Depth (front-to-back): 7 inches

Max height: 1.25 inches

Weight: 2.50 lbs

Shipping weight: 3 lbs

Cable length: 9 feet 1 inch
Comparison
| | | |
| --- | --- | --- |
| Feature | SAVANT ELITE2 | JSB |
| Standard actions | Mouse Buttons | Joy Stick Buttons 1,2,3 |
| Other Capabilities | Key Actions/Macros | "Joy Stick Buttons Only" |
| Programmable | Yes | No |
| | |
| --- | --- |
| Model | FP30A |
| Manufacturer | Kinesis |
| Part Number | FP30A |
| | |
| --- | --- |
| Operating System | Windows, Mac OS X 10.4 & newer, Linux, Android and Chrome |
| Width | 10.75 |
| Depth | (front-to-back): 7 in |
| Maximum height | 1.25 in |
| Weight | 2.50 lbs |
| Shipping Weight | 3 lbs |
| Cable Length | 9 feet 1 inch |
Be the first to review this product