Ergotron 24-206-214 Neo-Flex LCD Cart
Highlights
Height Adjustable Computer Cart
Fully adjustable LCD arm with maximum of 27" height adjustment
Total weight capacity on the cart: 26 lbs
Sit or Stand while working with the cart
Use in hospitals, manufacturing, IT and point-of-care work space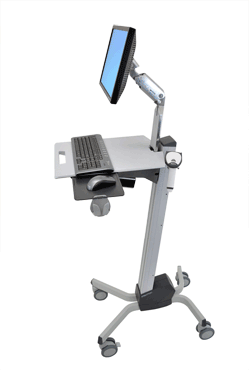 Description
Ergotron 24-206-214 is a low-cost, height-adjustable cart that supports your mobile computing needs today and tomorrow. It features a fully adjustable LCD Arm, 27 inches (68 cm) of height adjustment (work sitting or standing), VESA-compliant thin-client CPU holder, large worksurface, small footprint and a rugged, open-architecture design.
Use it anywhere computing needs to be mobilized: in a hospital as a point-of-care work space; in manufacturing as a mobile EWI platform; in the IT department as a diagnostic "crash cart."
Technical Drawing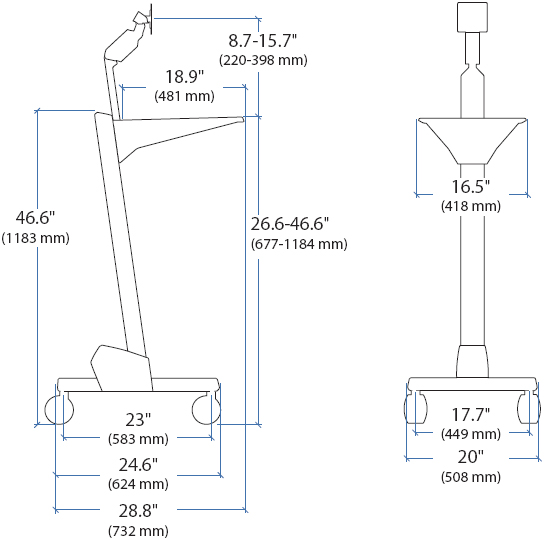 Technical Specifications
LCD Size

Capacity

Lift

Tilt

Pan

Rotation

VESA

Up to 22"
Up to 26 lbs

11.8 kg

27"

68 cm

65°
180°
360° P/L
MIS-D
Product Information
Part Number:

24-206-214

Description:

Neo-Flex LCD Cart (two-tone grey)

Includes:

LCD arm
Integrated worksurface/keyboard tray with left/right mouse tray
Scanner holder bracket
Mouse holder
Cable storage area
Four dual casters (two locking)
Quick-release VESA-CPU Mount
Bracket for power strip
Cable wrap
Cable wrap bracket that also holds power strip

Weight Capacity:

Total maximum load on height-adjustment assembly = 26 lbs (11.8 kg). This is the sum of the following components: LCD arm = 6–12 lbs (2.7–5.4 kg); worksurface, keyboard tray and cable storage area = ≤ 6 lbs (3.6 kg); quick-release VESA-CPU mount = 2–8 lbs (.9–3.6 kg).

LCD and Worksurface:

Adjust 20" (51 cm) in tandem; LCD arm adjusts 7" (17.8 cm) independently; maximum LCD height adjustment = 27" (68.6 cm).

Monitor up/down Tilt:

+60°/-5°

Exterior:

Durable, easy-to-clean exterior composed of aluminum, high-grade plastic and zinc-plated/powder coated painted steel

CPU Dimension:
Maximum CPU size (W x H x D) = 10" x 10" x 3" (25 x 25 x 7.6 cm). Requires CPU with VESA-compliant mounting interface (75 x 75 mm or 100 x 100 mm hole pattern).

For larger CPUs use the Universal CPU Holder accessory (ordered separately), which is compatible with CPU sizes from 12" H x 3" D to 16" H x 8.5" D (300 x 80 mm to 406 x 220 mm) and attaches at the base of the cart. Maximum CPU weight which can be added to this cart using the Universal CPU Holder is 35 lbs (15.9 kg).

Power Brick:

Power brick can mount under worksurface in cable storage area

Cables:

Along main column are secured with "zip-ties" at provided attachment points.

CF Technology:

Patented Constant Force lift-and-pivot motion technology.

Worksurface Dimensions:

16.5" W x 20.5" D (42 x 52 cm)

Wheel-to-Wheel Base Dimensions:

17.5" x 22.8" (44 x 582 cm)

Shipping Dimensions:

21.75" x 15" x 45.25" (552 x 380 x 1150 mm)

Shipping Weight:

56 lbs (25.4 kg); actual cart weight = 38 lbs (17 kg).

Warranty:

Three (3) years
Benefits
LCD pans side-to-side for closer access; arm also reaches low for people wearing bifocals or using a tablet PC.
Attach a thin-client CPU that uses a VESA-compliant mounting hole pattern to the underside of the worksurface.
Front handle on worksurface, premium casters, and light-weight design enables cart to easily maneuver into tight spaces - cart weighs under 38 lbs (17 kg).
Flexible, open-architecture design is ready for the computer equipment of today and tomorrow.
Constant Force patented lift technology provides fluid, one-touch adjustment.
Work sitting or standing with the ergonomic 27-inch (68 cm) height adjustment range.
Barcode scanner holder provides easy access to hand-held scanner.
Very accessible - facilitates ADA (Americans with Disabilities Act) compliant computing initiatives, such as mobile kiosks.
| | |
| --- | --- |
| Model | 24-206-214 |
| Manufacturer | Ergotron |
| Part Number | 24-206-214 |
| UPC | 698833015126 |
| | |
| --- | --- |
| Color | Two-tone grey |
| Monitor Size | Up to 22" |
| Weight Capacity | Total maxi. load on height-adjustment assembly=26 lb (11.8 kg). This is the sum of the following components: LCD arm=6–12 lb (2.7–5.4 kg); worksurface, keyboard tray and cable storage area=≤ 6 lb (3.6 kg); quick-release VESA-CPU mount=2–8 lb (.9–3.6 kg). |
| Height Adjustment | LCD and worksurface adjust 20" (51 cm) in tandem; LCD arm adjusts 7" (17.8 cm) independently; maximum LCD height adjustment = 27" (68.6 cm). |
| Tilt | Up +60/ down -5 degree |
| Pan | 180 degree |
| Rotation | (P/L) 360 degree |
| VESA | MIS-D |
| CPU Dimension | Maxi. CPU size (W x H x D) = 10" x 10" x 3" (25 x 25 x 7.6 cm). Requires CPU with VESA-compliant mounting interface (75 x 75 mm or 100 x 100 mm hole pattern) |
| Worksurface Dimensions | 16.5" W x 20.5" D (42 x 52 cm) |
| Compact Wheel to Wheel Base Dimensions | 17.5" x 22.8" (44 x 582 cm) |
| Shipping Dimensions | 21.75" x 15" x 45.25" (552 x 380 x 1150 mm) |
| Shipping Weight | 56 lbs (25.4 kg); actual cart weight = 38 lbs (17 kg) |
| Warranty | Three (3) years |
| Product Type | LCD Monitor |
| Product Type | Tablet |
Be the first to review this product