Goldtouch GTN-0099 V2 Adjustable Comfort Keyboard - PC only
GTN-0099 replaces the GTN-0077 and GTU-0077 (which are discontinued). Disclaimer: Do Not Plug your USB Goldtouch Keyboard into the USB Keypad. Your PC will not recognize it.
Highlights
Ergonomic keyboard for PC
Compatibility: Compatible with Windows 2000, XP, Vista, Windows 7
Negative tilt: 2 feet on the back of the keyboard provide negative tilt, which allows the wrists to be in a downward position, without a break in the wrists, while typing
Dimensions: Width 16.25", Depth 6.75", Weight 3.3 lbs
Please see, if you want a keyboard for your MAC
A traditional keyboard may cause you to bend your wrists sideways to reach all the keys.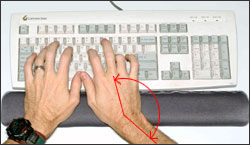 Side bending of the wrist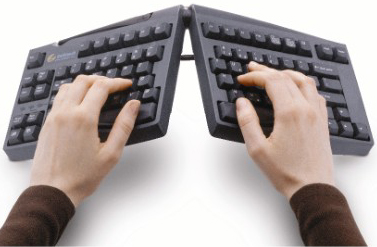 Above image with hands displays "straight wrist position" using older model keyboard
GoldTouch GTN-0099 PC Compatible V2 Adjustable Keyboard Black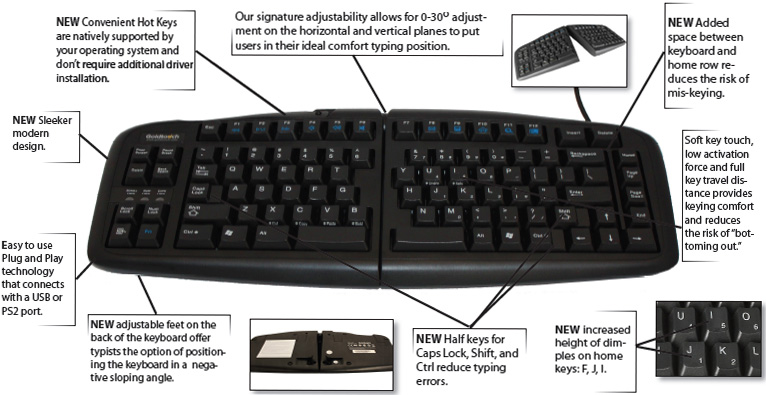 Description
Goldtouch's new keyboard features a sleeker modern design, some exciting new features while maintaining their signature adjustability, soft key touch, and travel distance to ensure that your typing in total comfort.
Goldtouch GTN-0099 PC Compatible V2 Adjustable Keyboard. It's plug and play technology that connects with a USB or PS2 port and is compatible with Windows 7, Vista, XP and 2000.
A proven design and years of longevity make the Goldtouch Adjustable Keyboard a leading recommendation among Risk Managers, Certified Professional Ergonomists, Physical Therapists and Occupational Therapists. The Goldtouch V2 Adjustable Keyboard is designed to fit a variety of body types and is the only keyboard designed to properly straighten the wrists and arms while keeping your shoulders and back aligned to achieve a natural typing position. No other keyboard can offer you the comfort of an individual fit.
Features
Adjustability: 0°-30° adjustment in the horizontal plane, combined with 0°-30° adjustment of vertical tenting to help straighten your hands, wrists, shoulders and back.

Soft key touch, low activation force and full key travel distance provides keying comfort and reduces risk from "bottoming out" when typing.

Compact size allows for use in limited space environments, and reduces shoulder abduction when reaching for mice and other peripherals.

Ease of use and intuitive design allow new users to adjust the keyboard to a comfortable typing position without additional accessories or attachments.

Compatible with Windows 2000, XP, Vista and Windows 7
Specifications
| | |
| --- | --- |
| Width | 16-1/4" |
| Depth | 6-3/4" |
| Height at Home Row | 30 mm or 1-1/6" |
| Weight | 3.3 lbs |
| Activation Key Force | 40g-45g average |
| Travel Distance | 4mm, +/- .5mm |

| | |
| --- | --- |
| Model | GTN-0099 |
| Manufacturer | GoldTouch |
| Part Number | GTN-0099 |
| UPC | 183238000650 |
| | |
| --- | --- |
| Ergonomic Keyboard | Yes |
| Connection Type | Wired USB |
Be the first to review this product