Humanscale Horizon LED Task Light
Highlights
Ideal task light for high design enviroments
First task light with Thin Film LED Technology: warm, glare-free, white light
Adjusts easily and is dimmable at the touch of a hand
Description
A visually striking embodiment of Humanscale's commitment to high performance and minimalist functionality, Horizon is the ideal LED task light for high design environments. Accepted into the permanent collection of the Museum of Modern Art (MoMA) in 2011, Horizon uses new Thin Film LED Technology to deliver excellent ergonomic lighting and easy adjustability in a sleek package.

Horizon is the pinnacle of high technology packaged in ergonomic design. Perfect for work and home, Horizon produces a soft, glare-free light that is ideal for both pixels and paper. Its Thin Film LED Technology addresses the common illumination issues of LED task lights by offering brilliant, single-source light and eliminating multiple shadows. Not only do the high-intensity micro LEDs produce clearer light, but a warmer and glare free illumination to help reduce eye strain during extended use.

Design Story - Our goal in designing Horizon was to achieve an ultra-thin, luminous plane of light - made possible through years of research and celebrate it by floating it above the desktop in a package of material and aesthetic efficiency - Peter Stathis, co-designer.

A collaboration between designers Peter Stathis and Michael McCoy in 2009, Horizon has won 17 design awards to date. Uniting two modern traditions - Platonic minimalism and organic design, Horizon is defined by both technical sophistication and a striking form. It suggests a new "solid-state aesthetic" made possible by Thin Film LED technology's unique properties. Horizon has been accepted into the permanent collection of two of the most esteemed museums in America, the Museum of Modern Art (MoMA) and Smithsonian Cooper-Hewitt, National Design Museum.
Technical Drawing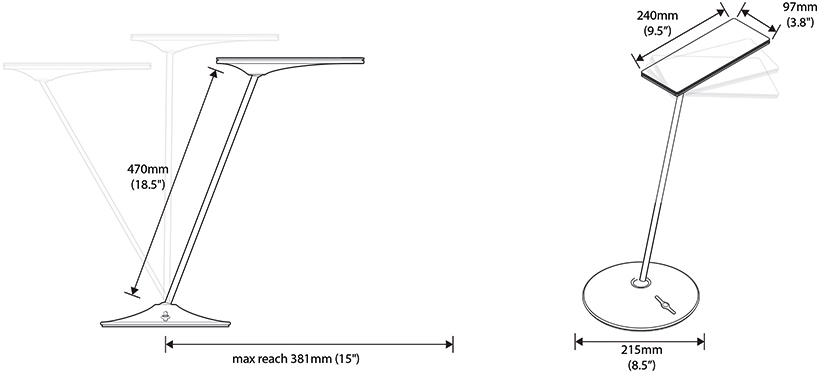 Features
Pioneering LED Task Lighting - Horizon is the first task light to use Thin Film LED Technology. The result is an ultra-thin profile that produces a wide footprint of warm, 3000K glare-free 80 CRI white light.
Intuitive Functionality - Not only is Horizon among the most minimal LED task lights available, its unique spherical joints allow for easy adjustability. Horizon is dimmable at the touch of a hand for increased efficiency and ergonomic lighting.
Minimal Design, Maximum Efficiency - Horizon's single light source only casts one shadow and features a high-efficiency nightlight function that uses just one watt of electricity. The entire head of Horizon is made of die cast aluminum, serving as a heat sink to maximize LED longevity and ensure a 50,000 hour rated life.
Specifications
Power consumption - 9 watts
Color Temperature - 3000K
Color Rendering Index - 85
Dims to 10% of maximum
Lifespan - Up to 50,000 hours
May contribute to valuable LEED-CI, -NC and -EB credits
99% recyclable content
Five-year, 24/7 warranty
Option 1: Color
Horizon comes in three finishes that highlight its elegant design: Arctic White (high-gloss), Silver (semi-matte) and Jet Black (semi-matte).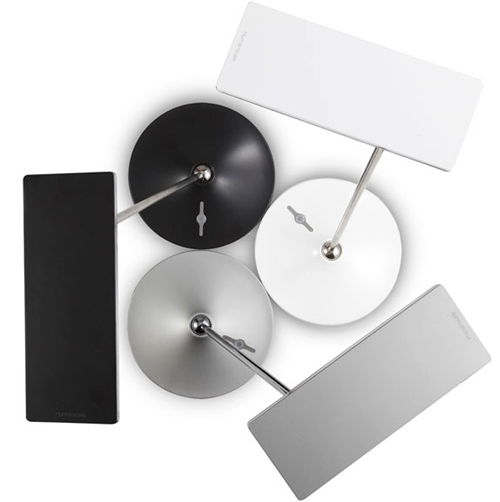 Humanscale LED Task Light Comparison
Element 790

Element Vision

Element Disc

Horizon

Light Output (Lumens)

250

215

315

320

Light Quality (CRI)

85

88

83

80

Energy Consumption (Watts)

5

7

7

9

Efficiency (Lumens/Watt)

50

31

45

36

Color Temperature

3500K

3000K

3000K

3000K

Dimming

Yes

Yes

Yes

Yes

PIR Motion Detector

No

Yes

Yes

No

Colors

S, B, W

S, B, W

S, W

S, B, W

Mount Options

20

20

20

Preliminary Data

Base Only
| | |
| --- | --- |
| Model | Horizon |
| Manufacturer | Humanscale |
| Part Number | Horizon HNB |
Be the first to review this product