Microsoft 2LF-00001 Wireless Desktop 800 Keyboard and Mouse
Microsoft 2LF-00001 Wireless Desktop 800 Keyboard and Mouse
General Information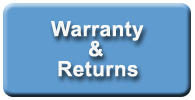 Microsoft 2LF 00001 Wireless Desktop 800 Keyboard and Mouse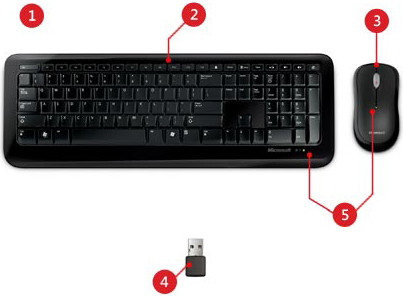 Features of Microsoft Wireless Desktop 800:
1. Secured Wireless Connection: Enjoy the 2.4-gigahertz (GHz) wireless technology, which delivers a reliable connection with up to a 30 foot range, with virtually no interference.
2. Easy Access Hot Keys: Quickly access frequently used tools, like the zoom and audio controls by using shortcut keys. Quickly access frequently used tools, like the calculator and audio controls by using shortcut keys.
3. Microsoft Optical Technology: Benefit from responsive cursor control that takes advantage of 1,000-dots-per-inch (DPI) tracking.
4. Snap-in Transceiver: Plug the wireless receiver into your computer's USB port when you're ready to work. Then snap it into the bottom of your mouse when you travel, and the mouse will automatically turn off.
5. Battery Life Indicator: Avoid getting caught with a dead battery. The battery status indicator glows red when the battery is running low.
6. Designed for Comfort: Experience comfortable use in your right or left hand.
7. Scroll Wheel: Move through documents and web pages quickly.
8. Power Switch: Turn off your mouse to extend battery life.
9. Longer Battery Life: Experience fewer interruptions with up to 15 months of battery life.
10. Windows Start Button: Simply press the Windows start button to launch the start menu.
Technical Drawing of Microsoft 2LF-00001 Wireless Desktop 800 Keyboard and Mouse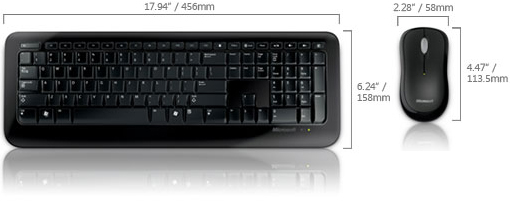 Description of Microsoft Wireless Desktop 800:
Wireless Freedom at an Affordable Price: Experience the freedom and convenience of wireless technology with this affordable keyboard and mouse set. Control a media computer while sitting on your couch, or conveniently stow the keyboard and mouse away without hassling with wires. You can roam up to 30 feet away with a strong signal. Or, you can take the mouse separately to use with a laptop while traveling - the tiny transceiver conveniently snaps into the bottom of the mouse when it's time to pack up and go. Setting up the keyboard and mouse is simple: just insert the batteries, plug in the tiny transceiver, and start typing.
Specifications of Microsoft 2LF00001:
System Requirements:

Computer/Operating System:

Requires a PC that meets the requirements for and has installed one of these operating systems: Windows 7, Windows Vista, Windows XP.

Other:

USB only
2 AAA and 2 AA alkaline batteries (included)

Warranty:

Two year limited warranty


| | |
| --- | --- |
| Model | 2LF-00001 |
| Manufacturer | Microsoft |
| Part Number | 2LF-00001 |
| | |
| --- | --- |
| Connection Type | Wireless |
| Wireless | Yes |
Be the first to review this product