Humanscale MF2 M/Flex Monitor Arm for M2 Arms
You can add 2nd row arms Only if you select 24" High Post, 30" High Post and 36" High Post (see option "Post Height") 
Description
M/Flex, Humanscale's multi-monitor arm system, can go from one to six monitors in minutes, without the need for tools. M/Flex can integrate with any standard work surface through a wide number of attachments on a single post - seamlessly transforming a traditional workspace into a dynamic, ergonomic workstation.

Unlike conventional monitor arm systems, M/Flex has a small footprint and its aesthetic won't overpower the existing workspace. Its modular design and strength ensure exceptional performance. As monitors continue to evolve, M/Flex's versatility makes it the perfect multi-monitor solution for a changing technology landscape.

Humanscale M/Flex allows the user to work in a healthy posture by setting the monitor at an optimal distance and height. Collaboration is made easier through effortless screen sharing and increased desk space. The most scalable system on the market, M/Flex can be easily reconfigured as needed by adding or removing monitors.

Design Story - M/Flex was designed by the Humanscale Design Studio to be the world's most flexible and scalable multi-monitor arm system. The team wanted to make a system that was simple to alter, easy to install and expand and that meets the changing technological demands of workspaces.
Technical Drawing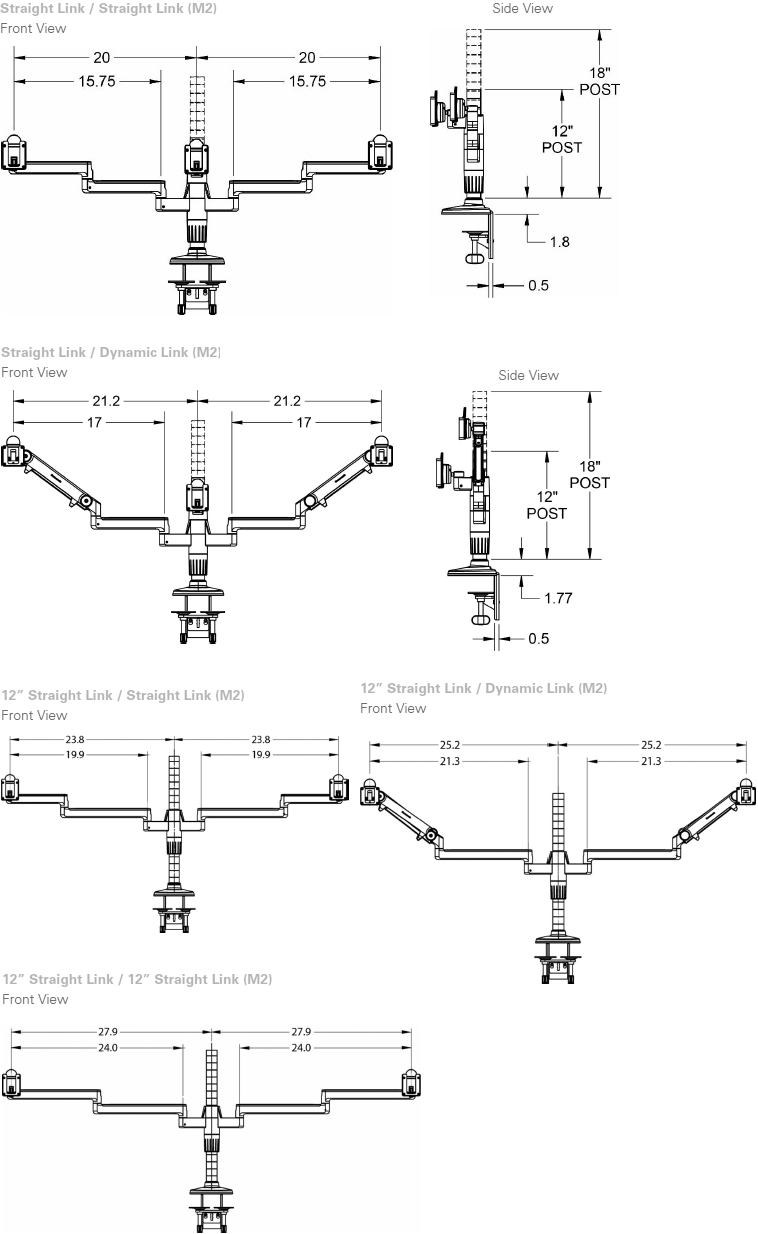 Features
Innovative Design - The M/Flex multi-monitor arm system allows the user to simply swap attachments to suit their changing technology needs while retaining a sleek, minimal aesthetic. Manufactured primarily from recycled aluminum, M/Flex is as recyclable as it is beautiful.

Greater Versatility - M/Flex offers the most versatile, modular multi-monitor system available. By lifting up to six monitors up to 20 lbs. each off the work surface, M/Flex frees up valuable desk space, helping to preserve the existing office aesthetics. M/Flex's removable 180-degree stop also protects walls and panels

Unparalleled Customization - M/Flex offers effortless adjustment and enables easy, spontaneous configurations. With its plug-and-play customization, M/Flex allows users to add monitor arms, attachments and accessories as needed. M/Flex is the perfect addition to the modern and constantly evolving workspace and, when paired with the M/Connect monitor arm base, users can completely eliminate cable clutter and gain easy access to USB ports and high-speed charging.

A New, Simpler Way - The incredibly versatile M/Flex is one of the most scalable monitor arm systems on the market. With the unique ability to support up to six monitors weighing up to 9 kilograms (20 pounds) each from a single pole, M/Flex accommodates today's and tomorrow's technology with ease.

Farewell to Outdated Approaches - M/Flex dares to challenge all ways old, cumbersome and difficult, instead providing a simple and easy approach. And, unlike many monitor arm systems, M/Flex enables users to purchase one system to accommodate their needs, as opposed to buying multiple arm systems.

The M/Flex Solution - Installation takes time and money. Featuring nesting integrated brackets, M/Flex allows monitors to be added without disturbing the existing configuration, completely streamlining the entire installation process and thereby reducing the effort and costs involved.

Everyday Applications - Thanks to its versatile monitor support and clean design, M/Flex operates brilliantly and complements any contemporary work environment. Whether used for a security office, a commercial space or a healthcare environment, M/Flex meets and exceeds the needs of these settings.

Award-Winning Monitor Arms - M/Flex's strong and supportive structure starts with two award-winning, sustainable monitor arms, the M2 and M8, which both feature industry-leading cable management to hide unsightly wires.

M/Flex and the Environment - The Humanscale Design Studio developed M/Flex with sustainability in mind, using fewer and lighter parts for less overall environmental impact and less money and energy wasted in the shipping and manufacturing of the product. Importantly, M/Flex prevents the waste of technology components by allowing users to add parts over time, making it among the most sustainable monitor arms on the market.
Specifications
Mounting options can be Surface, Vertical and Custom solutions

Additions can be made to the post (s) without disturbing the original configuration

Five total post heights

Can accommodate one or two rows

Users can choose to have up to three monitors per row

Nesting, integrated brack design allows for easy add-ons

Single bracket easily converts to double bracket

Double bracket can also convert to triple bracket

Additions can be made without removing existing brackets or installations
Sustainability
We work hard to ensure that our environmental philosophy is reflected in each product we create. With our Design for Environment protocol, our designers and engineers examine the environmental impact of every choice made throughout the design process - from initial concept through final production.
A selection of sustainability highlights for the M/Flex:
Recycled content: 12% post-consumer, 5% pre-consumer

Made predominantly of steel and aluminum, which are highly recyclable

Shipped in packaging that contains recycled content

Learn more about how we work to extend the life of our products through both design and engineering so they won't need to be replaced often

Designed for easy disassembly with clear recycling instructions

SCS Indoor Advantage Gold certified

ANSI/BIFMA level 1 certified

Close the Loop program ensures that every product ends its useful life with a minimal environmental impact
Option 1 - Color
 

Silver with Gray Trim

 

Black with Black Trim

 

Polished Aluminum with White Trim
Product Options/Accessories

Humanscale M/Connect USB 3.0 Docking Station
$568.00
$489.00
Frequently Asked Questions
Question: Will any configuration of this m/flex monitor arm support 3 x 30" Dell u3014 monitors? If so, does this provide enough arm length to rotate the left and right monitor back toward the center?
Answer: Though the Dell u3014 has a 30" screen size, what is important in this scenario is the outside width of the monitor (including the frame), which is 27.15". For your specific requirement, the triple mount M/Flex will work if you buy two 12" straight links for the left and the right monitor. But please note that the middle monitor mounted with a ball joint will have no adjustability.
Question: What is the monitor weight capacity on each arm?
Answer: Each arm weight capacity is 20lbs.
| | |
| --- | --- |
| Model | MF2 |
| Manufacturer | Humanscale |
| Part Number | MF2 |
| | |
| --- | --- |
| Mounting Options | Desk |
| Warranty | 15-year warranty |
| Monitor Arm Types | 1 Monitor |
| Monitor Arm Types | 2 Monitors |
| Monitor Arm Types | 3 Monitors |
| Monitor Arm Types | 4 Monitors |
| Monitor Arm Types | 5 Monitors |
| Monitor Arm Types | 6+ Monitors |
| Number of Monitors | 1 Monitor |
| Number of Monitors | 2 Monitors |
| Number of Monitors | 3 Monitors |
| Number of Monitors | 4 Monitors |
| Number of Monitors | 5 Monitors |
| Number of Monitors | 6+ Monitors |
Be the first to review this product