Wall Mount Laptop Arm, ErgoDirect ED-LLXW
Highlights
Adjustable Wall Mount Laptop Arm
25" horizontal extension away from wall 
13" height adjustment
4.5-12 lbs weight capacity
Folds back easily to make space in tight, high-traffic areas
Ideal for hospital corridors, patient rooms and temporary working areas
Need more height adjustment

?

Need a longer arm?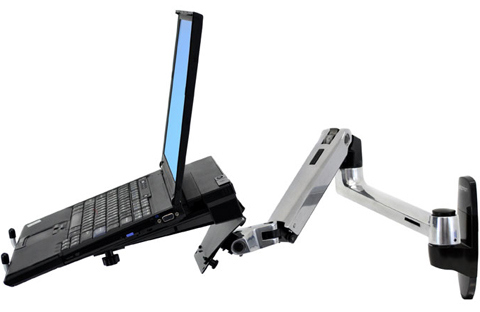 Description
Based on the popular Ergotron LX Wall Mount Arm, we have developed a unique solution - Adjustable Wall Mount Laptop Arm, ED-LLXW.
The Wall Mount Laptop Arm ED-LLXW is a complete package - a combination of an arm, that mounts on a wall and a tray, that holds the laptop. With the ability to easily fold back into a compact position, this arm is ideally suited to high-traffic areas like patient rooms, hospital corridors and manufacturing floors.
ED-LLXW is updated version of ED-NB-LXWM.
Technical Drawing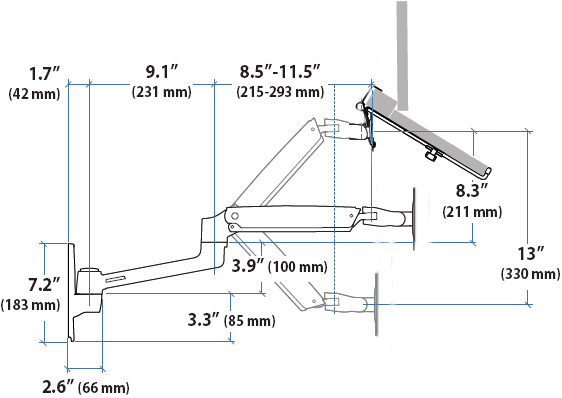 Product Information
Description
 Wall Mount Arm (polished aluminum) and Notebook Tray (black)
Included

Wall Mount arm
Extension
Wall mount base
Laptop Holder

Improved Arm Features & Benefits

Polished aluminum construction offers greater durability and enhanced aesthetics
Arm folds back over the base into a compact retracted position
Snap-fit cap secures interface of arm to extension for greater stability

Mounting Options
Attaches directly to sturdy vertical surfaces. Where applicable, install to wood stud. Also attaches to Wall Plate, or to Wall Track using bracket 97-091 (order separately)
Mounting Standards
VESA FDMI MIS-D, 100/75, C (hole pattern: 100 x 100 mm & 75 x 75 mm)
Base
Includes theft deterrent anchor holes for cable locks
Monitor Depth
May affect weight capacity
Shipping Dimensions
17.5"H x 7.7"W x 6.9"D (44.5 x 19.5 x 17.5 cm)
Shipping Weight
6.2 lbs (3.2 kg)
Warranty
Ten (10) years
Benefits
The Wall Mount Arm along with the notebook tray provides ergonomic comfort even though it may not be your permanent working area.
By adjusting the display according to the user`s needs, this package reduces shoulder, neck, back and eye stress.
The cable management feature clubs the cables under the arm and out of sight and way of the user.
The arm extends 25" from the wall, enabling the display to be pushed out of the way, when not in use.
The 13" height adjustment of the display makes it suitable for most users.
Frequently Asked Questions
Question: I'm trying to decide what features I need to buy for the Ergotron LX Wall Mount Notebook Arm. What all is necessary to mount the notebook tray to the wall with the wall mount arm?
Answer: You get everything you see in the picture, the arm, one extension, the notebook tray and the wall mount. All the other options are optional accessories.
Question: Is the laptop secured to the mount at all or does it just rest on it?
Answer: The laptop rests on a notebook tray, which has a non-slip foam pad that prevents it from sliding.
Question: Does this laptop arm use a gas spring? We are looking for something that a user can raise up without using tools, and it will stay in places. Also if you could tell me how wide the mount part of it is, that would be helpful.
Answer: Yes, this arm uses gas springs and your user will be able to raise and lower without any tools and it will stay in place as long as the laptop is within this weight range 2.5-12lbs. The wall mounting bracket of this arm is 1.125" (28.7mm) wide and 7.3" long.
Question: Does this arm allow the laptop to be pivoted parallel to the wall when not in use? Is there anything that holds the laptop in that case?
Answer: The laptop sits on the tray and is held there by a non-slip foam pad that prevents it from slipping. However this particular tray does not have the ability to let the laptop fold parallel to the wall. If you want a wall mount arm with a foldable laptop tray, here's the product for you. With the wall mount, you have a choice of different extension arms (8", 8.5", 12.5", 17") and laptop tray enables the laptop to fold parallel to the wall.
| | |
| --- | --- |
| Model | ED-LLXW |
| Manufacturer | Ergodirect |
| Part Number | ED-LLXW |
| | |
| --- | --- |
| Color | Polished Aluminum Arm and Black Notebook Tray |
| Weight Capacity | 2.5-12 lbs (1.14–5.45 kg) |
| Lift | (33 cm) 13 in |
| Tilt | 5 degree down and up 75 degree |
| Pan | 360 degree |
| Rotation | (P/L) 360 degree |
| Mounting Options | Wall |
| Warranty | Five (5) years |
| Monitor Arm Types | Laptop/Notebook |
good product
, Oct 14, 2015
by
John C.
, Colorado
Self explanatory in terms of assembly, easy to install on the wall. solid construction
I expect it will last a long time.
1 of 1 voted this review as helpful
Was this review helpful to you?
Money well spent
, Feb 27, 2015
by
Donald W
, Florida
Excellent product,well built,and works like a charm!. A little on the $ high side but with quality comes a price!!.If I needed another I would highly recommend this product.
1 of 1 voted this review as helpful
Was this review helpful to you?