Innovative Winston Triple Monitor Sit-Stand Workstation
For optimal performance, select the model that will support the total weight of your monitors and all items that will be placed on the Winston work surface. This will include your keyboard and mouse. The typical weight of keyboard and mouse is between 2-4 lbs. Please note the monitor and the worksurface move in tandem and not independent of each other.
Now includes Next Generation Tilter 8500 (not shown in the image). Please see Description for more details.
Product ID 18119
HIGHLIGHTS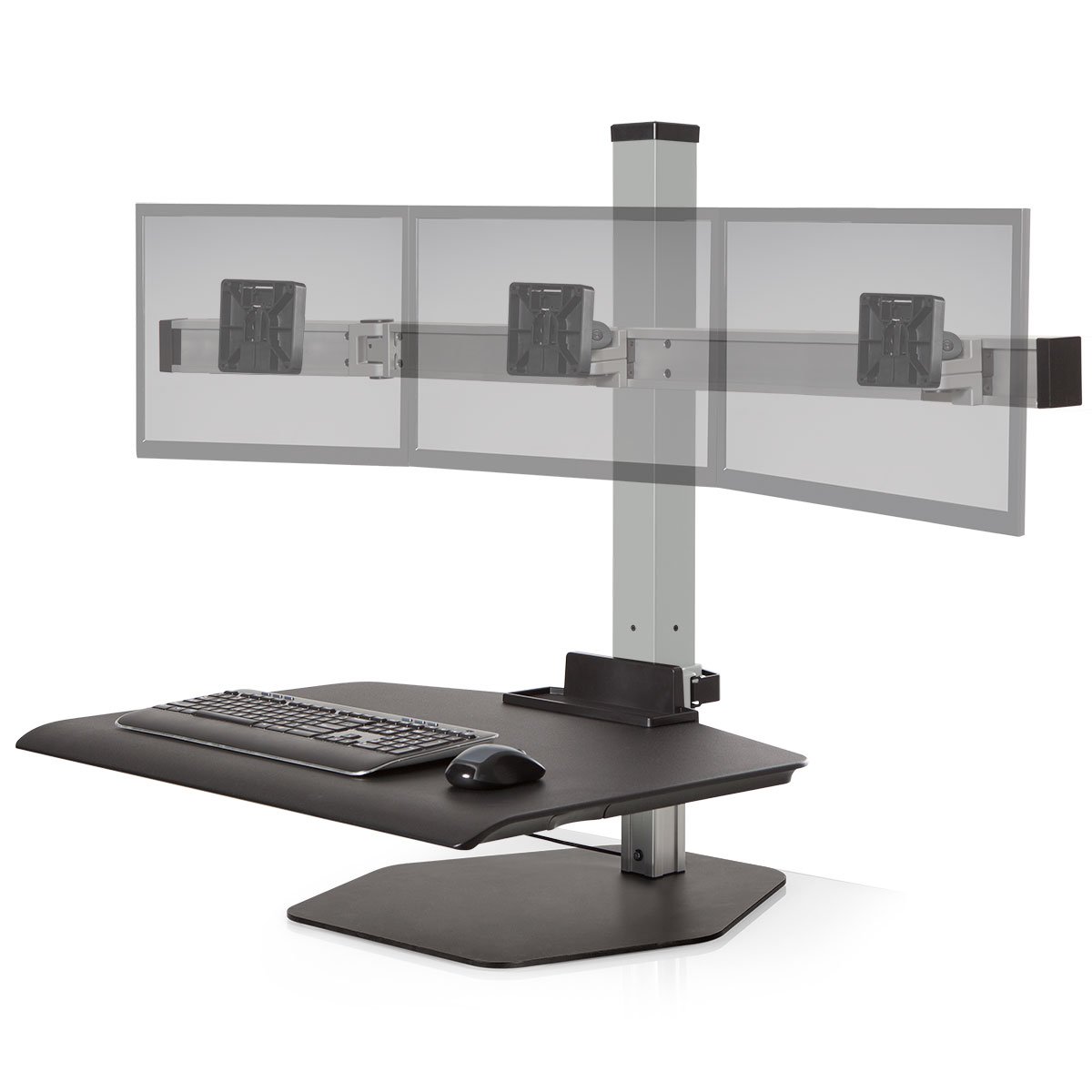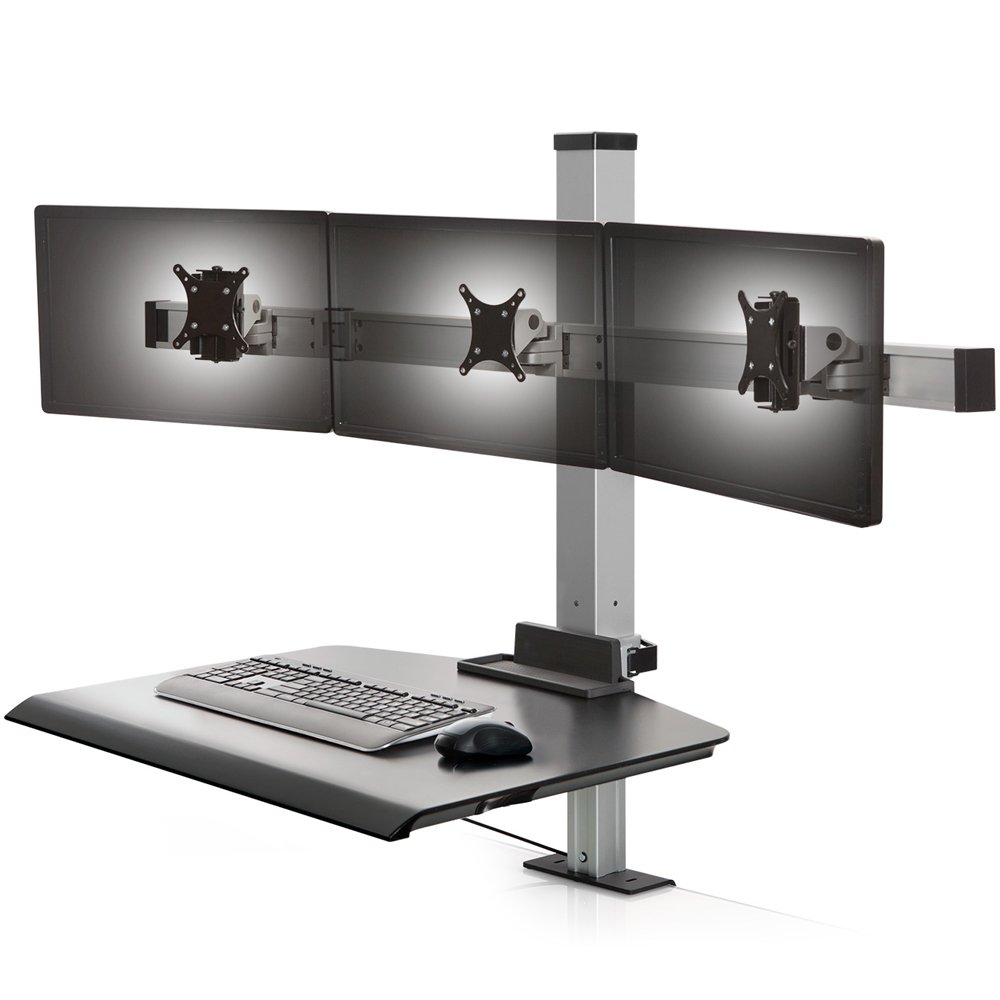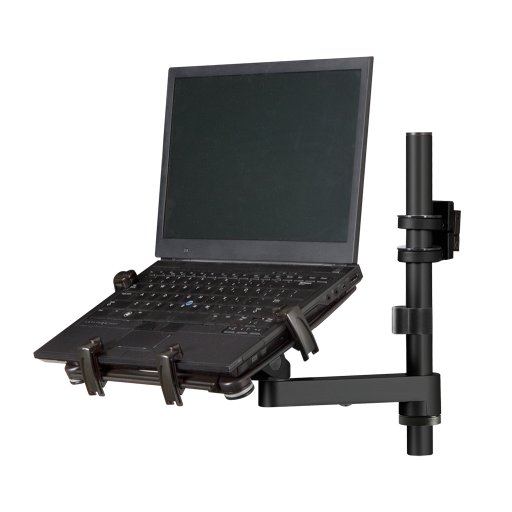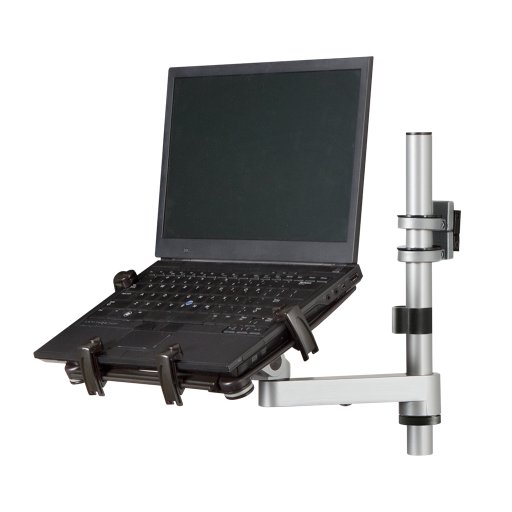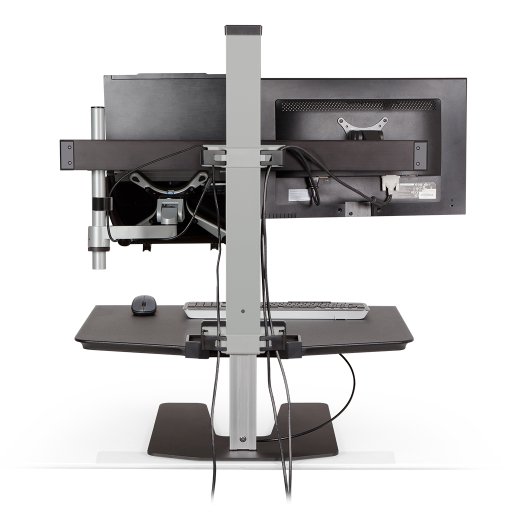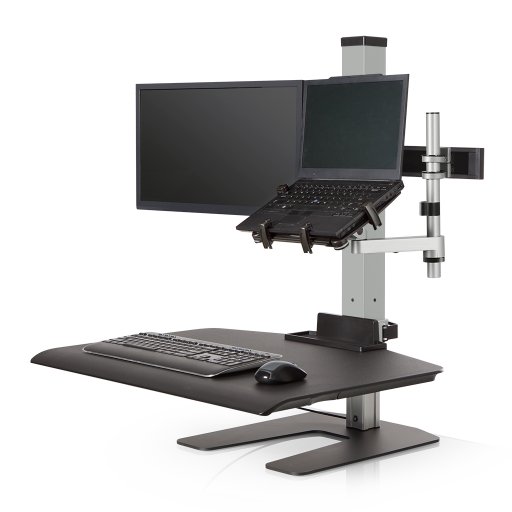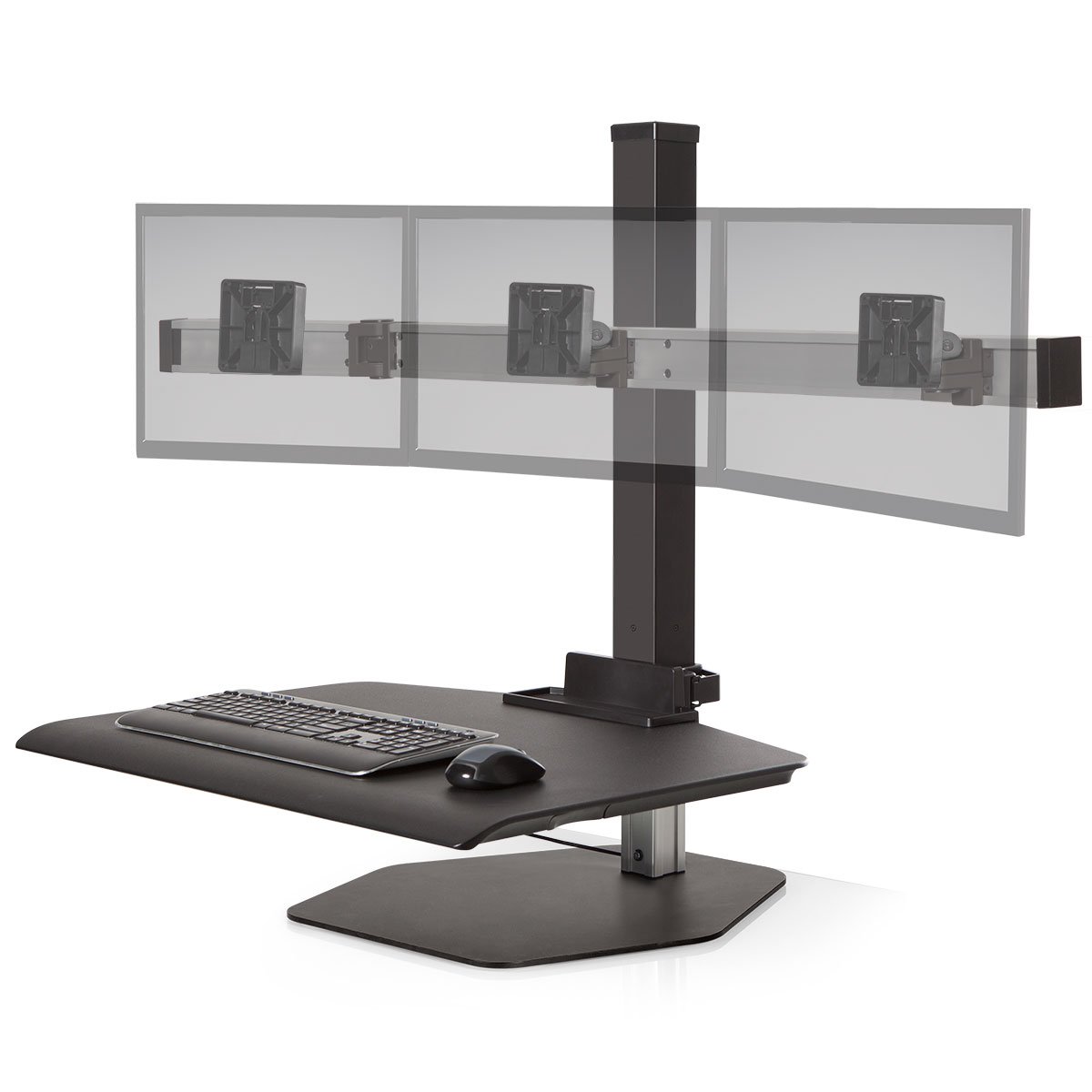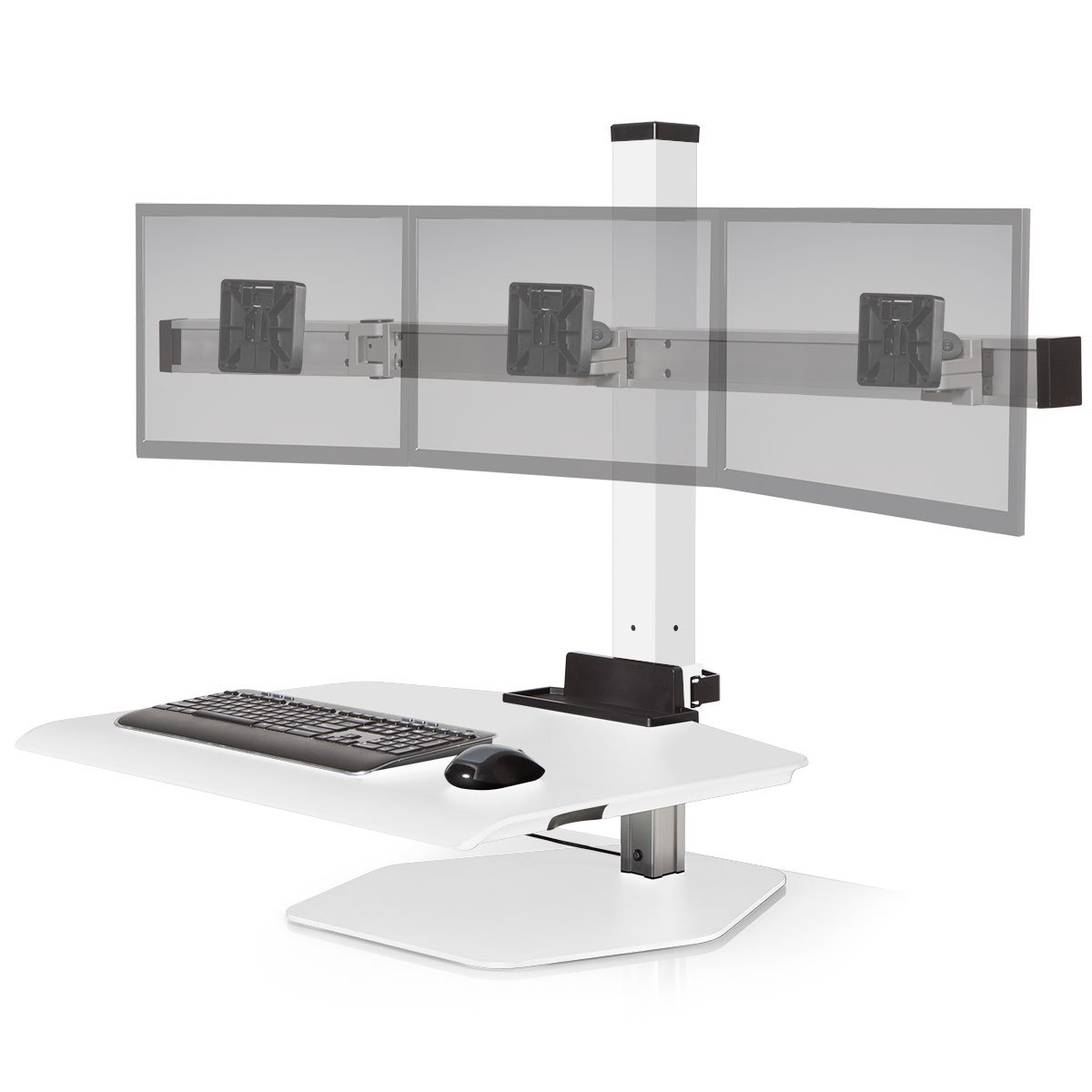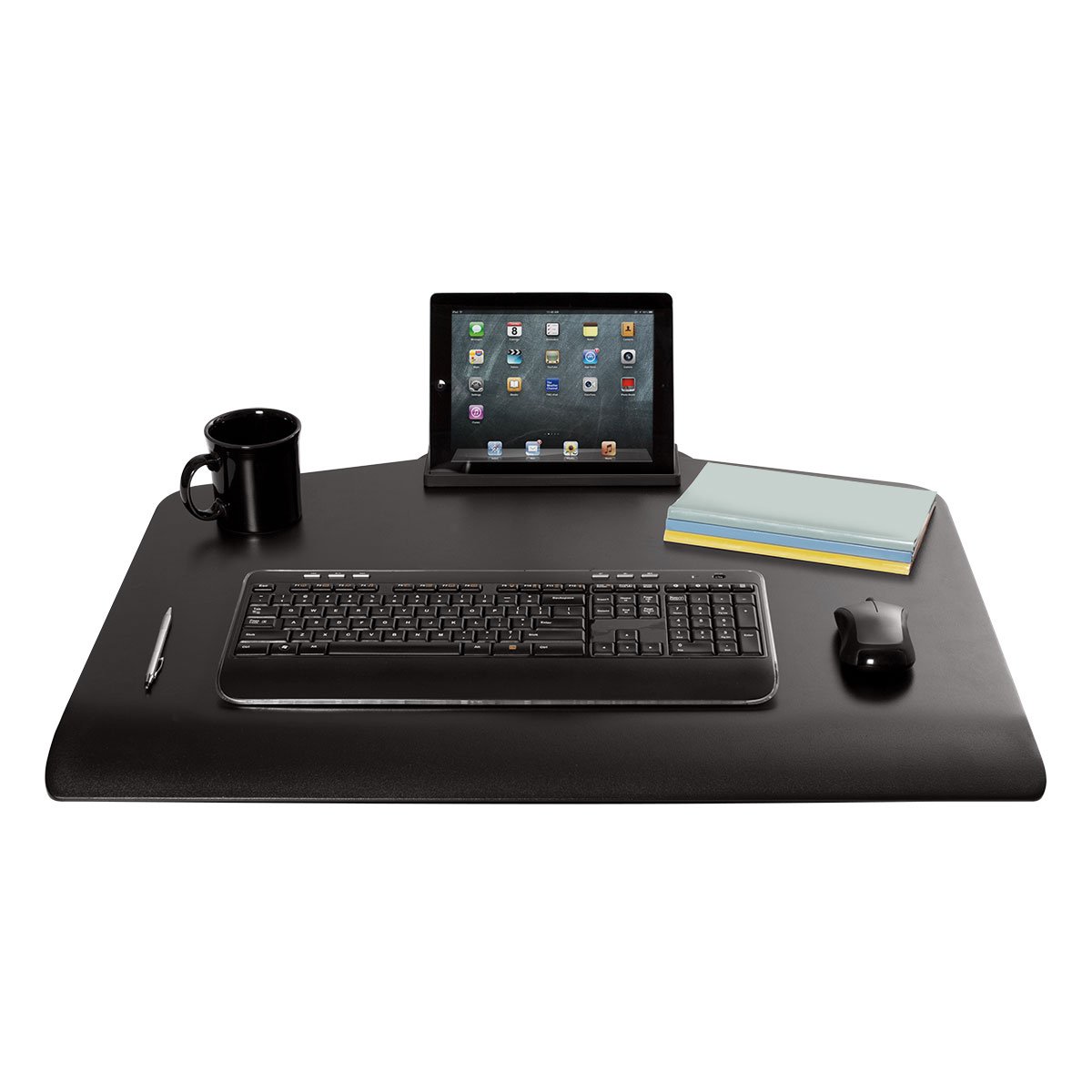 Description
With the Winston three monitor stand, lift 3 monitors 24" wide up or down by simply pulling on the workstation with your hands. This adjustable monitor stand encourages a healthy, productive lifestyle by making it fast and simple to alternate between sitting and standing throughout the day. Additionally, the Winston workstation is great for glass desktops because no drilling is required to mount its freestanding base.

A spacious 30" x 18.3" work surface accommodates documents, electronic devices, and other work necessities, and this stand is ideal for desks 24" deep. The industry's first locking cylinder keeps this multi monitor stand stable so that it won't wobble while you work.

Winston sit-stand workstations encourage a healthier lifestyle. Standing for three hours a day can offer the same benefits as running 10 marathons a year, and even extend your life by 2 years. Other health concerns countered by standing include obesity, type 2 diabetes, cardiovascular disease, and cancer.

With a 17" range, most user heights can be accommodated by this 3 monitor stand. Its sleek professional design makes it ideal for a variety of users including gamers, programmers, graphic designers, medical office associates, and IT and security desk managers.

Convert your desk to a healthy sit-stand workstation in minutes. Winston Workstation triple freestanding sit-stand supports a three monitor setup and features push-button height adjustment. Triple monitor mount. Sit-stand workstation with 17″ of height adjustment. Compact work surface. Freestanding mount sits on current desk.

Winston Workstation - Energizing your body. Inspiring your mind. Instantly converts any desk into a sit-stand workspace boosting health and productivity. Recent studies have shown that sitting throughout the day can have the same negative health consequences as smoking. Winston seamlessly integrates into your workday for a boost in health and wellness. Winston Workstation now comes with a compact work surface, ideal for users with smaller spaces who want to take advantage of a healthy sit stand workstation.
Please note this monitor arm was updated in January 2022. The manufacturer, Innovative Design Works, has upgraded this part.
Tilter - A tilter is the part of the adjustable monitor arm that attaches to the back of your monitor and allows the monitor to rotate, pivot and tilt to desired position.  This monitor arm is now available with Next Gen Tilter 8500. This new tilter apart from being slim and sleek has a quick release bracket, which makes installation and release easy and fast. It has a 30 lb weight capacity. However please bear in mind that the Next Gen Tilter 8500 comes with 100mm VESA adapter unlike the earlier standard tilter which comes with 75mm and 100mm adapter plate. If your monitor has only 75x75mm VESA pattern, please contact us through monitor arm finder. We will find the best monitor arm that matches your needs.
| | |
| --- | --- |
| 8500 Quick Release Monitor Tilter | 8336 Standard Monitor Tilter |
Technical Drawing

Technical Specifications
| | |
| --- | --- |
| Color | 104 - Vista Black, 124 - Silver and 248 - Flat White |
| Height Adjustment Mechanism | Pneumatic |
| Screen Size | Up to 24" |
| Vertical Height Adjustment | 17" (43.2 cm) |
| Work Surface Size | WNST-3 - 23" x 30", WNST-3-CW - 17" x 30" |
| Weight Capacity | 15 - 36 lbs (6.8 - 16.3 kg) |
| Monitor Tilt | 200 degree |
| Monitor Pivot | Landscape to portrait |
| Mount Configurations | Freestanding |
| Monitor Compatibility | VESA 100mm |
| Cable Management | Cables are clipped to column |
| Warranty | 5 years |
Features
Quick, easy monitor install. Take the work out of adjusting and replacing monitors. Simply attach, adjust, and remove all at the face of the beam. No need to slide monitors to remove.

Engineered for stability. Designed to accommodate standing work without the distraction of unwanted movement.

Expansive work space. Large surface and convenient storage tray allow you to bring all necessities with you when you stand.

Upgrade your space. Retrofit your existing desk into a healthy workspace with two easy mounting options: freestanding or desk clamp.

Seamless height adjustment. Features a 17" range of vertical height adjustment and a locking cylinder to keep the workstation in place. No manual adjustment needed.

Cable management. Cable clips in the column and beam keep the cables organized and out of the way.

Ethical manufacturing. Winston is assembled in the USA using components created through a green manufacturing process.

VESA-monitor compatible - 100mm VESA adapter included.

Additional mounting options: clamp mount and thru mount also available.
Product Options/Accessories
Frequently Asked Questions
q
I want to use this sit-stand with three 6 pound Dell screens (without stands). Would you recommend 0-24lbs or 15-26lbs option?
a
You can get either option since your monitors are 18lbs combined weight. If you are anticipating getting heavy monitors in the future I would recommend the higher weight capacity 15-36lbs. If not, 0-24lbs would be suitable for your immediate and future monitors.
q
I have a 27", a 24" and a 22" monitor. If I purchase the Winston Triple Monitor Sit-Stand Workstation, can I fit all three monitors side-by-side in landscape? And if not, what if I turned the 27" monitor portrait?
a
This will fully depend on your specific monitors. In the most general terms, this will accommodate 3 monitors up to 24" wide (notice that this is the width rather than the diagonal as most monitors are usually measured – so it may very well accommodate the 27" monitor). The width is for the full width of the unit including bezel if any. So it will accommodate most displays up to 24" wide in landscape mode. Please let us know the exact model numbers of your monitors, so we can check for compatibility.
| | |
| --- | --- |
| Model | WNST-3-124, WNST-3-104, WNST-3-248 |
| Manufacturer | Innovative LCD Arms |
| Part Number | WNST-3-124, WNST-3-104, WNST-3-124 |
| | |
| --- | --- |
| Color | 104 - Vista Black, 124 - Silver, 248 - Flat White |
| Height Adjustment | Vertical 17" (43.2 cm) |
| Tilt | 200 degree |
| Mounting Pattern | VESA 100mm |
| Monitor Weight | 0 - 49.5 lbs (depending upon the model) |
| Worksurface Dimensions | WNST-3: 30" W x 23" D. WNST-3-CW: 30" W x 17" D |
| Desk Type | Desk Mount |
| Price | $800 - $899 |
| Weight Capacity | 15 - 36 lbs (6.8 - 16.3 kg) |
| Height Adjustment Mechanism | Pneumatic |
| Monitor Size | Up to 24" |
| Mounting Options | Freestanding, Desk Clamp, Thru-Desk |
| Warranty | 5 Years |
Customer reviews
1 stars

0

2 stars

0

3 stars

0

4 stars

1

5 stars

3
Good
by Peggy P, Olathe, Kansas, Jul 17, 2019
The product itself is great. Screws need to be outlined better and it seems we are always missing screws.
Solid Product
by Hal M, Fayetteville, Arkansas, Dec 03, 2018
Well-made, heavy duty stand we expect to get years of service from. This is our second one, the users love them. Being able to sit/stand is a great feature. There are other stands out there, we have a couple, they're okay, but IW products are a better grade of business product. They're not cheap, but worth it. Setup is straight forward, everything is provided and one person can accomplish it in about an hour. Monitors are a snug fit, so there's a bit 'wrestling' with them you'll have to do to get them lined up and angled like you want them. It takes a little finesse. One complaint. The plastic cable keepers that attach to the sides of the stand to assist cable routing, the 'detent pins' that hold them to the stand are too short, and they're prone to popping open when cabling monitors, or otherwise, once you work out the slack you need for when stand is raised, they kinda sorta work okay.
Solid Product
by Hal M, Fayetteville, Arkansas, Jun 20, 2017
Pricey, but its very well made using quality materials. Sturdy and went together pretty easy. The boss loves it, and that's most important of all!
Does the job, but somewhat hard to lift up and down
by Back Pain, New York, Jul 17, 2015
Purchased this desk after a recommendation from my employer's health and safety team. I needed one capable of holding three monitors and this model was found to be able to handle the load. The desk is a bit bulky but I am just glad to have the option to stand. It could use some work on making the monitors able to be moved up/down without having to disassemble everything. The mechanism to lift the sit-stand up and down could also be a little more fluid.
Warranty
Seller warrants that its products will be free from defects in material and workmanship when the title passes to the buyer. Seller will repair or replace, at its discretion, any defective product without charge (shipping charges excluded) for a period of 10 years (exception: 1 year for Busby, 5 years for Winston Workstation, Winston-E, Winston Desk and Freedom Desk, 3 years for Tablik and 1 year for Bild motorized column) after the original date of sale, unless the product damage resulted from normal wear and tear, buyer abuse, misuse or negligence or failure to follow instructions related to the products's installation or intended use. Seller may require proof of purchase before performing any repairs or replacing any products during the warranty period. Except as specifically set forth above, seller makes no warranties, express or implied and specifically disclaims any warranty of merchantability or fitness for a particular purpose. Repair or replacement of the product ordered from seller shall be buyer's exclusive remedy.