Innovative 7500 Deluxe Flat Panel Radial Arm with 27" Reach
Highlights
Wide Range of Weight Capacity: Different models that support monitors weighing from 2 to 40 lbs
Vertical Range: It adjusts +/-9" vertically for a total of 18"
Horizontal Reach: It reaches out 27" horizontally
Retractability: Folds back to 3", when not in use
FLEXmount option: Comes in different mounting options - Desk Edge, Thru-Desk, Wall Mount, Reverse Wall, Side Bolt, Grommet Hole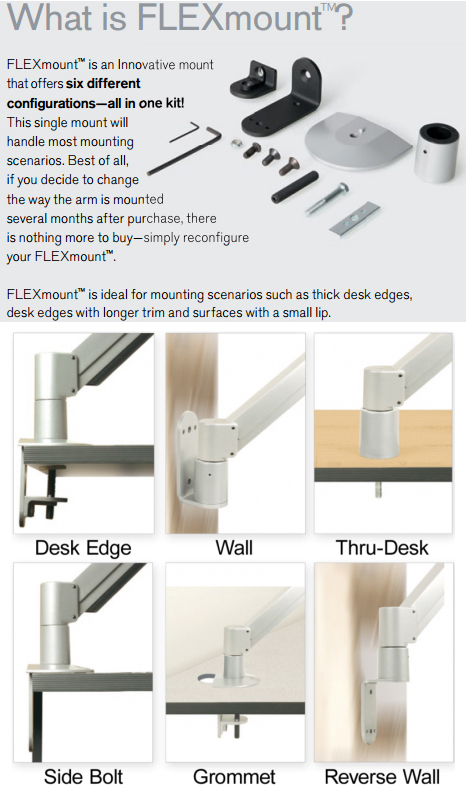 Related Products
| | |
| --- | --- |
| Part Number | Description |
| 7500-500-NM | Vertical range: 18", Horizontal range: 27", Weight range: 2 - 13 lbs, No Mount |
| 7500-800-NM | Vertical range: 18", Horizontal range: 27", Weight range: 6 - 21 lbs, No Mount |
| 7500-1000-NM | Vertical range: 18", Horizontal range: 27", Weight range: 8 - 27 lbs, No Mount |
| 7500-1500-NM | Vertical range: 18", Horizontal range: 27", Weight range: 12 - 40 lbs, No Mount |
Description
Innovative award-winning 7500 Radial Arm is a remarkable work tool. Effortlessly position your monitor exactly where you want it, and add flexibility to your work style. Suspend your flat panel above the desk surface and reclaim your valuable space.
7500 features Innovative`s patented HD tilter, a spring-assisted pivot for your monitor which makes monitor adjustment remarkably easy, even with large screens. The counterbalance force is provided by a gas cylinder which makes for a smooth and silent operation. Other features include cable management to route cables inside the arm. 
Technical Drawing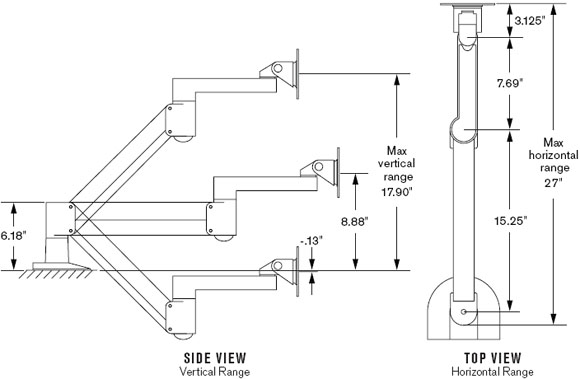 Technical Specifications
Vertical Range
18" (45.7 cm), +/- 9" (22.9 cm) from horizontal
Horizontal Range
27" (68.6 cm)
Rotation
360 degrees at three joints
Monitor Tilt
200 degrees
Monitor Pivot
Landscape to portrait
Monitor Compatibility
VESA 75mm and 100mm
Cable Management
Cables are concealed in arm
Mounting Options
FLEXmount, Slatwall, Wall, Thru-Desk
Monitor Weight/Model Number

2 - 13 lbs (0.9 - 5.9 kg) / 7500-500

6 - 21 lbs (2.7 - 9.5 kg) / 7500-800

8 - 27 lbs (3.6 - 12.2 kg) / 7500-1000

12 - 40 lbs (5.4 - 18.1 kg) / 7500-1500
Features
Includes our spring-assisted HD tilter for smooth monitor pivoting.

Monitor is rendered weightless by the arm.

18" of vertical range.

27" of horizontal range.

Folds up to occupy just 3" of space.

Monitor tilter mechanism can tilt over 200 degrees.

Cable management keeps cables tucked beneath arm.

VESA-monitor compatible - 75mm & 100mm VESA adapters included. Please call for non-VESA options.

Approved to AFRDI Standard 126:2001, Level 3.

Optional upgrade to quick install/release monitor bracket. Consult your sales rep for details.

Optional 6" extender tube available to raise monitor (see Extender Tubes under Available Accessories).
VESA Adapter Plates
7VESA1x2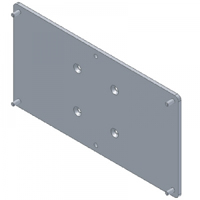 7VESA2x2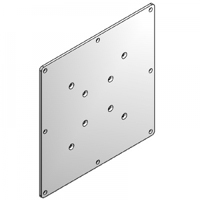 7VESA1x4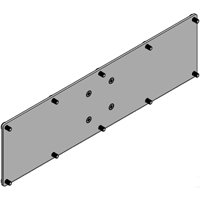 7VESA2x4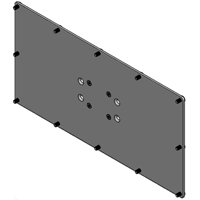 | | |
| --- | --- |
| Model | 7500-500-NM or 7500-800-NM or 7500-1000-NM or 7500-1500-NM |
| Manufacturer | Innovative LCD Arms |
| Part Number | 7500-500-NM or 7500-800-NM-104 or 7500-1000-NM |
| UPC | 895026000338 |
| | |
| --- | --- |
| Mounting Options | Desk |
| Mounting Options | Wall |
| Mounting Options | Slatwall |
| Monitor Arm Types | 1 Monitor |
| Vertical Range | 18" (45.7 cm), +/- 9" (22.9 cm) from horizontal |
| Horizontal Range | 27" (68.6 cm) |
| Rotation | 360 degree |
| Tilt | 200 degree |
| Mounting Pattern | VESA 75mm and 100mm |
| Color | Vista Black, Silver and Linen White |
| Mounting Options | Pole |
| Number of Monitors | 1 Monitor |
Solid and smooth movement
, May 4, 2018
by
Joseph P
, Concord, California
No sag. Movement is very smooth. Cable routing works well. Clamp is solid.
Was this review helpful to you?
excellent
, Apr 26, 2017
by
David L
, Winston-Salem, North Carolina
Good install directions. Good fit/finish. does the job well, however, adjustments require skills and patience.
1 of 1 voted this review as helpful
Was this review helpful to you?
Does everything it's supposed to do
, Mar 6, 2017
by
Michael B
, East Haven, Connecticut
Easy to install, sturdy. Fast delivery, terrific customer service. Holds my 43 inch monitor exactly where it's supposed to be. My only quibble is that I thought it was the kind of arm that would allow me to move the monitor back and forth, but that's my fault -- I didn't read the specs correctly. Highly recommend the company and its products.
1 of 1 voted this review as helpful
Was this review helpful to you?
Warranty
Seller warrants that its products will be free from defects in material and workmanship when the title passes to the buyer. Seller will repair or replace, at its discretion, any defective product without charge (shipping charges excluded) for a period of 10 years (exception: 1 year for Busby, 5 years for Winston Workstation, Winston-E, Winston Desk and Freedom Desk, 3 years for Tablik and 1 year for Bild motorized column) after the original date of sale, unless the product damage resulted from normal wear and tear, buyer abuse, misuse or negligence or failure to follow instructions related to the products's installation or intended use. Seller may require proof of purchase before performing any repairs or replacing any products during the warranty period. Except as specifically set forth above, seller makes no warranties, express or implied and specifically disclaims any warranty of merchantability or fitness for a particular purpose. Repair or replacement of the product ordered from seller shall be buyer's exclusive remedy.