Humanscale CPU600 Under Desk Mount CPU Holder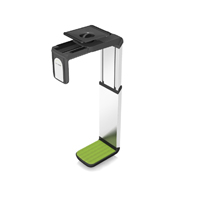 click image to enlarge
Humanscale CPU600 Computer CPU Holder CPU 600 Under Desk Mount
The CPU600, designed by the Humanscale Design Studio, sets a new standard for CPU holders. It protects your valuable technology investment while making the CPU's cables, ports and drives readily accessible. It offers the quickest and easiest installation on the market, which saves both time and money. And it easily adjusts to accommodate mini CPUs, full-size towers and everything in between.
Humanscale CPU-600 CPU Holder Under Desk Mount

Features/Specifications of CPU600::

1. Adjusts to fit CPUs 3" to 10" wide by 12" to 20" high

2. Proprietary Quick Lock offers quick and easy installation

3. Slides smoothly on nylon glides in 16" track

4. Rotates a full 360 degrees for complete access to cables and ports.

5. Adjustable mounting plate ensures that the CPU will be centered and balanced

6. Made predominantly of aluminum, with steel and polypropylene

7. Contains 90% recycled content and is 100% recyclable.

Description of CPU-600 CPU Holder Under Desk Mount:

The CPU600 provides convenient access to drives and ports while protecting valuable technology investments. This easy-to-install, high-performance CPU holder offers 360-degree swivel and horizontal glides to bring CPUs in reach when needed so users never have to assume awkward positions to perform normal tasks. Mounted on a track under the work surface, the CPU600's under-the-desk position reduces cable clutter and promotes a longer life for the CPU by allowing the unit to stay cool and vent freely. It also gets CPUs off the floor where dust accumulates and valuable computer equipment could be kicked or damaged by a vacuum cleaner. The CPU600 allows quick removal and replacement of the CPU without the use of any tools, and may be adjusted to fit CPUs of virtually any size.
Literature (Please open the following documents for more technical information)
| | |
| --- | --- |
| Description | File Type |
| | - pdf |
| | |
| --- | --- |
| Model | CPU600 |
| Manufacturer | Humanscale |
| Part Number | CPU600 |
| | |
| --- | --- |
| Mounting Options | Under-Desk |