Chief TPM2000B Large Tilt Pole Mount (without interface)
Clamps TPK for different size poles and truss work are required and must be ordered separately.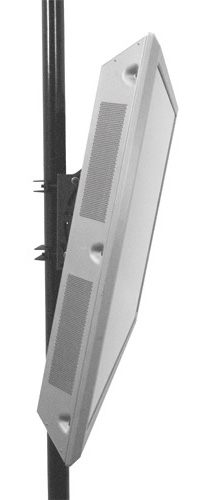 Description
Quick, easy and versatile, the Truss/Pole Static Mounts, Pole Tilt-Adjustable Mounts and Truss Tilt-Adjustable Mounts are often used for mounting the large flat panel displays used in exhibit, retail and digital signage.
Clamps for different size poles and truss work are required and must be ordered separately
Technical Drawing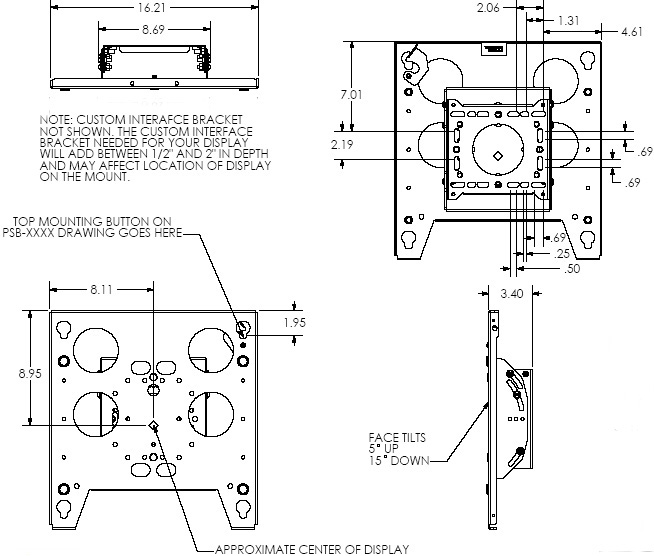 Specifications
| | |
| --- | --- |
| Color | Black |
| Minimum Depth | 3.4" (86.4mm) |
| Mounting Pattern Compatibility (Universal Versions) | 200 x 200mm - 862 x 517mm |
| Orientation | Landscape, Portrait |
| Overall Dimensions (H x W x D) | 16.2" x 17.1" x 3.4" (412 x 433 x 86mm) |
| Post-Installation Leveling (Roll) | Yes |
| Shipping Weight | 17.00 lbs |
| Typical Screen Sizes | 42 - 71" |
| Weight Capacity | 150 lbs (68.kg) |
Features
Three Flat Panel Mount Options: Truss/Pole Static Mount, Pole Pitch-Adjustable Mount, and Truss Pitch-Adjustable Mount
Three Tilt Adjustment Options on TPM and TPP: +/- 15 º tilt on gravity centered axis point, lockable tilt, pre-set tilt locking points at 0º, 5º, 10º and 15 º to quickly and easily align multiple displays
Install mount horizontally and use pitch adjustment for side-to-side pivot
Install on vertical or horizontal truss
Attach displays in portrait or landscape orientation
TPS/TPP span most truss systems up to 14" (OD)
Truss/Pole clamps fit a wide variety of truss and pole dimensions
Finishing Cover accessories enhance aesthetics and cover hardware for added security
Exclusive Q-Latch Mounting System secures the Large Flat Panel Display with a lockable latch
Screen can be installed in portrait or landscape orientation (PAC400 or MAC400 accessory can be used to rotate without removing the screen)
Integrated security allows display to be locked to mount by adding a padlock
Compatible with TPK clamp accessories. See Accessory list below.
TPMU universal version available which includes universal PSBUB interface. TPM2000B is available but must order TPM2000B and PSBXXXX custom or universal interface separately.
Frequently Asked Questions
Question: Do the pole/truss clamps come with the mount?
Answer: No. The appropriate size clamp will need to be ordered separately. Chief offers a variety of clamps for different size poles and truss work.
Question: Do I need to order a separate interface bracket?
Answer: No, the TPS/TPM/TPP Mount ships as a complete assembly that includes the interface bracket. Determine which model will accommodate your display by looking up the manufacturer and model number on the cross-reference chart.
Question: Can I mount a Small Flat Panel to a pole or truss?
Answer: Yes, if you have a round pole 1 1/2"-2" (OD), refer to the FSP Pole Mount. If you have a larger (OD) pole, square pole or truss system, see the TPA Small Flat Panel in the Recommended Accessories.
| | |
| --- | --- |
| Model | TPM2000B |
| Manufacturer | Chief Mounts |
| Part Number | TPM2000B |
| | |
| --- | --- |
| Color | Black |
| Minimum Depth | 3.4" (86.4mm) |
| Mounting Pattern | 200 x 200mm - 862 x 517mm |
| Overall Dimensions (H x W x D) | 16.2" x 17.1" x 3.4" (412 x 433 x 86mm) |
| Screen Size | 42 - 71 in |
| Weight Capacity | 150 lbs (68.kg) |
| Shipping Weight | 17.00 lbs |