Ergotron 24-392-026 WorkFit-A with Suspended Keyboard, Dual
Product ID 17743
HIGHLIGHTS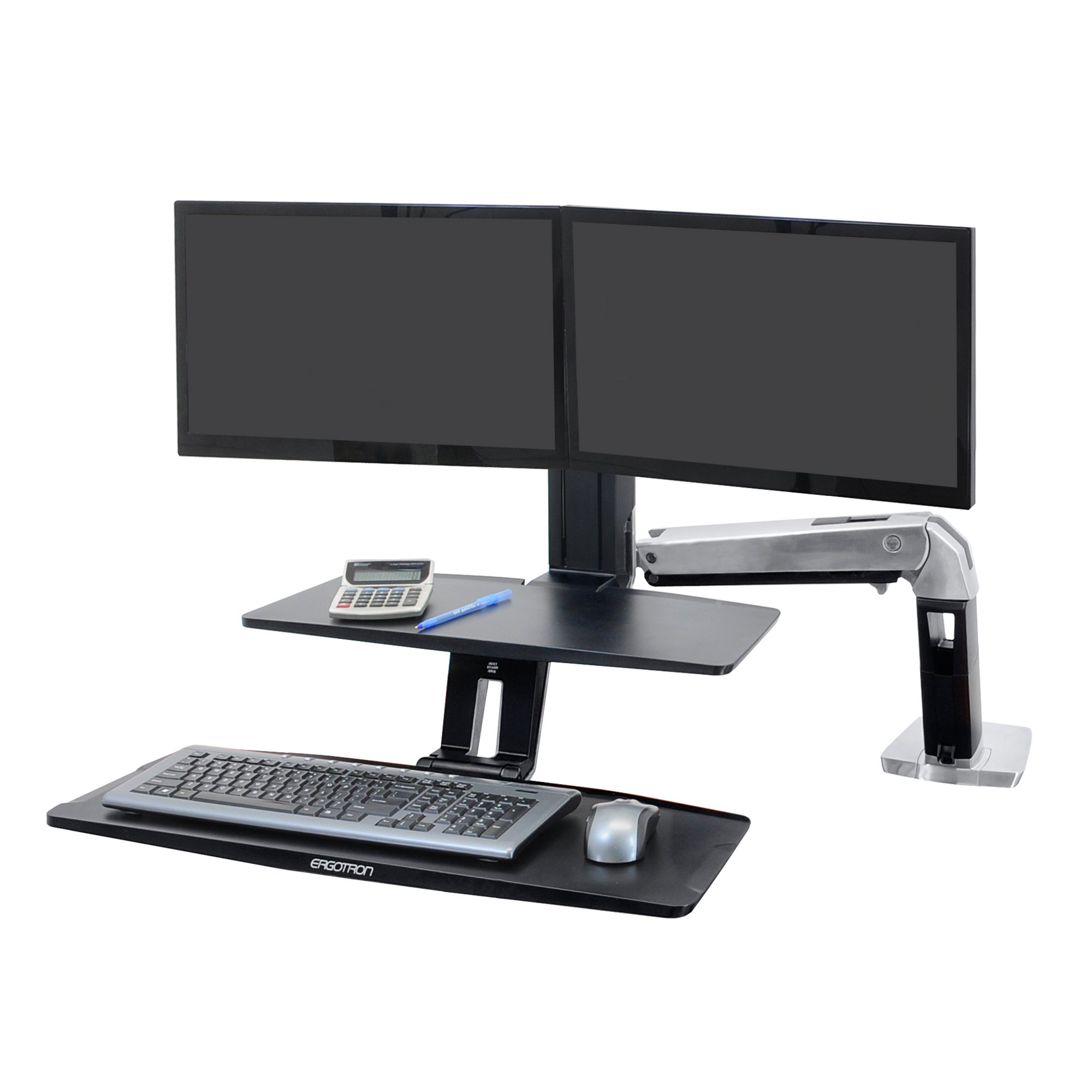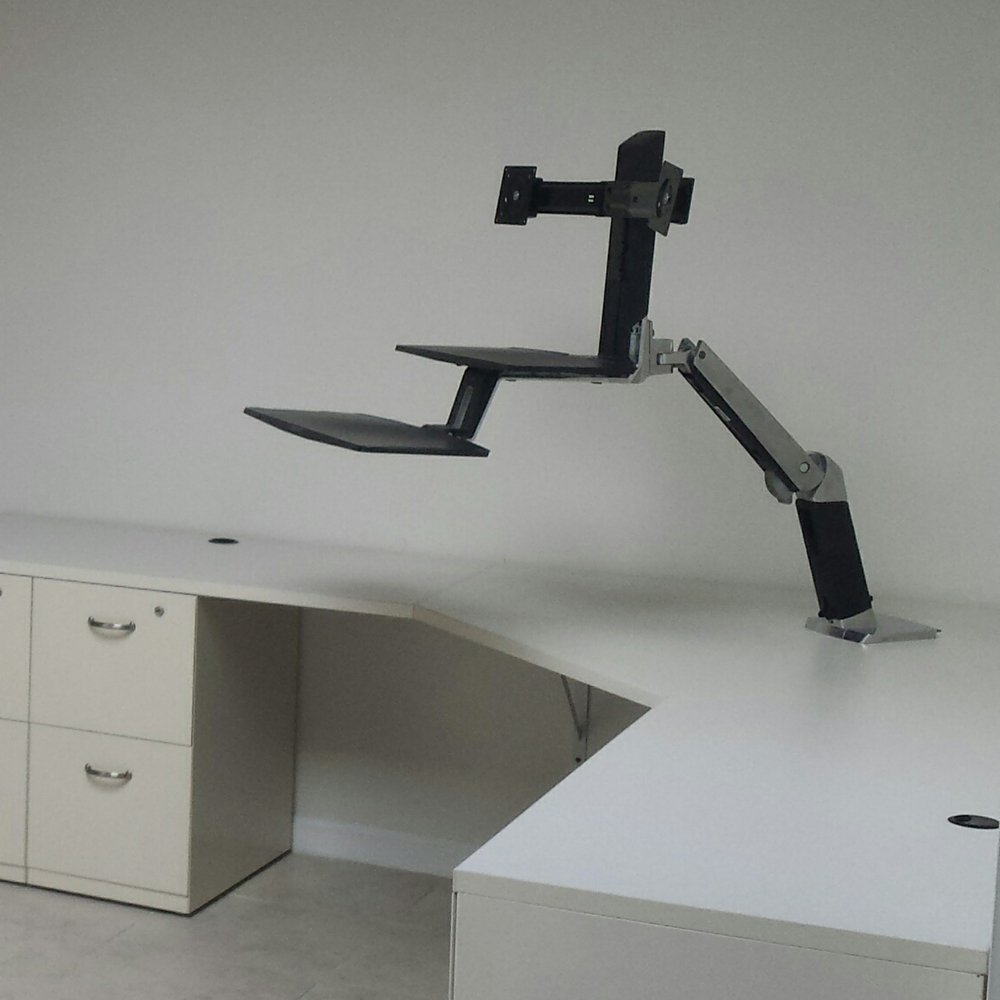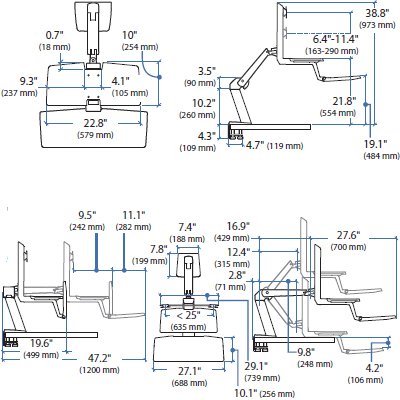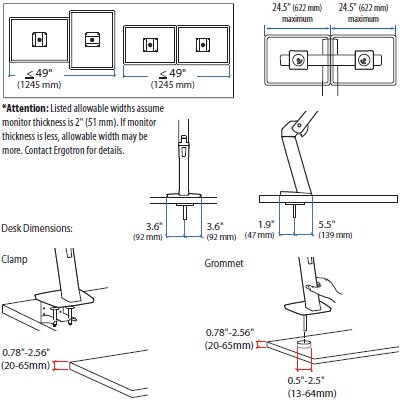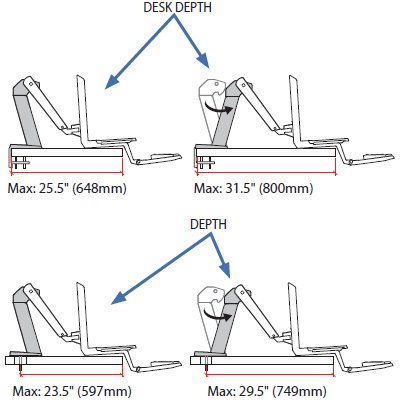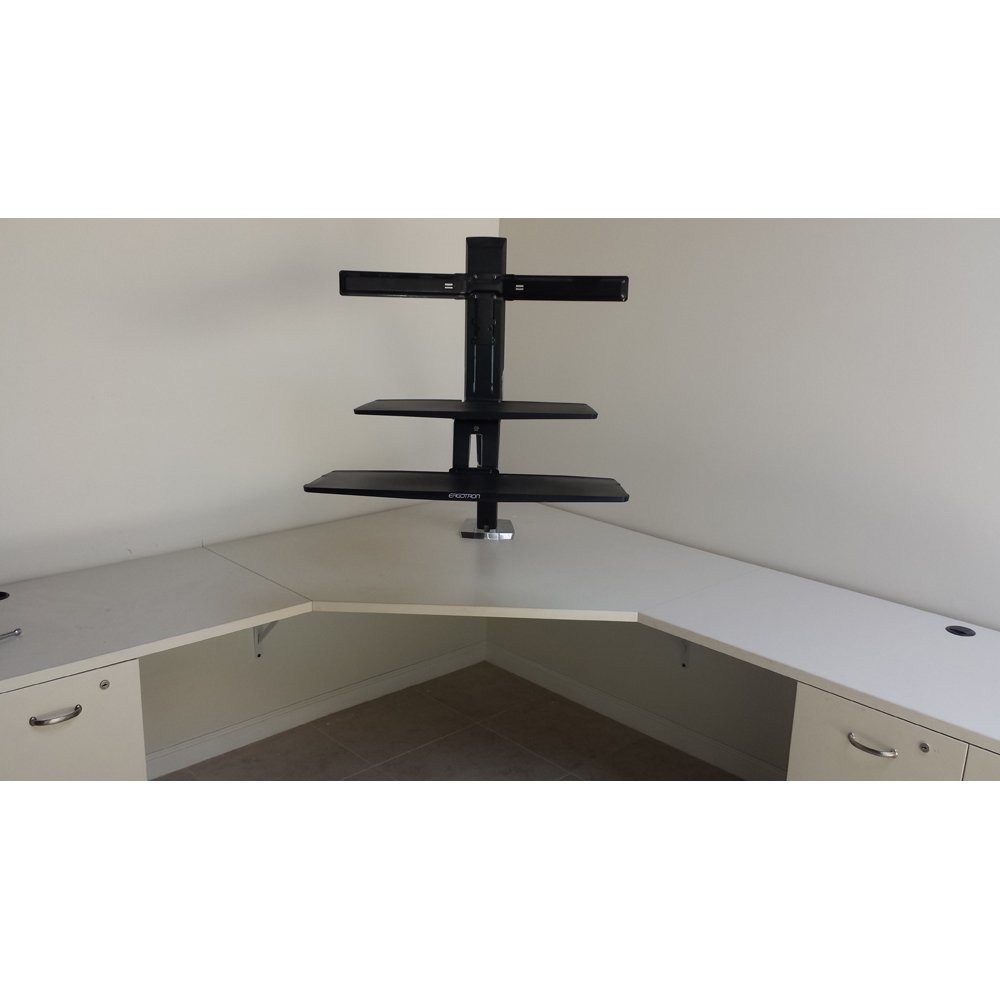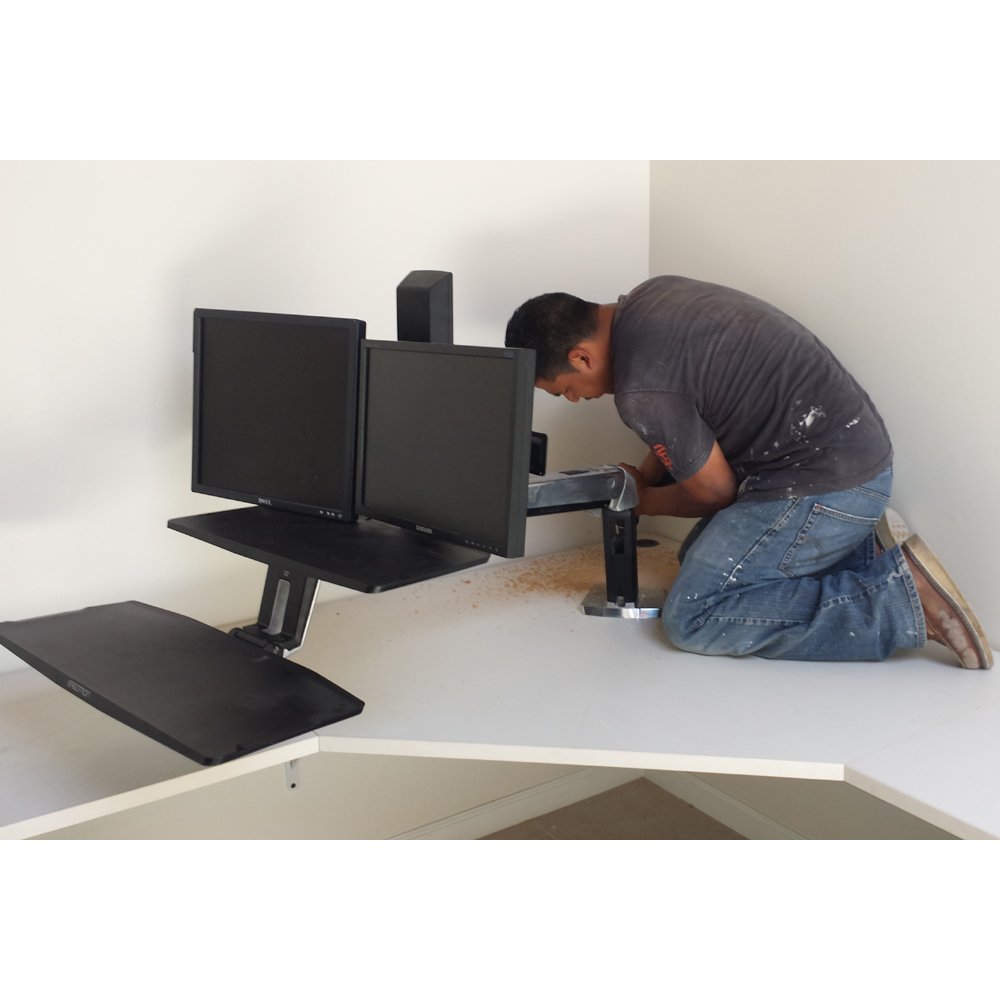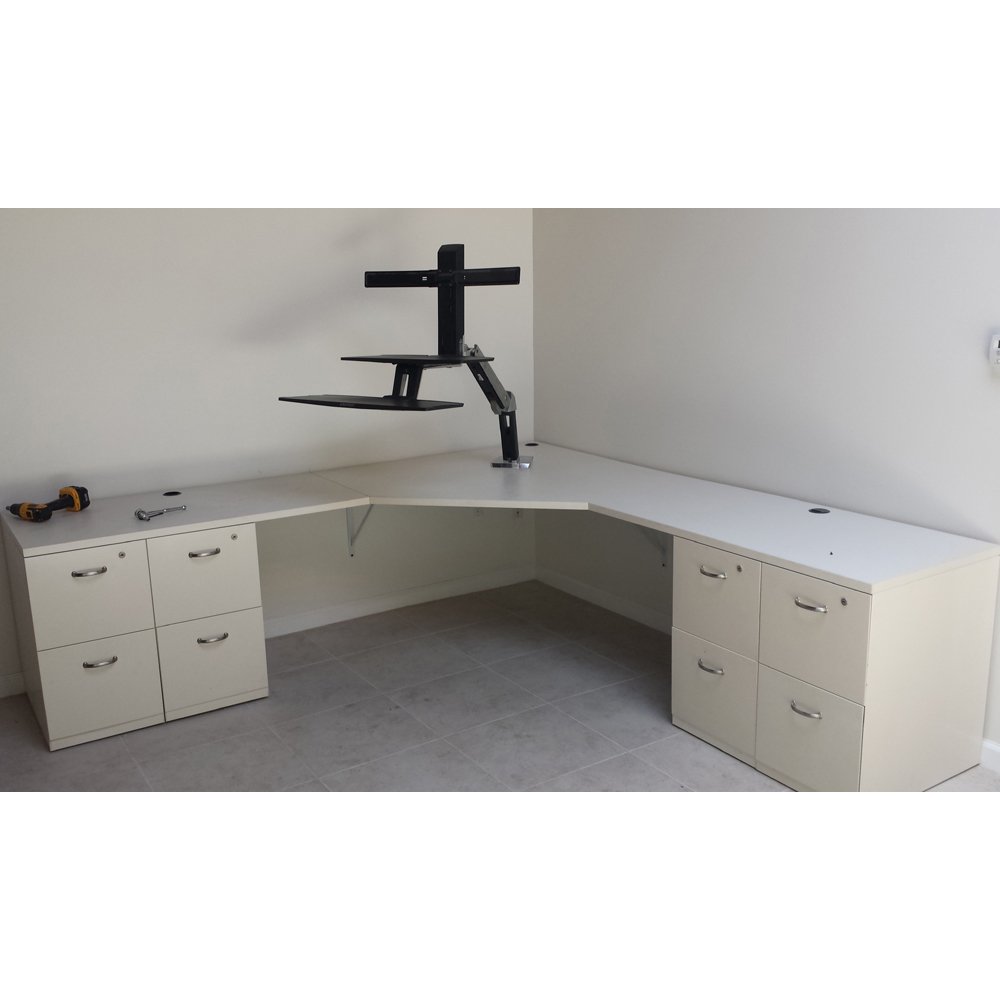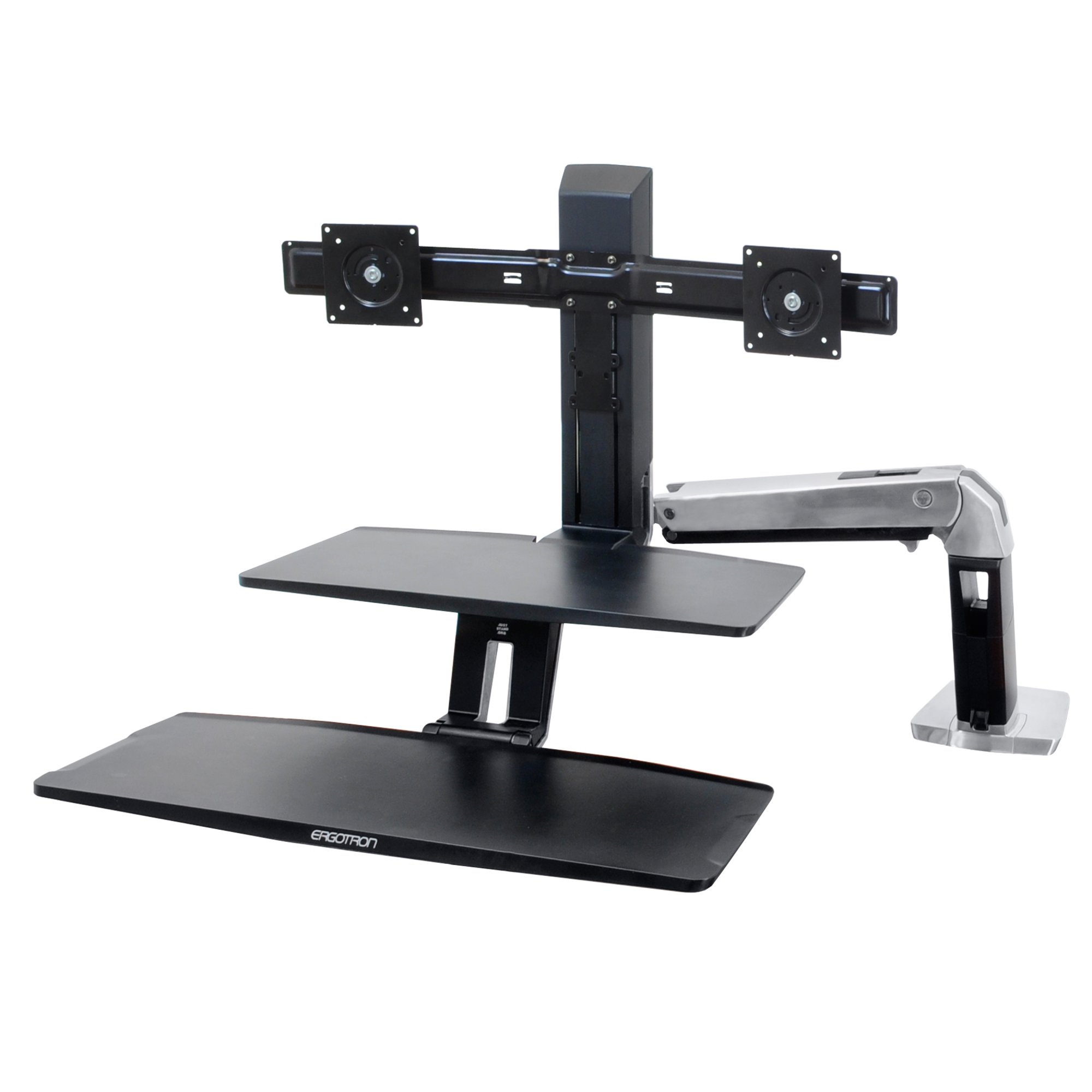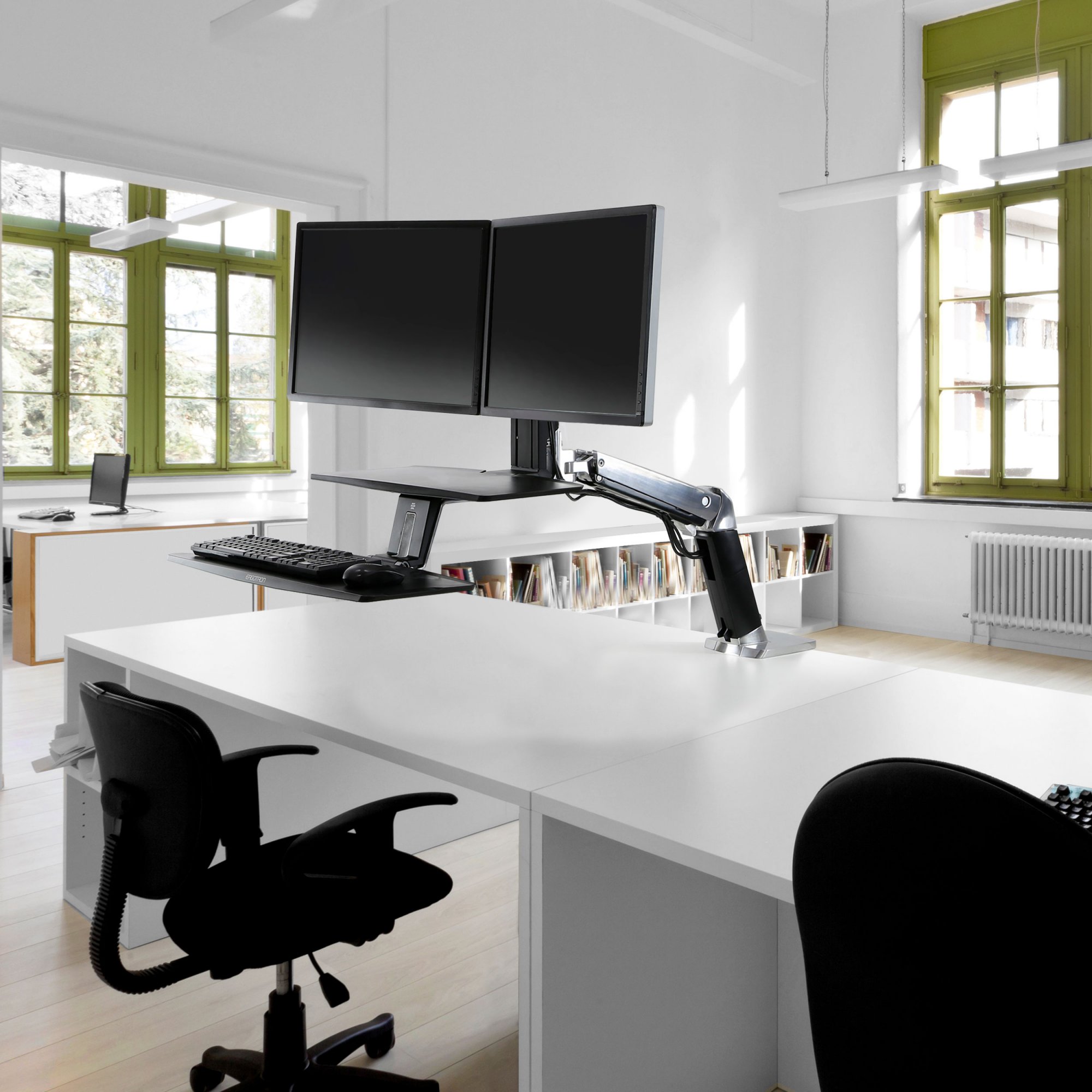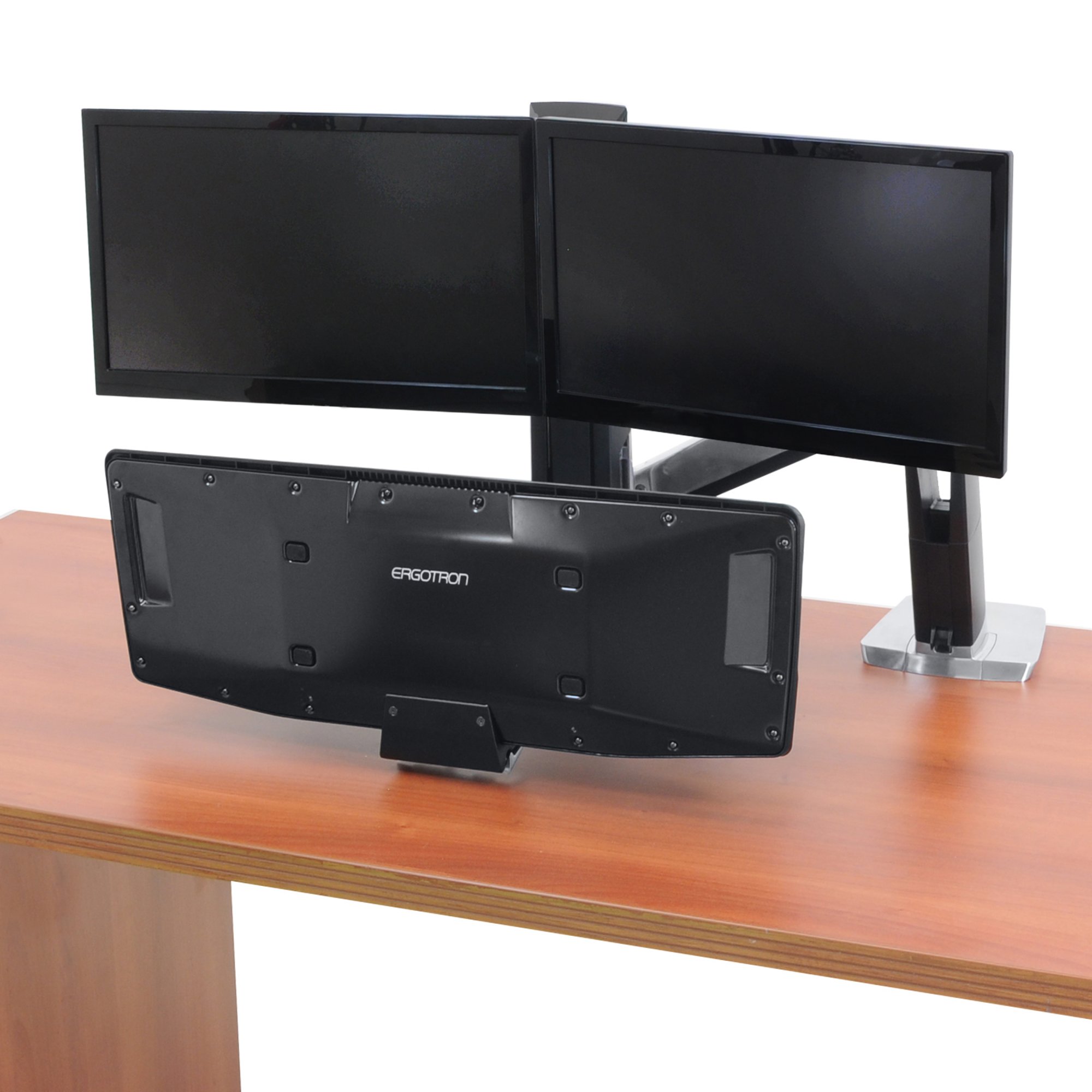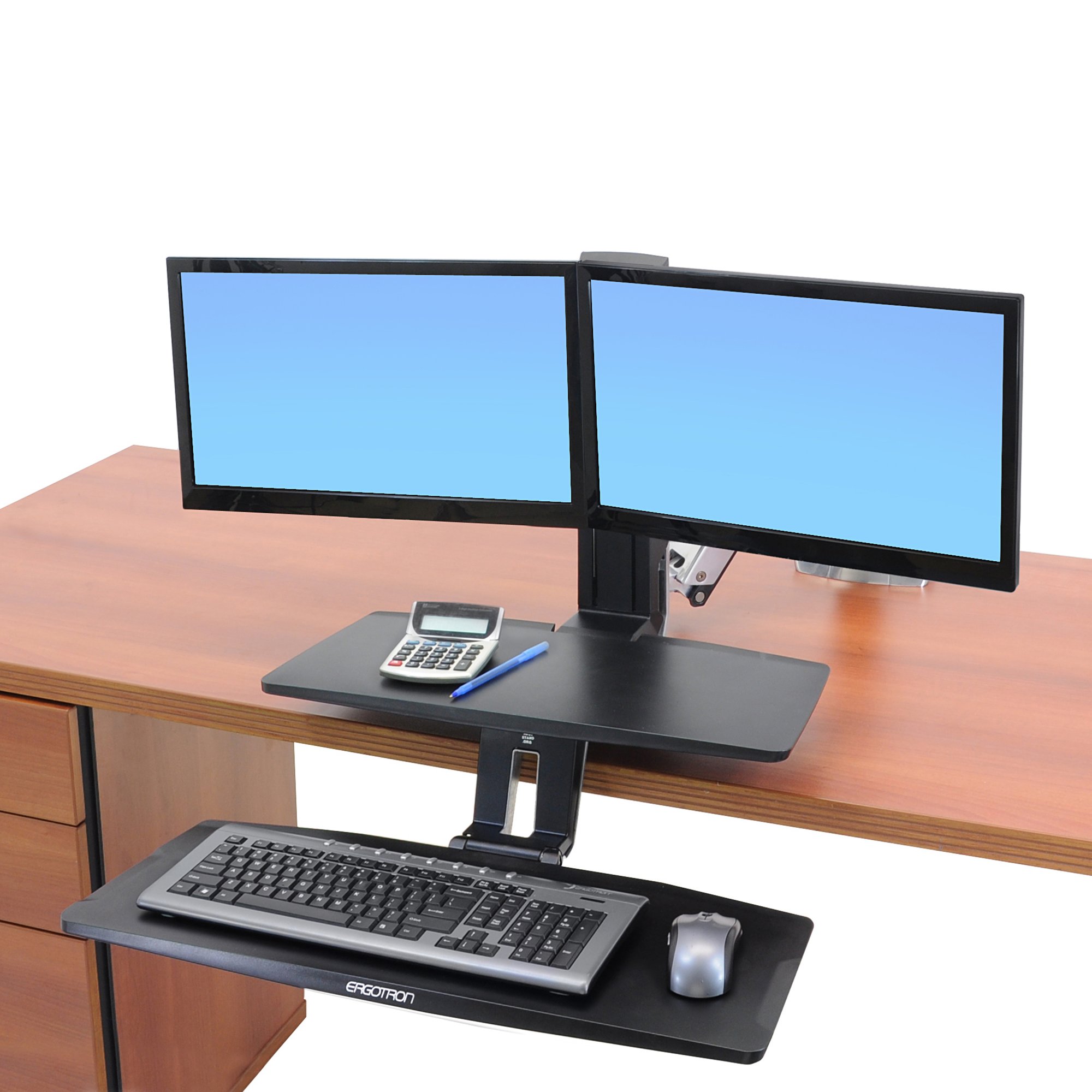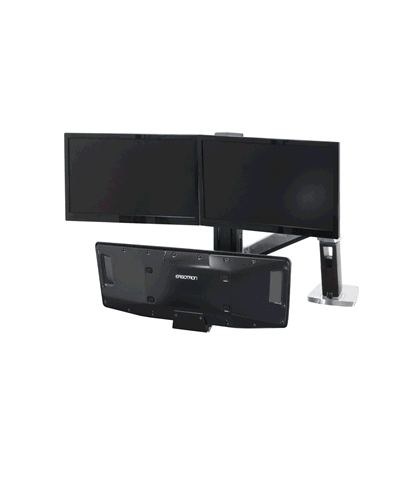 Description
WorkFit-A 24-392-026 dual workstation allows you to alternate between sitting and standing at work. This alternating is the most effective way to help maintain a healthy posture and prevent multiple medical conditions such as cardiovascular diseases, high blood pressure, diabetes. It also helps in preventing musculoskeletal disorders such as carpal tunnel syndrome and tendinitis.
The highlight of WorkFit-A workstations is that they get installed at the back of the desk keeping valuable desktop space in the front clear and usable. Not only does this workstation have dual monitors, which is reported to increase productivity by more than 25%, but it also has a suspended keyboard tray, which drops down up to 4" below the desktop surface for neutral positioning of the hands and shoulders providing ergonomic comfort. This dual monitors workstation makes it easy to compare pages side by side and is invaluable for data analysts, graphic designers and programmers to name a few. The 24-392-026 Workfit-A also allows the keyboard to fold up and move the arm out of the way when not in use so that the desk space can be utilized for non-computer work.
Featuring an unprecedented range of motion for a standing desk solution, WorkFit-A let's you swing your computer system left, right, up or down to wherever you need it. Premium ergonomic benefits include keyboard placement below desktop height when sitting and independent monitor positioning.
The height-adjustable arm moves the keyboard and monitor in one simple motion, allowing you to easily sit down or stand up as you work. Fold the keyboard up and push the arm out of the way when you need your desk surface. Includes several installation options to best fit your space.
Technical Drawing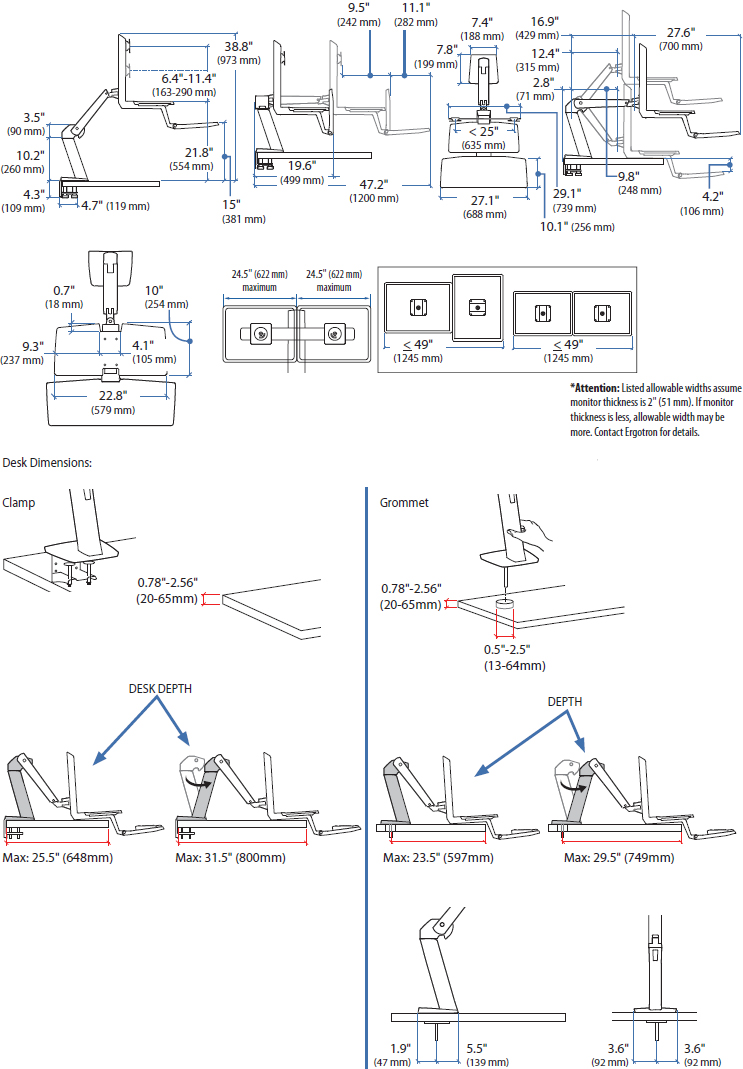 Technical Specifications
Screen
Capacity
Lift
Tilt
Pan
Rotation
VESA
Up to 24"

Up to 25 lbs

11.3 kg

25"

63.5 cm

-
180°
360°
MIS-D
Product Information
Part Number
24-392-026
Description
WorkFit-A with Suspended Keyboard, Sit-Stand Workstation, Dual monitors (polished aluminum, black)
Includes

Arm
Desk clamp
Grommet mount
Monitor riser
Crossbar bow
Monitor pivots (2)
Keyboard tray support bracket
Worksurface
Keyboard tray
Assembly fasteners
Velco
Cable wrap
Adjustment tools

Note
Extra-long cables may be required to span between standing and sitting heights
Weight Capacity

Maximum total load on height-adjustment assembly ≤ 25 lbs (11.3 kg). LCD weight = 4.5–10 lbs (2.0–4.5 kg) each, worksurface ≤ 5 lbs (2.3 kg), keyboard tray ≤ 2 lbs (.9 kg).

For proper operation the total maximum weight when added together should not exceed 25 lbs (11.3 kg)

Lift Range
LCD and keyboard adjust 20" (51 cm) in tandem; LCD adjusts 5" (13 cm) independently; maximum LCD height adjustment = 25" (63.5 cm)
Keyboard Tray

When in seated position, keyboard tray can drop down ≤ 4" (10 cm) below level of desktop surface, placing the keyboard at the optimum ergonomic height
Keyboard tray can be installed in 3 different positions: centered, offset right or offset left
Keyboard tray designed with slight tilt to ensure wrists remain in a neutral position during data entry and help prevent repetitive stress-injuries; tray can be flipped up 90º when not in use

Mounting Surface Requirements
When installed using Desk Clamp option, can be configured to work with desk surfaces up to 31.5" (80 cm) deep. When installed using Grommet Mount option, center of through-hole should be no more than 29.5" (75 cm) from front edge of desk surface. These requirements ensure that the suspended keyboard tray can extend past the desktop's front edge
Cable Management
Integrated cable management hides wires
Worksurface Dimensions
Approximately 0.25" H x 22" W x 10"D (6.4 x 560 x 255 mm)
Desk Clamp
Attaches to edge up to 2.5" (65 mm) thick; grommet mount attaches through hole 0.5" to 2.5" (7–65 mm) wide and up to 2.5" (65 mm) thick
Mounting Standards
VESA FDMI, MIS-D, 75/100, C (hole patterns = 100 x 100 mm and 75 x 75 mm)
Conversion Kit
Can be configured to hold a laptop alongside a monitor: order Conversion Kit (97-617)
Washington State Analysis

A Washington State analysis of case studies related to office ergonomics showed a median productivity increase of 12% following an ergonomic intervention.

New studies from the Office Ergonomics Research Committee (OERC) suggest that employees who are provided with well-designed ergonomic furniture and are trained to use it see an average productivity increase of 18%

Certified
This product is certified in compliance with indoor air quality standards defined by ANSI/BIFMA pertaining to emissions of VOC (volatile organic compounds)
Shipping Dimensions
36" x 21.25" x 10.75" (941 x 540 x 273 mm)
Shipping Weight
48.5 lbs (22 kg)
Warranty
Five (5) years
Advantages
For Computer Users
Keyboard can be positioned below desk surface for optimum ergonomic comfort
Safe, easy to use - simple installation and effortless operation
Easily and simultaneously lift keyboard and LCD screen to proper height for unsurpassed ergonomic comfort
Patented Constant Force lift technology provides fluid, one-touch adjustments of the keyboard and monitor
Fold keyboard up and swing arm and monitor out of the way when you need your desk surface
Included worksurface provides ample space and quick access to a tablet computer, phone or task-related items
For IT and Facilities Staff
Flexible, open-architecture design is scalable for future computer equipment
Modify existing office spaces or cubes by simply clamping a WorkFit on an existing worksurface, without the cost of expensive professional installers
Safe and neat routing of cables
For HR/Risk Management and Company Cost Savings
Manage the cost of healthcare premiums by promoting wellness in the daily work routine
Provide standing work platforms for employees without having to buy expensive height-adjustable chairs
Comfortable computing offers provable ROI on investment - healthcare costs associated with unhealthy computing and missed time are reduced while productivity increases
WorkFit helps alleviate back and neck pain, the most costly conditions affecting employees according to the 2007 OE Medicine Journal
Studies in office ergonomics show productivity increases of 12%–18% following an ergonomic intervention where employees are provided with well-designed ergonomic furniture
Product Options/Accessories
Frequently Asked Questions
q
Do both monitors have to be the same size and shape to work with this system?
a
No, as long as both the monitors follow the weight and size restrictions (each monitor should weigh 4.5-10 lbs and be less then or equal to 24" in screen size), they both can be different size, make and model. However it is preferable to have both the monitors same size and model for the following reasons - 1) Better aesthetics - You workstation will look better with uniform size and model of both the monitors 2) Better functionality - Monitors of same size, make and model will have the same resolution, which makes it easier for the cursor to move smoothly between the two screens. Absence of same resolution can sometimes make the cursor stick towards the lower end of the monitors.
q
Will this workstation be compatible with a set-up where one of the monitors is a laptop?
a
Yes. If you want one of the monitors to be a laptop on this WorkFit-A, you need to buy a LCD/Laptop Conversion Kit (Option 4).
q
I am 5'8" and wonder if I should order this unit with the Tall Height option. Due to vision problems, I need to be able to look directly in the middle of my 24" horizontal monitors.
a
If you are 5'8" the tall user kit is not necessary. This kit is more for people 6'3" and taller.
| | |
| --- | --- |
| Model | 24-392-026 |
| Manufacturer | Ergotron |
| Part Number | 24-392-026 |
| UPC | 698833040050 |
| | |
| --- | --- |
| Color | Polished aluminum, black |
| Monitor Size | Up to 24" |
| Weight Capacity | Up to 25 lbs (11.3 kg) |
| Lift | (63.5 cm) 25 in |
| Pan | 180 degree |
| Rotation | 360 degree |
| Mounting Pattern | VESA FDMI, MIS-D, 75/100, C (hole patterns = 100 x 100 mm and 75 x 75 mm) |
| Worksurface Dimensions | Approximately 0.25" H x 22" W x 10"D (6.4 x 560 x 255 mm) |
| Shipping Dimensions | 36" x 21.25" x 10.75" (941 x 540 x 273 mm) |
| Shipping Weight | 48.5 lbs (22 kg) |
| Warranty | Five (5) years |
| Mounting Options | Desk |
| Mounting Surfaces | Desk |
| Monitor Arm Types | 2 Monitors |
| Monitor Arm Types | LCD & Laptop |
| Price | $500 - $599 |
Customer reviews
1 stars

0

2 stars

0

3 stars

0

4 stars

1

5 stars

4
Good unit with a few mods
by Joel I, Union City, California, Aug 23, 2018
For the most part I am quite happy with this unit. After install and manual-listed tweaks it is working quite well. A few mods that I found I needed to do were:
I found my base (that mounts to the desk) would move around a little bit when swiveling the rig up and completely out of "the way". Part of the problem (I feel) is that a wingnut comes with the bolt for tightening the unit to the desk. (I don't think it's really possible to tightening a finger-held nut enough to keep it in place). I went to my local hardware store and bought a silicone backed lock-nut and tightened it all down with a wrench. I also placed a non-slip made between the base and my table top (with a cutout for the bolt of course). Maybe my desk is extra slippery...or... a lock nut should come with the unit in the first place. At any rate, other than that it installed easily enough and works quite well. (the manual lists the size of every bolt/screw EXCEPT that one...so... they should add the info to the manual on next printing i'd say). Only, thing I've learned though is that even though this unit can 'swing out of the way' - it is of such size that I don't really regain full use of the desk space in front of me with it sung around as far as possible (which was my desire) ... so, that was one less than ideal outcomes - but 4/5 stars on the whole. Finally, 5/5 stars for Ergodirect customer support. Great, knowledgeable and patient pre and post sales help with follow through each and every time. Buy from here... it's worth the benefit of good CS.
Ergotron 24-392-026 WorkFit-A with Suspended Keyboard, Dual Monitor
by Leilani M, Puerto Rico, Jul 20, 2018
Excellent product. Easy checkout on website. Shipping was high since it was being shipped to Puerto Rico. I have a corporate account but they won't quote before processesing, so I couldn't see which would be a better price for shipping. Other than that, great product.
Great product
by Scott M, Wichita, Kansas, Dec 05, 2017
The product works great, does what its advertised to do.
Review
by Christine S, Maryland, Jan 19, 2017
We were very pleased with the order and with the service, thank you!
Great product!
by 1can2, Houston, TX, Apr 28, 2016
I moved into an office at my past job that already had this Ergotron 24-392-026 Monitor Keyboard Mouse tray installed on the desk. Boy did I like and am now missing it. I have never worked standing up but now I cannot be without this option. I now have an elevating desk at home but will be starting a new job soon. I will definitely try to get my new manager to buy me one of this elevating stands. I really like to stand and sit throughout the work day to help with cutting down on coffee and to allow my leg blood circulation a "break".
Warranty
All Ergotron and OmniMount durable products will remain free of defects in material and workmanship for a period of five years from the date of receipt of the product, subject to any exclusions and limitations as set forth below.


Exceptions
Ten-year warranty on all HX Products, as well as LX and MX Products purchased on or after August 1, 2014

Zip and YES Charging Systems: Lifetime material/workmanship; three years electrical components; one year cables (power/Ethernet)

Ten-year warranty on LearnFit Sit-Stand Desks

Three-year warranty on all Neo-Flex Ergotron Products

Two-year warranty on WorkFit-Z Mini

Elevate and accessories: Lifetime material/workmanship. Five (5) years on electrical components. Cords, cables and plugs not warranted

The Peanut, Zido and accessories: Lifetime material/workmanship; five (5) years for pneumatic cylinder

One-year warranty on electronic components. For example: Auto Lock Drawers, Auto Lock Systems, Keyboard Lights, User Interface, Coiled Cord, Battery Harness, Cables from User I/F to Power Module (excludes AA batteries)

Two-year warranty on Power Modules by Ergotron

Sealed Lead-Acid (SLA) Power Systems, SLA Batteries

Two-year warranty on all SLA power system components by Ergotron

Up to one-year capacity warranty on SLA batteries (refer to Further Exclusions and Limitations section)

Six-month warranty against Manufacturer's Defects on SLA batteries, or as mandated by local law

Lithium Iron (LiFe) Power Systems, LiFe Batteries

LiFe battery capacity is warranted for two years or 1200 discharge cycles, whichever comes first (refer to Further Exclusions and Limitations section)

Five-year warranty against Manufacturer's Defects on LiFe factory-installed batteries (excludes LiFe replacement batteries). Factory-installed LiFe batteries are covered at 100% for the first three years; coverage for years four and five are prorated at 1/60th per month (refer to Further Exclusions and Limitations section)

Service Programs - 30-day warranty

Refurbished StyleView Carts - one-year warranty for Mechanical Components and Power Module (excludes batteries and cosmetic defects). The appropriate battery-type warranty applies

Original Equipment Manufacturer (OEM) Products resold by Ergotron are warranted by the respective manufacturer

StyleView Electric Lift motor: Three (3) years on motor and switch
Further Exclusions and Limitations
SLA Batteries
In Dual SLA battery systems, replacement of both batteries must occur at the same time (in accordance with the Ergotron User Manual), or the Warranty is automatically void

Warranties on SLA batteries (fully-charged or fully-uncharged) left in an unused state for more than three consecutive months are automatically void

Factory-installed SLA batteries, and replacement SLA batteries carry a Six-month Warranty Against Manufacturer's Defects and a 90-day Performance Warranty, or as mandated by local law

The 90-day Performance Warranty on factory-installed SLA batteries (excludes SLA replacement batteries) is extended to one-year provided that:
StyleLink software is installed and remains continually operational to show compliance with exclusions and limitations

SLA Battery is not discharged below 25% capacity more than 25 times as recorded by the StyleLink software history

SLA Battery is fully recharged at least once every 36 hours as recorded by the StyleLink software history
LiFe Batteries
LiFe batteries that fail to deliver 70% of their rated capacity during the first 1200 discharge cycles of battery life are deemed not to have met performance standards (capacity retention)

The LiFe battery discharge cycle is defined as starting at the fully-charged state through the fully discharged state and back to the fully-charged state. Discharge cycle counts are calculated by the software within the battery.
These warranties do not cover product abuse, modification and failure to adhere to product instructions, improper operations and/or misuse. Ergotron is not responsible for damage arising from failure to follow instructions relating to the product's intended use. Ergotron is not responsible for injury or loss caused by or associated with the installation and/or use of equipment in any manner other than in strict conformance with the instructions set forth in its installation manuals, supplemental assembly and installation instruction sheets, technical bulletins and/or product literature. You will provide Ergotron immediate written notice of any personal injury resulting from the use of Ergotron products.
Ergotron does not warrant damages or defects to the Ergotron product under the following conditions: an Act of God, unauthorized service or repair of the Ergotron products, damage from electrical power problems, usage of parts or components not supplied by Ergotron, failure to follow product instructions and guidelines, unauthorized changes to the Ergotron product, shipping damage (other than original shipment from Ergotron), failure to perform preventative maintenance, or damage caused by peripherals or software or from other external sources.
Exclusive Remedy
Warranty Repair: In the event that any Ergotron equipment becomes defective in material or workmanship during the warranty period, Ergotron will determine with you if the product defect is covered under warranty. Ergotron, at its sole discretion, may replace or repair the unit determined to be under warranty at a designated Ergotron location or at your location. The labor costs associated with the repair of the product may be the responsibility of Ergotron if determined to be under warranty. You must receive pre-approval by Ergotron for the labor costs prior to repair or replacement of warranty products. You must contact Ergotron to obtain a Return Material Authorization (RMA) number. An RMA number may be obtained by contacting Ergotron Customer Care online or by telephone within your specific region. Contact information is available to you on the Ergotron web site at www.ergotron.com. Performance of any repair or replacement on product under warranty does not renew or extend the warranty period.
Non-Warranty Repair: You may return a product for repair that is not covered by warranty only if you have received a preapproved RMA number from Ergotron Customer Care. Labor costs and freight charges associated with non-warranty repair will be the sole responsibility of the customer, reseller or installer/integrator. A standard repair fee, specific to the product, is charged for any product that is repaired outside of the warranty period. Repairs on products out of warranty also carry a 90-day warranty, effective the day that you receive the item after repair.
For products that are not covered under warranty, Ergotron offers you the following options:
You may upgrade to a newer, functionally equivalent product at a normal MSR list price

Ergotron will return the product to you

You can request in writing that Ergotron appropriately dispose of the product for you. A fee may apply for this service as designated by local law
Non-Defective Products: You are notified if, after examining and testing a returned product, Ergotron concludes that the product is not defective. The product is returned to you and you would be responsible for the freight charges associated with the return.
Warranty Disclaimer
Except as expressly set forth in this Limited Warranty and to the greatest extent allowed by law, Ergotron makes no other representations, warranties or conditions, express or implied, including any implied representations, warranties or conditions of merchantability, fitness for a particular purpose, non-infringement, and non-interference. Ergotron does not warrant that your use of the Ergotron product will be uninterrupted or error free. Any implied warranties that may be imposed by law are limited in duration to the Limited Warranty period, to the greatest extent allowed by law. Some states or countries do not allow a limitation on how long an implied warranty lasts or the exclusion or limitation of incidental or consequential damages for consumer products. In such states or countries, some exclusions or limitations of this Limited Warranty may not apply to you. This Limited Warranty is subject to change without notification.
Ergotron devices are not intended to cure, treat, mitigate or prevent any disease.
Warranty Transferability
This Limited Warranty is available only to the original end consumer and is non-transferable. For this warranty to be valid, the Ergotron product must have been purchased directly from an authorized distributor, reseller and/or authorized representative of Ergotron.