Innovative Winston Single Monitor Sit-Stand Workstation
For optimal performance, select the model that will support the total weight of your monitor and all items that will be placed on the Winston work surface. This will include your keyboard and mouse. The typical weight of keyboard and mouse is between 2-4 lbs. Please note, the monitor and the worksurface move in tandem, and not independent of each other.
Now includes Next Generation Tilter 8500 (not shown in the image). Please see Description for more details.
Product ID 18088
HIGHLIGHTS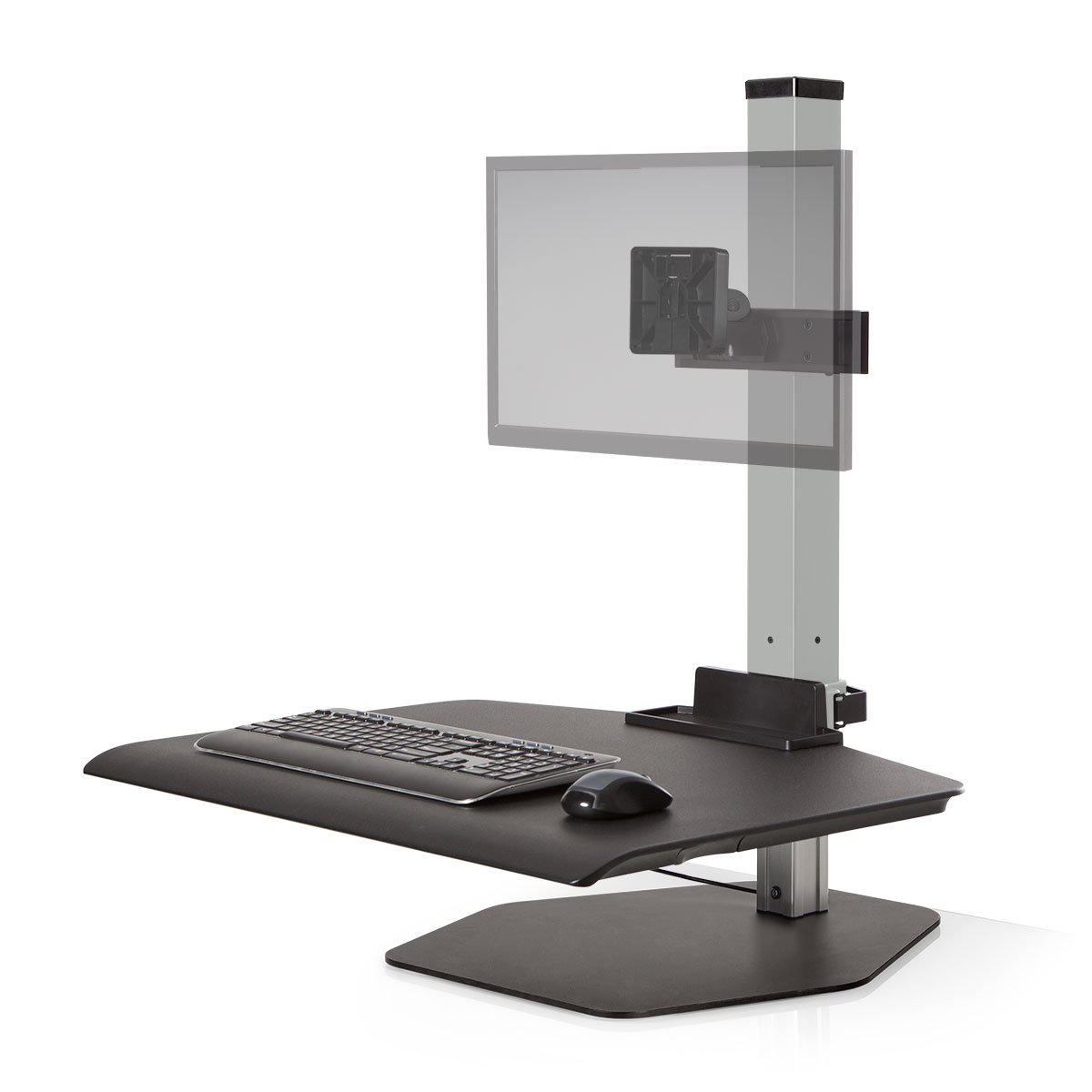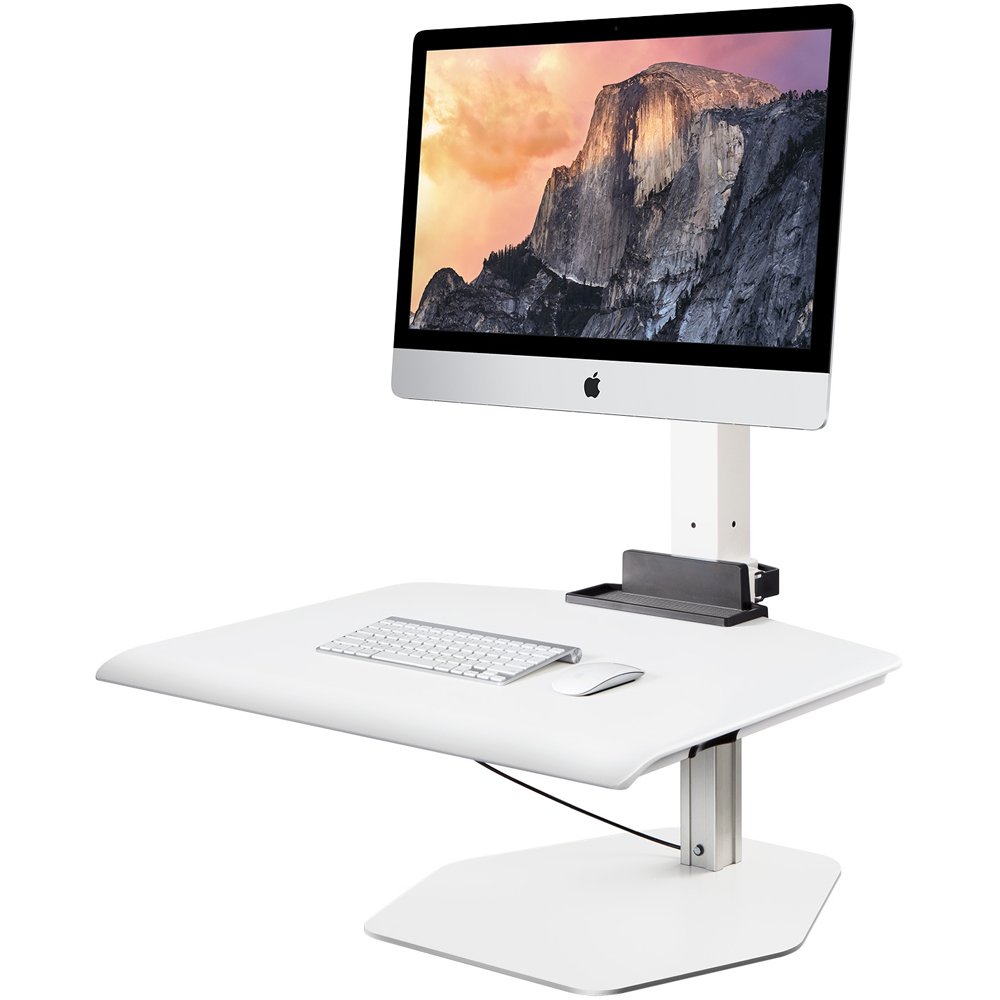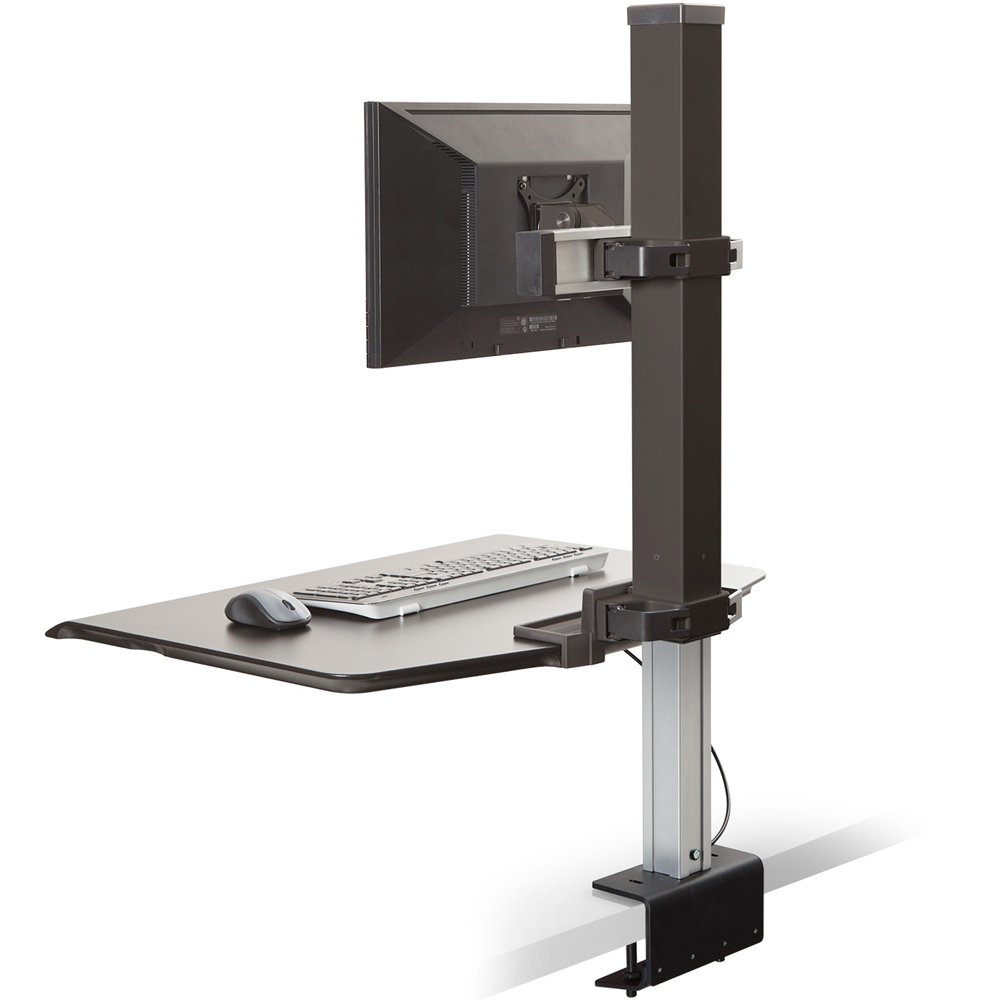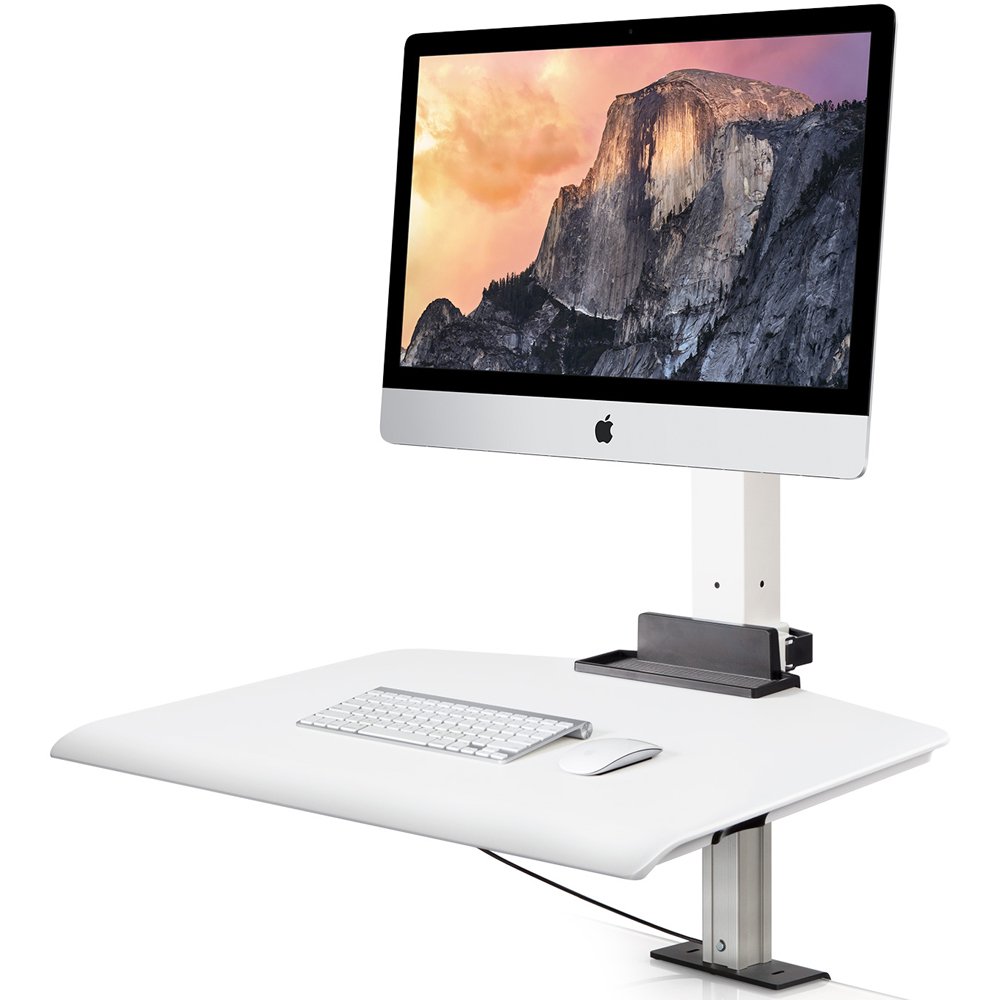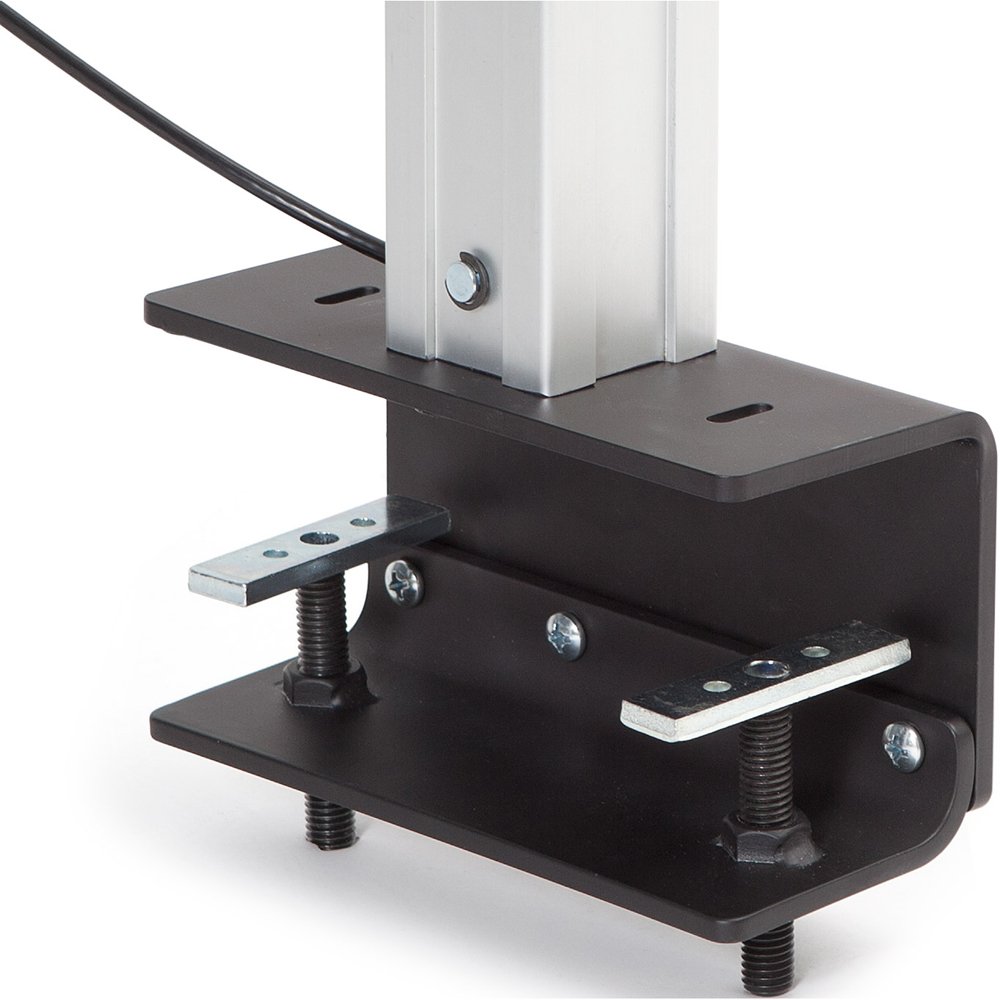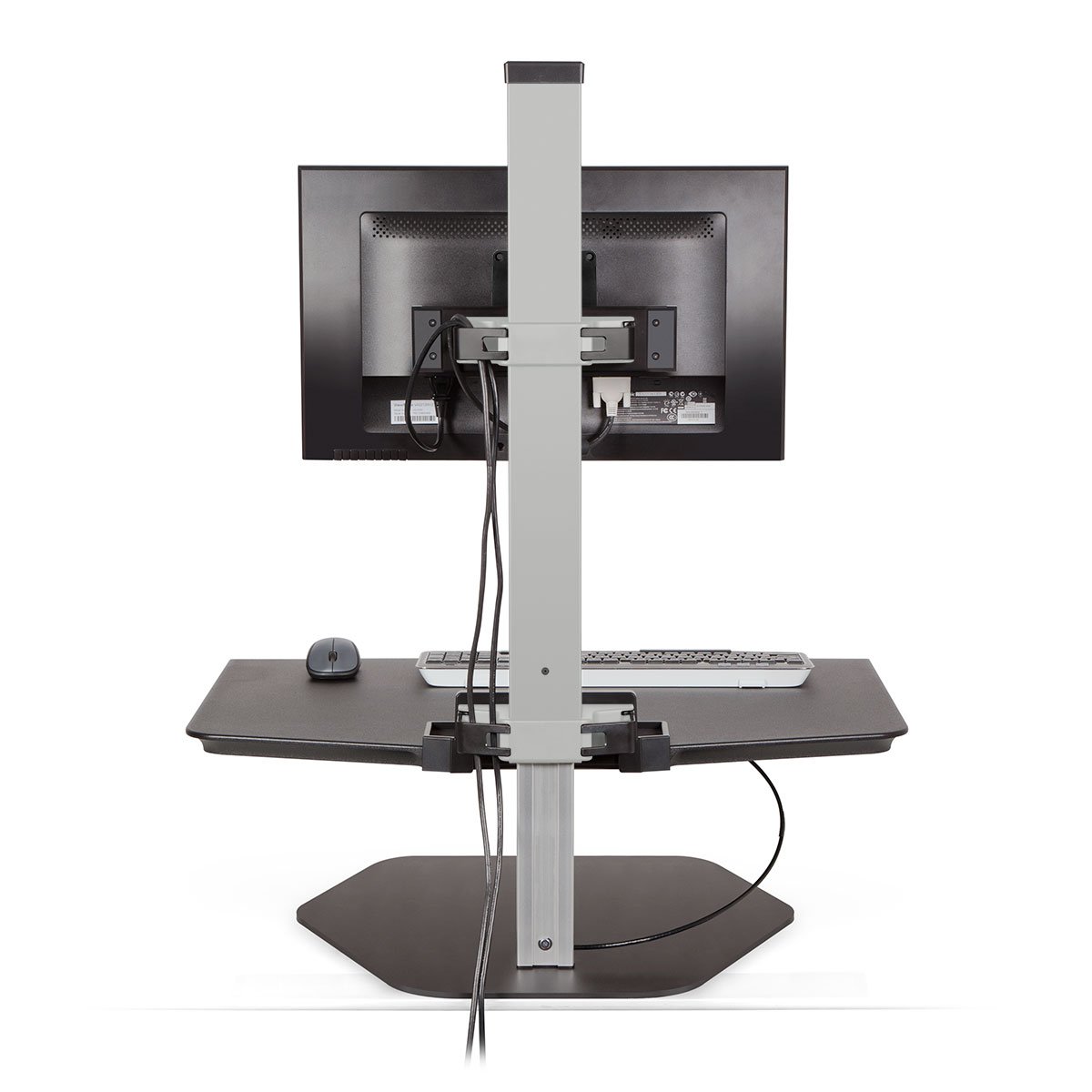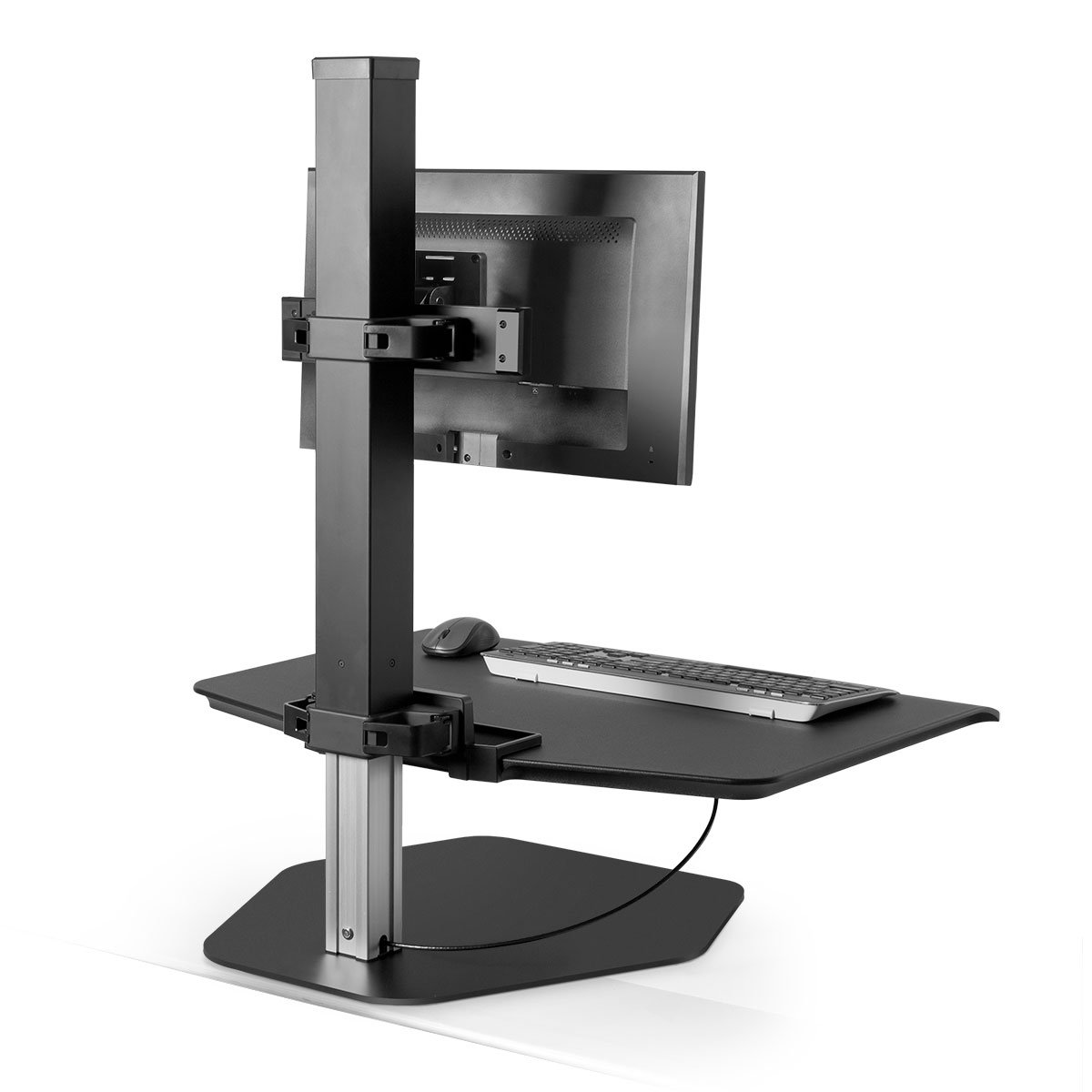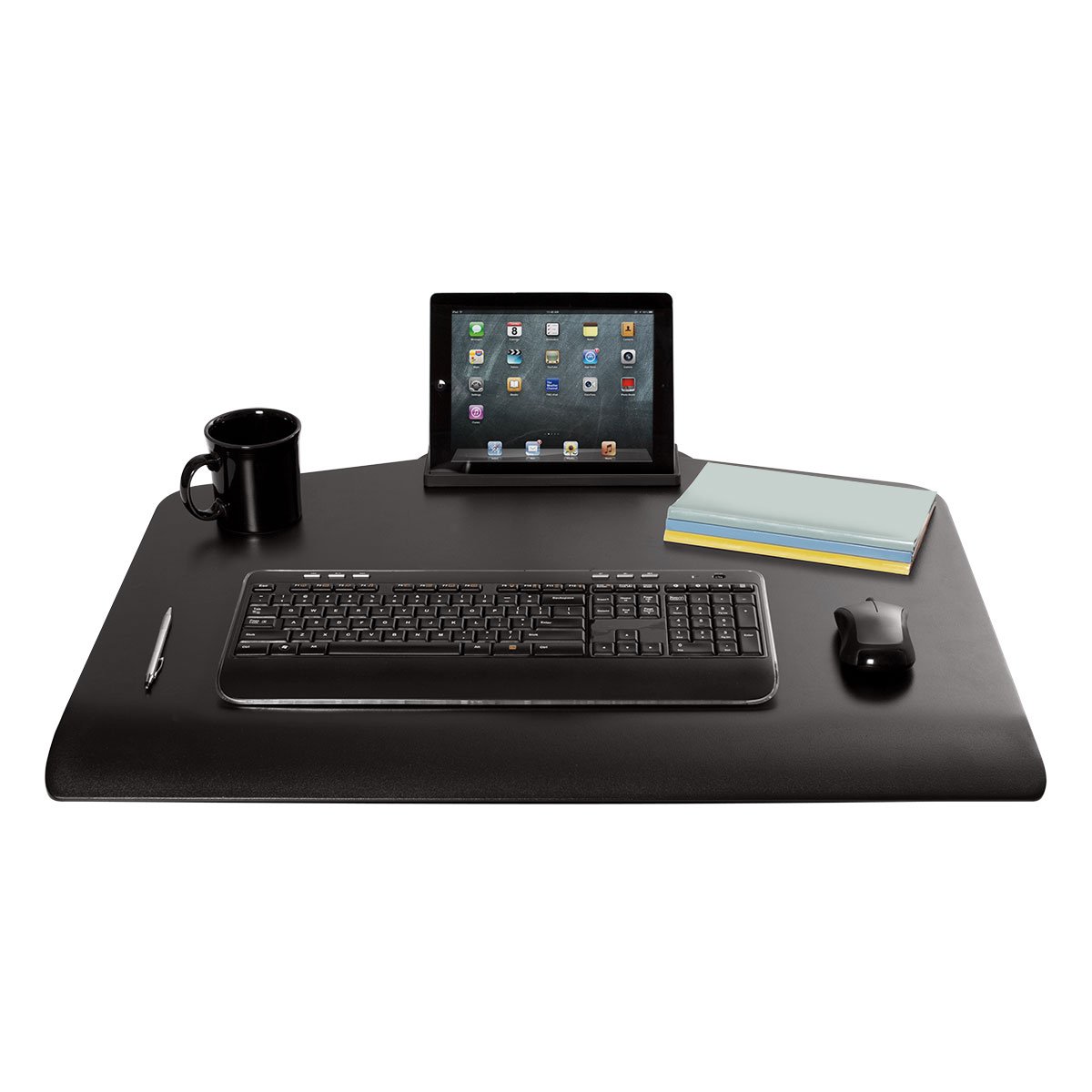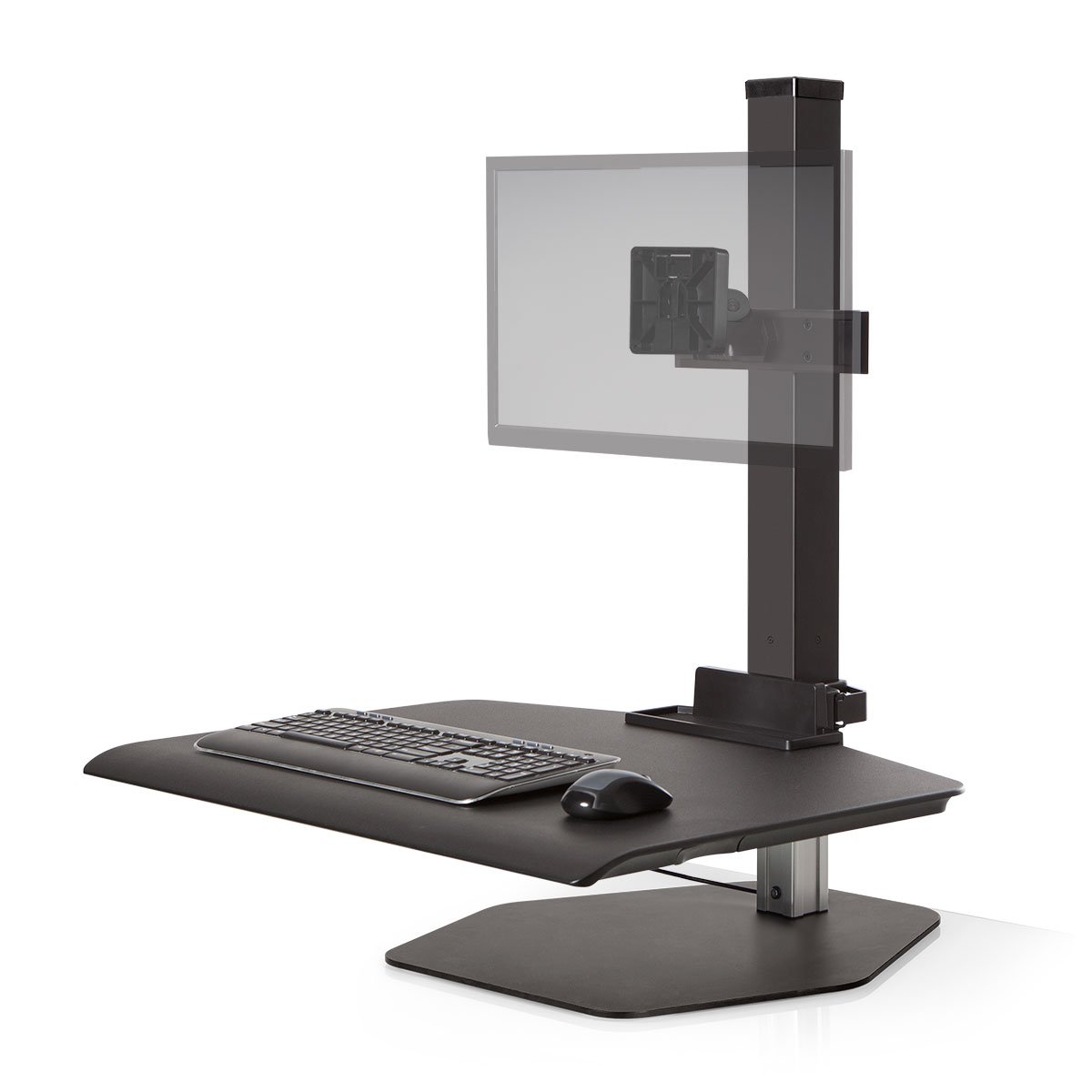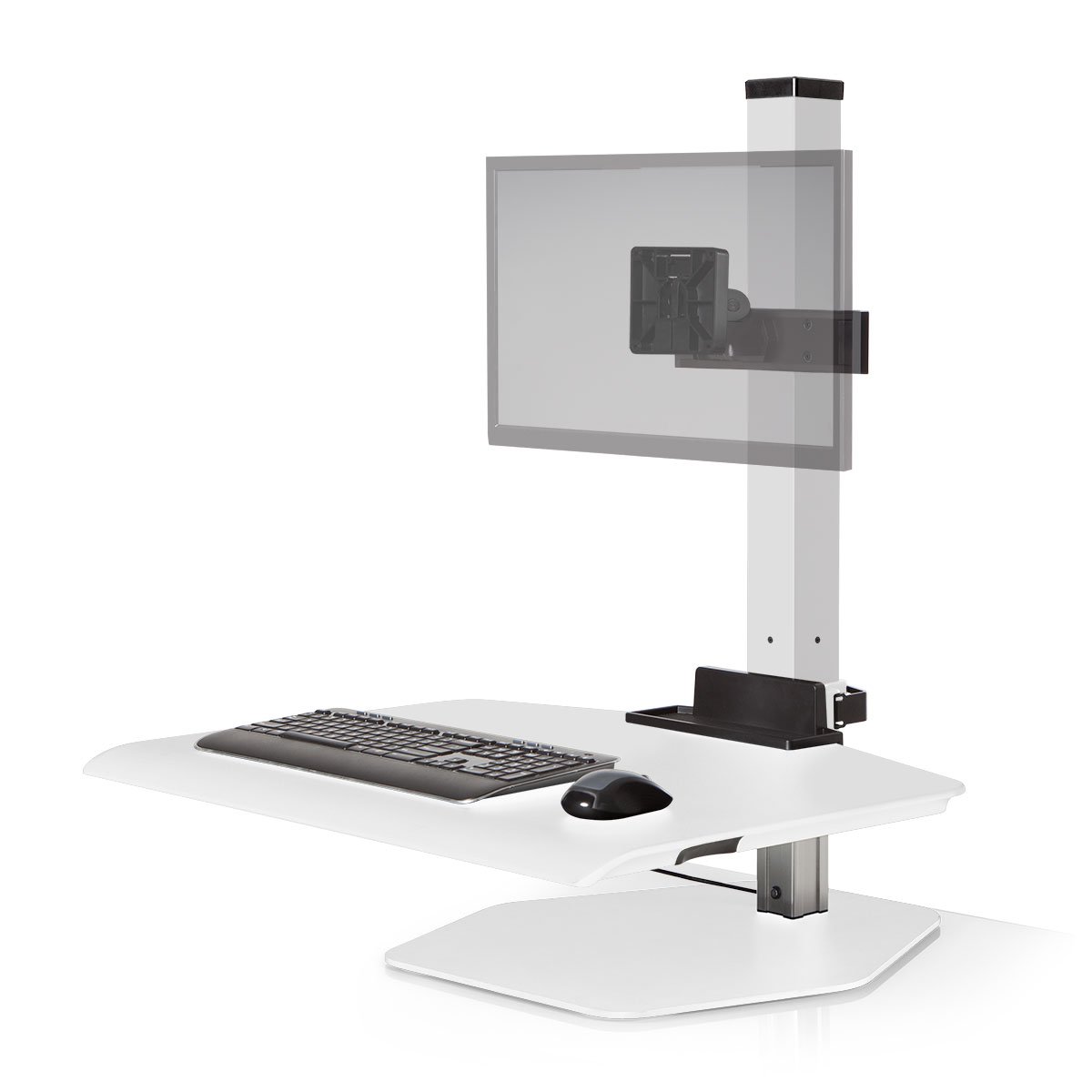 Description
Mount a 30" monitor on the Winston single monitor workstation. This adjustable monitor stand has a freestanding base which instantly turns your current desk into a standing desk. Quick installation without needing to drill makes this adjustable desktop workstation great for glass desktops.
A 30" x 19.3" work surface is ideal for desks smaller than 24" deep, while accommodating keyboard, mouse, phone, documents, and other necessary work items. This adjustable workstation offers 17" of height adjust to accommodate a variety of users and give you the freedom to easily alternate between sitting and standing throughout the day.
Excessive sitting is associated with a number of chronic diseases and conditions. Standing with a Winston sit-stand workstation for just three hours a day can offer the same health benefits as running 10 marathons a year and can extend your life by two years. Standing more also counters health concerns such as reducing the risk of obesity, type 2 diabetes, cardiovascular disease, and cancer.
This tabletop standing desk was engineered for stability with the industry's first locking cylinder to keep your workspace in place and eliminate wobbling while you work. A sleek, professional design means the Winston workstation fits into all types of offices and businesses, from home to corporate.
Convert your desk to a healthy sit-stand workstation in minutes. Winston Workstation freestanding sit-stand supports a flat panel monitor and features push-button height adjustment. Sit-stand workstation with compact work surface. Freestanding base retrofits to smaller desk spaces. Push-button height adjustment. Single monitor mount.
Winston Workstation - Energizing your body. Inspiring your mind. Instantly converts any desk into a sit stand workspace boosting health and productivity. Recent studies have shown that sitting throughout the day can have the same negative health consequences as smoking. Winston seamlessly integrates into your workday for a boost in health and wellness. Winston Workstation now comes with a compact work surface, ideal for users with smaller spaces who want to take advantage of a healthy sit stand workstation.
Please note this monitor arm was updated in January 2022. The manufacturer, Innovative Design Works, has upgraded this part.
Tilter - A tilter is the part of the adjustable monitor arm that attaches to the back of your monitor and allows the monitor to rotate, pivot and tilt to desired position.  This monitor arm is now available with Next Gen Tilter 8500. This new tilter apart from being slim and sleek has a quick release bracket, which makes installation and release easy and fast. It has a 30 lb weight capacity. However please bear in mind that the Next Gen Tilter 8500 comes with 100mm VESA adapter unlike the earlier standard tilter which comes with 75mm and 100mm adapter plate. If your monitor has only 75x75mm VESA pattern, please contact us through monitor arm finder. We will find the best monitor arm that matches your needs.
| | |
| --- | --- |
| 8500 Quick Release Monitor Tilter | 8336 Standard Monitor Tilter |
Technical Drawing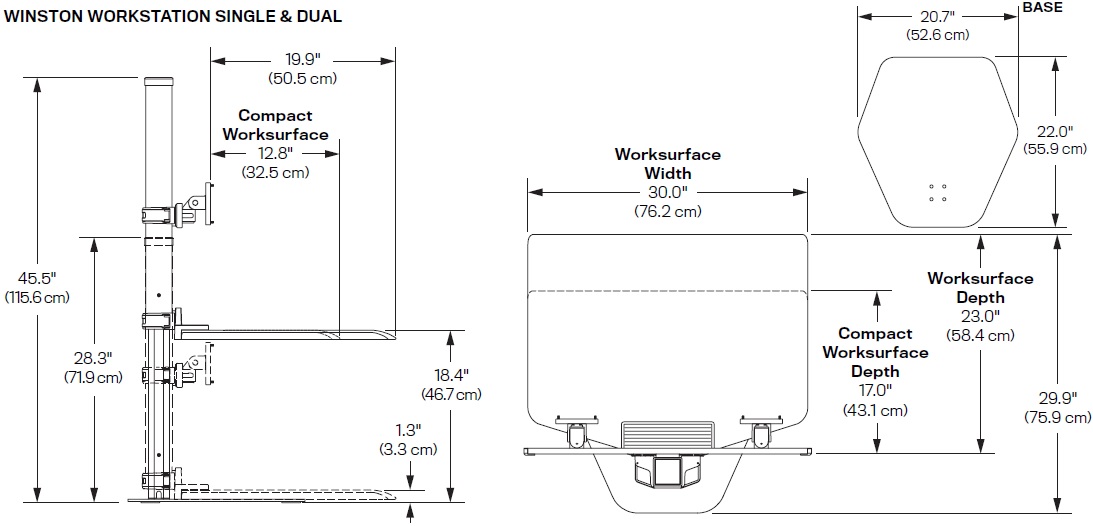 Technical Specifications
| | |
| --- | --- |
| Color | 104 - Vista Black, 124 - Silver and 248 - Flat White |
| Height Adjustment Mechanism | Pneumatic |
| Screen Size | Up to 43" |
| Vertical Height Adjustment | 17" (43.2 cm) |
| Work Surface Size | WNST-1 - 23" x 30", WNST-1-CW - 17" x 30" |
| Weight Capacity | 7 - 20 lbs (3.2 - 9.1 kg) |
| Monitor Tilt | 200 degree |
| Monitor Pivot | Landscape to portrait |
| Mount Configurations | Freestanding |
| Monitor Compatibility | VESA 100mm |
| Cable Management | Cables are clipped to column |
| Warranty | 5 years |
Features
Quick, easy monitor install. Take the work out of adjusting and replacing monitors. Simply attach, adjust, and remove all at the face of the beam. No need to slide monitors to remove.

Engineered for stability. Designed to accommodate standing work without the distraction of unwanted movement.

Expansive work space. Large surface and convenient storage tray allow you to bring all necessities with you when you stand.

Upgrade your space. Retrofit your existing desk into a healthy workspace with two easy mounting options: freestanding or desk clamp.

Seamless height adjustment. Features a 17" range of vertical height adjustment and a locking cylinder to keep the workstation in place. No manual adjustment needed.

Cable management. Cable clips in the column and beam keep the cables organized and out of the way.

Ethical manufacturing. Winston is assembled in the USA using components created through a green manufacturing process.

VESA-monitor compatible - 100mm VESA adapter included.

Attention Apple users - compatible with VESA compliant iMac's. (Apple VESA Mount Adapter Kit not included).

Additional mounting options: clamp mount and thru mount also available.
Product Options/Accessories
Frequently Asked Questions
q
We have an employee who has this model (single monitor), but now is getting two monitors. Can the dual monitor mounting kit be purchased to fit this model?
a
Unfortunately single monitor unit cannot be converted to dual monitor unit due to weight reasons. The single unit is weight balanced for one monitor, adding two would cause the unit to not function.
| | |
| --- | --- |
| Model | WNST-1-104, WNST-1-124, WNST-1-248 |
| Manufacturer | Innovative LCD Arms |
| Part Number | WNST-1-104, WNST-1-124, WNST-1-248 |
| | |
| --- | --- |
| Color | 104 - Vista Black, 124 - Silver, 248 - Flat White |
| Height Adjustment | Vertical 17" (43.2 cm) |
| Mounting Pattern | 100mm |
| Monitor Weight | 9 - 48 lbs (depending upon the model) |
| Desk Type | Desk Mount |
| Price | $600 - $699 |
| Weight Capacity | 7 - 20 lbs (3.2 - 9.1 kg) |
| Height Adjustment Mechanism | Pneumatic |
| Monitor Size | Up to 43" |
| Warranty | 5 Years |
| Worksurface Dimensions | WNST-1: 30" W x 23" D. WNST-1-CW: 30" W x 17" D |
| Mounting Options | Freestanding |
| Tilt | 200 degree |
Customer reviews
1 stars

0

2 stars

0

3 stars

0

4 stars

0

5 stars

0
Warranty
Seller warrants that its products will be free from defects in material and workmanship when the title passes to the buyer. Seller will repair or replace, at its discretion, any defective product without charge (shipping charges excluded) for a period of 10 years (exception: 1 year for Busby, 5 years for Winston Workstation, Winston-E, Winston Desk and Freedom Desk, 3 years for Tablik and 1 year for Bild motorized column) after the original date of sale, unless the product damage resulted from normal wear and tear, buyer abuse, misuse or negligence or failure to follow instructions related to the products's installation or intended use. Seller may require proof of purchase before performing any repairs or replacing any products during the warranty period. Except as specifically set forth above, seller makes no warranties, express or implied and specifically disclaims any warranty of merchantability or fitness for a particular purpose. Repair or replacement of the product ordered from seller shall be buyer's exclusive remedy.