Ergotron 24-390-026 WorkFit-A with Suspended Keyboard, Single LD
Highlights
Sit-stand workstation: Converts your desk so that it lets you sit or stand while working
25" vertical adjustability: Maximum possible height adjustment of the monitor 
5-15 lbs monitor weight: Carries a single light duty (LD) monitor  
24" screen size: Holds a monitor up to 24" in screen size
4" suspension: Keyboard tray drops down up to 4"below desktop 
10"x22" worksurface 
Installs at back of the desk: Keeps desktop space 

clear 

For a heavier monitor, see Ergotron WorkFit-A, Single HD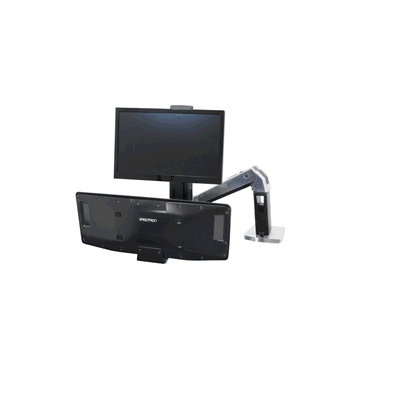 Description
Ergotron WorkFit-A 24-390-026 is an affordable workstation that lets a computer user alternate between sitting and standing while working. This model is designed to support light weight monitors (5-15 lbs). Changing your position from sitting to standing offered by this product is increasingly recommended to maintain a healthy posture and thereby prevent medical problems like diabetes, high blood pressure and cardiovascular diseases along with musculoskeletal injuries like carpal tunnel syndrome and tendinitis.
Workfit-As are installed at the back of the desk clearing valuable desk space in the front. When the computer is not in use, the entire assembly of this WorkFit-A can be moved to the side and the keyboard tray flips up 90 degrees. It has a suspended keyboard which drops down up to 4" below the desktop surface for neutral positioning of the hand. 24-390-026 is especially valuable for users who have to work on a computer for 6 hours or more per day.
Technical Drawing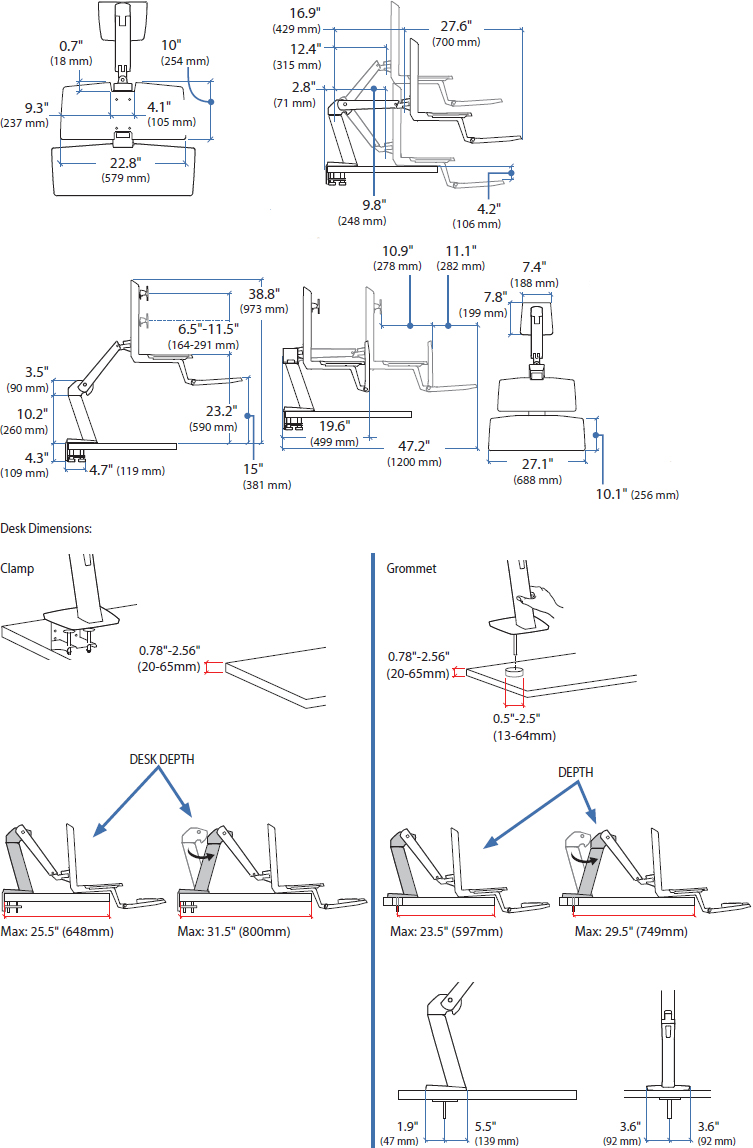 Technical Specifications
LCD Size

Capacity

Lift

Tilt

Pan

Rotation

VESA

Up to 24"
Up to 20 lbs

9.1 kg

25"

63 cm

30°
180°
360°
MIS-D
Product Information
Part Number

24-390-026

Description

WorkFit-A with Suspended Keyboard, Sit-Stand Workstation, LD Light Duty for standard-size monitors (polished aluminum, black)

Includes

Arm
Desk clamp
Grommet mount
Monitor riser
Monitor pivot
Keyboard tray support bracket
Worksurface
Keyboard tray
Assembly fasteners
Velco
Cable wrap
Adjustment tools

Weight Capacity

Maximum total load on height-adjustment assembly ≤ 20 lbs (9.1 kg). LCD weight = 5–15 lbs (2.3–6.8 kg), worksurface ≤ 5 lbs (2.3 kg), keyboard tray ≤ 2 lbs (.9 kg). For proper operation the total maximum weight when added together should not exceed 20 lbs (9.1 kg). The minimum total weight should not be less than 6 lbs (2.7 kg)

Lift Range

LCD and keyboard adjust 20" (51 cm) in tandem; LCD adjusts 5" (13 cm) independently; maximum LCD height adjustment = 25" (63.5 cm)

Keyboard Tray

When in seated position, keyboard tray can drop down ≤ 4" (10 cm) below level of desktop surface, placing the keyboard at the optimum ergonomic height
Keyboard tray can be installed in 3 different positions: centered, offset right or offset left
Keyboard tray designed with slight tilt to ensure wrists remain in a neutral position during data entry and help prevent repetitive stress-injuries; tray can be flipped up 90º when not in use

Mounting Surface Requirements

When installed using Desk Clamp option, can be configured to work with desk surfaces up to 31.5" (80 cm) deep. When installed using Grommet Mount option, center of through-hole should be no more than 29.5" (75 cm) from front edge of desk surface. These requirements ensure that the suspended keyboard tray can extend past the desktop's front edge

Cable Management

Integrated cable management hides wires

Worksurface Dimensions

Approximately 0.25" H x 22" W x 10"D (6.4 x 560 x 255 mm)

Desk Clamp

Attaches to edge up to 2.5" (66 mm) thick; grommet mount attaches through hole 0.5" to 2.5" (7–51 mm) wide and up to 2.5" (66 mm) thick

Mounting Standards

VESA FDMI, MIS-D, 75/100, C (hole patterns = 100 x 100 mm and 75 x 75 mm)

Notebook Tray

Can be configured to hold a laptop in place of monitor: order accessory Notebook Tray (50-193-200)

Note

Computer systems mounted on a WorkFit-A may require extra long power and video cables in order to span between standing and sitting heights

Washington State Analysis

A Washington State analysis of case studies related to office ergonomics showed a median productivity increase of 12% following an ergonomic intervention. New studies from the Office Ergonomics Research Committee (OERC) suggest that employees who are provided with well-designed ergonomic furniture and are trained to use it see an average productivity increase of 18%

Shipping Dimensions

36" x 21.25" x 10.75" (941 x 540 x 273 mm)

Shipping Weight

45 lbs (20.5 kg)

Warranty

Five (5) years
Advantages
For Employees, Self Employed Individuals, Home office owners
No-hassle installation and easy to operate
Ergonomic relief provided by the keyboard tray positioned below the surface of the desk
Keyboard tray can be folded up 90 degrees and the arm and the monitor can be moved out of the way when desk is needed for non-computer work
Additional worksurface, which is a part of this workstation, is useful to keep a phone, tablet, papers or writing material
For Employers, Business Owners
Promotes healthy working habits, which will lead to controlled healthcare costs
Proves to be an economic entry into the sit-stand market
Helps ease back, shoulder, neck pain, which tend be the common causes of employee absenteeism
Increase in productivity is observed when employees use ergonomic furniture
Installs on majority of work desks, avoiding the cost of expensive installation
Frequently Asked Questions
Question: Can I swap the keyboard and worksurface locations?
Answer: The worksurface and keyboard trays are fixed on this unit and cannot be removed. However we do have similar units without worksurfaces and with levelled keyboard trays.
| | |
| --- | --- |
| Model | 24-390-026 |
| Manufacturer | Ergotron |
| Part Number | 24-390-026 |
| UPC | 698833040036 |
| | |
| --- | --- |
| Color | Polished aluminum, black |
| Weight Capacity | Up to 20 lbs (9.1 kg) |
| Lift | (63 cm) 25 in |
| Tilt | 30 degree |
| Pan | 180 degree |
| Rotation | 360 degree |
| Mounting Pattern | VESA FDMI, MIS-D, 75/100, C (hole patterns = 100 x 100 mm and 75 x 75 mm) |
| Worksurface Dimensions | 22" W x 10" D x 0.25" H |
| Shipping Dimensions | 36" x 21.25" x 10.75" (941 x 540 x 273 mm) |
| Shipping Weight | 45 lbs (20.5 kg) |
| Warranty | Five (5) years |
| Mounting Options | Desk Mount |
| Desk Type | Desk Mount |
| Screen Size | Up to 24 in |
| Monitor Weight | 5-15 lbs |
| Suspended Keyboard | Yes |
| Keyboard Tray Dimensions | 27" W x 10" D |
| Worksurface | Yes |
| Monitor Arm Types | 1 Monitor |
Had a few issues
, Feb 16, 2016
by
Deborah T
, California
This is the seventh Workfit A we have purchased for our office, and the third with the Tall User's Kit. The ergotron is not working as we can only use it at desk level. The unit will not stay up. The extension kit was not originally shipped and we had to call to make that happen. Not the usual experience with Ergodirect or our Ergotrons!!
Was this review helpful to you?
Ergotrons are fantastic!
, Oct 27, 2015
by
Deborah T
, California
We have purchased several of the Ergotron Sit/Stand stations, both the pillar style and the very adjustable swing-arm style. Our staff members absolutely love them. Once we start using them we find that we really don't enjoy sitting all that much!!!
Was this review helpful to you?