Ergotron 33-397-085 WorkFit-T Sit-Stand Desktop Workstation in Black
Product ID 18129
HIGHLIGHTS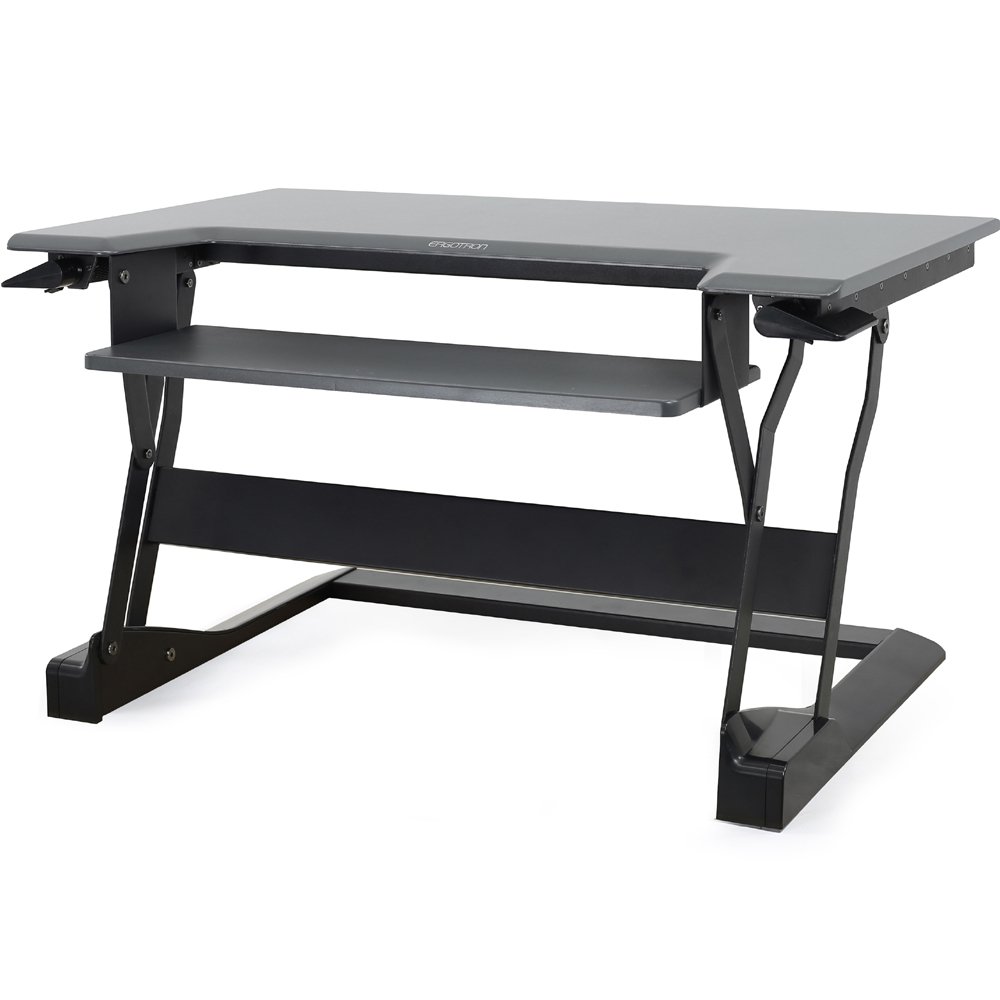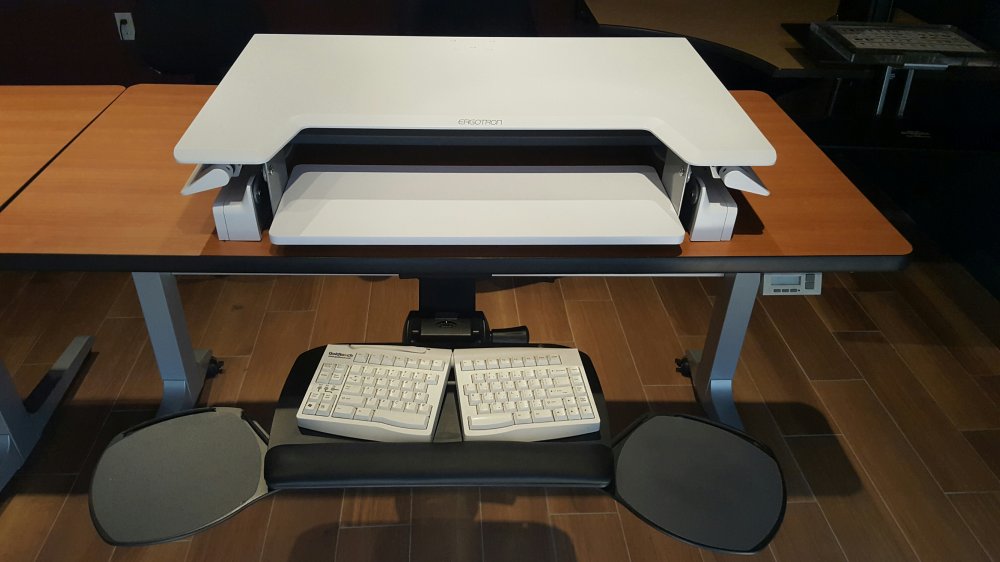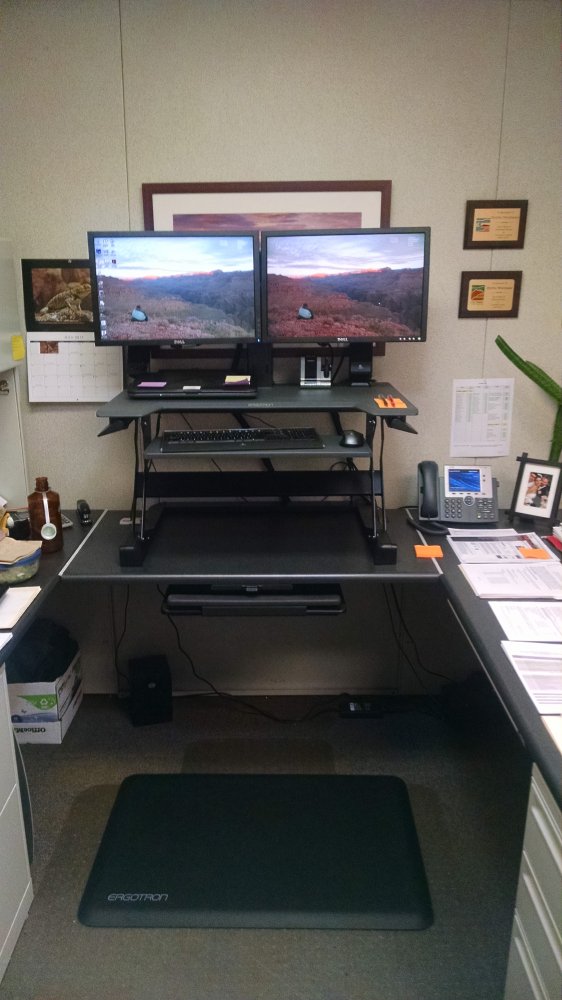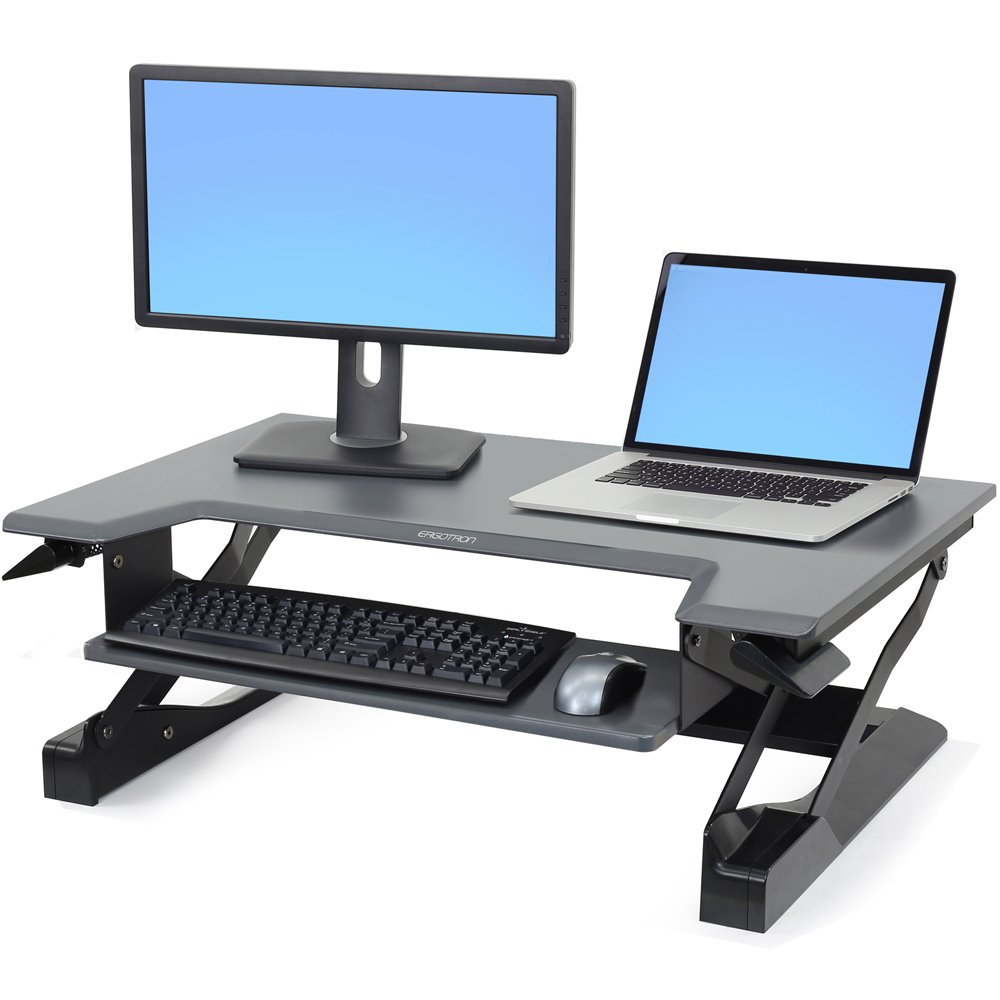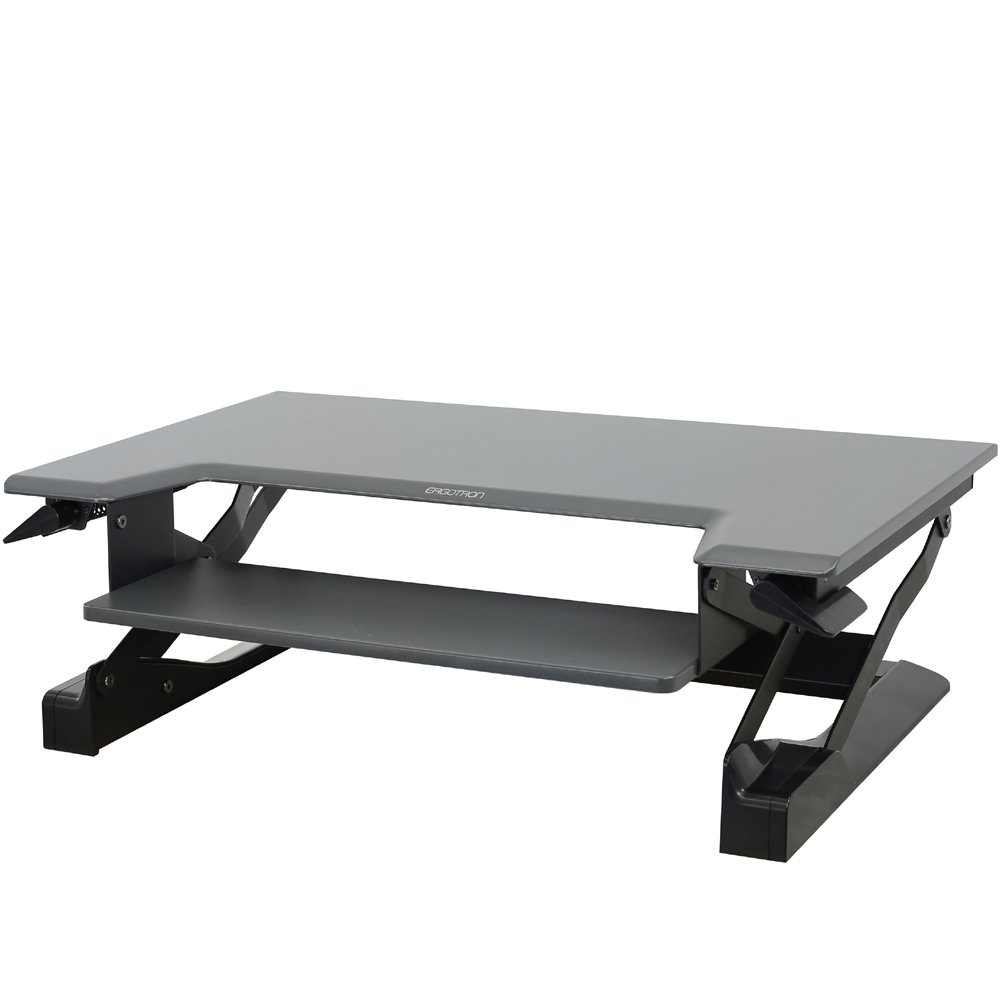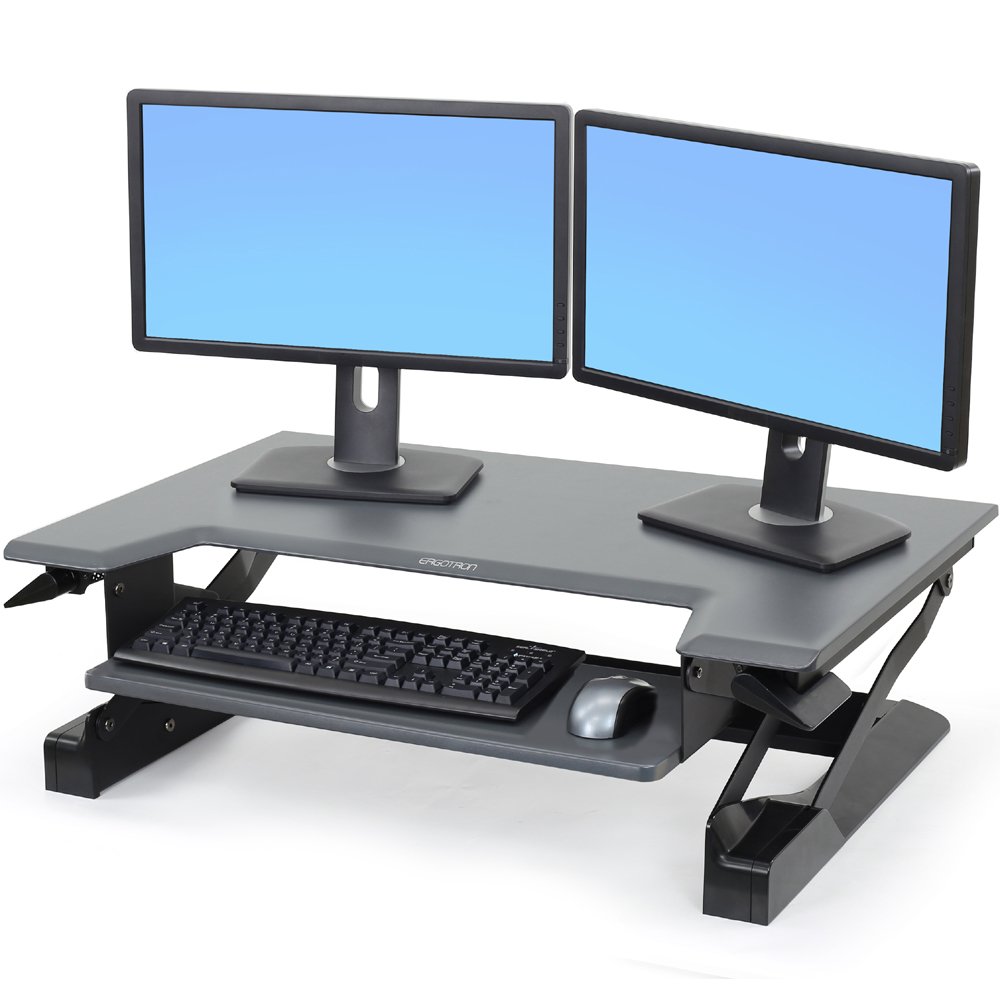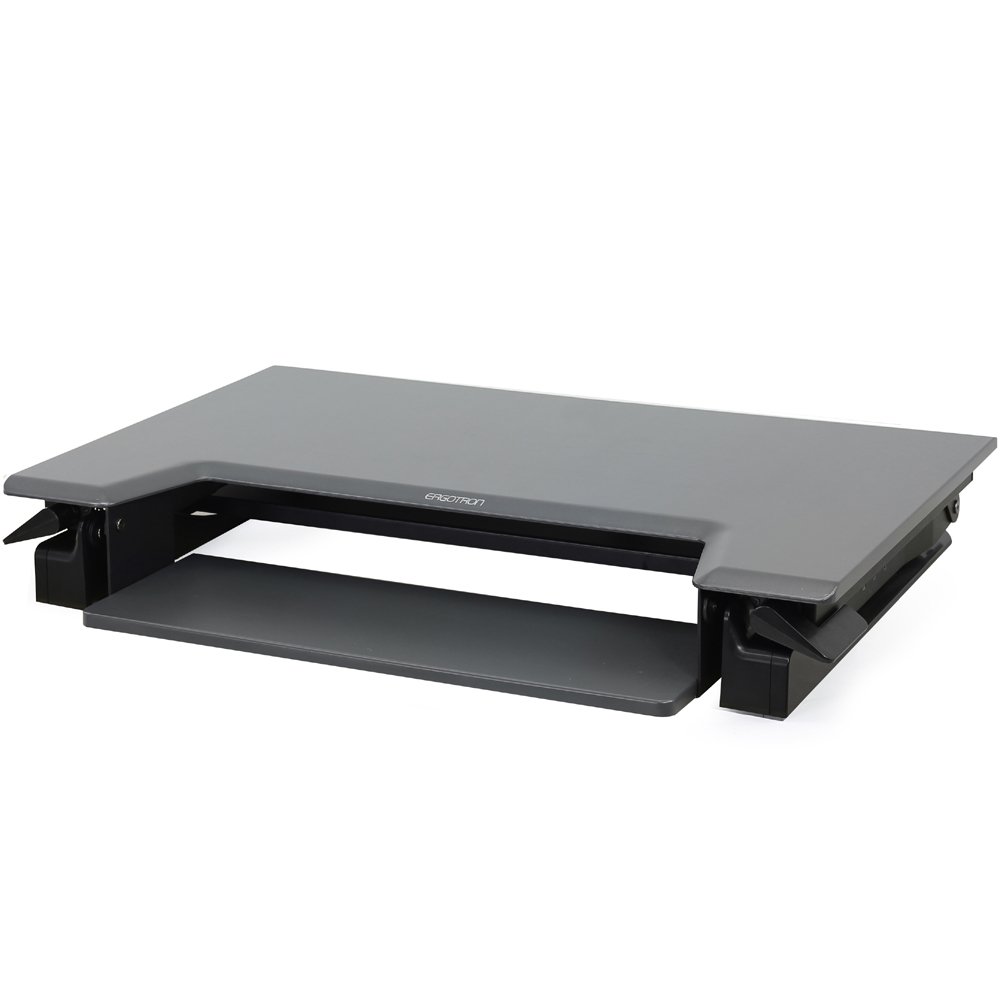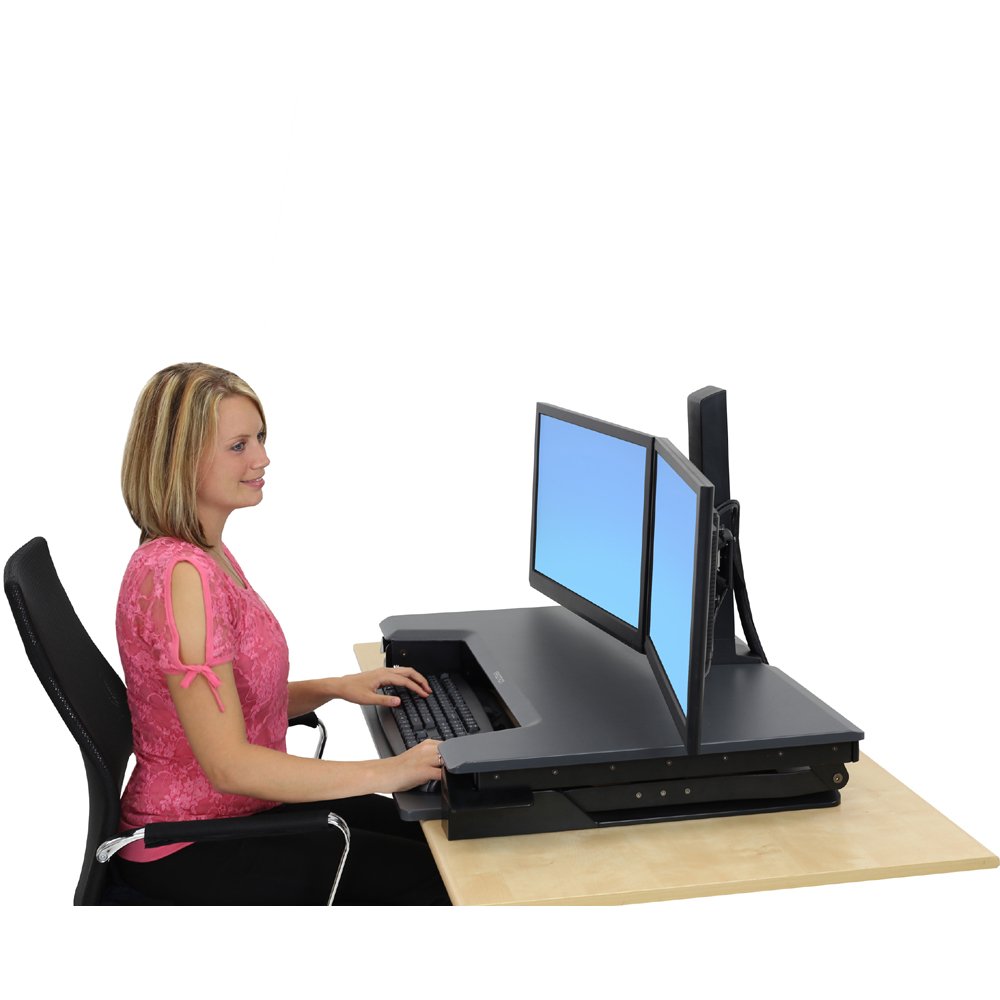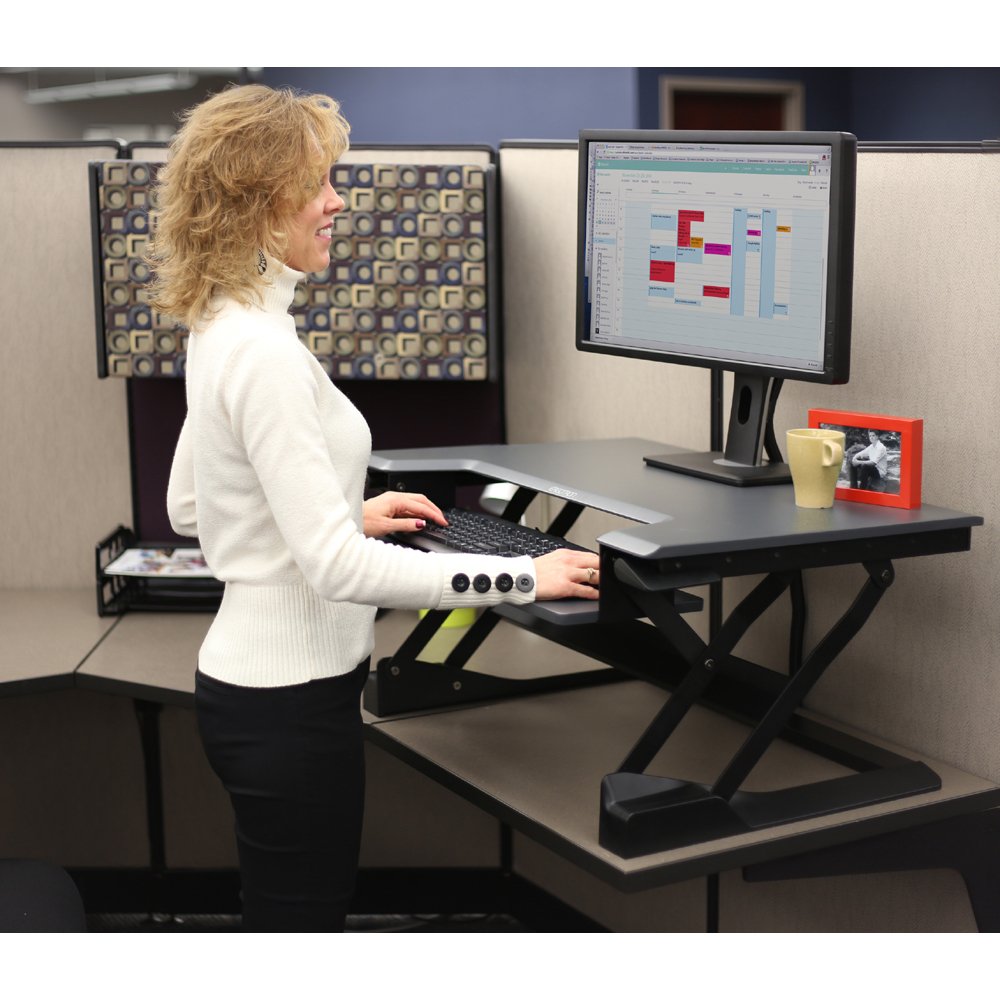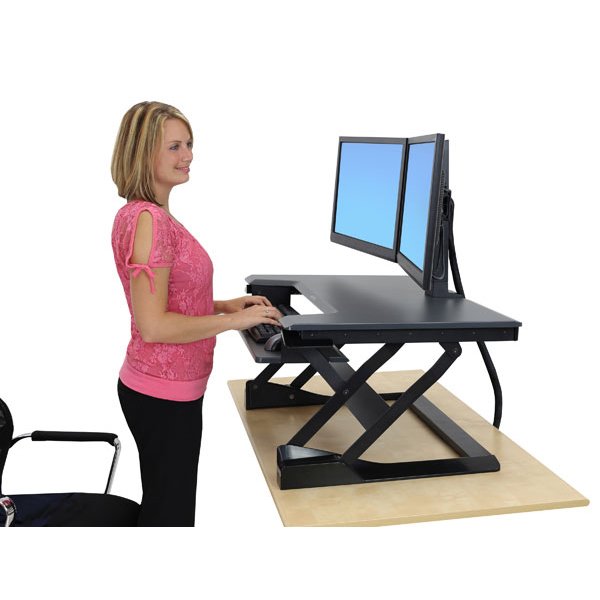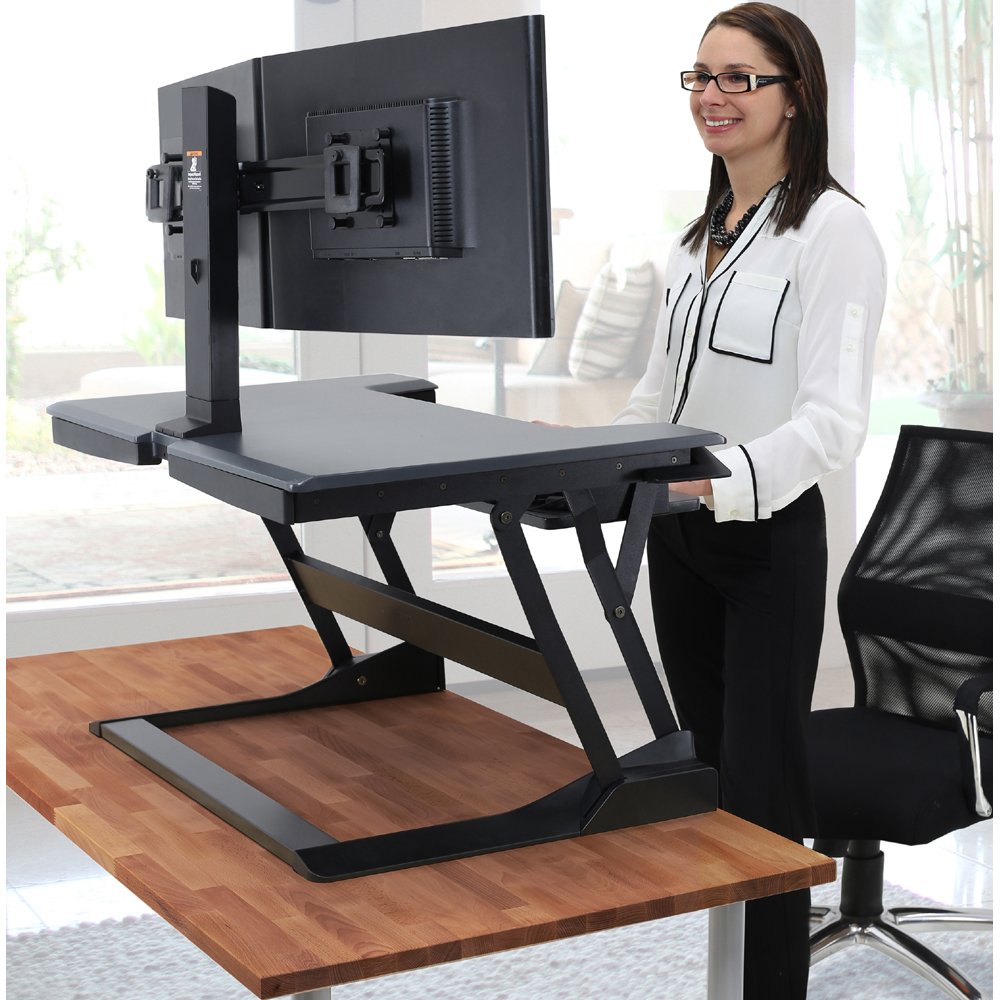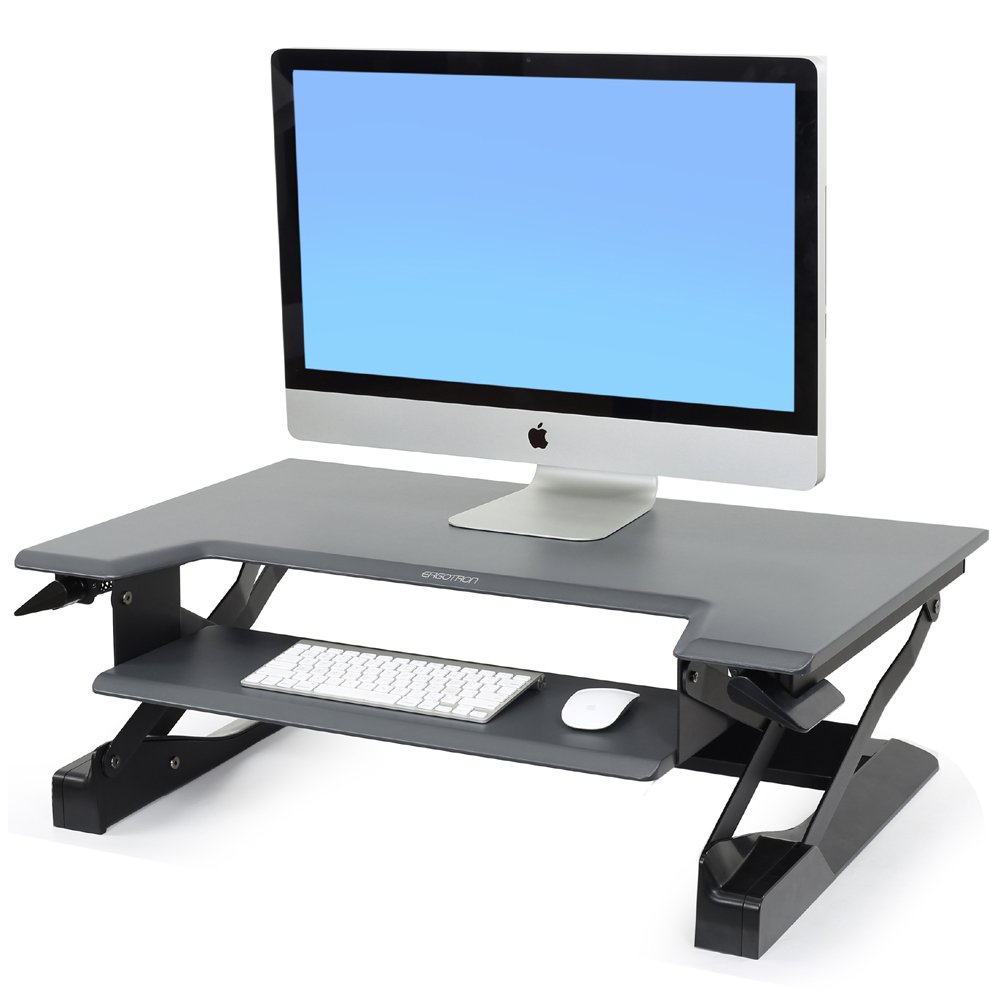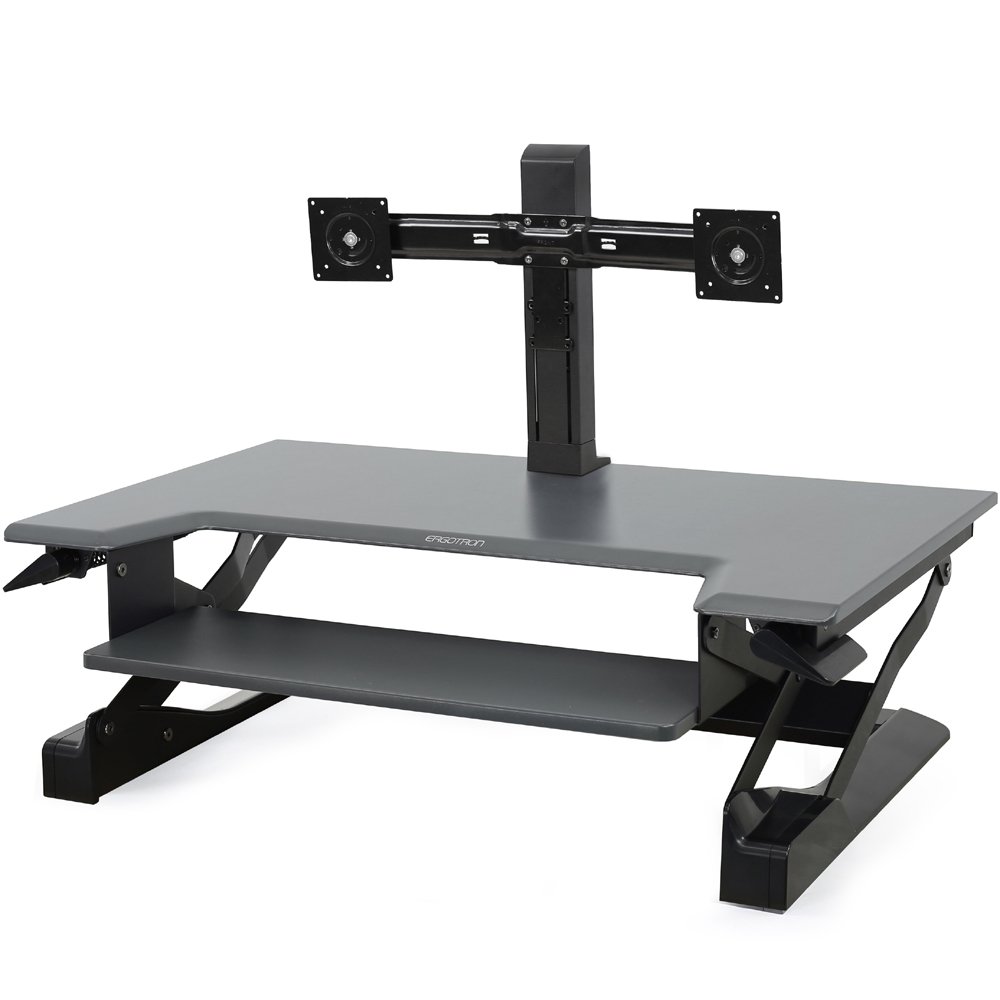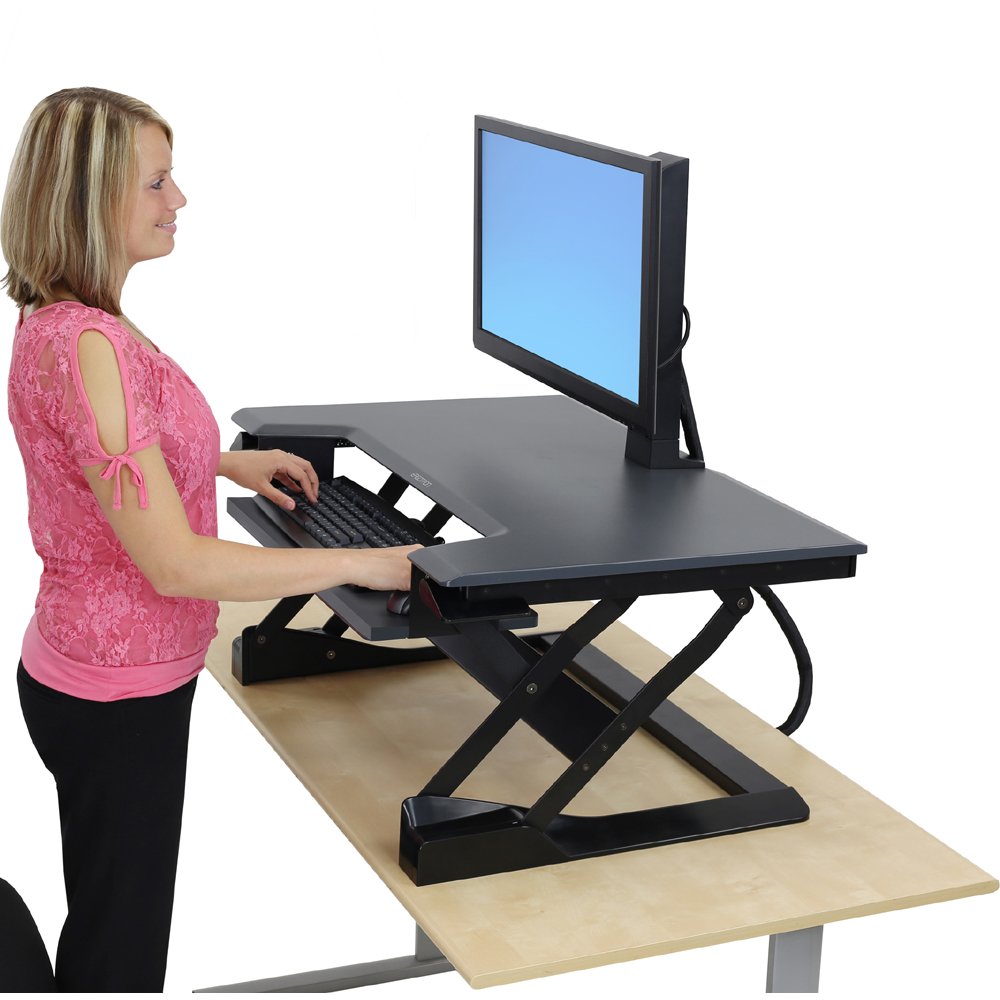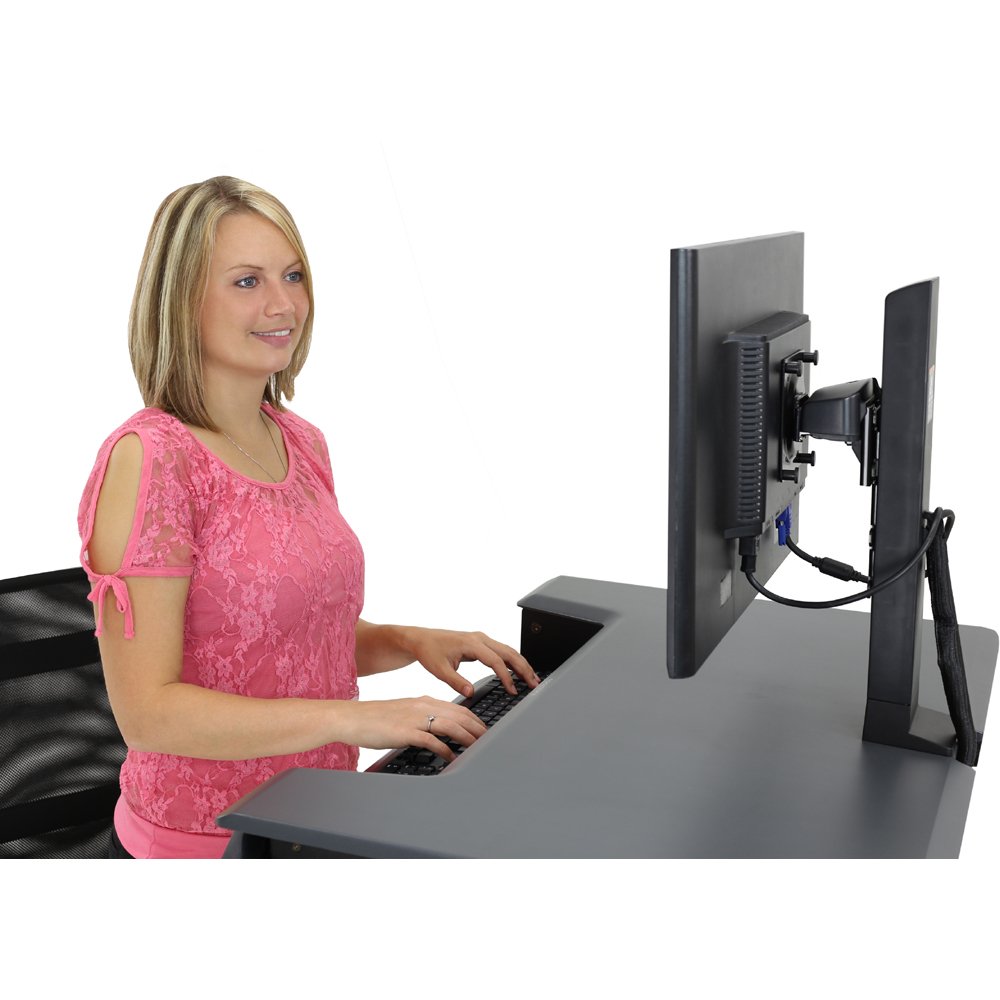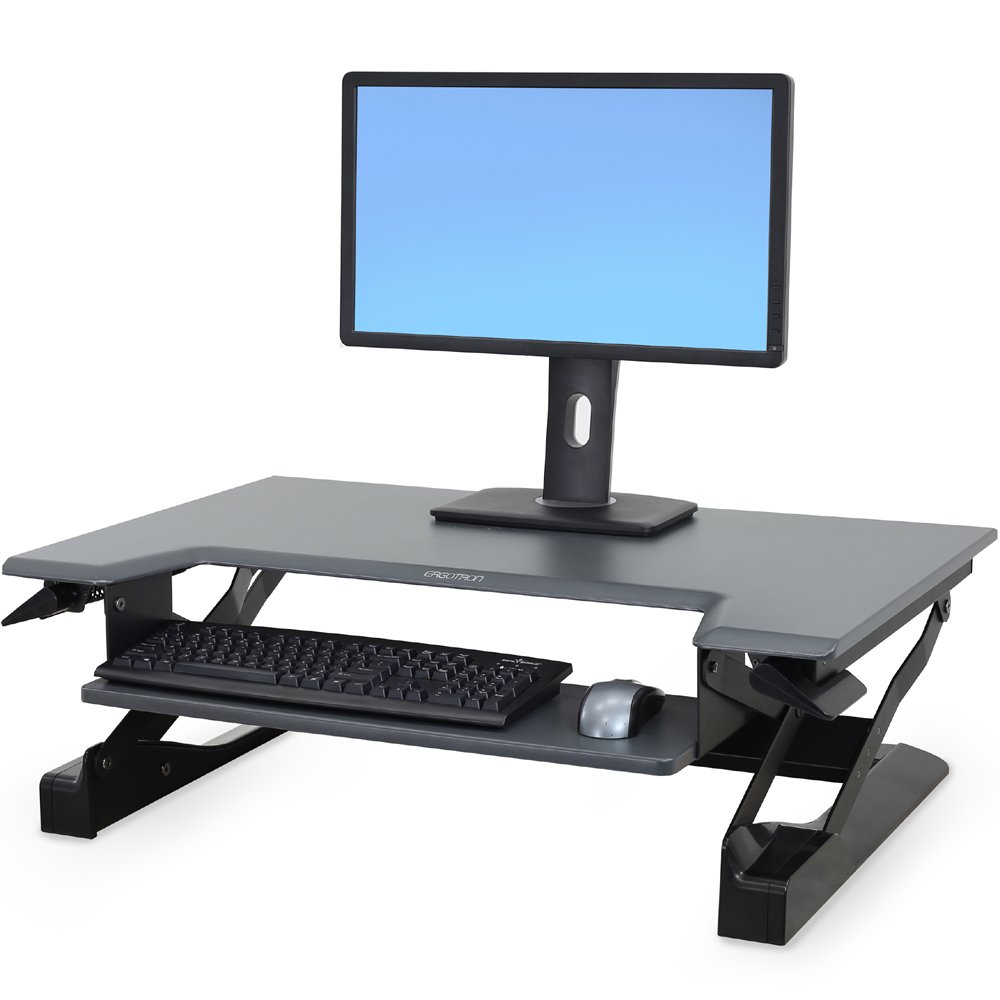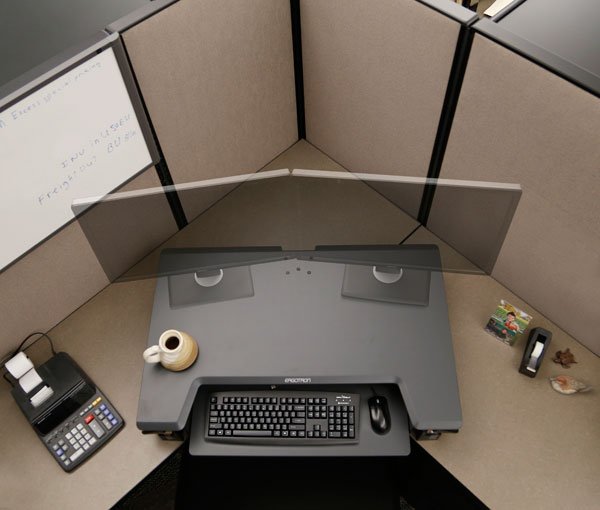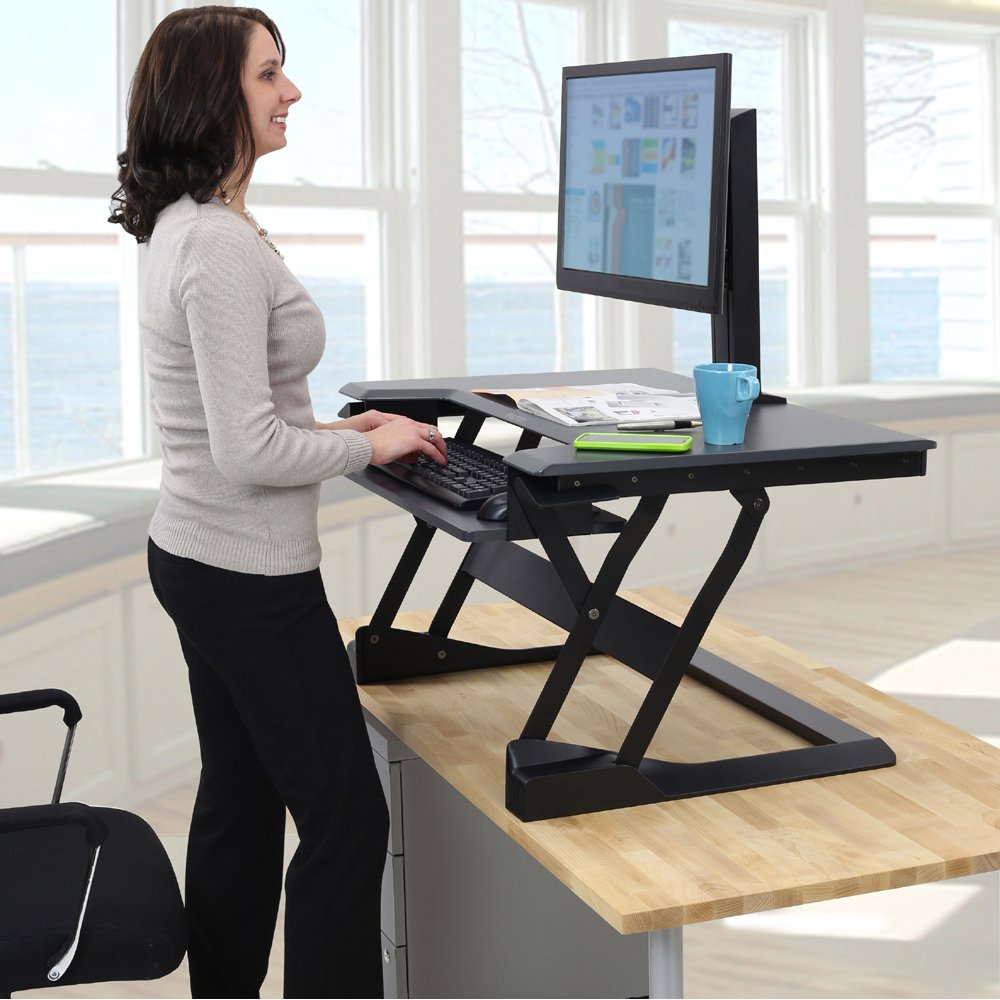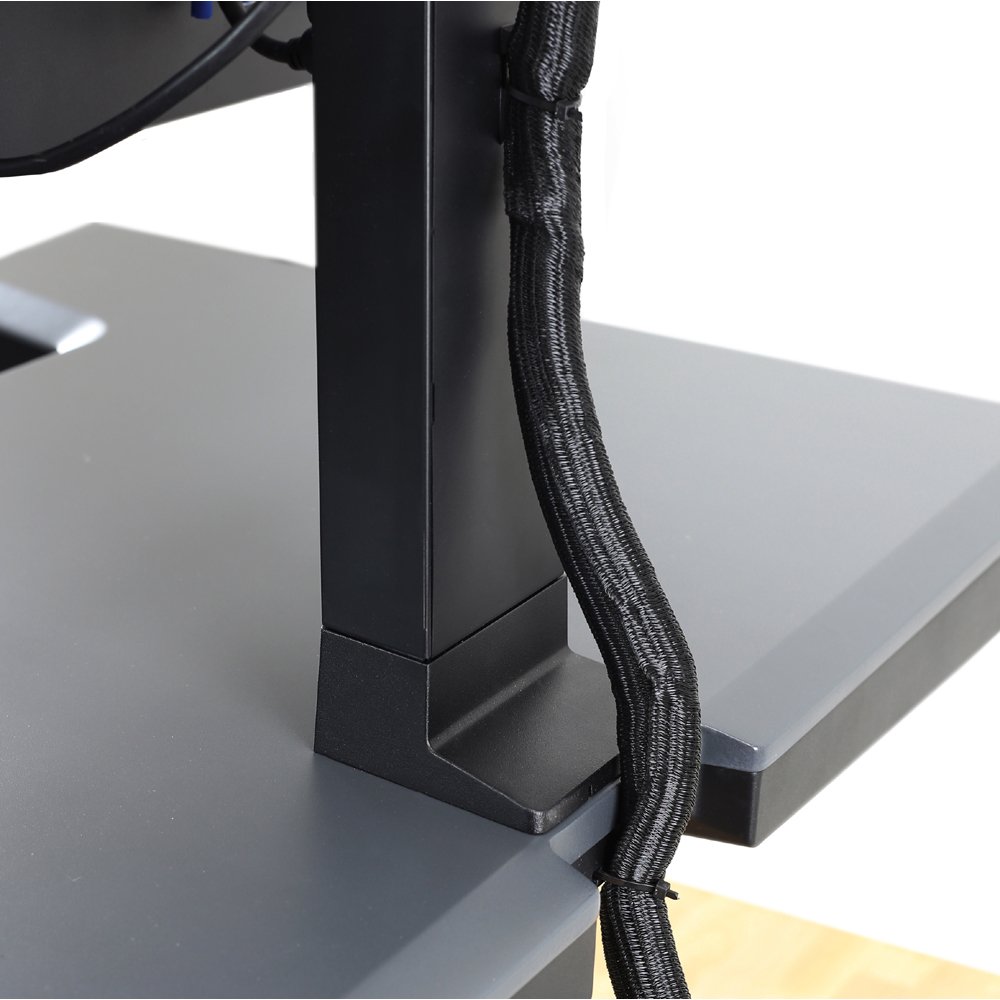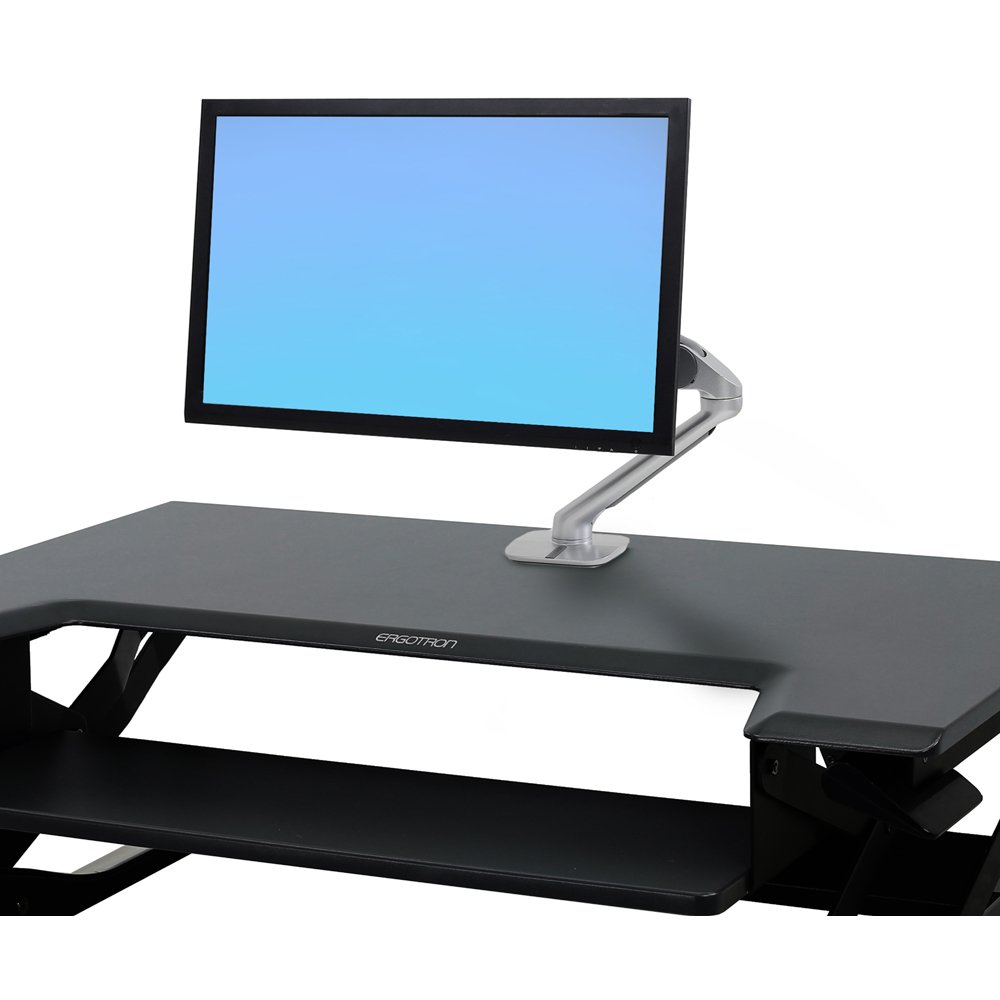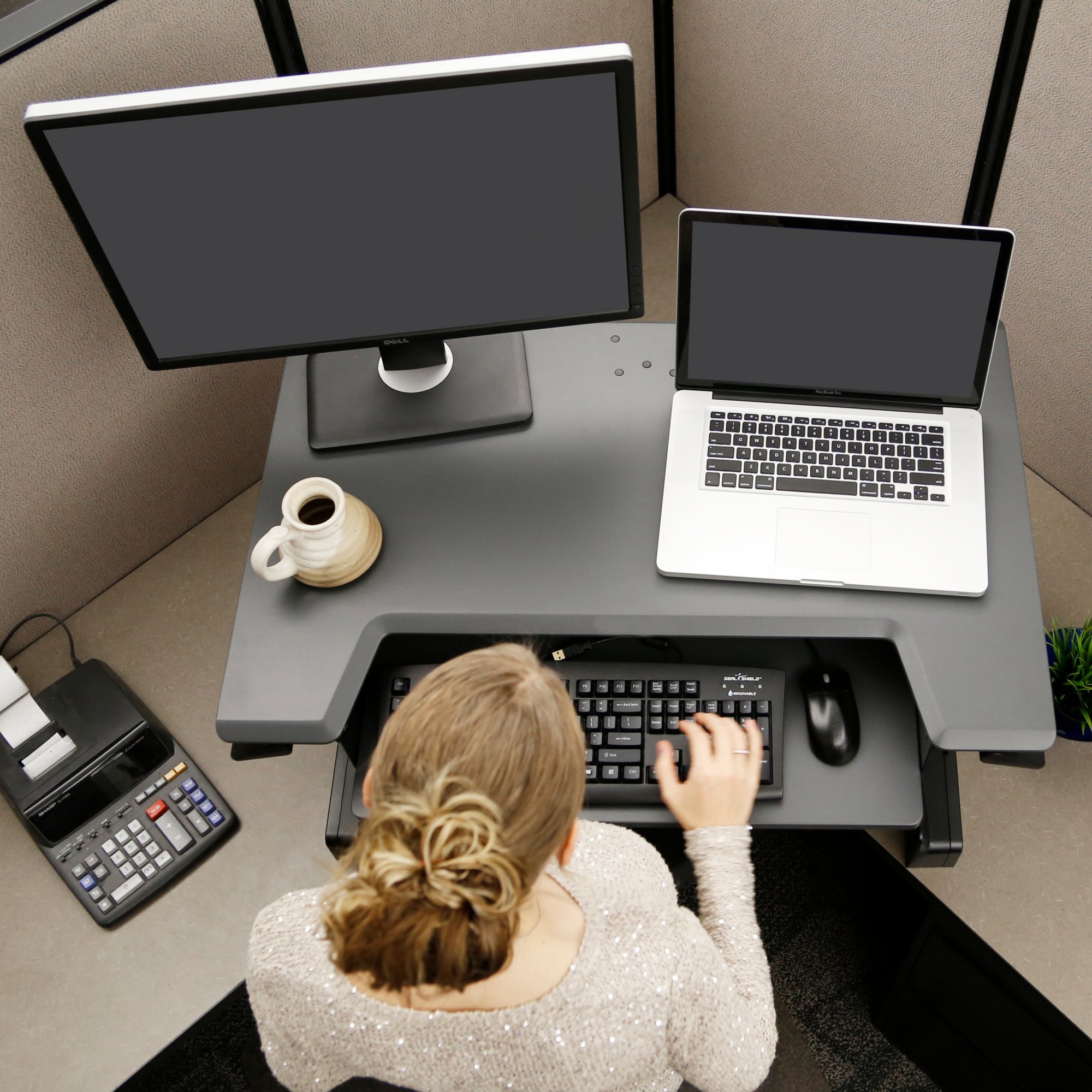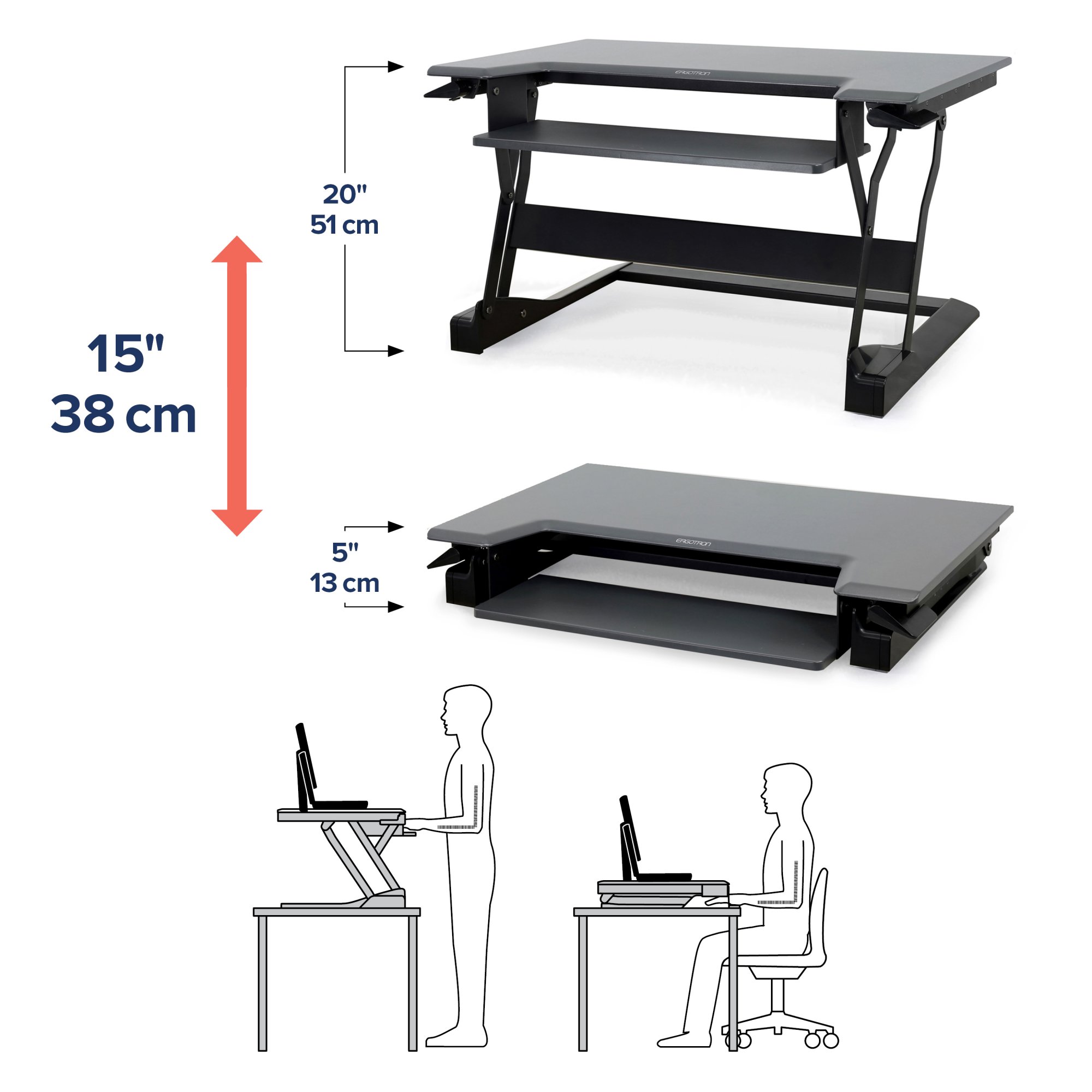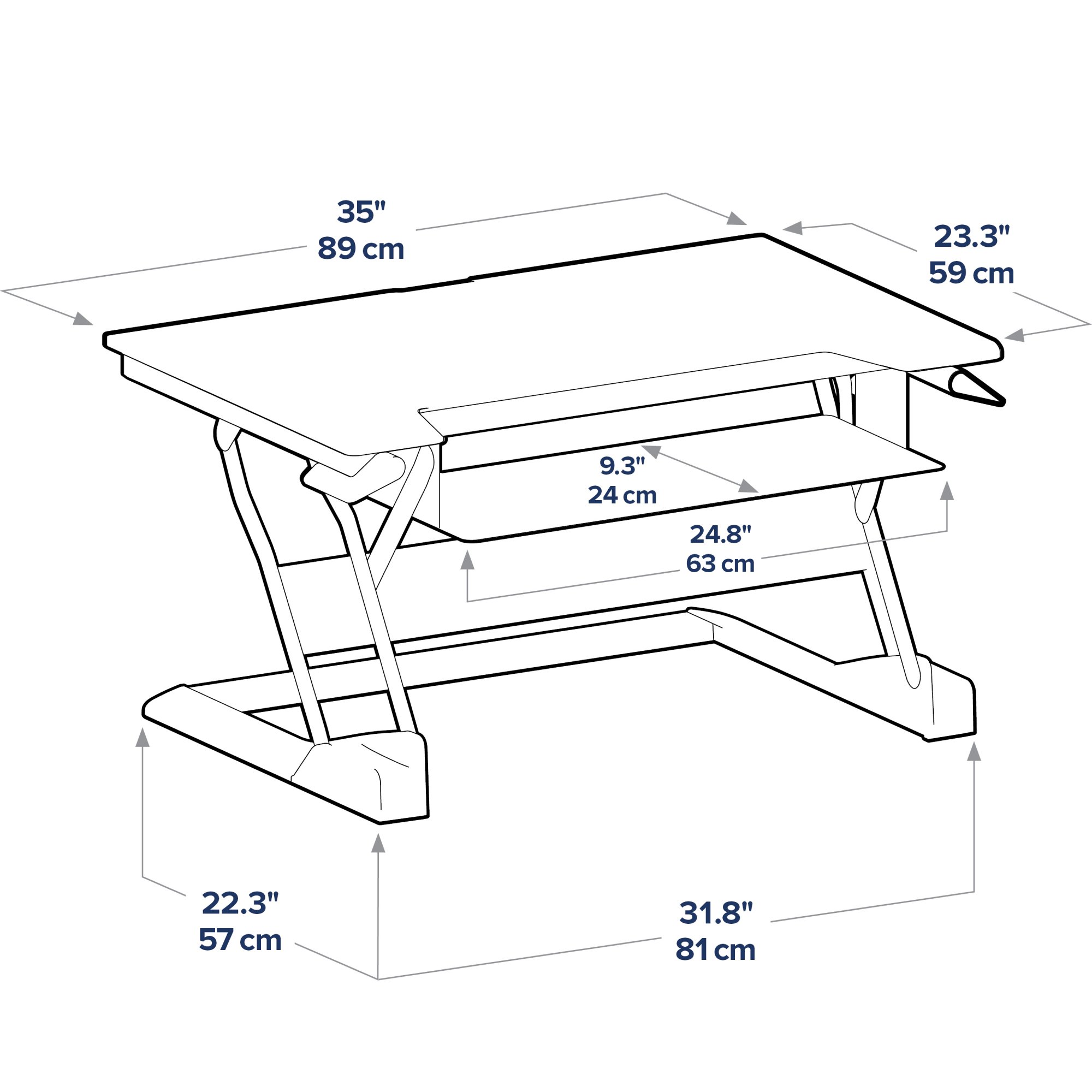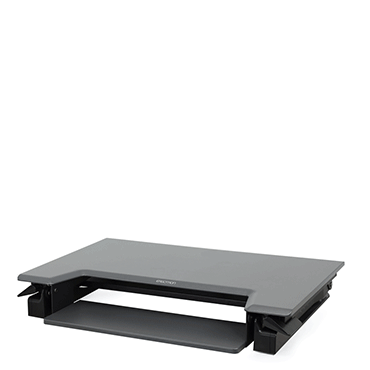 Description
Ergotron 33-397-085 is presenting an ultra easy standing desk solution, which quickly converts a tabletop into a healthy sit-stand workstation. Simply place the WorkFit-T on an open surface, stand up and you're ready to work.
WorkFit-T features an economical design and smaller footprint to fit your budget and your space. It further saves space because it moves straight up and down, always staying within the footprint of your desktop. Extremely stable throughout its range of motion, one can freely lean on it while working without worry of tip or height-drop.
Technical Drawing
Technical Specifications
Screen
Capacity
Lift
Tilt
Pan
Rotation
VESA
Up to 30"

10 - 35 lbs

4.5 - 15.9 kg

15"

38.1 cm

-
-
-
-
Product Information
| | |
| --- | --- |
| Part Number | 33-397-085 |
| Description | WorkFit-T Sit-Stand Desktop Workstation (black frame assembly with dark grey worksurface) |
| Ships | Fully assembled; no tool-adjustments needed for installation |
| Footprint | 35" x 23" (89 x 64 cm) |
| Fits | On desk surfaces 24" (61 cm) deep or larger |
| Keyboard Tray Dimensions | 25" x 9" (64 x 23 cm). Recommended maximum keyboard width = 18" (45 cm) |
| Keyboard | Moves in tandem with the worksurface. Tray is positioned 4.5" (11.4 cm) below worksurface to maintain ergonomic spacing between screen height and keyboard |
| Displays | Can be placed directly on the worksurface. Alternatively, use our monitor mount kits to integrate displays into system (see accessories) |
| Certified | This product is certified in compliance with indoor air quality standards defined by ANSI/BIFMA pertaining to emissions of VOC (volatile organic compounds) |
| Product Weight | 49 lbs (22.3 kg) |
| Shipping Dimensions | 38.5" x 28" x 8.5" (98 x 71 x 21.6 cm) |
| Shipping Weight | 58.5 lbs (26.6 kg) |
| Warranty | Five (5) years |
Benefits
Economical design and smaller footprint fit your budget and your space
Add an accessory monitor mount kit: Attach your display(s) with a riser to provide independent screen adjustment while clearing worksurface space
Modify an existing office space or cubicle by simply adding a WorkFit-T to an open tabletop, without the cost of expensive professional installers
Ships fully assembled. Sits directly on top of desk - no special mounting or tool-adjustments required for installation
Provides 15 inches (38 cm) of vertical adjustment
Instantly move to sit or stand as you work: Simply release hand-brake levers on either side of unit to position the surface higher or lower
No cranks or motors to engage: Counterbalancing mechanism uses CF technology to facilitate quick height adjustment
Extremely stable and solid platform
Space-saving design does not protrude beyond tabletop
Works well in corner desk configurations; fits on surfaces as shallow as 18" (46 cm)
Tested and guaranteed: Full 5-year warranty
Product Options/Accessories
Frequently Asked Questions
q
My desk work station is 22" deep. Here it states the Ergotron WorkFit-T needs 24" deep. Will this still work with my desk?
a
If your desk is only 22" deep than 2" of the platform will hang over your desk, note that this can also affect the sturdiness. Are you using single monitor or dual? WorkFit-S could work for you as well and you only need 17" deep desk:
| | |
| --- | --- |
| Model | 33-397-085 |
| Manufacturer | Ergotron |
| Part Number | 33-397-085 |
| UPC | 698833043976 |
| | |
| --- | --- |
| Color | Black frame assembly with dark grey worksurface |
| Monitor Size | Up to 30" |
| Weight Capacity | 10–35 lbs (4.5–15.9 kg) |
| Lift | (38.1 cm) 15 in |
| Footprint | 35" x 23" (89 x 64 cm) |
| Desktop Thickness Range | 24" (61 cm) deep or larger |
| Keyboard Tray Dimensions | 25" x 9" (64 x 23 cm) |
| Shipping Dimensions | 38.5" x 28" x 8.5" (98 x 71 x 21.6 cm) |
| Shipping Weight | 58.5 lbs (26.6 kg) |
| Warranty | Five (5) years |
| Monitor Arm Types | Sit-Stand Workstation |
| Desk Type | Desk Mount |
| Weight | 49 lbs (22.3 kg) |
| Price | $300 - $399 |
| Shipping | Free |
| Suspended Keyboard | No |
| Desktop Dimensions | 35" x 23" (89 x 58 cm) |
| Number of Mice fitting on keyboard tray | 1 |
| Recommended for | Tall Users, Smaller Worksurface |
Customer reviews
1 stars

0

2 stars

0

3 stars

0

4 stars

5

5 stars

22
Very Happy
by Tesaro G, Waltham, Massachusetts, Jan 12, 2018
For the money, the best you can buy. Fits two monitors. Easy to install - lighter than Varidesk and sturdier than other models.
Wife loves it
by Charles M, Houston, Texas, Oct 19, 2017
One of the best things my wife says I have ever gotten for her. She started working from home about a year ago and has been complaining about sitting so much and wanted a stand up desk. These are the types we use at work and after shopping around I decided to get her the ergo model. More expensive than others but the quality and ease of use is phenomenal. I'm sure she will be using this for many years.
Excellent Purchase
by Melissa, Columbus, Ohio, Jul 13, 2017
This is a great product with a good price. We bought one for the majority of our IT department and HR folks. Everyone has loved it and actually uses it for its intended purpose (frequently sit and stand throughout the work day). The zip ties and mesh tube really help to make the wires look clean and organized. It is heavy, but makes for a sturdy space and glides easily with different secured locking positions. We really love this product!
it's ok
by Yamira M, Garden Grove, California, Apr 25, 2017
I does lift my work station however if the keyboard tray was made for the ergo keyboard which is bigger it would be great. Also it would be even better if it were made for an L desk where the computer is in the coroner.
Excellent product.
by Robert M, North Dakota, Feb 24, 2017
Love it! Easy to use, smooth transition and not too heavy. Having the flexibility to stand up anytime and continue to use my computer or view documents on my screens. It has helped with back/hip tightness being able to stand up whenever and continue working at my desk. Feel more alert at the end of the afternoon from not sitting as much during the day.
Super sturdy and functional
by Gretchen R, Texas, Oct 20, 2016
We have a couple of these in our office and everyone loves them. The construction is very good. Work surface with drop for keyboard is perfect.
This Desktop is Super!
by Lisa C, Colorado, Sep 26, 2016
Very easy to set up and use. I was having trouble with my shoulders while sitting and needed to stand for my job. We already had the dual monitor set up and this desk top is perfect for adjusting. It is super smooth during the transition from sitting to standing and very stable. Really thankful I decided to go with it!
This product is Awesome
by Barry R, Florida, May 20, 2016
Easy to use. Incrementally adjusts to the perfect height. Posture perfect when standing. The Ergotron Desk is has been a life changer.
Very Satisfied
by Kim W, California, Mar 30, 2016
The employee that the adjustable desk was order for, loves it.
Enjoying desk
by Mark, Illinois, Mar 22, 2016
I have greatly enjoyed the Ergotron desk. It is easy to raise and lower. There is ample space for the monitor, phone and papers or books to refer to when working on projects where I need to see them and type simultaneously. There is some vibration of the monitor while I type and the desk is raised. There is not vibration when it is lowered. Monitor-vibration during typing was reported in the reviews of a competitors product, but not for reviews I read on the Ergotron prior to purchasing it. However, the positives of being able to stand outweigh this minor concern.
Great Product
by Brian L, Massachusetts, Mar 17, 2016
I purchase these for the employees of the company I work for and they all love them!
Met all my needs and expectations
by Bret, Hawaii, Mar 14, 2016
I would recommend the Ergotron to anyone looking for an adjustable desk option. It is very stable and easy to raise and lower. No assembly required. It's ready to use right out of the box. After trying co-worker's Varidesk, the Ergotron is far superior in design and function.
Awesome!!
by rich v, New Jersey, Mar 14, 2016
Sturdy and well built. Highly recommend.
It's great!
by Barb S, Michigan, Mar 04, 2016
The desk works well and set-up was fairly easy. It's nice to be able to lower it every so often if I'm sitting down doing a combo or paperwork and computer work. The keyboard section fits my Apple keyboard (w. 9 key) plus my mouse pad with about 2" to spare. It's nice to be able to adjust the height of the monitor to fine tune it but once done I haven't had to change it. The only suggestion I have would be to be able to swivel the monitor so when I'm typing it faces me at a slight angle being fixed straight. Perhaps if I didn't have my mouse on the keyboard section I wouldn't be off to the left of the monitor but I do. I feel that it was worth the investment.
Review on WorkFit-T
by DLD, Colorado, Feb 05, 2016
I really enjoy the WorkFit-T Sit-Stand Desktop Workstation, I would have given it five stars if the keyboard tray was adjustable. Something to think about for the future workstation :)
Ergotron 33-397-085 WorkFit-T Sit-Stand Desktop Workstation
by Doug B, Minnesota, Jan 06, 2016
I have a large apple monitor and this workstation moves easily up and down without any fear of this monitor falling off. There is plenty of space for the MacBook Pro laptop to sit adjacent to the monitor. The Workstation is very sturdy and well-built. The lower shelf is large and my secondary keyboard fits on it with room for my mouse to move. The Workstation sits on top of my desk squarely with no wiggling of it or the monitor. I find that I am now sitting about 60 % and standing about 40% throughout my work day. I am very pleased with this Workstation.
I feel so much better during the work day!
by Lisa O, Minnesota, Nov 19, 2015
I truly appreciate the stand up work station. I no longer have the feeling that I am part of the chair at the end of a work day. I feel so much better standing and rarely set it down to the seated position, which really proves it's better to stand and be mobile.
Love my Ergotron!
by Kathryn D, Kansas, Oct 27, 2015
First I ordered the Ergotron that clamps to my desk. It did not work at all for me. My workspace was too small. So I ordered the 33-397-085 and it works great. I tend to lean in my chair while seated, so now I can stand when working on the computer for a long period of time. It's much better for my posture. But I also leave it up and use it in the standing position for short computer jobs. It's healthier to alternate sitting and standing often. Toward the end of the day if I'm tired, I lower my station and sit at the computer, and its very comfortable that way also. I had to choose a smaller mouse pad, but that's the only adjustment I have made. Also, it's so easy to raise and lower. Again, I love it.
Love it
by Sara Z, Minnesota, Oct 09, 2015
This has been a great add-on to my existing large, L-shaped desk. I enjoy starting the day zapping through emails standing and then being able to sit when I need to do more focused work. Will be ordering the dual monitor arms as well now that I know I like this product.
This desk has a smaller footprint than other desks of this type. They also tend to fit better under existing cabinetry
by Jay M, Washington, Sep 28, 2015
See headline above. Only drawback is that they are more expensive.
Perfect for my office
by Clell i C, Oklahoma, Sep 04, 2015
It is solid, functional and easy to operate. Leaves lots of workspace on the raised platform.
Fantastic!
by Eva M., California, Aug 28, 2015
I am loving my new desktop. Very easy to use and works flawlessly. I have two monitors and use this with no problems. Highly recommend.
I Love It!
by Dustin W, Arizona, Jul 07, 2015
Just finished setting up my new Ergotron WorkFit-T Sit-Stand Desktop Worktop and I love it. It has totally improved my posture and ergonomics while sitting, but I don't really want to sit anymore now that it's so easy to work standing up. I bought the dual monitor stand for my two 24" flatscreens and it works nicely, reduces clutter and provides me more usable desk space. Also bought the floor mat and Steppie and love them both. Thanks for a great product!
Smooth operation
by Sue D, Colorado, Jun 23, 2015
I love this workstation. It is built with high quality materials, it is sturdy and stable. It's super smooth operation transitioning from sitting to standing and back to sitting positions is impressive. The desk top provides me with ample work surface.
Awesome
by Cyndie R, Colorado, Jun 22, 2015
I love my new Ergotron desk. No more back pain from either sitting all day or standing all day. A combination of both working styles is awesome. Thanks
The product is fantastic
by Kim C, Texas, Jun 22, 2015
Hi
So far it has been fantastic! I stand all the time and love how easy it is to adjust. I did not appreciate the extremely long wait time to get it after my order.
This is a great solution!
by Steve H, California, Apr 25, 2015
This workstation is affordable and allowed me to keep my existing furniture. It is solidly built, has a low, unobtrusive profile in the down position, and stays nicely within the footprint of my desk when raised. It's easy to raise and lower, locks nicely into place at any level and is stable enough to lean on when raised. I put my two existing monitors on the surface and there's plenty of room left for notepads, my coffee cup, cell phone, files, etc. It was easy to install and comes with an attractive conduit for monitor cables that keeps them neat and out of sight. I took a little chance and ordered it before any had been shipped. After two weeks with it, I'm very happy with my choice, and find I'd rather stand at my desk because it's so easy to work with this product.
Warranty
All Ergotron and OmniMount durable products will remain free of defects in material and workmanship for a period of five years from the date of receipt of the product, subject to any exclusions and limitations as set forth below.


Exceptions
Ten-year warranty on all HX Products, as well as LX and MX Products purchased on or after August 1, 2014

Zip and YES Charging Systems: Lifetime material/workmanship; three years electrical components; one year cables (power/Ethernet)

Ten-year warranty on LearnFit Sit-Stand Desks

Three-year warranty on all Neo-Flex Ergotron Products

Two-year warranty on WorkFit-Z Mini

Elevate and accessories: Lifetime material/workmanship. Five (5) years on electrical components. Cords, cables and plugs not warranted

The Peanut, Zido and accessories: Lifetime material/workmanship; five (5) years for pneumatic cylinder

One-year warranty on electronic components. For example: Auto Lock Drawers, Auto Lock Systems, Keyboard Lights, User Interface, Coiled Cord, Battery Harness, Cables from User I/F to Power Module (excludes AA batteries)

Two-year warranty on Power Modules by Ergotron

Sealed Lead-Acid (SLA) Power Systems, SLA Batteries

Two-year warranty on all SLA power system components by Ergotron

Up to one-year capacity warranty on SLA batteries (refer to Further Exclusions and Limitations section)

Six-month warranty against Manufacturer's Defects on SLA batteries, or as mandated by local law

Lithium Iron (LiFe) Power Systems, LiFe Batteries

LiFe battery capacity is warranted for two years or 1200 discharge cycles, whichever comes first (refer to Further Exclusions and Limitations section)

Five-year warranty against Manufacturer's Defects on LiFe factory-installed batteries (excludes LiFe replacement batteries). Factory-installed LiFe batteries are covered at 100% for the first three years; coverage for years four and five are prorated at 1/60th per month (refer to Further Exclusions and Limitations section)

Service Programs - 30-day warranty

Refurbished StyleView Carts - one-year warranty for Mechanical Components and Power Module (excludes batteries and cosmetic defects). The appropriate battery-type warranty applies

Original Equipment Manufacturer (OEM) Products resold by Ergotron are warranted by the respective manufacturer

StyleView Electric Lift motor: Three (3) years on motor and switch
Further Exclusions and Limitations
SLA Batteries
In Dual SLA battery systems, replacement of both batteries must occur at the same time (in accordance with the Ergotron User Manual), or the Warranty is automatically void

Warranties on SLA batteries (fully-charged or fully-uncharged) left in an unused state for more than three consecutive months are automatically void

Factory-installed SLA batteries, and replacement SLA batteries carry a Six-month Warranty Against Manufacturer's Defects and a 90-day Performance Warranty, or as mandated by local law

The 90-day Performance Warranty on factory-installed SLA batteries (excludes SLA replacement batteries) is extended to one-year provided that:
StyleLink software is installed and remains continually operational to show compliance with exclusions and limitations

SLA Battery is not discharged below 25% capacity more than 25 times as recorded by the StyleLink software history

SLA Battery is fully recharged at least once every 36 hours as recorded by the StyleLink software history
LiFe Batteries
LiFe batteries that fail to deliver 70% of their rated capacity during the first 1200 discharge cycles of battery life are deemed not to have met performance standards (capacity retention)

The LiFe battery discharge cycle is defined as starting at the fully-charged state through the fully discharged state and back to the fully-charged state. Discharge cycle counts are calculated by the software within the battery.
These warranties do not cover product abuse, modification and failure to adhere to product instructions, improper operations and/or misuse. Ergotron is not responsible for damage arising from failure to follow instructions relating to the product's intended use. Ergotron is not responsible for injury or loss caused by or associated with the installation and/or use of equipment in any manner other than in strict conformance with the instructions set forth in its installation manuals, supplemental assembly and installation instruction sheets, technical bulletins and/or product literature. You will provide Ergotron immediate written notice of any personal injury resulting from the use of Ergotron products.
Ergotron does not warrant damages or defects to the Ergotron product under the following conditions: an Act of God, unauthorized service or repair of the Ergotron products, damage from electrical power problems, usage of parts or components not supplied by Ergotron, failure to follow product instructions and guidelines, unauthorized changes to the Ergotron product, shipping damage (other than original shipment from Ergotron), failure to perform preventative maintenance, or damage caused by peripherals or software or from other external sources.
Exclusive Remedy
Warranty Repair: In the event that any Ergotron equipment becomes defective in material or workmanship during the warranty period, Ergotron will determine with you if the product defect is covered under warranty. Ergotron, at its sole discretion, may replace or repair the unit determined to be under warranty at a designated Ergotron location or at your location. The labor costs associated with the repair of the product may be the responsibility of Ergotron if determined to be under warranty. You must receive pre-approval by Ergotron for the labor costs prior to repair or replacement of warranty products. You must contact Ergotron to obtain a Return Material Authorization (RMA) number. An RMA number may be obtained by contacting Ergotron Customer Care online or by telephone within your specific region. Contact information is available to you on the Ergotron web site at www.ergotron.com. Performance of any repair or replacement on product under warranty does not renew or extend the warranty period.
Non-Warranty Repair: You may return a product for repair that is not covered by warranty only if you have received a preapproved RMA number from Ergotron Customer Care. Labor costs and freight charges associated with non-warranty repair will be the sole responsibility of the customer, reseller or installer/integrator. A standard repair fee, specific to the product, is charged for any product that is repaired outside of the warranty period. Repairs on products out of warranty also carry a 90-day warranty, effective the day that you receive the item after repair.
For products that are not covered under warranty, Ergotron offers you the following options:
You may upgrade to a newer, functionally equivalent product at a normal MSR list price

Ergotron will return the product to you

You can request in writing that Ergotron appropriately dispose of the product for you. A fee may apply for this service as designated by local law
Non-Defective Products: You are notified if, after examining and testing a returned product, Ergotron concludes that the product is not defective. The product is returned to you and you would be responsible for the freight charges associated with the return.
Warranty Disclaimer
Except as expressly set forth in this Limited Warranty and to the greatest extent allowed by law, Ergotron makes no other representations, warranties or conditions, express or implied, including any implied representations, warranties or conditions of merchantability, fitness for a particular purpose, non-infringement, and non-interference. Ergotron does not warrant that your use of the Ergotron product will be uninterrupted or error free. Any implied warranties that may be imposed by law are limited in duration to the Limited Warranty period, to the greatest extent allowed by law. Some states or countries do not allow a limitation on how long an implied warranty lasts or the exclusion or limitation of incidental or consequential damages for consumer products. In such states or countries, some exclusions or limitations of this Limited Warranty may not apply to you. This Limited Warranty is subject to change without notification.
Ergotron devices are not intended to cure, treat, mitigate or prevent any disease.
Warranty Transferability
This Limited Warranty is available only to the original end consumer and is non-transferable. For this warranty to be valid, the Ergotron product must have been purchased directly from an authorized distributor, reseller and/or authorized representative of Ergotron.
Comparison Chart for WorkFit-TLE, TL and T
| | This item: Ergotron 33-397-085 WorkFit-T Sit-Stand Desktop Workstation in Black | | |
| --- | --- | --- | --- |
| Weight | 49 lbs (22.3 kg) | 56 lbs (25.5 kg) | 59 lbs (26.8 kg) |
| Warranty | Five (5) years | Five (5) years | Five (5) years |
| Weight Capacity | 10–35 lbs (4.5–15.9 kg) | 10 - 40 lbs (4.5 - 18.1 kg) | 10-40 lbs (4.5-18.1 kg) |
| Lift | (38.1 cm) 15 in | (38.1 cm) 15 in | (38 cm) 15 in |
| Keyboard Tray Dimensions | 25" x 9" (64 x 23 cm) | 27.5" x 11" (69 x 28 cm) | 35" x 7 3/8" - 8" (88.9 cm x 18.75 cm - 20.32 cm) |
| Footprint | 35" x 23" (89 x 64 cm) | 37.5" x 23" (95 x 59 cm) | 37.4" x 35.8" (95 x 85 cm) |
| Suspended Keyboard | No | No | Yes, 3.5" below desktop surface |
| Desktop Dimensions | 35" x 23" (89 x 58 cm) | 37.5" x 23" (95 x 59 cm) | 37.4" x 23" (95 x 59 cm) |
| Price | $300 - $399 | $450 | $400 - $499 |
| Shipping | Free | Free | $120 |
| Number of Mice fitting on keyboard tray | 1 | 1 | 2 |
| Recommended for | Tall Users, Smaller Worksurface | Tall Users, Wide worksurface | Petite, Medium Built Users |
| | | Details | Details |