Chief VCMU Series Heavy Duty Ceiling Projector Mount
The VSMU mount includes the universal HBU bracket that is compatible with most heavy duty projectors.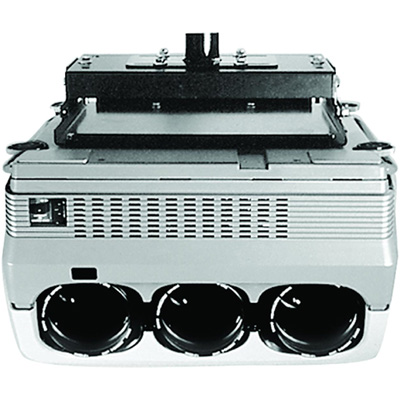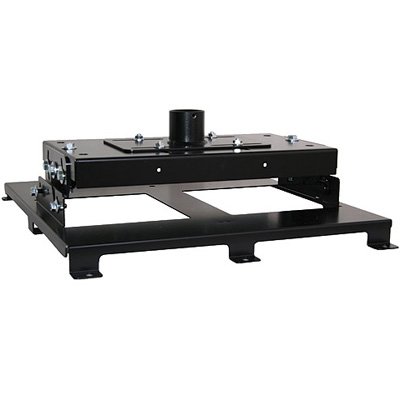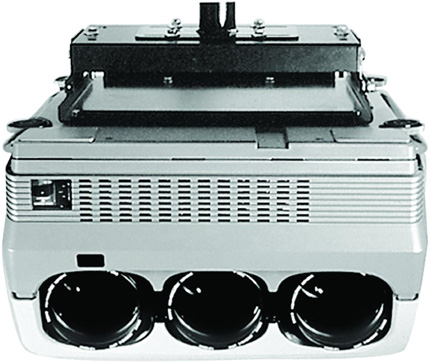 Description
Chief VCM series mount provides the strong support you need for mounting heavy LCD/CRT projectors. Micro adjustments allow you to quickly achieve registration. The VCMU mount includes the universal HBU bracket that is compatible with most heavy duty projectors.
Technical Drawing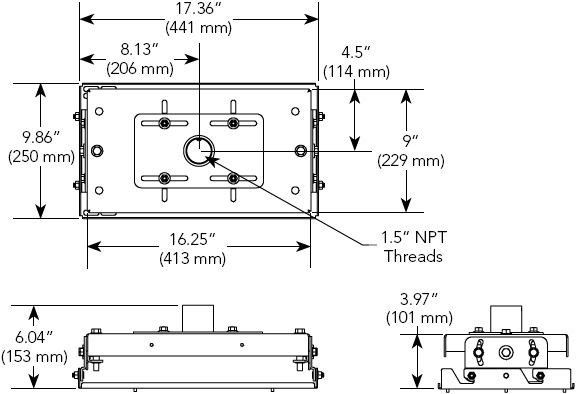 Specifications
Adjustments

Roll: 5°
Pitch: 20°
Yaw: 360°

Certifications

UL Listed

Color

Black

Overall Dimensions (H x W x D)

3.8" x 17.0" x 9.3" (97 x 432 x 235 mm)

Shipping Weight

43.35 lbs

Solution Type

Universal

Weight Capacity

250 lbs (113.4 kg)
Features
Independent roll, pitch and yaw adjustments for quick and precise projector registration
Multiple installation options: flush mount to ceiling, use 0.5" threaded rods, use a 1.5" NPT extension column
Quick connect/disconnect for convenient lamp and filter access on most projectors
Cable management through top of the mount without additional accessories
Easy 3-Step Installation
1) Assemble legs to projector
2) Fasten legs to universal bracket
3) Hook bracket onto VCM mount
Heavy Duty Steel Construction
Weight Capacity: 250lbs
Universal bracket also sold separately (HBU)
Product Options/Accessories
Frequently Asked Questions
q
How do I know when to order the VCM Mount rather than the RPA?
a
Chief's cross-reference chart tells you exactly which mount to order for your projector.
q
Do I need to order the HB bracket separately?
a
No, the assembly ships complete when you order a VCM ceiling mount. The HB bracket as a separate part number is used only for Chief lifts. One VCM part number includes both the universal top and HB bracket.
q
How much assembly is required?
a
None. Just attach the HB bracket to your projector.
q
How much height will it add to my installation?
a
The VCM top is only 4" high plus various HB bracket heights.
q
How much weight does the mount hold?
a
Each mount is custom designed to support the weight of the projector models specified. However, your ceiling must hold at least 5x the total weight of your installation.
q
Do I need any additional accessories to install the VCM?
a
Yes. The VCM can be flush mounted to the ceiling with the LPK1 Low-Profile Mounting Kit. However, often times you will need to lower your projector from the ceiling a specific distance and you will want to order the appropriate accessories. Choose the right solution for your installation.
| | |
| --- | --- |
| Model | VCM Series |
| Manufacturer | Chief Mounts |
| Part Number | VCM Series |
| UPC | 841872154350 |
| Weight | lb(s) |
| | |
| --- | --- |
| Mounting Options | Ceiling |
| Color | Black |
| Roll | 5° |
| Pitch | 20° |
| Yaw | 360° |
| Overall Dimensions | 3.8" x 17.0" x 9.3" (97 x 432 x 235 mm) |
| Weight Capacity | 250 lbs (113.4 kg) |
| Shipping Weight | 43.35 lbs |
Customer reviews
1 stars

0

2 stars

0

3 stars

0

4 stars

0

5 stars

0
Warranty
With the exception of electrical products, Chief warrants its products to be free of defects in material and workmanship for 10 years. All warranties are in effect beginning the date the product was invoiced by Chief. Electrical mechanisms (such as lift products) have a 1-year limited warranty. All warranties are in effect for the original purchaser only. Chief disclaims liability for any modifications, improper installation and/or installations over the specified weight capacity. Chief also disclaims liability for any modifications made to electrical mechanisms, improper installation, incorrect voltage connection and/or installations over the stated weight capacity. All Electrical Mechanisms are intended for indoor use only and failure to comply will void warranty.
Chief's sole warranty obligation to the owner of its products is to repair or replace (at Chief's discretion) defective products at no charge to the original purchaser within the warranty period. The purchaser is responsible for returning the product to Chief Manufacturing via prepaid shipping. To the maximum extent permitted by applicable law, Chief disclaims any other warranties, express or implied, including warranties of fitness for a particular purpose and warranties of merchantability. Chief will not be liable for any damages whatsoever arising out of the use or inability to use Chief products, even if Chief has been advised of the possibility of such damages. Chief bears no responsibility for incidental or consequential damages. This includes, but is not limited to, any labor charges for the repair of Chief products performed by someone other than a Chief employee. Because some states and jurisdictions do not allow the exclusion or limitation of liability for consequential or incidental damages, the above limitation may not apply. Chief will not be responsible for damage to Chief products caused by misuse, abuse, failure to properly package the product for return to Chief or for damage caused by carriers during shipment to or from Chief. Any repairs to Chief products required due to misuse, abuse or shipping damage or repairs of defective Chief product outside the warranty period will be performed at the current rates established by Chief for factory service.