Chief LCDA Series Non-Inverted Universal Ceiling Projector Mount
Related Products
LCDA Model

Max Height

Max Width

Tray Depth

Description

LCDA215C

3.33"–4.25"
(84–112 mm)

7.63"–12.6"
(194–320 mm)

8"
(203 mm)

Black Non-Inverted LCD/DLP Projector Ceiling Mount

LCDA220C

7.69"–13.4"
(196–340 mm)

8.63"–11.5"
(219–292 mm)

17.75"
(450 mm)

Black Non-Inverted LCD/DLP Projector Ceiling Mount

LCDA225C

10.8"–16"
(274–419 mm)

8.63"–11.5"
(219–292 mm)

17.75"
(450 mm)

Black Non-Inverted LCD/DLP Projector Ceiling Mount

LCDA230C

7.69"–13.4"
(196–340 mm)

12.69"–23.25"
(324 mm–59.1 cm)

17.75"
(450 mm)

Black Non-Inverted LCD/DLP Projector Ceiling Mount

LCDA240C

10.8"–16"
(274–419 mm)

14.13"–19.6"
(358–498 mm)

22.25"
(56.5 cm)

Black Non-Inverted LCD/DLP Projector Ceiling Mount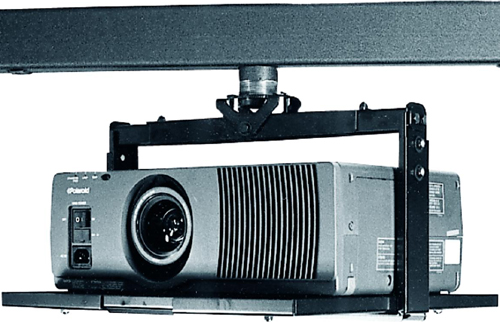 Description
Chief LCDA mounts are universal projector ceiling mounts for installations requiring upright LCD/DLP projectors.
Technical Drawing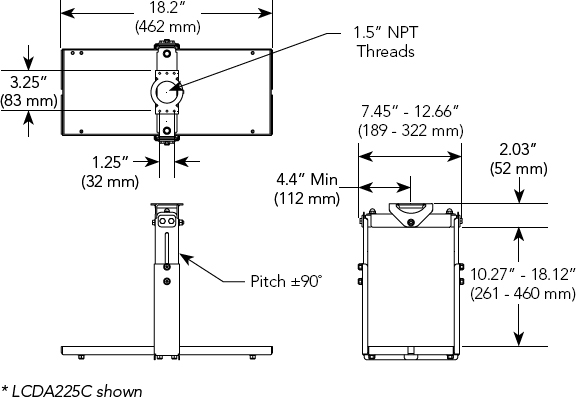 Specifications
Adjustments

Roll: 5°
Pitch: 90°
Yaw: 360°

Color

Black

Overall Dimensions (H x W x D)

LCDA215C: 9.3" x 12.6" x 8.0" (237 x 320 x 203 mm), LCDA225C: 20.2" x 12.7" x 18.2" (512 x 322 x 462 mm), LCDA230C: 18.8" x 23.4" x 17.8" (478 x 595 x 451 mm)

Shipping Weight

LCDA215C: 6.00 lbs, LCDA220C, LCDA225C: 10.00 lbs, LCDA230C: 14.00 lbs and LCDA240C: 12.00 lbs

Solution Type

Universal

Weight Capacity

50 lbs (22.7 kg)
Features
Holds projectors on an adjustable tray and allows you to tighten the mount around your projector for a secure fit
A great solution for when you want to install a portable projector in the ceiling and take it down frequently for traveling
Independent Roll, Pitch, and Yaw for quick and precise projector registration
Adjustable tray accommodates a wide variety of projectors with no interface required
Cable management
Easy installation
Multiple installation options
Universal mount for upright projectors
Compact design
Convenient lamp and filter access
Frequently Asked Questions
Question: How do I know which projectors will work with the LCDA Series?
Answer: The LCDA Series can be used for any projector that will fit within the maximum equipment size; refer to the dimension chart and diagram on the Catalog Page download available on the Downloads tab.
Question: How do I know which LCDA mount to select?
Answer: Verify that your projector can be non-inverted. Find the model with the maximum equipment dimensions that best fit your projector dimensions.
Question: Do I need to order a projector bracket?
Answer: No projector bracket is needed with the LCDA Series. The projector rests on a tray and the mount adjusts around it for a secure fit.
Question: How much weight does the mount hold?
Answer: Each mount is custom designed to support the weight of the projector models specified. However, your ceiling must hold at least 5x the total weight of your installation.
Question: Do I need any additional accessories to install the LCDA?
Answer: The LCDA can be flush mounted to the ceiling by ordering the CMA250 Ceiling Mount Adapter for a low-profile, simple installation. However, often times you will need to lower the projector from a structural, finished or suspended ceiling. For these common applications, you will want to order the appropriate accessories.
Question: If I use the LCDA with a Suspended Ceiling Kit, do I need an extension column?
Answer: Yes. Any length 1 1/2" NPT threaded extension column will work with Chief's Suspended Ceiling Kits.
| | |
| --- | --- |
| Model | LCDA Series |
| Manufacturer | Chief Mounts |
| Part Number | LCDA Series |
| UPC | 841872001845 |
| | |
| --- | --- |
| Mounting Options | Ceiling |
| Color | Black |
| Roll | 5 degree |
| Pitch | 90 degree |
| Yaw | 360 degree |
| Shipping Weight | LCDA215C: 6.00 lbs, LCDA220C, LCDA225C: 10.00 lbs, LCDA230C: 14.00 lbs and LCDA240C: 12.00 lbs |
| Weight Capacity | 50 lbs (22.7 kg) |
| Overall Dimensions (H x W x D) | LCDA215C: 9.3" x 12.6" x 8.0" (237 x 320 x 203 mm), LCDA225C: 20.2" x 12.7" x 18.2" (512 x 322 x 462 mm), LCDA230C: 18.8" x 23.4" x 17.8" (478 x 595 x 451 mm) |
Be the first to review this product